The largest single brewery in the world, Coors, is located in downtown Golden. Tours and tastings are offered year round at the Coors Brewery.
This is a great brewery tour that's open to all ages. Explore a live working factory, where every phase of the beer making process is observed. The tours are self-guided with headsets available. There are learning stations around with pre-recorded descriptions.
During slower times, usually the winter months, live tours may be given. They run about 30 minutes. You can also go on the "short tour" where you go straight to the tasting room. It's what the locals do.
One beer tasting is offered during the brewery tour and three are given afterward. Enjoy some of Coors classic, seasonal and even test-market beers. Soda is provided for younger guests. The tour lasts about 30 minutes, About 1-1.5 hours total for shuttle, tour and beer tastings. Drinking time may vary.
Parking for the coors brewery tour is located at 13th and Ford Streets, one block from the brewery. A free shuttle takes you through downtown to the Coors factory. The driver usually tells you about Golden on the way.
Read our post on Touring Coors Brewery.
Details
Address: 13th and Ford St, Golden
Phone: 800-642-6116
Season: Year Round
Hours: Monday – Saturday, 10am-4pm, Sunday Noon-4pm
In Winter (Labor Day to May 31), Coors in Golden is closed Tuesday and Wednesday. It's also closed during some holidays
Website: millercoors.com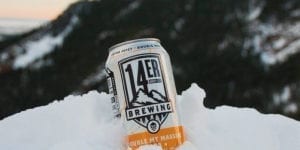 Brewery Package at Denver's 14er Brewing (affiliate) - 44-49% off craft beer packages includes the following for each person: 6 - 6oz. Tasters, souvenir 14er tulip glass, a 32 oz growler-to-go. Taste Maroon Bells Guava, Mt. Massive IPA and Rocky Mountain Saison...