Colorado is full of scenic places to camp surrounded by things to do. Some sites are free, some charge a fee. Some fit RV's, others only tents. Read our camping blog.
Where to Camp in Colorado
Camping in City and County Parks
Most local parks do not offer campgrounds, however some do. They offer guests a chance to spend the night at wonderful locations around the state. See complete all city and county parks.
Camping in Federal Lands
Federally managed lands account for more than a 1/3 of the terrain in Colorado. So there's a lot of land to find a place to rest your head. Options range from free, dispersed campsites to modern, amenity-rich campgrounds. Federal lands include national forests, national wilderness areas, etc, as well as BLM land, off of which is listed below.
B.L.M. land (Borough of Land Management) accounts for a vast area throughout Colorado. It features dispersed camping and managed campgrounds. It accounts for the federal land that's not designated national forests, wilderness areas, wildlife areas, etc.
Camping in National Grasslands
Camping in National Forests
Camping in National Monuments
Camping in National Parks
Camping in National Recreation Areas
Camping in State Parks
Thirty-three of forty-two state parks provide camping opportunities. Some even rent yurts and cabins if glamping is more your style. Stay in a teepee at Yampa River State Park. See all state parks.
Camping in State Wildlife Areas
Camping at a SWA is permitted with a valid hunting or fishing license. It's generally free to camp there.
Guide to Camping in Colorado
Thanks to more than a third of the land in Colorado being public and surrounded by recreation, good camping is easy to come by. Remember to leave no trace when camping and always use pre-existing sites.
The main season is primarily late April through October, although it depends on location. Many higher campgrounds do no open until Memorial Day. For RV's and winter enthusiasts, many campgrounds remain open all year.
Some campgrounds are reservable, while others are first-come, first-serve. It's wise to bring cash in a number of denominations so you can be ready to pay exactly for a campsite. Popular campgrounds get filled up fast, so book online early if you're able.
Camping fees vary, but are generally around twenty bucks, give or take. Parks often charge an admission on top of this. State Parks require a daily rate and the national parks' entrance pass is good for seven days.
Search nearby camping by towns. Many show local campgrounds and dispersed camping.
Dispersed Camping vs Campgrounds
No matter what your budget, you'll find camping that's right. Free campsites exist, mostly dispersed camping in the national forests and BLM land. These pre-used campsites are marked by a ring fire (stone circle for fire pit).
If primitive campsites without amenities, like a toilet, aren't your thing, then maybe managed campgrounds are. The most common luxuries include group vaulted toilets, a fire pit, a picnic table and a tent pad (crushed rock area). Few have coin-operated showers and laundry.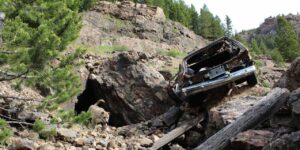 Camping by Moffat Tunnel in Rollinsville – Tucked away in the Roosevelt National Forest, the Moffat Tunnel used to offer trips through the Continental Divide. Now it's widely popular for outdoor recreation, mainly camping, hiking, biking and off-highway-vehicles…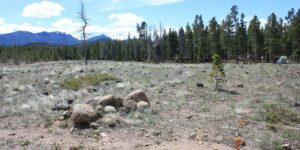 Camping at West Magnolia in Nederland – Situated only a few miles south of Nederland, West Magnolia offers twenty-two free campsites surrounded by gorgeous, high-alpine views. There are eight miles of multi-use trails that are open to hiking, biking and horseback riding…
Another choice you'll commonly have are hook-ups, either full or partial. The latter includes only electric and water, while the former adds sewer. Hookup sites cost more than those without. Most of these campsites are designed to fit RV's and travel trailers of grenth length.
The best option at campgrounds for tents are walk-in sites, although they're not found too often. Maroon Bells is a good place for these. They require a usually, short trek from the parking area, but rewards in more privacy and space between sites.
Car Camping Checklist
Shelter – tent, rods, stakes; or RV – rent a Colorado Teardrop
Sleeping bag – at least a 40°F or warmer bag for the mountains in summer
A tarp or foot print – for underneath the tent
Sleeping pad – the air ones are nice
Headrest
Water and food
Sun lotion, sun glasses, hat
Warm clothes, rain gear, long underwear
Flash lights and spare batteries – lanterns are nice.
A knife, compass, cell phone and camera
Cooking supplies – camp stove, can opener, cooler, utensils, aluminum foil
Fire supplies – firewood, firestarter, weatherproof matches
Fire aid kid – bandages, sterile gauze, antiseptic wipes, burn ointment, etc.
Personal hygiene – tooth brush, past, towel, soap, toilet paper, razor, nail clippers
Cleaning supplies – dish detergent, sponge, paper towels, garbage bags
Tools – screw driver, ax, duct tape, water cleaner, whistle
Cash – pay for campground (variety of bills, quarters), firewood, etc.
Featured camping articles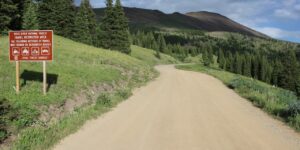 Driving over Boreas Pass to Breckenridge – Pronounced Bore-ays, Boreas Pass is a stunning 22-mile drive through Colorado's central Rockies, connecting Park and Summit counties. It links the historic village of Como to the thriving resort town of Breckenridge…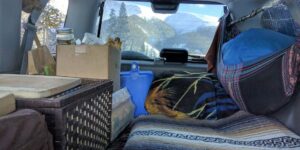 What It's Like Retrofitting a Vehicle While Living Mobile in Colorado – If your ever curious about what solo mobile living is like or want tips on ways to make your journey cozier, this post is for you. Colorado is an adventure paradise with so many diverse landscapes, waterways and cities…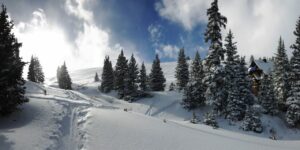 Adventure Year Round to a 10th Mountain Backcountry Hut – Plan your next mountain adventure with the 10th Mountain Division Hut Association. Choose from 34 backcountry huts connected by over 350 miles of trails accessible to hikers, mountain bikers, skiers and snowshoers…
Some camping related activities
Pack your fishing rod. Chances are you'll pass a spot to cast a line. And nearly every campsite is near some nice hikes.