Autumn sunset over Gore Range in Summit County. Photo: John Holm
As its name implies, Summit County is full of big mountains, including the Ten Mile Range, which encompasses Breckenridge. Nearly 30,000 residents were recorded in the 2010 US Census and even more visit year round.
The county was one of the original seventeen Colorado counties as determined by the First Territorial Legislature on November 1, 1861. It's centered around Lake Dillon, which gets use a lot in the summer season. Summit County is home to four world class ski resorts: A Basin, Breck, Keystone and Copper Mountain.
Visit the Summit County Government website.
County Towns
Adjacent Counties
Featured Summit County blog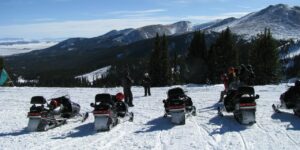 Let the Good Time Adventures Roll in Breck – For over 30 years, Good Times Adventures has given Breckenridge residents and visitors the exhilarating time of their lives, racing across 40 miles of trails in some of the most gorgeous terrain in the state…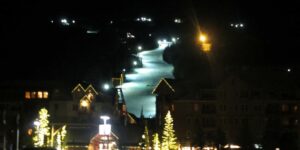 Skiing under the lights in Keystone – Skiing after dark at Keystone Ski Resort is one for your skiing bucket list. It's got the largest night skiing operation in Colorado. Keystone's a favorite resort because of its fun, rolling terrain. Runs from the top stretch…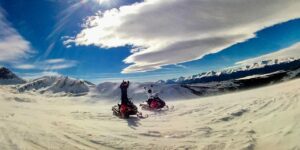 Colorado's Hidden Snowmobiling Gem: Summit County – Located in the heart of the Colorado Rockies, Summit County is the self-proclaimed "Playground of Colorado." Summit County encompasses the inviting towns of Keystone, Dillon, Frisco, Silverthorne…
Featured Summit County events
Read all our posts tagged Summit County.