From vodka and whiskey to brandy and gin, Colorado distills a range of fine craft spirits. There are a number of local distilleries that your can tour. Read our distillery tours blog.
Address: 2500 47th St Unit 10, Boulder
About: A distiller of potato vodka and makers of 303 Vodka. Stop by for tastings and a tour, Wednesday through Saturday from 2pm-10pm.
Address: 1925 Airport Rd, Breckenridge
About: There is a tasting room downtown and a distillery about a mile away. Tours run every 30 minutes from 11am to 6pm, Tues to Sun. Enjoy samples of the awarding winning whisky or vodka.
Address: 5311 Western Ave, Ste. 180, Boulder
About: Stop by the micro distillery for complimentary tours and tastings, Tuesday through Friday.
Address: 144 Kluge Ave, Palisade
About: Winner of the 2012 Distiller of the Year. Local spirits made with local ingredients from Colorado's western slope. One tour usually on Fridays at 3pm.
Address: 200 South Kalamath St, Denver
About: The first Colorado whiskey has quickly gained a reputation for quality. Reserve your distillery tour online up 2 weeks in advance; 30 spots per tour; 30-45 minute tours. Must be 21+. Tours are Mon, Wed, Fri and Sat.
Wood's High Mountain Distillery
Address: 144 W 1st St, Salida
About: Small-batch, handcrafted spirits in downtown Salida. Try the Tenderfoot Whiskey or Treeline Gin. See website for tasting room and tour schedule.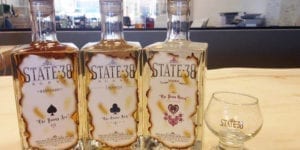 Tour & Tastings at Golden's State 38 Distillery> (affiliate) - 31% off $11.50 ($16 value) for standard distillery tour for 2. Each guest receives two tastings and one signature cocktail. VIP tours are also offered. State 38 makes fine tequila, gin and vodkas...
Guide to Distillery Tours in Colorado
Coloradoans have long been making their own hooch. With Stranahan's national reputation, more and more craft distilleries are growing around the state.
Most large distillers offer complimentary tours at certain times. Ask your local distillery for a tour and they'll probably offer you a quick peak or let you know if they have a scheduled one. Reserve ahead of time at the larger Stranahan's.
Colorado distills vodka, whiskey, rum and gin, among other spirits. Taste some of the finest today at a Colorado craft distillery.
Some distillery tour related activities