Cottonwood Hot Springs were used for centuries by the Ute Indians as a spiritual gathering area. Today, they are a fully-developed set of rustic hot springs and overnight accommodations. They're located just outside Buena Vista, at the foot of the Sangre De Cristo Mountains.
Facility
These geothermal, hot mineral springs are entirely fed by gravity and known for their therapeutic and medicinal value. There are several pools of varying size and temperature. The hottest pool can reach up to 110° F.
There are two private, creek side hot tubs available for hourly rent. These are closed in the winter.
A variety of lodging is offered on site. You can rent cabins of varying sizes, rent a bed in a coed dormitory or pay for a tent site. The dormitory consists of three double beds, three single beds, a full kitchen and a bathroom. Pets are only allowed in cabins for a fee.
Nothing artificial is added to the natural hot springs. Alcohol, smoking, dogs and glass are not permitted in the pool areas.
Atmosphere
​Family friendly hot springs; Several stone soaking pools to choose from; Children must be with an adult and vacate the soaking pool area at 6pm.
Mt Princeton Hot Springs is another place to soak near town.​
Details
Address: 18999 County Rd 306, Buena Vista
Phone: 719-395-6434
Season: Year round
Hours: 8am – 10pm / 365 days
Clothing: Required
Temp: 94º to 110º F
Website: ​cottonwood-hot-springs.com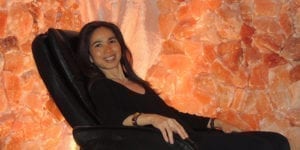 Breath clearly at a Denver Salt Cave (affiliate) - 46-47% off $19 ($35 value) for one 50-minute salt cave session , $56 ($105) for three 50-minute salt cave sessions at 5 Star Salt Caves in Denver. Europeans have long held that breathing in salt has therapeutic...