Glenwood Hot Springs is the biggest hot springs destination in Colorado. It's the "Spa of the Rockies", situated in the historic center of town. Enjoy all the activities that the area offers and then relax in the world's largest hot springs pool.
Facility
There is one giant swimming pool sectioned off for various uses, and a separate, smaller hot pool. On the one end there are a couple of diving boards and lanes for doing laps. Then there is the majority of the pool for just floating around.
There are a few quarter-operated chairs equipped with jets for an underwater massage. The pool area is kept 90° – 93°F.
At the far end of the pool is a separate hotter pool. This is kept around 104° F. If you've had a strenuous day, this can be the perfect treatment for after hours. In the summer season at Glenwood hot springs, there are also water slides and mini golf.
Glenwood hot springs pool is filtered and purified non stop. Every six hours there is a complete changeover. Inside there are lockers rooms and a fitness center. The athletic club offers fitness classes like yoga or Pilates. You can even hire personal trainers.
Shopping and dining are on-site too. The Grill offers breakfast and lunch. It's located near the pool patio with indoor/outdoor seating and a snack bar. The Sport Shop has swimming suits, fitness attire, jewelry.
Glenwood Hot Springs Lodge provides accommodations on site, 107 rooms. Every guest gets breakfast and unlimited access to the pool for as many hours as they can last.
Atmosphere
Family-friendly; Usually lots of people but still space to move around; Your pass is good all day, so you can leave and come back. There is lodging available.
Details
Address: 415 East 6th St, Glenwood Springs
Phone: 800-537-7946
Season: Year round
Hours: Daily, Peak Season: 7:30am-10pm, Off-Peak: 9am-10pm
Swimsuit: Required
Temp: 90°-93° and 104° F
Chlorine: Yes
Website: hotspringspool.com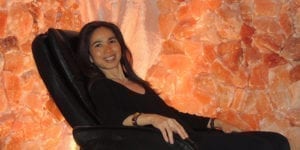 Breath clearly at a Denver Salt Cave (affiliate) - 46-47% off $19 ($35 value) for one 50-minute salt cave session , $56 ($105) for three 50-minute salt cave sessions at 5 Star Salt Caves in Denver. Europeans have long held that breathing in salt has therapeutic...