Hot Sulphur Springs Resort & Spa is a relaxing and therapeutic place to soak. The pools are spread out on a scenic hillside in a tiny mountain town.
The resort is open year round and has lodging on site. It's situated close to Granby and Winter Park.
Facility
There are 21 mineral pools and baths at Hot Sulphur Springs. They are all fed from hot springs deep beneath the Earth's surface.The pools are beautifully developed on a hillside, with easy access between pools.
The temperature of the pools themselves are controlled between 95º to 112ºF. The pools range from large to small, with a cooler indoor swimming pool for laps.
No chemicals are added to the mineral water. The minerals in the water include calcium, chloride, fluoride, magnesium, potassium, sodium, sulfate, and trace elements of arsenic and lithium. Some of the water may appear murky, but that's just the minerals floating around.
Aside from the public pools there are also private pools that adults can rent. Indoors there is a changing area with bathrooms, lockers and showers. The resort also offers spa services like massages and body treatments.
Lodging on site includes basic rooms, an 1840's cabin and an apartment for rent. The apartment gives you access to the hot springs after hours.
Atmosphere
Family-friendly; Relaxing and peaceful, Lots of different pools.
Getting There
Take Highway 40 to Hot Sulphur Springs. The resort is located a few blocks off the highway.
Details
Address: 5609 County Rd 20, Hot Sulphur Springs
Phone: 970-725-3306 | 800-510-6235
Season: Year round
Hours: 8am-10pm/Daily
Clothing: Required
Temp: 95º-112ºF
Chlorine: No
Website: hotsulphursprings.com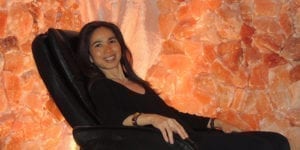 Breath clearly at a Denver Salt Cave (affiliate) - 46-47% off $19 ($35 value) for one 50-minute salt cave session , $56 ($105) for three 50-minute salt cave sessions at 5 Star Salt Caves in Denver. Europeans have long held that breathing in salt has therapeutic...