Formerly known as the Mineral Hot Springs, Joyful journey makes a great stop while passing through central Colorado. It's located in a beautiful part of the San Luis Valley, about 30 miles south of Salida.
The views of the Rocky Mountains around the hot springs are remarkable.
Facility
There are three pools of varying size and temperature filled with hot mineral water. Temperatures range from 98 to 110 degrees F.
All the pools are gravity fed with artesian water. The mineral water comes from deep within the earth and reaches the ground at 140 degrees F.
The natural mineral water that flows from into Joyful Journey Hot Springs is some of the clearest and hottest in the state. Minerals in the water include: boron, calcium, lithium, magnesium, and more naturally occurring minerals that benefit the body.
There are changing rooms with lockers, toilets and showers. Towel, robe and bathing suit rentals available. A dry sauna is located indoors. Joyful Journey offers massages, body treatments and hot stone therapy.
Lodging is available at Joyful Journey Hot Springs. There are several types of rooms to rent in the hotel. You can also spend the night in a yurt or a tepee. Tent sites are available as well.
Atmosphere
​Relaxing and peaceful setting, usually not a lot of people around; Great views of the Rockies
Getting There
Located about 32 minutes south of Salida, one mile off Highway 285. Valley View Hot Springs is located about 7 miles from Joyful Journey on a 2WD dirt road.
Details
Address: 28640 Co. Rd 58EE, Moffat (near Salida)
Phone: 719-256-4328
Season: Year round
Hours: Daily, 9am-10pm
Clothing: Required
Temp: 100-102 F
Website: joyfuljourneyhotsprings.com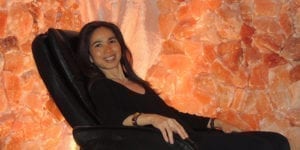 Breath clearly at a Denver Salt Cave (affiliate) - 46-47% off $19 ($35 value) for one 50-minute salt cave session , $56 ($105) for three 50-minute salt cave sessions at 5 Star Salt Caves in Denver. Europeans have long held that breathing in salt has therapeutic...