A locals favorite, Orvis Hot Springs offers several outdoor pools to soak in, all of which offer fantastic views of the San Juan Mountains. There's also an indoor pool and two private tubs. It's located eight miles north of Ouray.
Facility
It's clothing optional throughout the day. Outside, there are four separate pools. All are fed with soothing natural lithium hot springs. Temperatures range from 100-106° F.
"The Pond" is the largest at 40′ across and 5′ deep. "Island Pond" is 20′ long, 8′ wide, and 2′ deep. There is a waterfall that feeds pure crater water into this pond.
Orvis Hot Springs also hosts a "Smoker's Pond". It's 8 feet round and features a soothing waterfall. Temperatures range from 103-107° F. The Lobster Pot is the fourth and hottest outdoor pool. This pool is the smallest one and averages 108-114° F.
Inside there a pool house complete with murals and poolside furniture. The indoor pool is 3′ deep and averages 101° F. Enjoy the soothing sounds of another waterfall.
For a more intimate experience in Ouray, there are 2 private tubs available first-come, first-serve and average 102-110° F.
Pamper yourself with a massage in one of the yurts. There are several talented massage therapists available daily from 9am-9pm.
Lodging
Orvis Hot Springs has six themed bedrooms available for rent on the upper floor of the lodge. No telephones or televisions are in the rooms, but there is wi-fi available in the main lodge.
A community kitchen is open those looking to prepare meals and a small refrigerator in each bedroom.
For those looking to camp, there are both tent and RV spots on-site. It includes two days of access to the hot springs and all night.
Atmosphere
Clothing-optional; No glass or alcohol; Breathtaking views of San Juans
Getting There
From Ouray – Head north on US-550 N for 8.7 miles. Take a sharp left onto Co Rd 3 and go about 500 feet. Orvis will be on the right.
Details
Address: 1585 Co Rd 3, Ridgway
Phone: 970-626-5324
Season: Year round
Hours: Daily 9am-10pm
Chlorine: No
Swimsuit: Optional
Website: orvishotsprings.com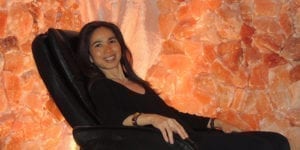 Breath clearly at a Denver Salt Cave (affiliate) - 46-47% off $19 ($35 value) for one 50-minute salt cave session , $56 ($105) for three 50-minute salt cave sessions at 5 Star Salt Caves in Denver. Europeans have long held that breathing in salt has therapeutic...