The Springs Resort is one of the most well developed hot springs around. The resort offers lodging on-site, a full spa, salon, and plenty of hot springs fed pools. It's located in downtown Pagosa Springs.
Facility
There are twenty-three different pools available for soaking at The Resort. All the pools are wonderfully laid out on a beautiful stone terrace, with views overlooking the San Juan Valley.
The size and temperature of the pools varies, ranging from 83°-114° F. Each pool is unique, some with waterfalls, cliffs, and other features to look at and relax to. You are sure to find a pool to suit your needs.
Five of the above pools are designated adults only. These "Deluxe" pools are an extra fee. One of the pools is a cooler, mineral water swimming pool suitable for doing laps.
Inside there are nice lockers rooms for changing, showers and bathrooms. There is a luxury spa indoors offering a complete menu of massages and body treatments, as well as a hair, skin and nail salon.
Lodging
The Resort has a 79 room hotel, offering three levels of accommodations: Standard, Deluxe and Suite. The best part about staying at The Springs is that all guests have 24-HOUR access to soaking in the hot springs. Plus everyone gets a free robe and locker.
Atmosphere
Family-friendly; Modern, well-developed hot springs resort; Smells of sulfur, but you get used to it; Can get crowded during the summer and ski season.
Details
Address: 165 Hot Springs Blvd, Pagosa Springs
Phone: 970-264-4168​
Season: Year round
Hours: Daily 7am – 11pm
Clothing: Required
Temp: 83°-114° F
Chlorine: No
Website: pagosahotsprings.com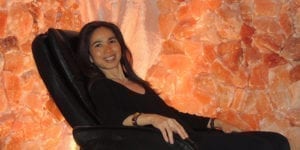 Breath clearly at a Denver Salt Cave (affiliate) - 46-47% off $19 ($35 value) for one 50-minute salt cave session , $56 ($105) for three 50-minute salt cave sessions at 5 Star Salt Caves in Denver. Europeans have long held that breathing in salt has therapeutic...