Yampah Spa Vapor Caves features natural underground steam baths that are fueled by local hot springs. The caves are filled with hot mineral steam which melts away tension and stress effortlessly. It's a unique and relaxing experience in Glenwood Springs
They are the only known natural vapor caves in North America. The Ute Indians had long used these caves as a sacred place for rejuvenation.
Facility
Visitors to the vapor caves descend a stairway inside the main building, before passing through a stone corridor into the caves. Hot mineral water flows through the cave floors at 125°F.
Steam rises throughout three adjoining underground rock chambers. Temperatures in the caves average 110°-112°F.
Brief stints of 10-12 minutes are recommended inside the caves. There is a cooling area nearby and a large solarium upstairs. Cold water and small tubs are also available for cooling off while in the caves.
The resort also offers all the amenities of a day spa. Massages and body treatments are available, as are facials, manicures and pedicures.
There are private baths filled with hot mineral water that are available to rent. The Yampah Spa is definitely a place to pamper and treat yourself to something nice while in town.
Atmosphere
Unique underground caves filled with steam; Full spa, Private hot mineral baths available
Getting There
Yampah Vapor Caves is just east of the Glenwood Hot Springs. The spa is situated along the Colorado River on Sixth Street.
Details
Address: 709 East 6th St, Glenwood Springs
Phone: 970-945-0667
Season: Year round
Hours: Daily 9am-9pm
Swimsuit: Required
Website: yampahspa.com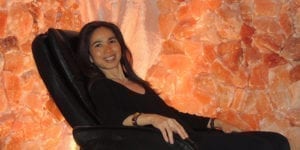 Breath clearly at a Denver Salt Cave (affiliate) - 46-47% off $19 ($35 value) for one 50-minute salt cave session , $56 ($105) for three 50-minute salt cave sessions at 5 Star Salt Caves in Denver. Europeans have long held that breathing in salt has therapeutic...