One of the best parts about ice fishing is the ability to fish from the center of the lake without a boat. You can really catch some monsters in the winter! Read our ice fishing blog.
Guide to Ice Fishing in Colorado
Enjoy quiet landscapes, breath-taking scenery, and the tranquility of the Colorado wilderness. The reputation of ice fishing as a cold winter activity is true, but with modern equipment like heaters, huts and the right winter clothing, you can usually find yourself quite comfortable.
The season typically lasts from early December through mid-April, depending on location and weather. Generally, ice needs to be 4 inches thick to hold a person and 5 inches to hold a snowmobile. Cars are often seen driving on ice which is usually safe on ice at least 8 to 12 inches thick.
Ice Fishing Equipment
So as long as there is sufficient ice, all you need to do is drill a hole and drop your line. Usually holes will be between 4 and 10 inches, depending on size drilled used and fish type you're going after. Ten inches is the max width in Colorado. You'll often have to scoop ice out of your hole to keep it from refreezing.
Numerous bait and tackle shops stay open in the winter and will rent you everything you need to ice fish. Ice Fishing Colorado LLC rents everything you need for a day on the ice: rods, drills, tents, and more. It's conveniently located at the entrance to Rocky Mountains by I-70 in Golden.
Auger – drill hole
Bait and tackle – fish lure
Fishing license – obtained at a number of stores, like Wal-Mart or online
Ice hut – stay warm
Reel and rod – catch fish
Scoop – keep hole ice free
Boots, wool socks
Wind and waterproof jacket​
Gloves, hat, sunglasses
Layers of clothing
Camera, cell phone
Hand and food warmers
Ice cleats
Sunscreen, lip balm
Water, snacks
Stay informed on ice fishing conditions at Ice Fish Colorado.
Featured ice fishing blog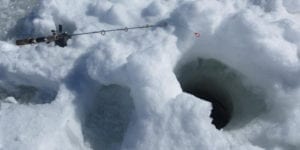 2018 Ice Fishing Tournaments in Colorado
– Get together with some friends and head out for an ice fishing adventure. Tournaments are held almost weekly from late December through the beginning of March. There are both team and individual tournaments…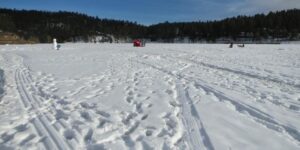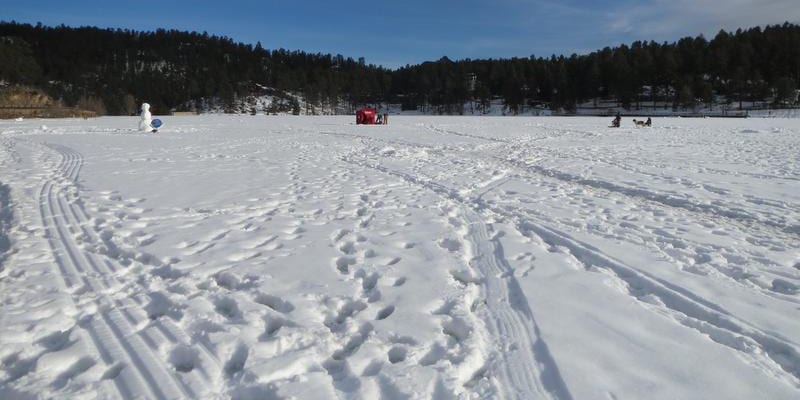 Frozen Fishing on Evergreen Lake – Once Evergreen Lake freezes over for the season, usually in December, ice fishing and skating take over the lake. There's no fee to fish the lake, as long as you have a fishing license, and parking is free. Evergreen features a large..
Some ice fishing related activities
Fortunately most great fishing areas have campsites nearby. Sometimes you need more than a hike to and from the lake.