With a plethora of indoor and outdoor rinks, you can skate year round here. Thanks to the Rocky Mountains, Colorado is home to lots of outdoor ice rinks. Most lakes began to freeze over in November and start opening up shortly after, through March, weather permitting.
Outdoor ice rinks
Most winter ice rinks are completely outdoor, some are covered, as to appear indoors, and others are indoor, yet still only seasonally open for ice skating.
Indoor ice rinks
Ice skating is available year round at indoor rinks across the state.
Guide to Ice Skating in Colorado
Ice skating has long been a popular winter activity in cold places. It is believed to have originated in Finland some 4,000 years ago. People would glide across the ice with flattened bones attached to their feel. Steel skates were added in the 13th century by the Dutch.
In Colorado you can ice skate all year. You can skate indoors at an ice rink or outside across a frozen lake. Most of the venues are open into the night. It's is a great activity for everyone, from family to friends. The Rocky Mountains provide a truly memorable place to have some fun on the ice.
Winter outdoor ice skating
This winter if you have the opportunity to pass by a rink, take a chance on the ice. Each resort town generally boasts a wonderful outdoor rink to skate the night away. If not, they probably have an indoor rink open year round. All levels and ages can enjoy ice skating in Colorado. Each rink will have rentals, but it's always smart to inquire early, in case they sell out. Remember to dress warmly and have a blast.
The largest Zamboni-maintained ice rink in North America is Keystone Lake. It's a five acre lake open to all types of skating and even hockey. Evergreen Lake is another massive lake that's a can't miss for those looking for an unforgettable experience.
Small picturesque rinks exist at Beaver Creek, Copper Mountain, Vail and Winter Park. These rinks exist in the heart of these lovely resort villages. Take in dinner then strap on your skates!
Year round indoor ice skating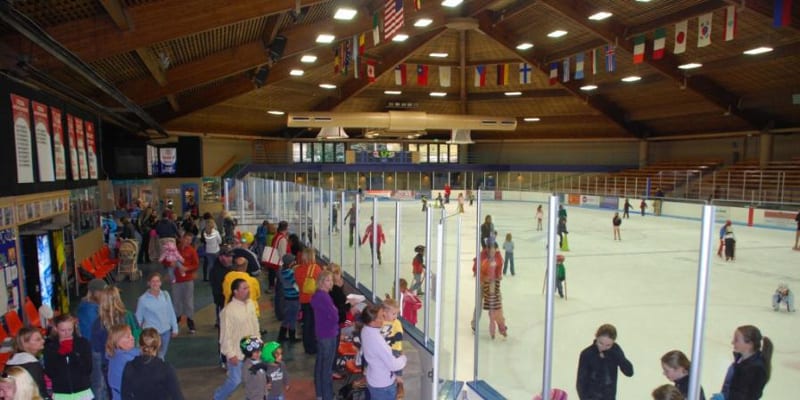 When winter passes, or if there's no outdoor option, skating is still a blast indoors. Steamboat features the Howelsen Park Ice Arena, which has an Olympic size rink and bleachers for those looking to observe. Both Breck's Stephen C West Arena​ and Vail's Dobson Ice Arena have large, multi-purpose ice rinks for year round fun.
Some ice skating related activities
Time to hit the mountain on one of Colorado's many world class slopes. Snow tubing hills are usually easy to find near resort towns.