What started millions and millions of years ago underground, has slowly transformed Colorado into one of the most remarkable places. Read our natural landmarks blog or jump to waterfalls, archaeological sites or manmade landmarks.
Colorado has fascinating caves located throughout the state. A few of them are open for public tours year round: Cave of the Winds, Glenwood Caverns and Rifle Falls.
National Natural Landmarks
There are thirteen national natural landmarks in Colorado. Twelve of them are located entirely within the state, while one of them, Sand Creek, partially extends into Wyoming. Many are open to the public, while some are on private lands and not accessible. See map.
Address: 1805 N 30th (at Gateway Rd), Colorado Springs
Ownership: Municipal
About: Local city park with magnificent sandstones.
Garden Park Fossil Area​
Address: Fremont Co (near Canon City)
Ownership: Federal
About: Located on BLM lands, dinosaurs bones were discovered in the 1870s, 1880s and 1950s. The Cleveland Quarry as it's known, permits primitive camping on site. Activities include camping, hiking, picnicking, scenic drives and wildlife viewing.
Hanging Lake
Address: Garfield Co (near Glenwood Springs)
Ownership: Federal
About: A unique example of a lake formed by travertine deposition. It's also a great example of a hanging garden plant community. It's located within the White River National Forest. We our feature on Hanging Lake.
Indian Springs Trace Fossil
Address: Fremont Co (near Canon City)
Ownership: Private
About: 85 acre area includes trace fossils of animals who lived 450 million years ago.
Lost Creek Scenic Area
Address: Pike National Forest, Central Colorado
Ownership: Federal
About: Odd rock formations and underground stream channels caused from weathering along joint planes.
Address: 16831 W Alameda Pkwy, Morrison
Ownership: County & Municipal
About: Located along Dinosaur Ridge near Green Mountain. A trail runs north to Golden. Sites show dinosaur and crocodile bones, plant fossils and geological features.
Raton Mesa
Address: Las Animas Co (near Trinidad)
Ownership: State & Private
About: A mesa preserved by a thick lava cap. It has resisted weathering and erosion.
Address: 4751 E Roxborough Dr, Roxborough Park
Ownership: State
About: Similar tilted and faulted sandstones like Garden of the Gods.
Russel Lakes
Address: Sagauche Co (north of Monte Vista)
Ownership: Federal & Private
About: Most comprehensive bulrush marsh in the state. Supports flora, fauna and numerous birds, like waterfowl.
Sand Creek
Address: Larimer Co & Albany Co, WY
Ownership: Federal, State & Private
About: Located primarily within Wyoming, some of the landmark extends into Colorado. Contains some of the best examples of cross-bedded sandstone and topple blocks in North America.
Address: Hinsadle Co (near Lake City)
Ownership: Federal, Private
About: Excellent example of mass wasting.
Spanish Peaks
Address: Huerfano Co & Las Animas Co (near Trinidad)
Ownership: Federal & Private
About: Located in the San Isabel National Forest, it's one of the most spectacular examples of exposed igneous dikes.
Summit Lake
​Address: Clear Creek Co (near Idaho Springs)
Ownership: Municipal
About: Located near Mount Evans, it's one of the best examples of Arctic tundra in the US, south of the Canadian border.
These wonders are designated national natural landmarks to protect them for the future. They are the best examples of biological and geological features in the United States.
NNL map: (source: nps.gov)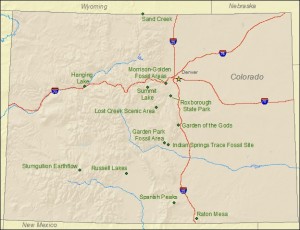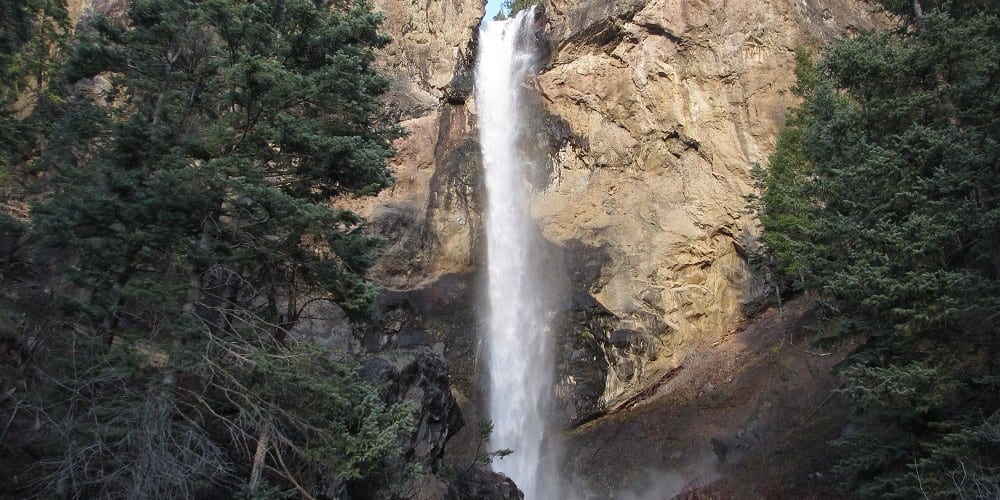 Waterfalls
Majestic waterfalls are located all around the Rocky Mountains, many only a short walk from your car. They're usually at their most explosive between April and May when the snow is melting fast. Some of the falls freeze up in the winter, providing unique recreation for climbers. See map.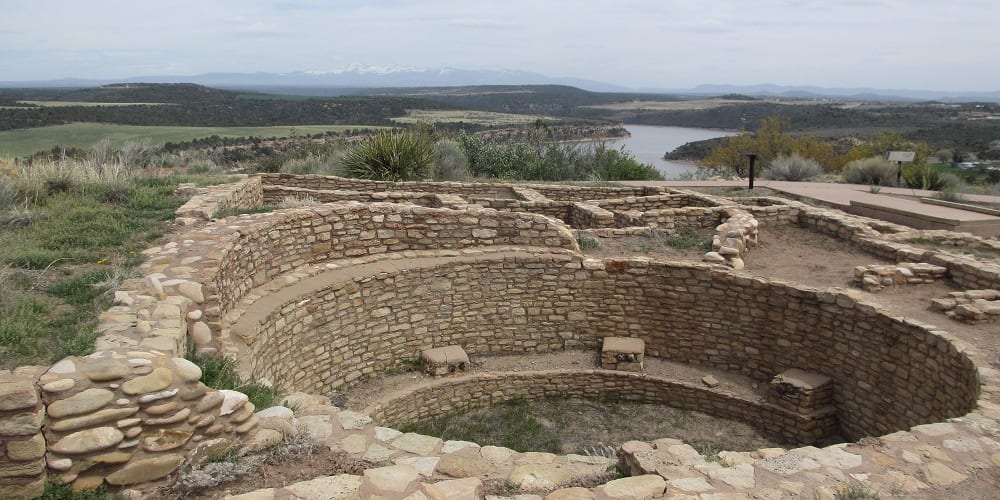 Archaeological Sites
Explore the history of Colorado, from ancient civilizations and artifacts, to dinosaurs that once roamed the land. See map.
Manmade Landmarks
Four Corners is the only place in the country where four states touch.
See related activities
Explore breathtaking places like Colorado National Monument and Black Canyon of the Gunnison. Scenic byways weave through beautiful landscapes.State Parks provide endless recreation.