Once a week we throw out a Colorado trivia question. Find out how well you know the Centennial State.
Scroll down to see how you did.
Valentine's day cards!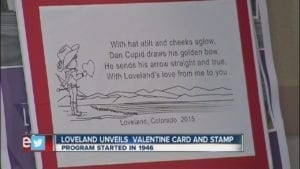 Loveland, Colorado is home to the largest Valentine re-mailing program in the country. The U.S. Postal Service and the Loveland Chamber of Commerce have been playing Cupid for over 70 years.
The town receives about 130,000 cards from all 50 states and over 100 countries. You can just send your valentine card to the program and your sweetheart gets a card from the Sweetheart City!
Previous Q | Next Q