American comedian and actor Kevin Hart has included a date in Denver as part of his 2018 "Irresponsible Tour," which begins in earnest next month. The 38-year-old will be performing at the Pepsi Center on Friday, June 29th at 7 p.m.
Hart's stand-up comedy career took off in 2009 when he began nationwide tours. His 2011 "Laugh at My Pain" roadshow grossed more than $15 million, making it one of the best-selling comedy tours in the U.S. that year.
Kevin Hart stand-up comedy show in Denver
"Laugh at My Pain" was followed by a hugely successful world tour in 2015 titled "What Now?" which sold out some massive venues around the world. Hart is also the first comedian to ever sell out an NFL stadium, packing the Lincoln Financial Field with more than 50,000 fans. The year 2017 was also a breakthrough year for Hart's memoir book "I Can't Make This Up: Life Lessons," which held the number-one position on the New York Times Best Sellers List for 10 successive weeks.
Hart's comedic style is heavily influenced by his racial and gender role experiences, as well as his family life. Much of his material is self-deprecating due to his shorter-than-average appearance and his struggles with his personal and career paths growing up. Just two years ago, Hart was named in the Time 100 list as one of the world's most influential people; such is the impact his comedic and acting career has had on fans not just in the States but around the world.
When Hart is not currently touring with his live shows, he's still getting involved with crazy stunts, such as beachside sprint races with Olympian Usain Bolt — just the kind of thing you'd imagine a man of his magnitude to dabble in. Hart also boasts a long and impressive acting career, which began in 2001 as part of the television series "Undeclared." That led to Hart being cast in several hit movies as part of the "Scary Movie" franchise in films three and four.
More recently, Hart starred in the "Jumanji" remake, "Jumanji: Welcome to the Jungle," as well as voicing the character Snowball in "The Secret Life of Pets." Hart is no stranger to the biggest stage, having hosted a variety of ceremonies and awards nights, namely the MTV Video Music Awards in 2012. He's also hosted three episodes of "Saturday Night Live" in the past.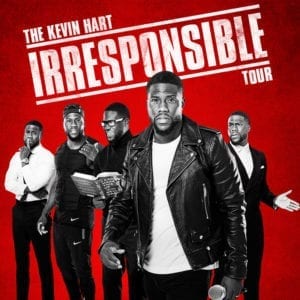 Hart himself cites the likes of Eddie Murphy, Bill Cosby and Chris Rock as some of his comedic inspirations, and it's easy to spot those influences in his stand-up act. As part of this year's world tour, Hart is venturing over to the U.K. for 11 shows across England and Scotland, culminating in a three-night residency at London's O2 Arena. He's also taking his show as far afield as New Zealand (Auckland) and Australia (Melbourne).
Tickets are still on sale for the show at the Pepsi Center, with prices beginning from $44 and going up to $154.50, including booking fees. The Pepsi Center is one of the best arenas for live comedy shows in North America. It offers excellent views from all areas of the venue, as well as spectacular sightlines of the western Rocky Mountains outside.