The seventh annual Palisade Bluegrass and Roots Festival returns to Western Colorado for three days of jamming in the spring sun. The scenery is perfect for a festival, nestled against the Colorado River and surrounded by beautiful mesas.
This year's Palisade Bluegrass and Roots Festival features musical acts from: Aoife O'Donovan Band, Trout Steak Revival, TAARKA, Steel Wheels, Dead Winter Carpenters, Milk Drive, Chain Station, Free The Honey, Dirty Bourbon River Show, The Appleseed Collective. It's held from Friday, June 8th through Sunday, June 10th, 2018.
Paid camping is available at Riverband Park, which offers more than 100 acres for the festival and camping spots. Pets are not welcome anywhere in the fairgrounds or campgrounds. The park is a short five minute walk to downtown Palisade.
Friday's Events: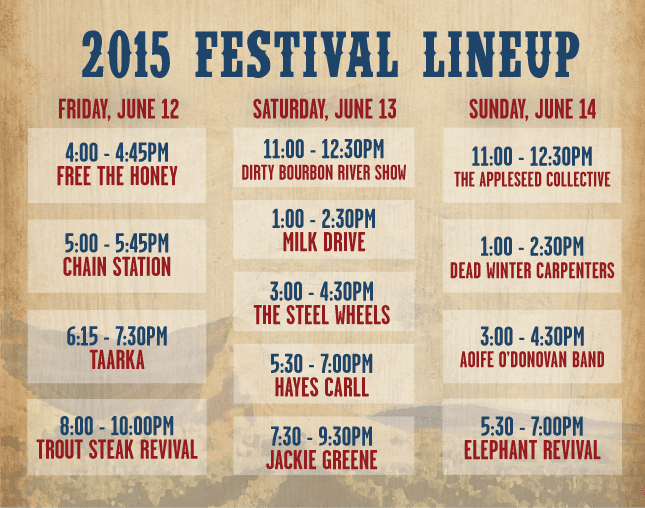 Palisade Rim Hike – 8:30am
Rookie Rugby – 4-4:45pm
Playin' in the Bluegrass – 5-7pm
Saturday's Events:
Lions Club Pancake Breakfast – 8-11am
Good Morning Yoga – 9am
Scavenger Hunt – 9am
Rugby Demo – 10-11am
SUP Rentals – 11am-5pm
Blue Pig Art
Playin' in the Bluegrass – 5-7pm
Sunday's Events:
Good Morning Yoga – 9am
Cruisin' Palisade Ride – 9am
Blue Pig Art