Vineyards are located around the state, with most of them concentrated on the Western Slope. Several Colorado wine makers offer tastings and tours of their local vineyards.
Address: 1501 Lee Hill Dr, Boulder
About: Tasting room open year round – Friday through Sunday from 1pm-6pm, and open Thursday's from June through December. Open Friday until 8pm May-August. BookCliff Vineyards is located next to Upslope Brewery, which also has tours and tastings.
Address: 6440 Odell Place, Boulder
About: The tasting room is open year round Thursday through Sunday from 1pm-5:30pm. Self-guided tours of the winery are free and wine tastings are $5/person.
Address: 144 Ludge Ave, Palisade
About: A tasting room is open year round.
Address: 787 N Elberta, Palisade
About: Wine tasting, self guided vineyard tour, guided tour of the crushing area, fermentation tanks, barrels, and bottling.
​Address: 4700 Pearl St, Boulder
About: Mead is the world's first fermented beverage, wine fermented from honey. Stop by for a free tasting of award winning meads, and a tour of the facility.
Address: 785 Elberta Ave, Palisade
About: A large tasting room and gift shop open daily year round. Complimentary tasting for first 5 tastes at each of 2 tasting rooms.
Guide to Wine Vineyards and Tastings in Colorado
Several companies offer guided tours of Colorado wine country. Sit back and relax as you're shuttled safely around the vineyards.
American Spirit Shuttle offers winery tours in the Grand and North Fork river, and Surface Creek valleys of Western Colorado. They also give Agricultural and Brewilery™ tours, as well as trips to national parks, monuments, and areas of Eastern Utah.
Featured wine tasting blog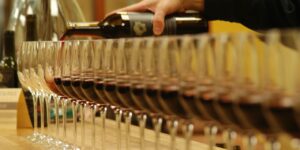 Swirl. Sniff. Sip. Savor. Boulder Wine Trails – Colorado's rich winemaking history dates back to 1899 when Governor George Crawford planted 60 acres of wine grapes and fruit near the high desert farming town of Palisade, Colo. The idea caught on and in 1909 more than a million pounds of grapes were…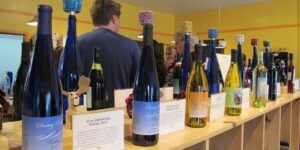 It's Wine Time In Estes Park – Just a glance outside gives a stunning view of the Rockies. Massive, stony giants loom in the distance, and elk meander along the streets just ahead. It's the perfect place to sit back, enjoy some gourmet cheese and sip generously on a bottle of red…
Some wine tasting related activities