Probably best known for its "mini incline," the Phillip S. Miller Park is one of the newest additions to the Front Range's park system. Located in the town of Castle Rock, 30 miles south of Denver, the Phillip S. Miller Park offers 300 acres of outdoor activities including, hiking, biking, zip lining, and more.
Get outdoors and see how you can spend a day at the Phillip S. Miller Park.
Challenge Hill
Challenge Hill is the mini version of the popular Manitou Incline in nearby Manitou Springs. The 200-step incline provides an intense cardio workout as users climb steep grade stairs, gaining 178 feet in elevation, to the top of the hill.
Upon reaching the top, you will be greeted with panoramic views of Castle Rock, Pikes Peak, and the entire Front Range. From here, either walk or run back down or continue along the trail to connect to the park's 8+ mile trail system.
Dogs and bikes are not allowed on Challenge Hill.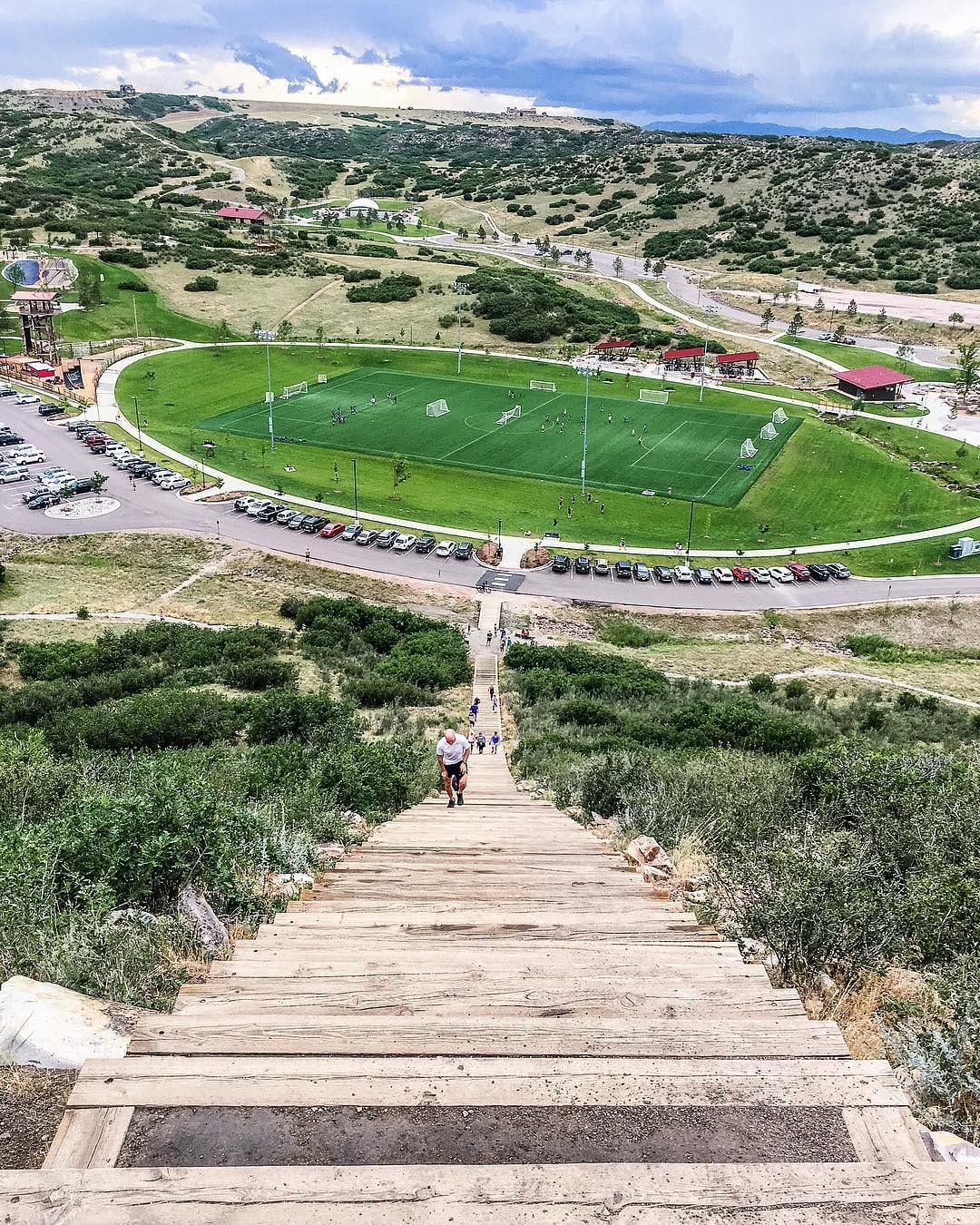 Trails
The Phillip S. Miller Park is home to 8.5 miles of a trail system that offers native surface, single track, concrete, and timber steps (Challenge Hill). The trail network system consists of single-track trails divided into four different loops that are all interconnected.
If 8.5 miles isn't enough, connect with the Ridgeline Open Space via the Wolfensberger Pedestrian Bridge. The connection makes a 17-mile trail loop on a connected 650-acre park.
Castle Rock Zip Line Tours
Adventure awaits at the Phillip S. Miller Park, with its zip line and challenge course. The adventure park, which is run by The EDGE Ziplines & Adventures, is a privately managed section of the park that offers a 10-line zip line course, the Epic Adventure Tower (a 40-foot climbing wall), plus a three-level challenge course that includes over 100 different elements.
Millhouse Events Center
The park also offers the Millhouse events center, which is primarily used for weddings, dinners, corporate events, and other large-scale events.
Outdoor amphitheater
Next door to the Millhouse Events Center, is the park's amphitheater. Here, visitors can see both local and national musical talent perform on stage. The outdoor amphitheater seats 1,500 guests, with the surrounding lawn area used for additional seating. The venue also hosts weddings, church services, and outdoor education programs.
The Plaza and adventure playground
Perfect for the kids, the 2.5-acre adventure playground features a 40-foot-long slide and many other playground equipment structures. The Plaza offers picnic pavilions, an outdoor fireplace, a splash pad, and more for a day of fun at the park. This is the perfect spot to bring a picnic lunch to enjoy after an afternoon of fun in the sun.
Getting there
The Phillip S. Miller Park is accessed directly from I-25, at exit 182 onto Wolfensberger Road, less than five miles south of The Outlets at Castle Rock.
Details
Address: 1375 W Plum Creek Pkwy, Castle Rock, CO 80109
Phone: 303-688-5555
Season: Year-round
Website: crgov.com/2051/Philip-S-Miller-Park