The Lyons Redstone Museum protects, supports, and promotes the history of Lyons, Colorado through its exhibits and research activities. It's housed in the town's former 1881 one-room schoolhouse and showcases over 100 years of history with photographs, artifacts, newspapers, and displays.
Note that there is another Redstone Museum in Redstone, Colorado, south of Carbondale.
History
Built in 1881, the one-room schoolhouse that now houses the Redstone Museum was also Lyons' only schoolhouse until 1927 when a separate high school was built. It's undergone two additions since opening.
The first addition came in 1895 when a second story was added to accommodate the town's growing population. In 1902, the building was again expanded to allow more room for the increasing student body. The school remained in operation until the 1970s when it closed permanently and reopened as the Lyons Redstone Museum.
Today, the restored building stands as it did in 1902.
Exhibits
Every exhibit in the Redstone Museum is a tribute to Lyons. Explore the antique artifacts and read the stories of the early townspeople. Discover what life was like in Lyons over a hundred years ago, and see how it transformed to become what it is today. Popular exhibits include:
All Aboard! Railroads in Lyons—The Denver, Utah & Pacific Railroad ran through Lyons from 1885 to 1960. Photographs and artifacts capture this important rail depot.
​Lyons Newspapers: A History—An interactive exhibit that allows visitors to type with a real 1800s typewriter and get their picture taken in a photo booth.
Native American Artifacts—This collection of Native American stone tools and artifacts comes from Lyons, Estes Park, and eastern Colorado.
The Flood of 2013—The 2013 flood devastated Lyons. This exhibit highlights the heroes, victims, and recovery process that made Lyons strong again.
School Photographs—View photographs of the schoolhouse back when it first opened, and see students both past and present.
125 Years of Distinctive Cameras—See how cameras have changed over the last century. This collection showcases antique cameras from the 19th and 20th centuries.
There is something for everyone at this family-friendly venue. Step back in time and enjoy an afternoon exploring the history of Lyons.
Admission and Hours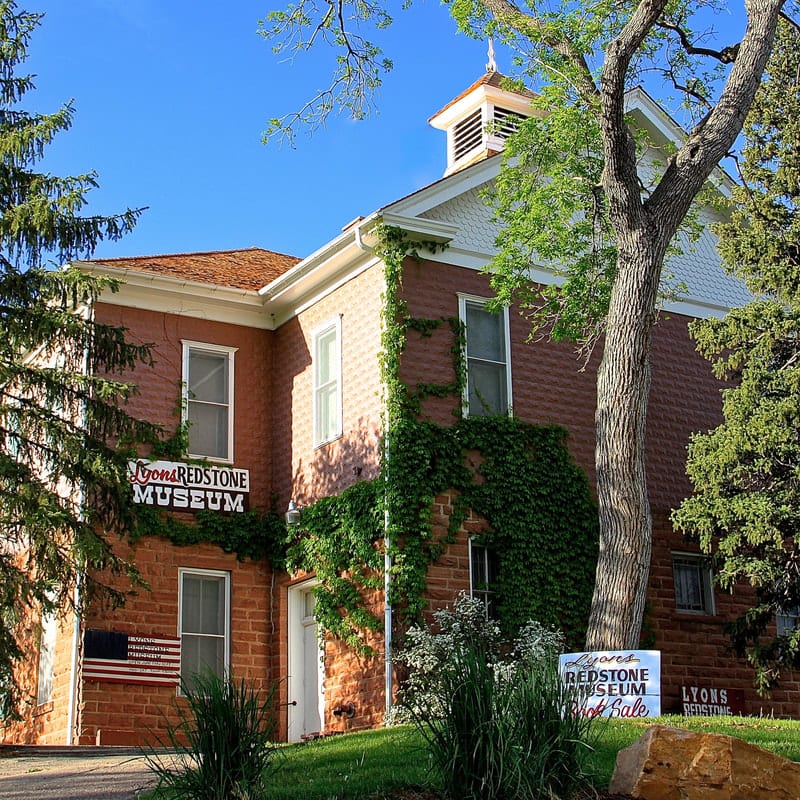 Admission to the Lyons Redstone Museum is free for everyone, though donations are appreciated. The museum is only open during the summer months. Closed the rest of the year.
May: Open weekends only. Saturday, 9:30 am – 4:30 pm, and Sunday 12:30 pm – 4:30 pm.
June-September: Open daily, Monday-Saturday, 9:30 am – 4:30 pm, and Sunday 12:30 pm – 4:30 pm.
Details
Address: 340 High St, Lyons, CO 80540
Phone: 303-823-5271
Season: Year-round
Cost: Free, donations appreciated
Website: lyonsredstonemuseum.com