Mystic Falls is beautiful sight to behold, secluded in the San Juan National Forest, south of Telluride. It's a relatively unknown waterfall, which requires a short hike to reach.
It's best accessed with high clearance four-wheel drive, and a brief, careful hike. You'll get wet crossing a few creeks, so it's probably best to bring a pair of sturdy hiking boots, along with some river shoes.
Getting There
From Mountain Village – Head south on CO 145 for 5.5 miles. Turn right onto County Road 63L. Takes Ames Rd, a sharp left, toward the small town of Ames. Down the hill there is a power station where you can park. If you have high-clearance 4WD, you can continue another half mile or so to the main parking area.
Just after the power station, take a left on a small dirt road. You'll pass a green cabin on your left, then a brown cabin on the right. The road gets rocky and steep here. Continue up the hill, keeping right until you reach an obvious parking area at 37.863109, -107.883358.
Hiking Trail – There is a trail to the left of the parking area, which runs parallel to Lake Fork Creek and some waterfalls. Take this trail which crosses the creek. Look for a good spot cross. From the parking area it's only about 800 feet to the top of the waterfall. The area can be quite dangerous with loose, wet rocks and steep inclines.
While the views at the top of the waterfall are phenomenal, they're even more breathtaking at the bottom. The hike down is steep and technical, so use caution. You'll need to the cross the creek, which is best done about 400-500 feet upstream of the waterfall. You can also cross further upstream where it's not as steep.
Now on the other side of the creek, head down around Mystic Falls and then back up the base. There is some private property, so careful with you trek. Learn more about hiking to Mystic Falls at Outdoor Project.
Details
Address: 106 Lake Fork Junction Rd, Telluride, CO
Waterfall GPS: 37.8625186, -107.8845625
Parking Lot GPS: 37.8632119, -107.8846288
Season: Late spring through fall
Fee: None
Length: 2 miles round trip
Latest in Mystic Falls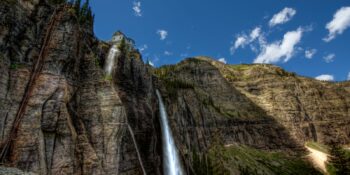 With an abundance of outdoor activities available such as climbing, off-roading, hiking, horseback riding and more,…