Telluride is a former mining town turned ski village isolated deep in the San Juan Mountains. There is both a historic downtown and a modern ski village located at the base of the slopes. Both are full of wonderful shops, delicious restaurants, and affordable lodging.
Located at 8,750′ in San Miguel County, the town is filled to the brim with events for almost every season. During the winter, snow-related festivals are plentiful for visitors and the 2,470 permanent residents in town. Summer and spring are filled with arts and music events galore.
History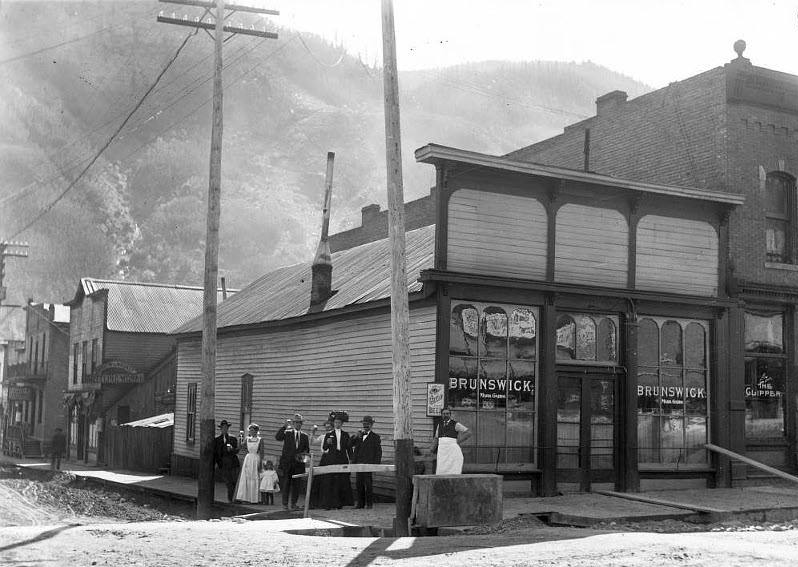 In the mid-nineteenth century, miners began coming to the area looking for gold, silver, and other valuables. The town is named after the chemical element Tellurium, which resembles gold but was never actually discovered around town.
Originally called Columbia, the rambunctious mining town eventually changed its name and officially became a town in 1878. Telluride quickly gained the reputation and catch-phrase, "To Hell You Ride", in reference to the explosive mining days. In June 1889, the infamous Butch Cassidy robbed his first recorded bank, the San Miguel Valley Bank, making off with over $24,000.
The population exploded once a rail line was built to town in 1890, bringing in loads of people looking to strike gold. Silver prices plummeted just 3 years later, and Telluride dwindled to just a few residents. It remained a quiet mountain town for the next 70 years. In 1961, Telluride was officially named a National Historic Landmark District because of its significance in western history.
The latter half of the 1900s continued to bring prosperity to the town. Telluride Ski Resort was opened in 1972, and the town grew with the same momentum it had the first time around. Now, the area has world-class skiing and a thriving arts scene.
Main Attractions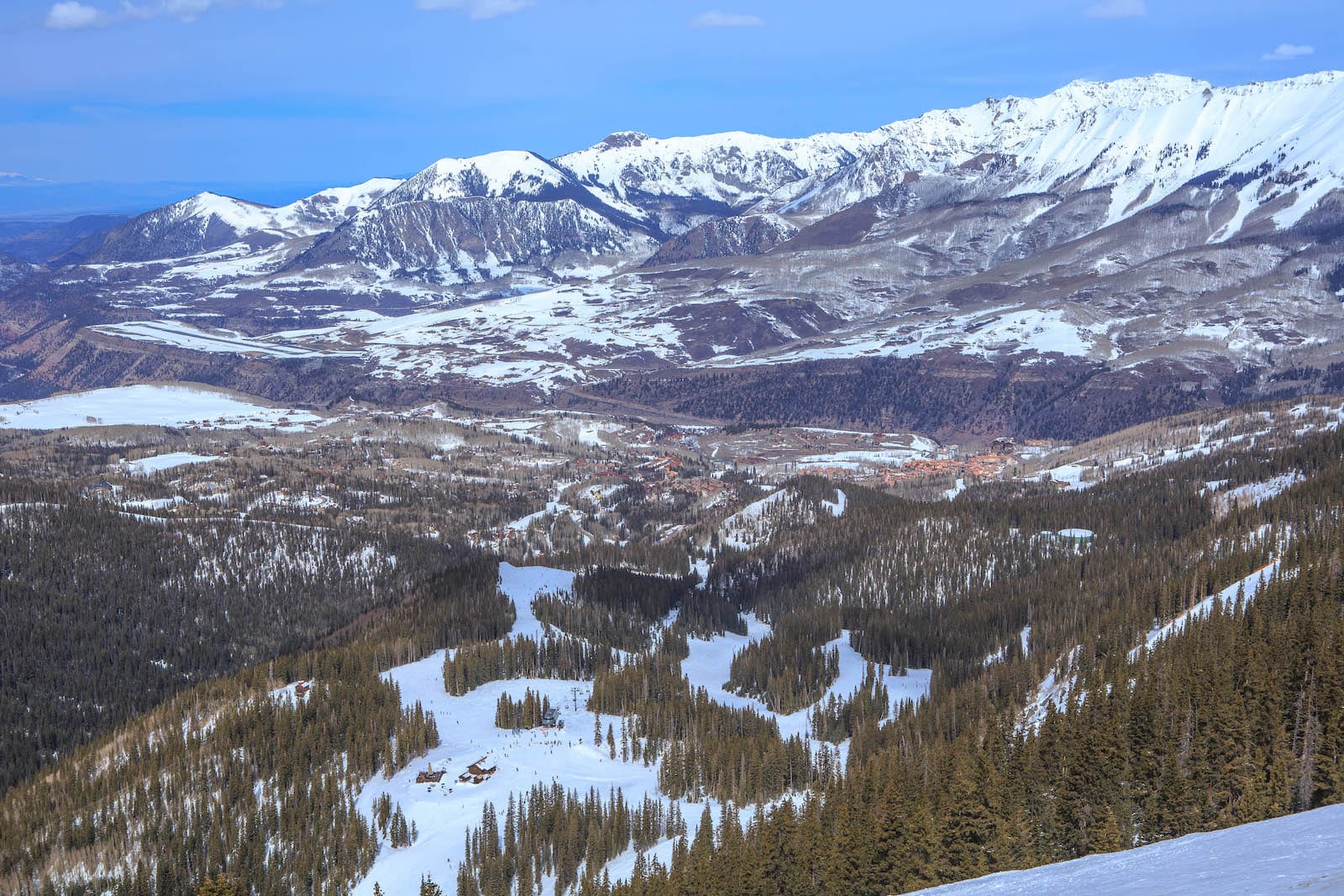 Telluride Ski Resort – This resort is always improving and there are ski thrills to discover around every bend in these mountains. It's one of the best mountains in the state for skiing and snowboarding, with one of the longest verticals too.
Festivals – Telluride is host to some of the biggest festivals in Colorado, most notably its film festivals: Telluride Film Festival and Mountain Film Festival.
Town Park – This is a year-round attraction offering everything from winter ice skating and cross country skiing, to summer swimming, camping, and basketball courts. It's free to use many of the park's facilities, aside from activities like the Town Park Campground, Telluride Nordic Center, or Hanley Ice Rink.
Read about the top things to do in Telluride.
Recreation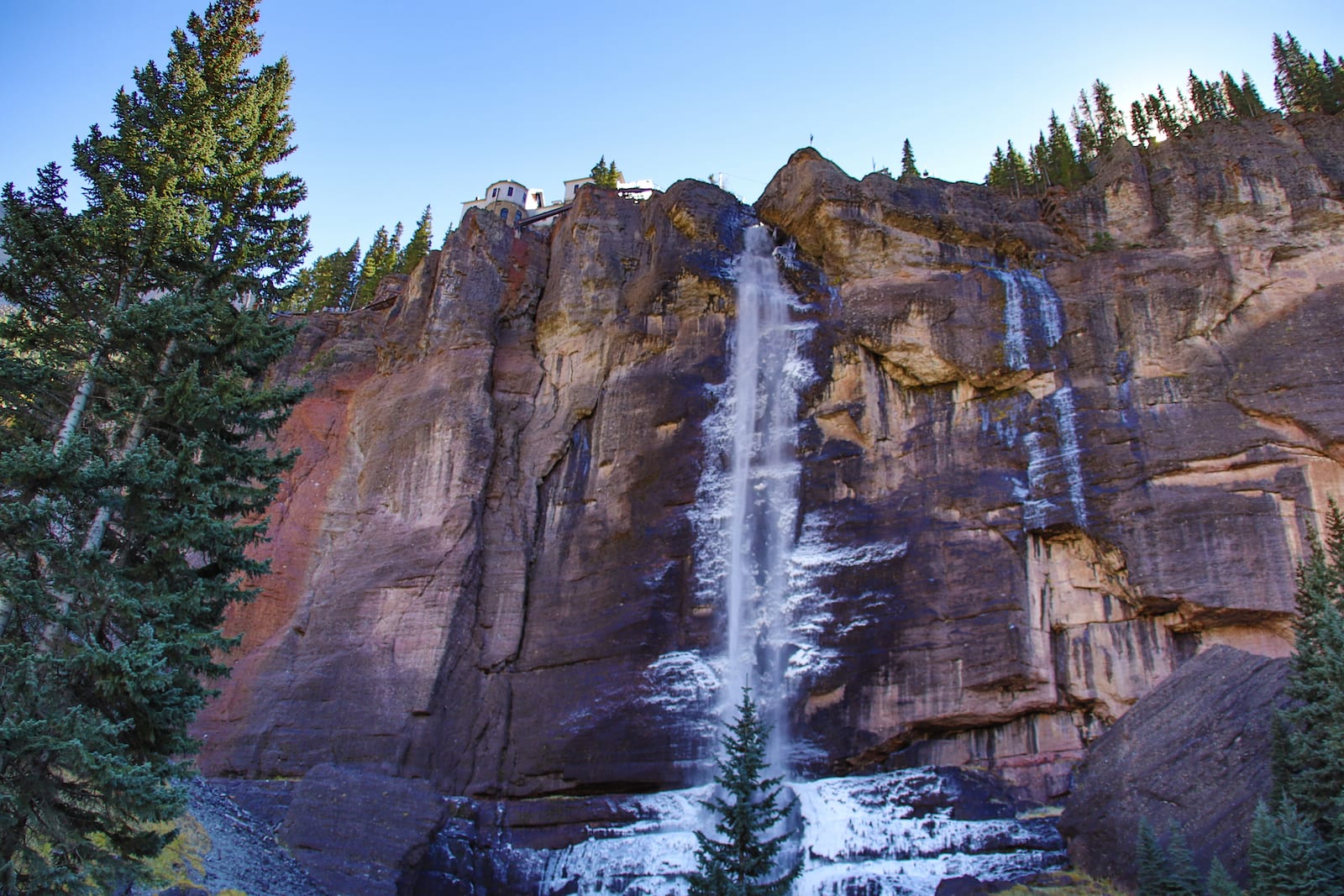 Camping –
​Sunshine Campground is seven miles southwest of town; take CO 145 west for 3 miles, then south on CO 145 for five miles.
Alta Lakes is situated at 11,000 feet, with great views, good fishing, and access to a ghost town, Alta. From Telluride, follow directions to Sunshine, then turn left (southeast) onto Forest Rd 632. Go 4.5 miles up a 4×4 road.
Matterhorn is a paved campground in Uncompahgre National Forest; follow directions to Sunshine, but go four miles further on CO 145.
Woods Lake is twenty-two miles southwest of town; from town go 13 miles west on CO 145, then turn left (south) on County Rd 57.
Town Park is located at the east end of town; about 40 sites, open to RVs under thirty feet, no reservations accepted. It can get crowded during holidays & festivals.
Read about the camping near Telluride, Ophir, and Rico.
Fishing –
San Miguel River originates high in the mountains above Telluride, and flows west toward Placerville, running parallel with CO 145.
Only 15 minutes south of town you'll find Trout Lake, notorious for being a great place to catch rainbow and brown trout.
Read about the lakes and rivers to fish near Telluride.
Hiking –
Bridal Veil Falls is a moderate 1.2-mile one-way hike to the top. But the 365-foot free-falling waterfall is worth a visit, even if you just stay on the bottom.
If you continue from the top of Bridal Veil, you can go for a 3.5-hour roundtrip hike to the false summit of Ajax Peak. The trail winds you past another waterfall, grassy meadows, and Ingram Basin.
At the end of South Pine Street, you'll find a 2-mile trail that leads to Upper Bear Creek, another gorgeous waterfall. It usually takes people about an hour to reach the top.
Read about the hiking trails near Telluride.
Accommodations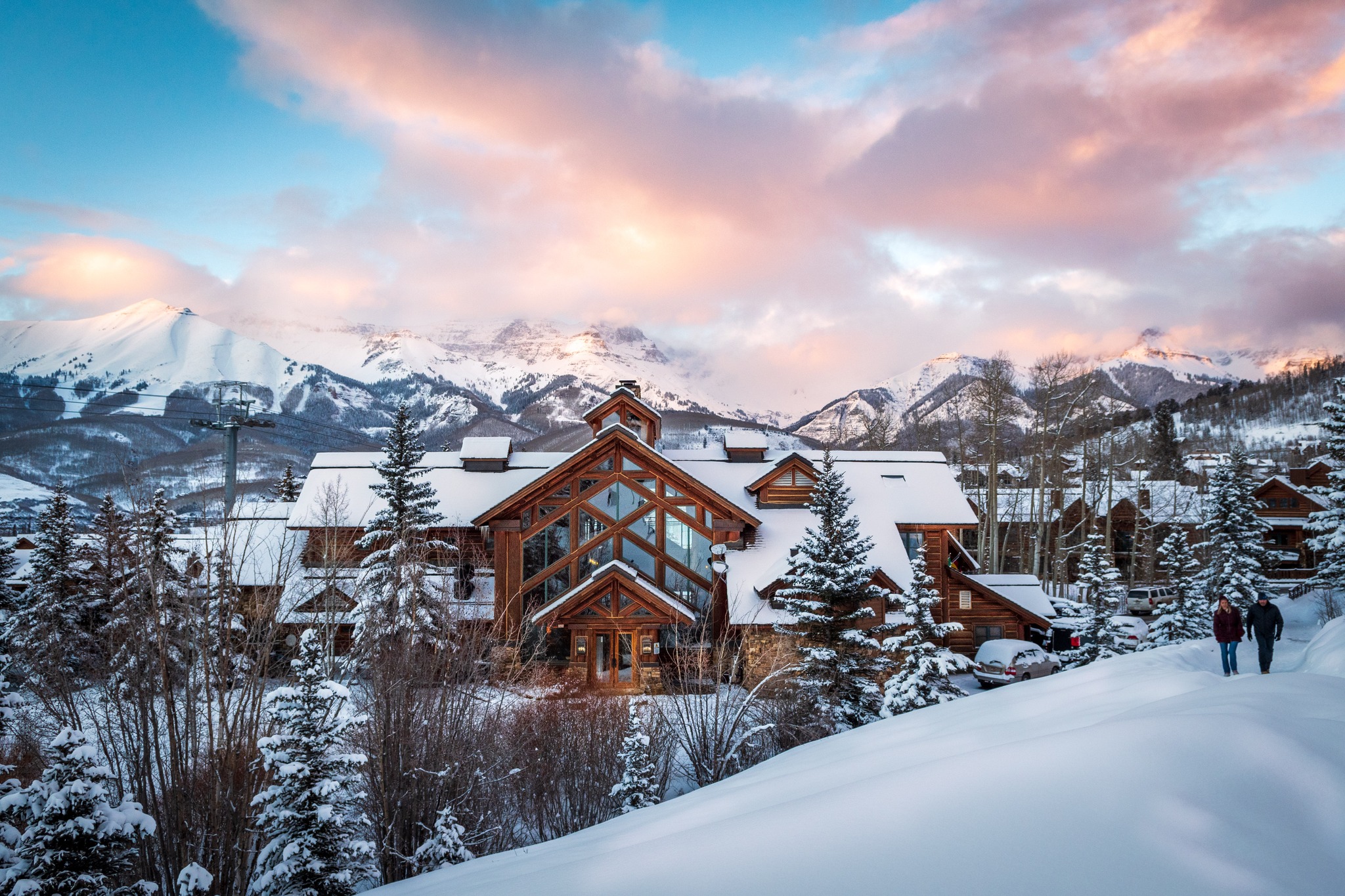 This section contains referral links. If you click through and take action, we may receive a commission, at no additional cost to you. 
Lumière Hotel – The perfect balance of luxury and simplicity, this 29-room hotel is a great option for those looking for a serene getaway. They offer 3 penthouse accommodation options, in-room massages, and easy access to everything Telluride has to offer.
New Sheridan Hotel – This historic 3-star hotel has been housing Telluride guests since 1895. The property is only two blocks from the ski lifts and has a Historic Bar and Chop House restaurant attached.
Mountain Lodge Telluride – Surrounded by gorgeous alpine views with ski-in/ski-out access to the slopes. You can choose from a simple hotel room, all the way up to an entire private cabin depending on your preferences.
The Bivvi – Although it's located twenty minutes outside town in Placerville, this well-liked mountain hostel is a terrific place to stay with free shuttle access to town. You can rent shared rooms here or private accommodations.
Bear Creek Lodge – A 4-star hotel located in Mountain Village. It has 32: 1 to 4-bedroom condos available for rent, within walking distance of the resort and town gondola.
Read about the best hotels in Telluride and luxury hotels in Telluride.
Or if you're looking for something more quaint and cozy, read about the top bed and breakfasts in Telluride.
Dining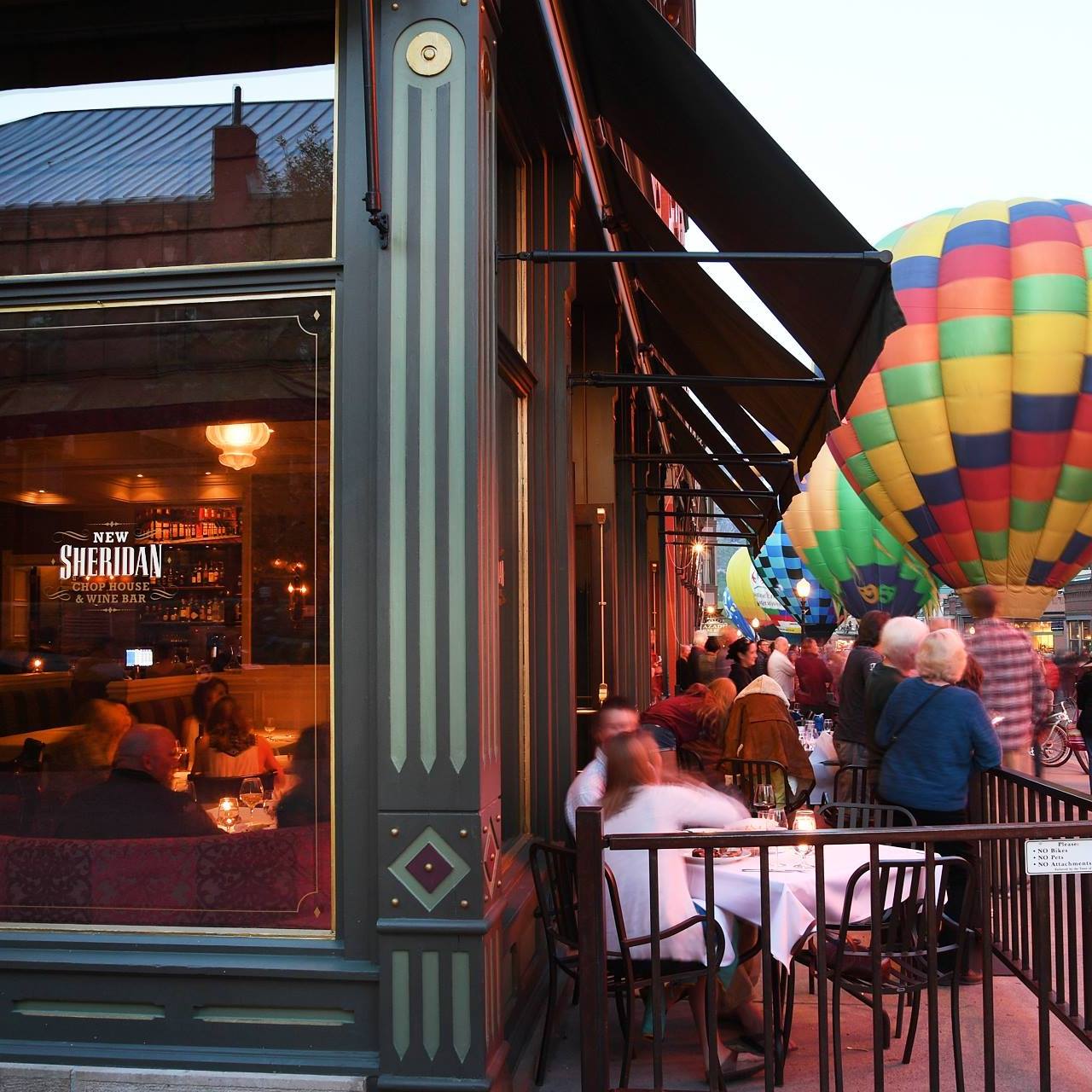 Telluride is a foodie town with a focus on fresh ingredients. Locals have a strong passion for eating well, and this is reflected at restaurants all over town. The nightlife in Telluride is crazy fun too, with bar after bar to choose from.
Chop House Restaurant – Iconic steakhouse located within the city's most prominent historic hotel. Attached to the restaurant is the Historic Bar, Telluride's oldest saloon since 1895.
Caravan Middle Eastern Food – This spot has a cozy dining area, quick service, and large portions of delicious Mediterranean food.
The Tunnel – If you're looking for an immersive experience while you dine, The Tunnel is perfect for you. Reminiscent of a speakeasy, you'll receive a password and meet-up location before your reservation. The chef then guides you through a 6-course meal with cocktail pairings in a quaint dining room.
Read about the best bars in Telluride.
Special Events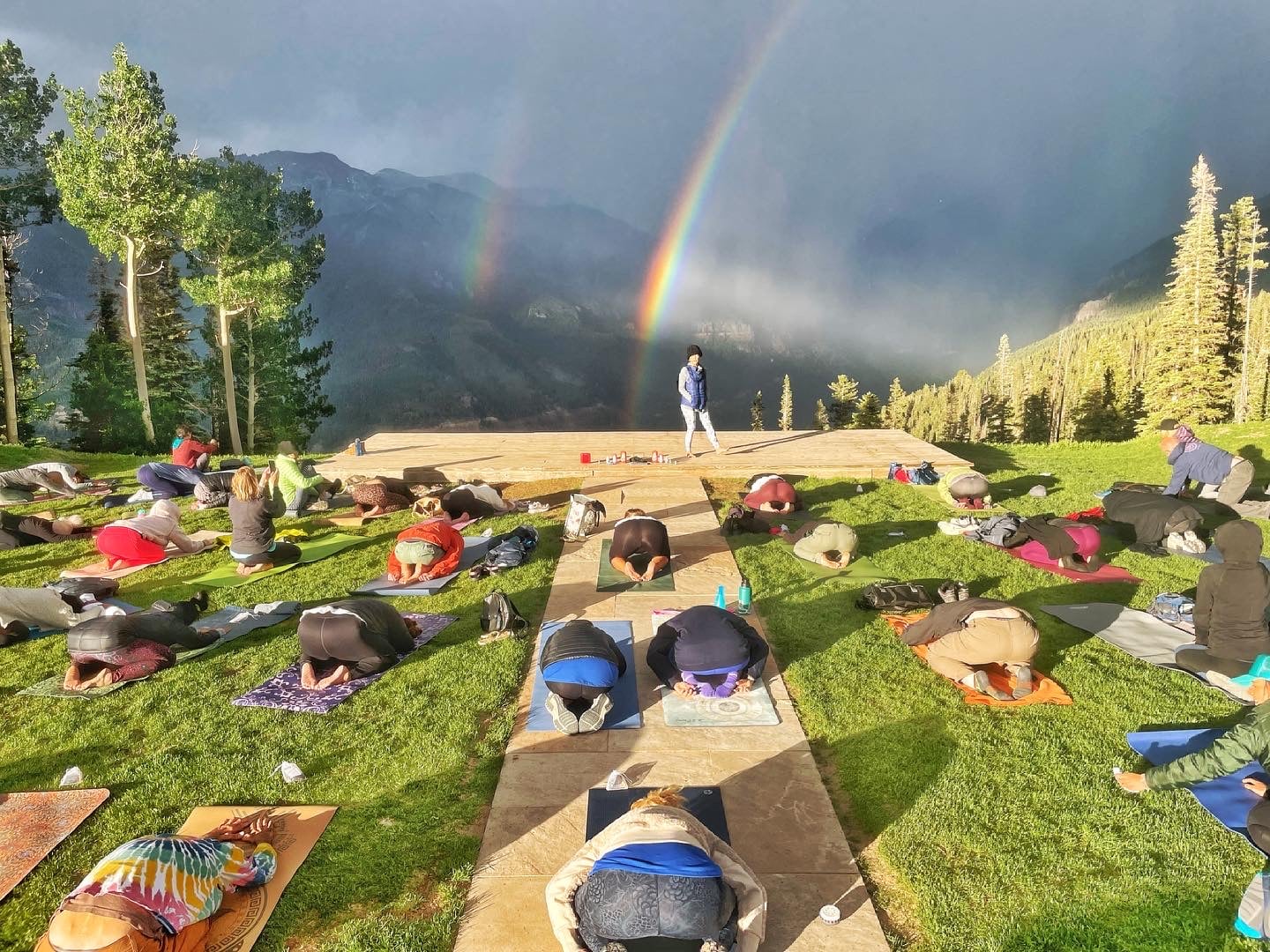 May – Mountain Film In Telluride – Film festival held annually since 1979, over Memorial Day Weekend in late May.
Jun – Telluride Balloon Festival – Three early June mornings of hot air balloons launching from Telluride Town Park.
Jun – Telluride Bluegrass Festival – Late June music festival celebrating all things Bluegrass.
Jun – Telluride Yoga Festival – A 4-day event where guests can learn from yoga masters, participate in numerous activities, and enjoy the great outdoors.
Jun-Jul – Telluride Wine Festival – ​Four days in late July of wine-related events in downtown Telluride.
Jun-Jul – Telluride Plein Air Festival – Weekday festival celebrating "en plein air" art held from late June to early July. It's a French phrase for painting in the open air, so a lot of nature scenes.
Jun-Sep/Dec-Mar – Mind Blown Telluride – Mind Blown Telluride provides guests with a chance to watch magician Ty Gallenbeck perform tricks and question the known.
Jul – Nothing Day Festival – Accidentally created by a local fed up with all the festivals in Telluride. Includes movies and a naked bicycle ride through town.
Jul – The RIDE Festival – Two days of rock 'n roll concerts in Telluride Town Park in mid-July.
Jul – Telluride Americana Music Festival – Americana music celebration hosted by Texas artist, Jack Ingram and his partners, Jennifer Stevens and Kevin Howard.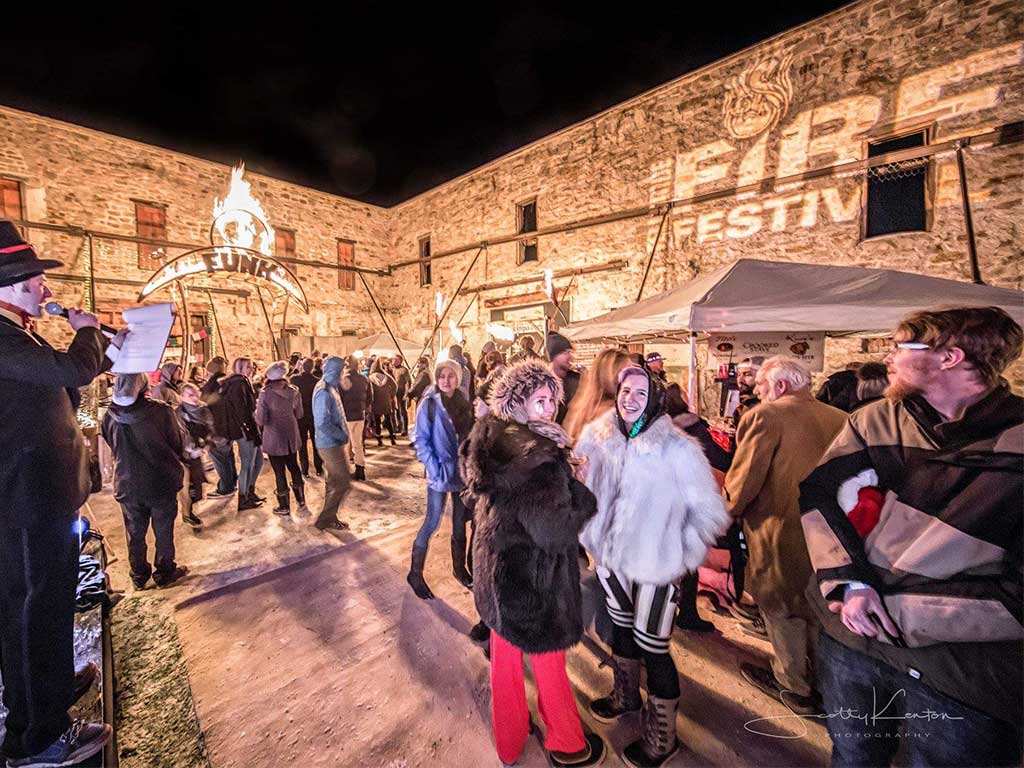 Jul – Telluride Chamber Music Festival – Since 1973 Telluride locals have brought the joys of chamber music to Telluride in July.
Aug – Telluride Jazz Festival – Three-day jazz fest honoring the tradition of American Jazz, held in early August.
Aug – Mushroom Festival (Shroomfest) – Celebrate mushrooms with various lectures, forays, culinary delights, and of course, the Mushroom Parade.
Sep – Telluride Film Festival – One of the top film fests in the U.S held in early September.
Sep – Telluride Blues & Brews Festival – Music festival celebrating blues, rock, funk, gospel, and soul by world-renowned musicians. On top of that, enjoy a selection of over 50 micro-breweries, held in mid-September.
Sep – Telluride Autumn Classic – Four days of restored vehicles and high-end vintage cars. Plus the amazing autumn colors of San Miguel County, held in late Sept.
Oct – Telluride Horror Show – Three days of horror films in downtown Telluride, sounds pretty cool. It's held at a few venues in mid-October: Nugget Theatre, Palm Theatre, and the Sheridan Opera House.
Dec – Holiday Arts Bazaar – Three-day holiday market where an array of handcrafted and locally made products are on sale.
Dec – Christmas at Schmid Ranch – Get in the holiday spirit in early December, hosted in conjunction with the Telluride Historical Museum. Make wreaths, ornaments, and other Christmas crafts.
Dec – Telluride Fire Festival – Celebrating community, fire, and art in the mountains. The Telluride Fire Festival supports artists and creatives as they perform their visual fire magic.
Dec – Christmas Eve Torchlight Parade – Watch from downtown Telluride on December 24th as a hundred or so Telluride resort employees make their way down the trails carrying torches.
Read about the top events in Telluride.
Activities near Telluride
Amusement:
Bike Parks:
Colorado Brands:
Cross Country Skiing:
Federal Lands:
Ghost Towns:
Hot Springs:
Ice Skating:
Paragliding:
Performing Arts:
Public Parks:
Rock Climbing:
Scenic Drives:
Ski Areas:
Sledding:
Sleigh Rides:
Snowmobiling:
Towns:
Transportation:
Waterfalls:
Whitewater Rafting:
Latest in Telluride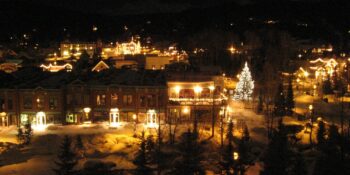 What better way to spend Christmas than in a quaint mountain town, blanketed with snow and…