Ridgway is a gateway town to the San Juan Mountains, located about ten miles north of Ouray. It's a scenic mountain town with a historic downtown of shops, restaurants and accommodations.
Ridgway, Colorado is now known to be a hotspot for cultural and artistic events and activities. The natural sites around Ridgway have also been popular to both locals and tourists.
History
Before it became the town of the makers of the Grammy Award, Ridgway was a part of Ouray County's exciting mining era. Just like the other towns in America at the time, Ridgway found their way towards the mining industry during the 1860s up to the 1950s.
Originally, the Ute Indians were the inhabitants in Ridgway, but they were driven away or absorbed by the explorers who claimed Ridgway. Before the explorers came, there were no houses in Ridgway. It was just a dense forest with rich wildlife in the valley. Then, Jacob Ridgway, a rich Philadelphian came back to America after living in Europe and purchased 100,000 acres of land in Pennsylvania and 40,000 acres of that land is now Elk County.
Ridgway wanted to develop properties in Elk County and he hired his nephew James Lisle Gillis to get the project started. Gillis started clearing the land to promote the first few sales to farmers. They spotted a land on Montmorenci and decided to build a house and farm buildings. Unfortunately, the land was not good for farming. This is why Gillis has moved the search of farmlands from the summit down to the valley of what we know today as Ridgway.
Ridgway was definitely ideal for farming. Situated near Elk Creek and the Clarion River, the land was fertile and lumber abundant. When speaking with potential sales at the time, Gillis was able to convince them that lumber would be a better industry than that of farming. Ridgway has then become a prime lumber exporter in the region.
Then, when mining grew, the town had built its connections for trade. They created ranches and farms as well as a railroad to support the transfer of their raw products.
In the 20th century, Ridgway has been a prime location for different industries like lumber, iron and other goods and commodities. The town even boasted of "more millionaires per capita than any other town in the United States."
Main Attractions
Ridgway State Park – This local park offers boating, fishing, hiking, camping, horseback riding, hunting and more.
Orvis Hot Springs – The local hot springs are a fantastic way to relax and unwind after a day of recreation in Ridgway.
Recreation
Camping:
Nearby Ridgway State Park has over two hundred campsites, ranging from electrical and full hook-up to primitive walk-in tent camping.
Fishing:
Ridgway Reservoir allows boating and fishing.
Accommodations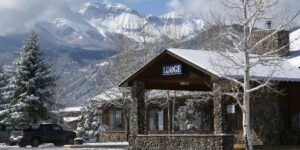 Top 3 Cool Hotels in Ridgway – Ridgway is a gateway town to the San Juan Mountains, stunningly situated at the base of them. It's easy to access rugged wilderness and cool mountain town gems in every direction. Discover the creative town of Ridgway…
Things to do near Ridgway
Hot Springs:
National Lands:
Scenic Drives:
Ski Areas:
State Parks:
Towns: