Chances are if you had your own personal hot springs pool with privacy you'd soak in it without a swimsuit. Because some things are better in your birthday suit. There are both public and private hot springs just for that occasion.
If you're comfortable in your skin and okay with other bare bodies, Colorado boasts a plethora of public hot springs pools that are clothing optional. And you can still wear a swimsuit at clothing optional resorts, whatever's comfortable. The rules on nudity and swimsuits vary at each resort. Some hot springs have varying days or times with suits or no suits.
There's also a few hike-to hot springs not mentioned below that have varying protocol on swimsuits. It's usually at your own discretion though as rules generally forbid it in public. Conundrum for example seems to have a clothing optional atmosphere.
Colorado Hot Springs with Swimsuit Optional Times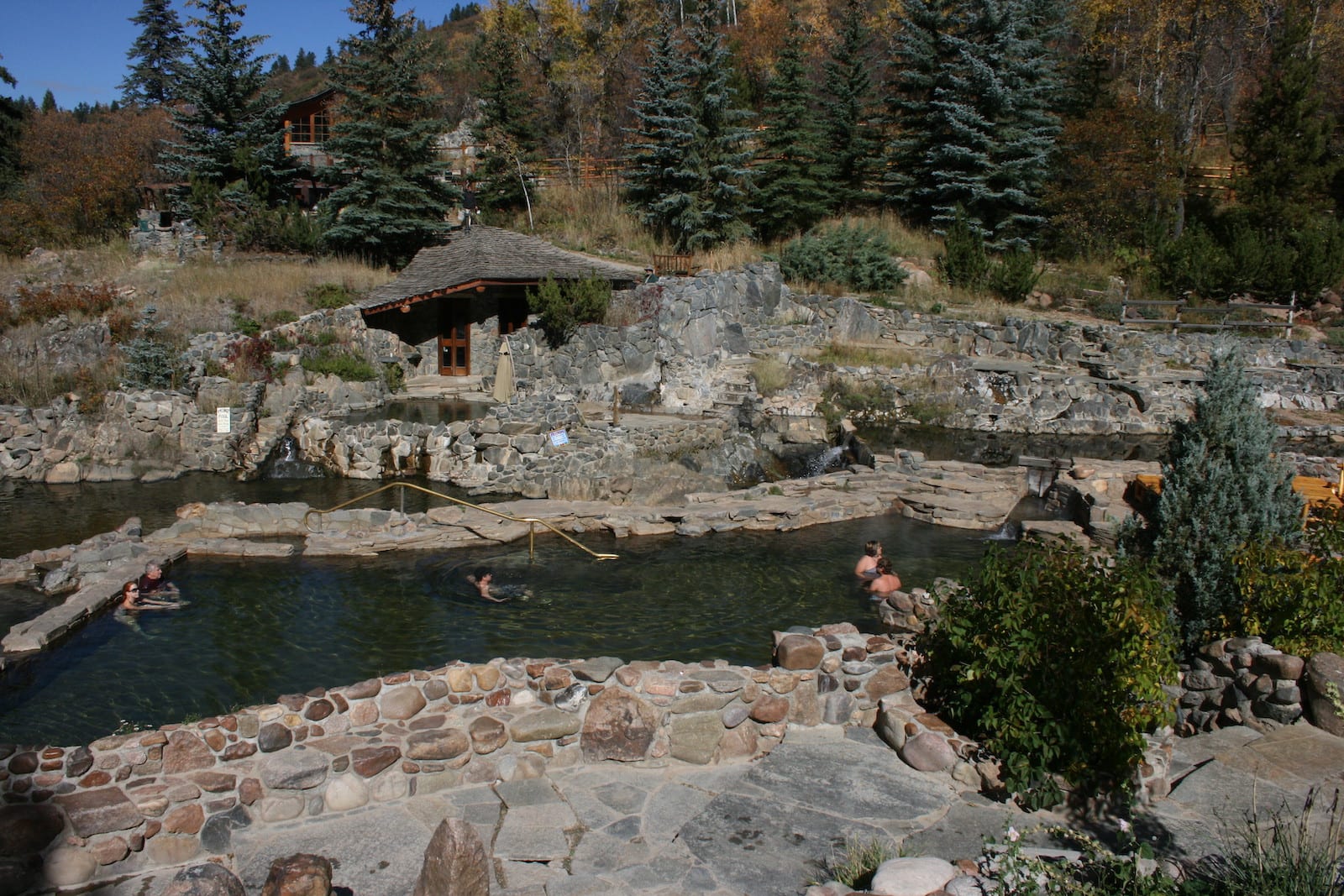 Colorado is erupting with hot springs, but not every one lets you bath sans suit. If you feel like swimming and soaking in hot springs is better done without your swimsuit, we've rounded up seven clothing optional hot springs resorts just for you. Do check the rules on the resort's official website or call before your visit for confirmation on any specific policies.
These clothing optional Colorado hot springs permit soaking without a bathing suit at certain days/times, depending on the resort. Rules below are subject to change.
Orvis Hot Springs
Orvis is one of the top hot springs resorts in Colorado's central Western Slope. This low key resort has a variety of hot springs, massage and overnight accommodations. Ten unique soaking pools await you at this locals' favorite in Ridgway. Lodging is available on site at Orvis Hot Springs in the form of 6 lodge rooms or campsites. All overnight guests get 24 hour access to the pools.
Clothing is optional at either of the 7 outdoor pools, but required in the 3 indoor pools. Modest covering, such as towel or robe is required in the indoor hallways. The clientele is mixed between clothed and nude guests, all enjoying the benefits of the thermal mineral water. You can check all of Orvis' policies.
1585 County Rd #3, Ridgway | 970-626-5324
Strawberry Park Hot Springs
Northwest Colorado's most popular hot springs lies nestled between Hot Springs Creek in the Ski Town USA, Steamboat Springs. It's many a Coloradoan's favorite hot springs resort. And once you go you'll see why. Strawberry Park is nestled only 15 minutes drive from downtown, but far enough to really get out into nature. There are several simple and spacious stone soaking pools with sandy bottoms laid out in the valley hillside.
Clothing is required daily during the day and optional nightly after sunset. No one under 18 is permitted after dark. In addition to hot springs soaking, there's on-site massage available in the private huts, or watsu therapy in a private pool. A few quirky year round lodging exists in the form of: covered wagons, small and large rustic cabins and a train caboose. Campsites are open in the summer season. In the winter 4WD or winter tires are often required to make it back to the springs. Shuttle companies transport you from town.
44200 Co Rd 36, Steamboat Springs | 970-879-0342
Valley View Hot Springs
Secluded in the San Luis Valley, this hot springs is one of the most unique resorts in the state. The 35+ year old resort, which includes hot springs village and Orient Mine was donated to the Orient Land Trust in 2009 and 2010. The whole resort property at Valley View Hot Springs is clothing optional. They promote safe, family-friendly, clothing-optional naturism. Admission is also limited based on a daily quota, even if accommodations are available. Reservations are recommended.
There are a number of natural hot springs spread around the wilderness of the resort, with nature trails connecting them. Overnight guests get 24 hour access to them all. Salida is the closest real city, 45 minutes to the north over Poncha Pass. There is lodging on site, in the form of cabin rentals and rooms, as well as both tent and RV campsites. The views overlooking the valley are extraordinary from around the resort, but especially while soaking in a few of the pools.
64393 County Road GG, Moffat | 719-256-4315
Desert Reef Hot Springs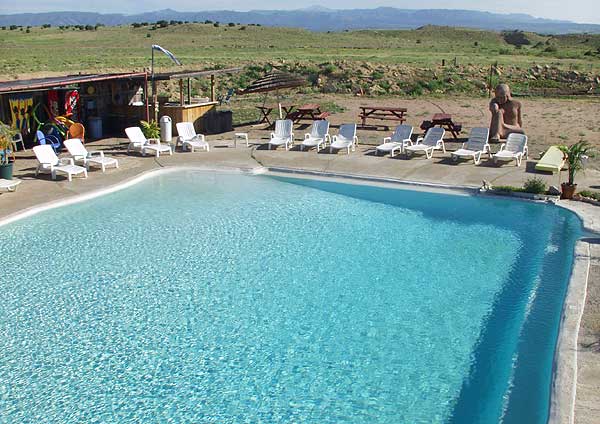 Nestled in Royal Gorge Country in the rolling foothills at the edge of the Rocky Mountains and Great Plains, lies Desert Reef Hot Springs. This historic Florence hot springs was originally drilled for oil in the 1940s by Conoco but they struck thermal water instead. It comes from 1,096 feet down at 132° F and is tinted blue by the mineral Travertine. During summer its maintained at less than 98.6°, whereas in the winter it's above 100° F. There's no lodging or camping at the property. Pets are not permitted.
This clothing optional family hot springs resort is open Wednesday, Friday, Saturday, and Sunday. It's closed Monday, Tuesday, and Thursday. On Fridays from 10am to 6pm clothing is required, then optional again from 6pm to 10pm. Non member single males are not permitted. Males must be accompanied by their partner, whether male or female. Desert Reef is 40 miles southwest of Colorado Springs.
1194 Co Rd 110, Florence | 719-784-6134
Dakota Hot Springs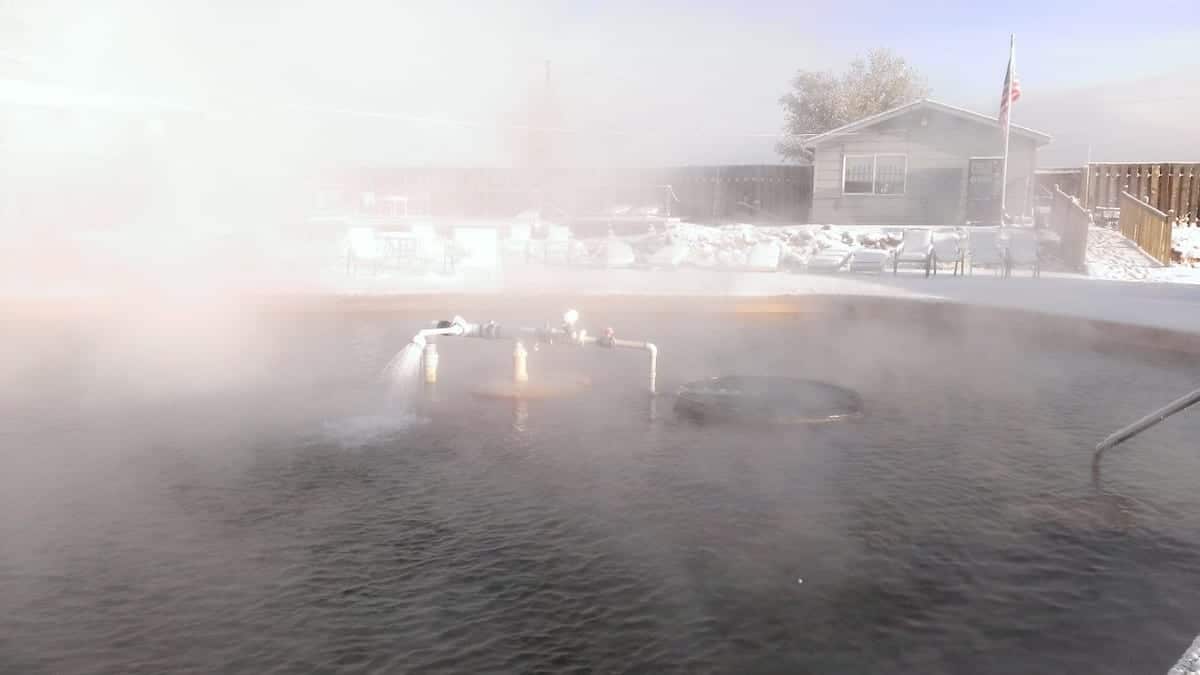 Only 10 minutes north of the aforementioned Desert Reef lies Dakota Hot Springs in Penrose. The resort is located in the Banana Belt at 5,200 feet, with sweeping views of the Sangre De Cristos. The mild winters allow for year round use of the hot springs. There's no lodging on-site, except for camping.
The water flows out from its source at 108° F into 6 foot across circular tub. This allows for hotter soaking. The rest of the swimming pool averages between 95 and 98°. The pool has a depth of 3 to 5 feet and diameter of 70 feet. The atmosphere here is not a nudist colony, but comparable to a swimsuit or clothing optional beach. Note that on Tuesdays swimsuits are required. Look over their FAQ for common questions.
1 Malibu Blvd, Penrose | 719-372-9250
Indian Hot Springs
There aren't a whole lot of hot springs near Denver, but this is one of them. This historic resort lies only 32 miles west of downtown Denver in Idaho Springs. There are a variety of soaking options here, but only the caves are clothing optional. There are lodge rooms, cabins and campsites for nightly rent.
Indian Hot Springs features an indoor hot springs filled swimming pool (clothing required) popular with families looking for a fun time splashing around. Adults looking for a more relaxing hot springs soak should consider either their private rent-by-the-hour hot springs pools and tubs, located both inside and outside, or the adult only caves. These bathing suit optional caves are dug out of the mountains and contain multiple hot springs filled baths. There are two, one for women and one for men.
302 Soda Creek Rd, Idaho Springs | 303-989-6666
Joyful Journey Hot Springs
Last but not least is Joyful Journey, which is clothing optional only 1 night a week on Wednesdays. Tucked away in the northern San Luis Valley, 32 miles south of Salida, is this reliable hot springs resort. Joyful Journey offers a full resort and spa experience, with multiple pools, dry sauna, on-site massage therapy and unique lodging accommodations. From the pools the Sangre De Cristo Mountains tower to the east.
Pools range from 98-108° F. Accommodations include The Lodge, Yurts, Tipis, RV Sites, and Campsites. Certain rooms are pet friendly too. The resort is open daily from 9am to 10pm. Clothing is REQUIRED every day except on Wednesday nights when swimsuits are optional in the hot pool. For non-Wednesday swimsuit-less soaking, head over to San Luis Valley-neighbor, Valley View Hot Springs.
28640 County Rd 58EE, Moffat | 719-256-4328
Thanks for checking our list of clothing optional Colorado hot springs. Have a relaxing stay and remember to follow the resort's policies.