One of the country's fastest growing metropolitan areas, the Denver Metro boasts more than 3 million residents who love their backyard of world class outdoor recreation. And one of the state's most treasured natural highlights is its hot springs.
Unfortunately, Denver lacks one of its own, however, there are still a few hot springs to day trip to and several more that make a great overnight trip. Reap some of the benefits of living near the Rocky Mountains by soaking in these beneficial thermal mineral waters.
Here are the natural hot springs near Denver, CO, in order of proximity, starting with closest:
Hot Springs Around 1 Hour from Denver
These three mineral springs resorts all can be reached within an hour drive of Downtown Denver. Two of them make an easy day trip any time of year. The other and first mentioned springs is only a seasonal swimming pool filled with mineral water, so it's best for summer family fun.
1. Eldorado Springs – 38 min/29 miles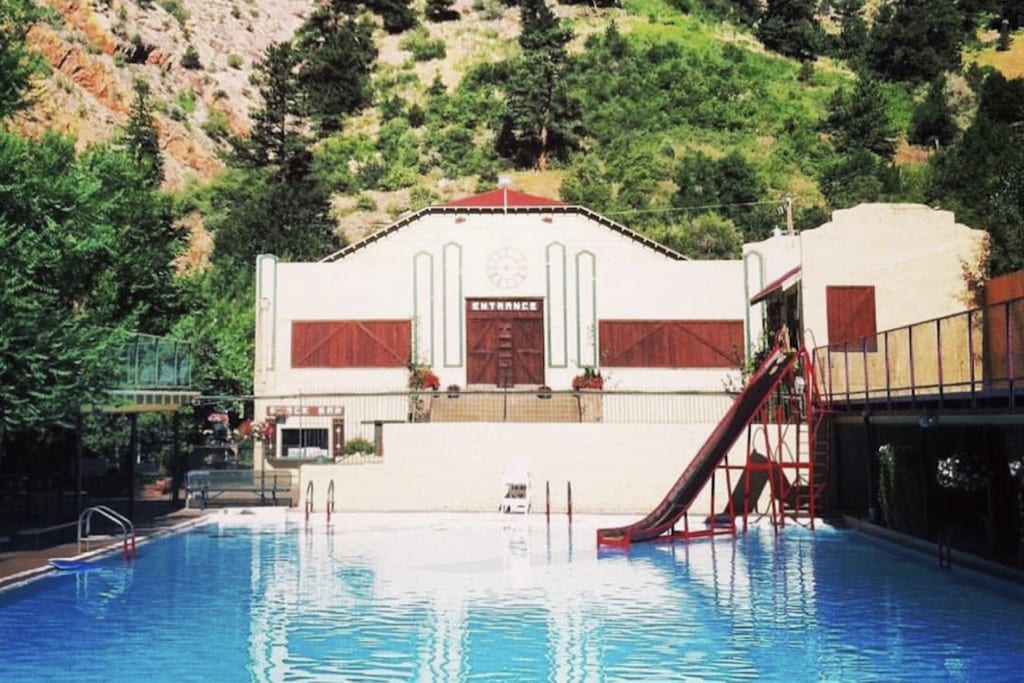 To the north close to Boulder is this family favorite mineral water playground that's been around for more over 100 years. It's most known for its namesake bottled water, Eldorado Springs, which is found in markets all around the state and considered some of North America's best tasting water.
Though it's not a hot springs, this gem is filled with water from its underground natural artesian spring. Unfortunately though, the Eldorado Springs Pool is closed for the summer of 2019 for renovations. This will help ensure its continued community prosperity for another century. Open since 1905, the "Jewel of Boulder County" will return in 2020.
2. Indian Hot Springs – 40 min/33 miles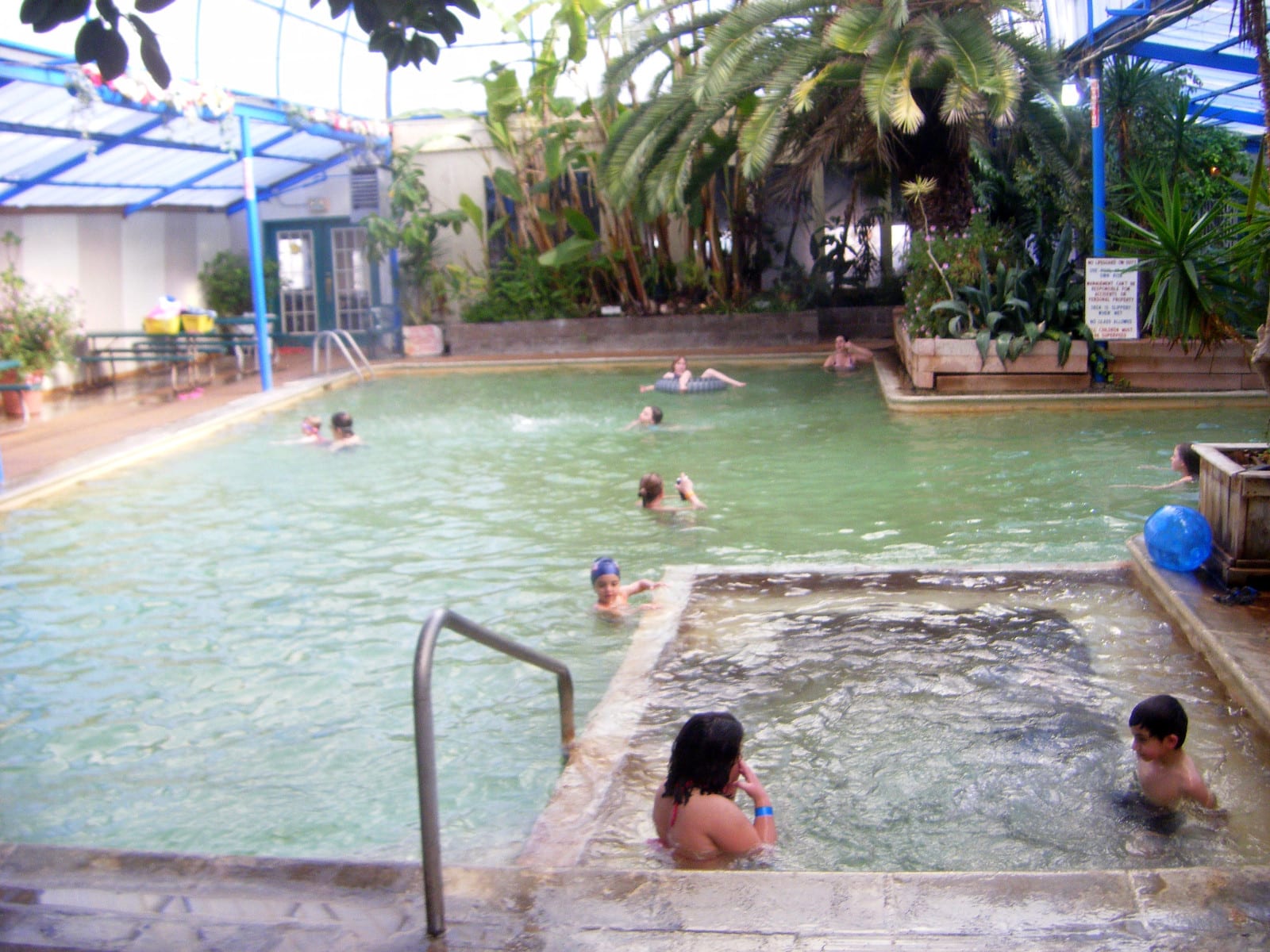 Directly west of the city on I-70 lies Idaho Springs' historic Indian Hot Springs, which is Denver's closest hot springs. Most Denverites pass by this locals' hot springs on their way to and from the ski slopes. The resort features a plethora of soaking options, spa services and accommodations. Cover yourself in dirt at Club Mud for an exfoliating experience.
The main mineral water swimming pool resides under a translucent dome in an indoor tropical forest. It's heated to between 90° to 100° and continuously fed with 115° water. There are also private indoor baths and outdoor Jaccuzis for rent that are filled with hot springs water.
Or select individual entry to men's and women's geo-thermal caves, which are one of the most unique features in the state. They were carved in the mountainside between 1903 and 1911. These adult-only, bathing suit optional caves each have numerous hot springs baths inside heated between 104° to 112°.
3. SunWater Spa – 1hour 16 min/76 miles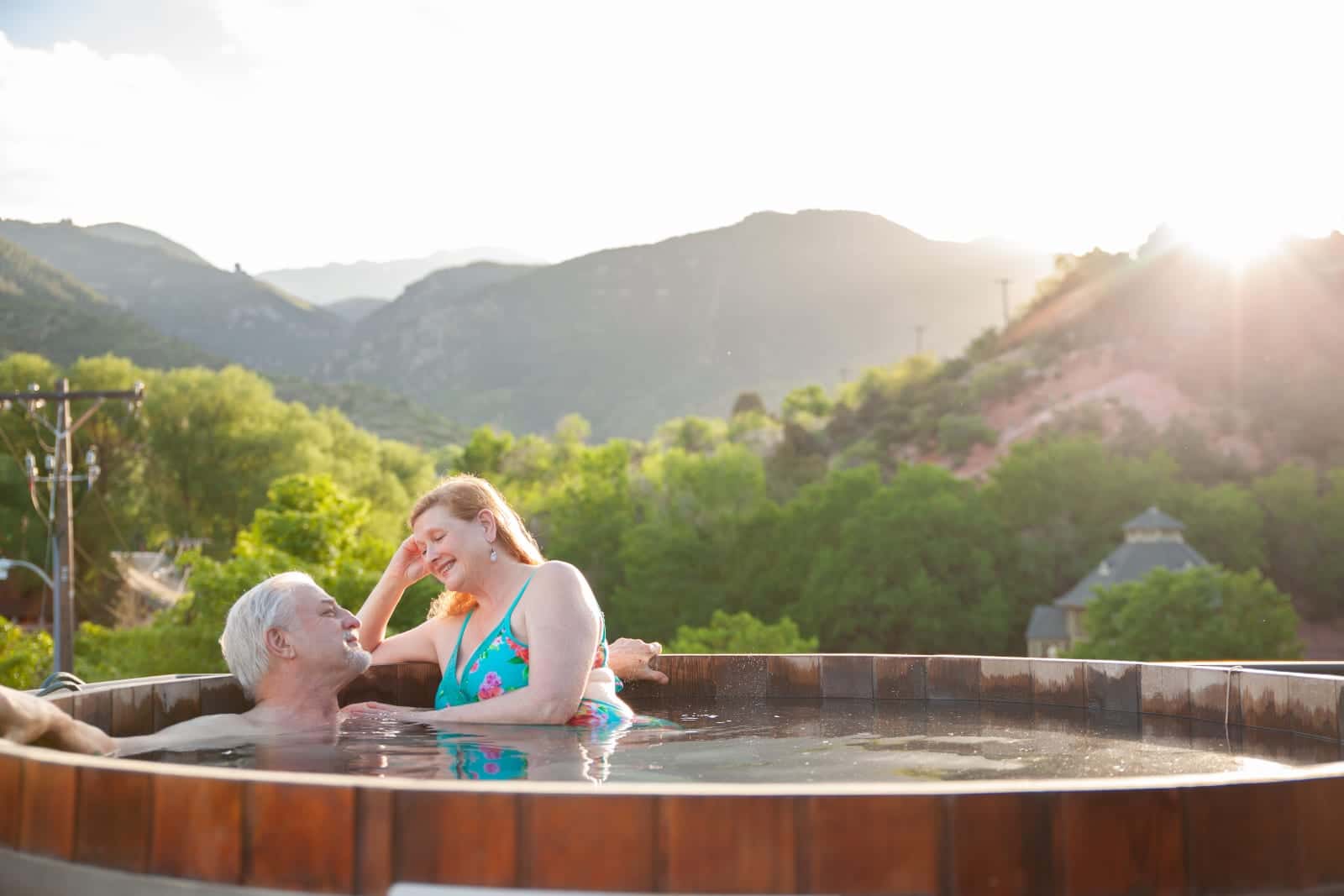 South on I-25 to Colorado Springs and minutes west on Highway 24 leads you to Manitou Springs' SunWater Spa. Situated in downtown, you'll be minutes away from world class attractions like the Garden of the Gods. This complete wellness resort features a myriad of healing amenities, from workshops and events, to classes, spa services and of course, hot springs soaking.
There are seven public cedar tubs filled with hot mineral water, along with one private pool rental. The source is Manitou's Seven Minute Spring, which comes from the Manitou Karst aquifer. On its way to the surface the flow picks up a myriad of healthy minerals. With the use of solar energy, the water is raised to 100° to 104°. The warm water actually draws oils and aroma from the cedar tub too, which is known to help your skin, respiratory system and relaxation.
This gives SunWater Spa's hot springs a unique yellow to rich, dark red hue. You can soak by two hour sessions, with both single and five packs available. All guests have access to the public pools, hot and cold plunge pool, infrared and traditional sauna, and a mediation stream. When not in use, guests may also use the heated saline therapy pool and two yoga studios.
Hot Springs Around 2 Hours from Denver
There are three hot springs resorts that lie around 2 hours from Denver. Because of the distance these are best for an overnight getaway. Two of them reside close together in Chaffee County, so you could knock out two in one trip.
4. Hot Sulphur Springs – 1 hour 54 min/97 miles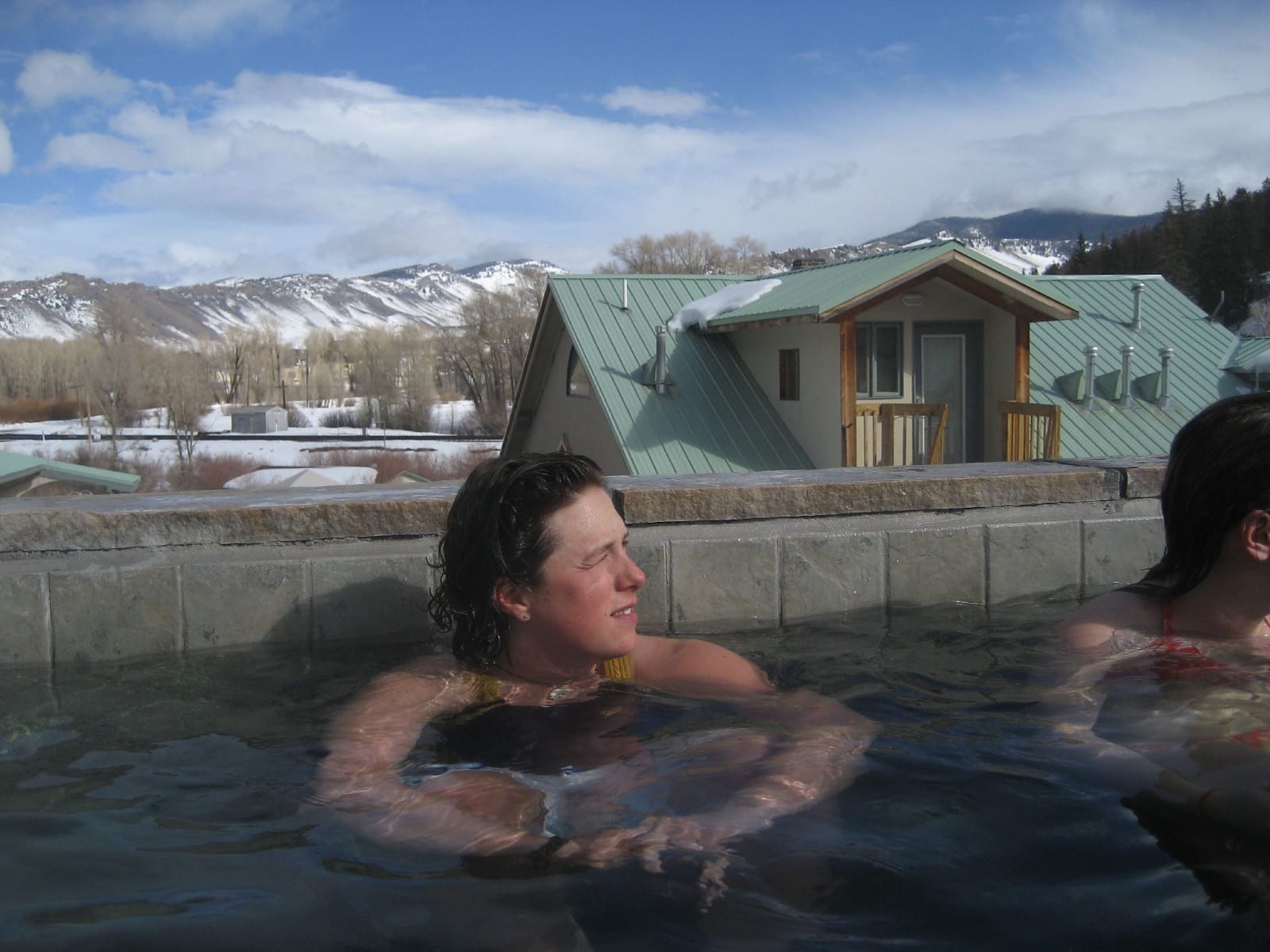 Grand County's one and only hot springs resort happens to be one of the state's favorites. The historic Hot Sulphur Springs Resort features seven natural springs that surface between 104º and 126º. These are used to heat a wide array of natural hot springs pools. It's considered one of the oldest and top hot springs resorts in the United States.
There are 21 pools of a variety of sizes spread out over the hillside. Open from 8am to 10pm daily, they range in temperature from 95º to 112º. There is also a private pool for rent. Combine your soak with a treatment from the spa, including massages, body wraps and salt glows.
Visitors may stay overnight at Hot Sulphur Springs in a lodge room, cabin or apartment rental. The 17 motel rooms showcase lodgepole furniture to create that alpine ambiance. Access to the outdoor pools is complimentary with an overnight stay.
5. Cottonwood Hot Springs – 2 hour 19 min/125 miles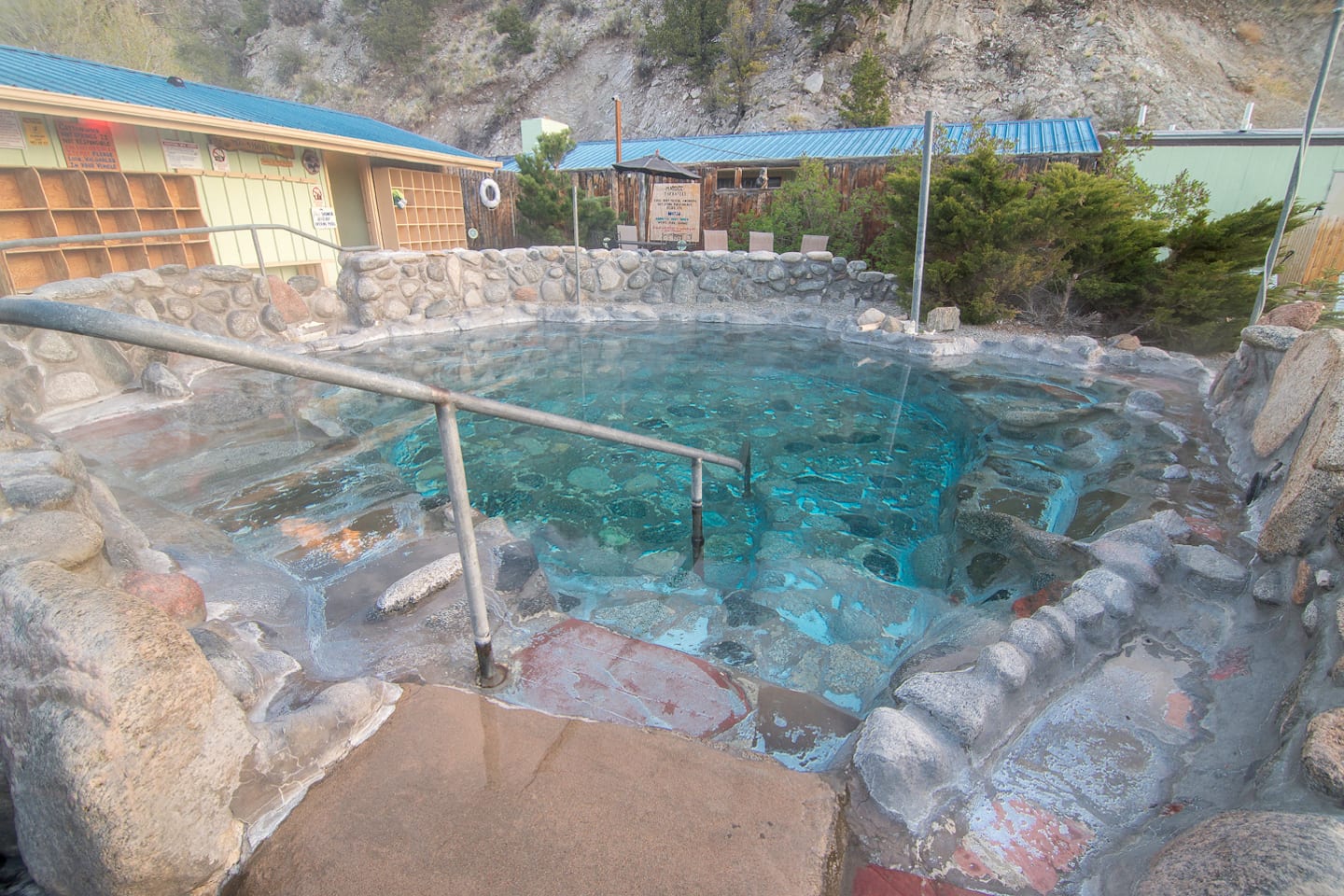 Tucked away at the base of the Continental Divide and Collegiate Peaks Range, Cottonwood is one of the best hot springs in proximity to Denver. It's located only 5.5 miles west of downtown Buena Vista (BV). This laid back locals' favorite resort features a handful of gravity fed natural pools, rated from between 80° and 106°, along with several on-site lodging options and spa services. It also makes use of wind, solar and geothermal energy.
Thanks to its location at the start of Cottonwood Pass, free dispersed camping is readily available only minutes west of the hot springs in the San Isabel National Forest. You can also rent out a tent campsite at Cottonwood, rustic cabin with private hot springs pool, lodge room, women's only dormitory room, or larger vacation rental.
Overnight guests staying at the resort are usually granted after hours access to use the pools when not in cleaning. In addition to the mineral water pools, there is a dry sauna and spa services including wraps, scrubs, facials and massage. It's open from 7am to midnight every day.
6. Mt Princeton Hot Springs – 2 hour 19 min/127 miles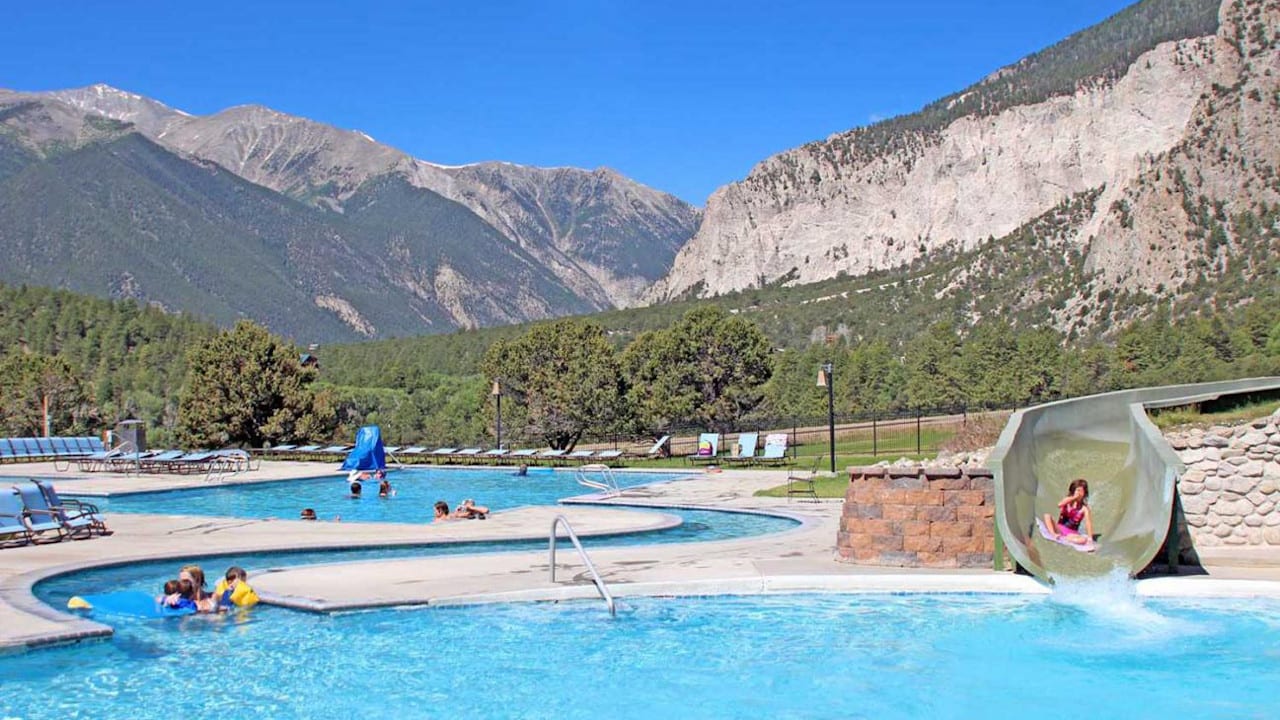 Established in 1879, Mount Princeton is an odorless hot springs paradise nestled in Nathrop's Chalk Creek Canyon. It's situated just south of BV before Salida. This historic hot springs is one of the largest resorts of its kind the state. The thermal water reaches the surface at 120° F. It makes an excellent event destination, with two wedding venues and four indoor event spaces. Make it your next yoga retreat!
There are a wide array of ways to enjoy a hot springs soak at Mt Princeton, including creekside pools and multiple larger soaking and swimming pools. Overnight guests 16+ have VIP access to the Spa & Club, daily fitness and yoga classes, as well as unlimited complimentary soaking on all days they stay including check-in/check-out. You can also purchase a day spa pass or individual spa treatment.
Lodging choices are many, with luxury cabins and both cliffside and hillside hotel rooms. The creekside pools do seasonally close in spring due to snow melt causing Chalk Creek to rise and flow fast.
Hot Springs Around 3 Hours from Denver
If you're willing to drive 2.5 to 3 hours from Denver for a weekend hot springs retreat, you have a few additional choices. Both Glenwood Springs, 157 miles, and Steamboat Springs, 156 miles, lie under 3 hours from the city and feature multiple resorts. We wrote a separate article on the top hot springs near Glenwood Springs, featuring 3 resorts and 2 primitive pools. Steamboat Springs is another prime choice home to two resorts, Strawberry Park and Old Town hot springs.
Then there is also the San Luis Valley with 2 hot springs resorts and 2 hot springs swimming pools that is around 3 to 4 hours drive depending on your destination. Pagosa Springs is just west of the San Luis Valley on the other side of Wolf Creek Pass at 4.5 hours. At this point you should consider our Colorado hot springs loop! It's a 6+ night road trip hitting 6 of the most population hot springs regions in the state. Happy soaking!