Along with skiing, golf, rafting, fishing and a booming art and food scene, Glenwood Springs lives up to its name by boasting numerous natural hot springs in town and the surrounding area. Ranging from full luxury resorts to free primitive pools, any traveler can find what they're looking for.
As an added benefit, the mineral water in the hot springs can aid blood pressure, reduce stress, relieve pain, and even help your skin. So let's take a look at what Glenwood Springs has to offer.
Garfield County's Hot Springs Resorts and Primitive Pools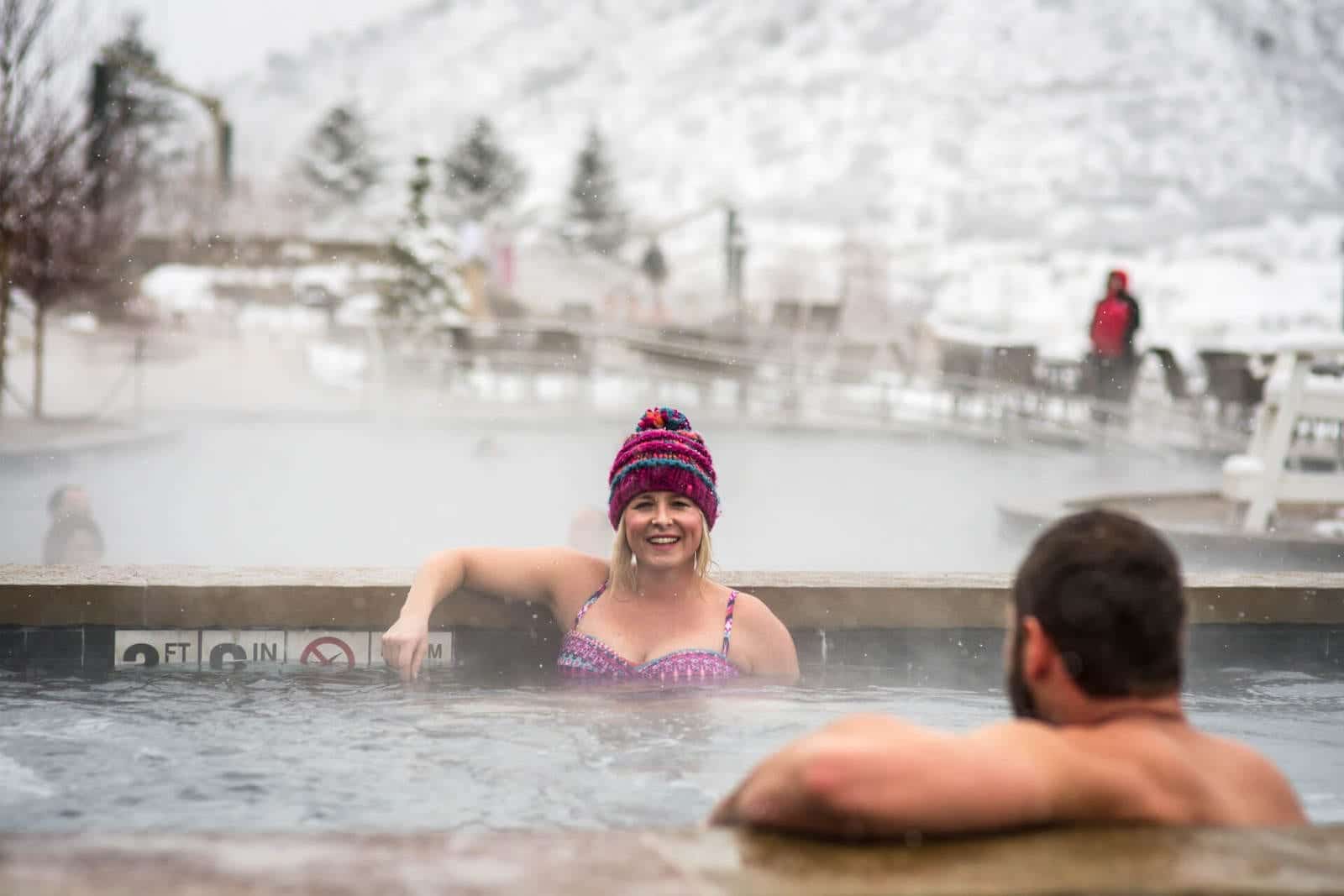 If you live among the millions on the crowded northern Front Range you only have a few options for hot springs near Denver. Aside from Indian Hot Springs in Idaho Springs, most hot springs trips require an overnight element. Luckily, towns like Glenwood Springs, Pagosa Springs and Steamboat Springs make an overnight or multi-night hot springs loop or road trip possible and a delight.
Located in Garfield County of Western Colorado, Glenwood Springs hosts a handful of hot springs that are accessible year round with the exception of the free primitive ones, which are weather pending. High spring runoff may make Penny inaccessible after winter until summer, otherwise winter visits to free natural hot springs are encouraged.
Make it a weekend of pampering and hot springs bliss among a home at the head of the Roaring Fork Valley. Here are the best hot springs near Glenwood Springs, CO, in no particular order:
1. Glenwood Hot Springs Pool
Glenwood Hot Springs isn't just the town's namesake, but houses the largest hot mineral pool in the world kept at a constant and comfortable 93 degrees. If you're looking for a little more heat, the small therapy pool reaches 104. Yet, while the pools are the stars of the show, the surrounding resort is just as spectacular.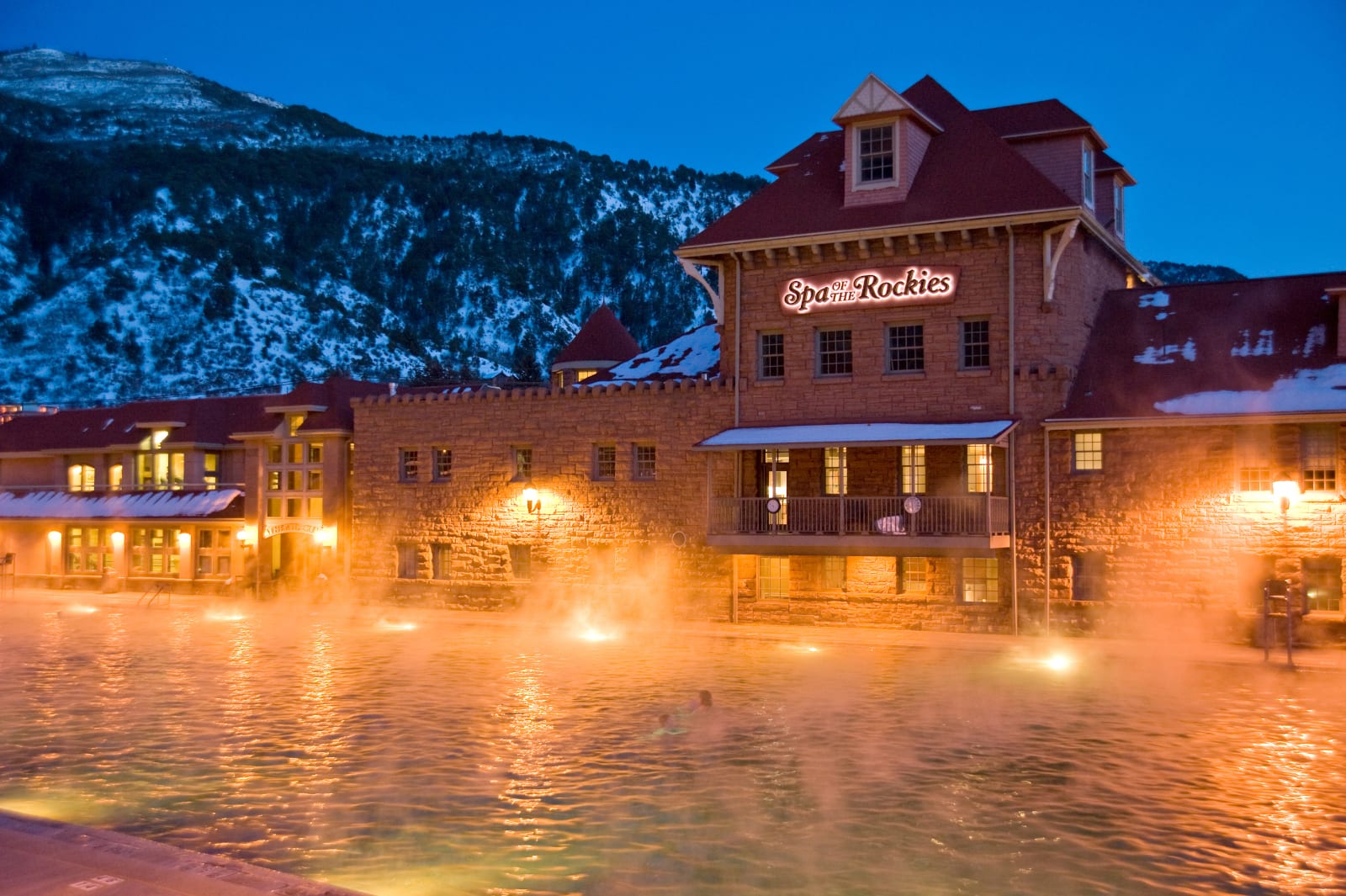 The resort's main highlight is the luxurious award-winning Spa of the Rockies, which features various massages/body treatments, facials, nail treatments, waxing, and makeup for special occasions, making this a fantastic option for some "me time." Visitors can also enjoy the athletic club, gift shop, and a restaurant and grill appropriately named The Grill.
If you plan on bringing kids make sure to check out the brand new addition to the resort: Sopris Splash Zone. At this new area, completed in July, guests can marvel at the Grand Fountain illumination show, enjoy the mini water slides, and ride the thrilling Shoshone Chutes river tubes.
The lodge is a stunning 107-room resort adjacent to the large pool. Staying in any of the rooms, ranging from standard to suite, grants you unlimited access to the pools. Additionally, almost every room has its own private balcony to enjoy the scenery from sunsets to snow. After you sleep in on your pillow top bed after a long day in the hot water, you'll be greeted by a complimentary made-to-order hot breakfast.
2. Iron Mountain Hot Springs
Glenwood tourists come to town looking for some R and R, but at Iron Mountain, you'll find R, R, and R. Their motto is "Relax, Restore, Rejuvenate." You can do that in one of their 16 pools, each with its own unique size, shape, and temperature to give everyone the experience they need.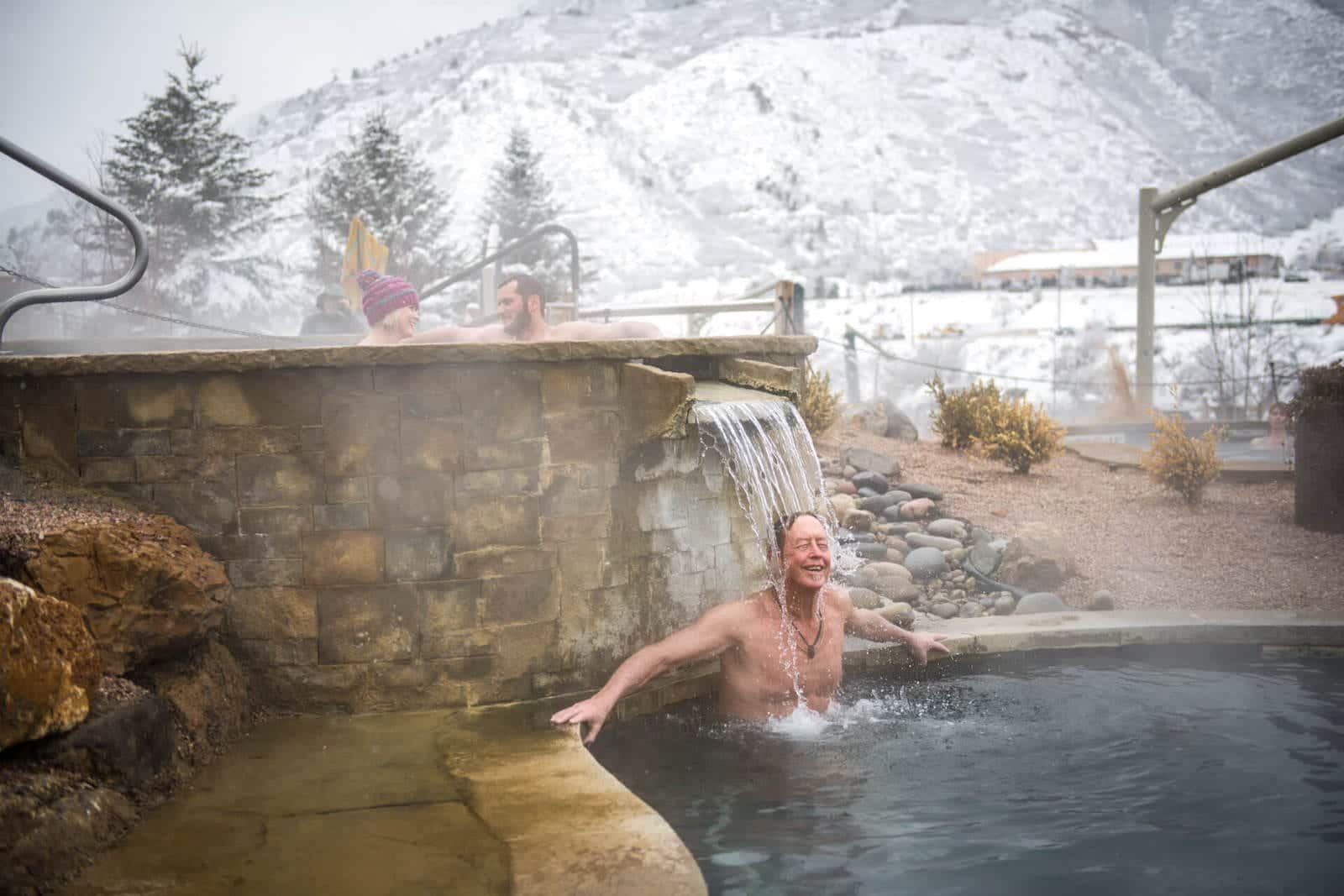 Iron Mountain represents the best first-timer experience. Their official website has a collection of etiquette and safety tips, the gift shop has any necessities you may have forgotten, and the astounding number of pools help find you find the perfect level of heat between 99 and 108 degrees.
When you're not soaking you can enjoy some grub at the Sopris café, named after legendary Colorado statesman Richard Sopris. The menu includes a beer and wine list, pizza, wraps, salads, and a specialty meat and cheese tray.
3. Yampah Vapor Caves & Spa
In the language of the Ute people (the area's indigenous Native American tribe), the word "yampah" translates to "big medicine." They bathed in the local hot springs for centuries believing the waters had healing powers to heal the wounded and soothe the sick. While we can't promise an end to your nagging cold, we guarantee you will leave Yampah Vapor Caves feeling refreshed.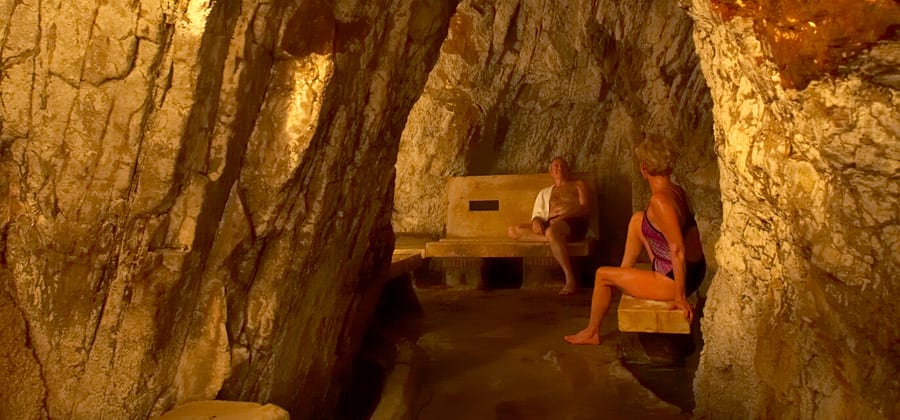 One reason for that is the unique sauna-like environment the caves create. Guests can lie on marble benches and breathe in steam from natural, untreated, therapeutic water. For safety, the facility recommends using the cooling room every 10-12 minutes to avoid heat exhaustion.
If the warm water, steam, and dim lighting aren't enough to feel cozy, you can enjoy all the amenities of the full spa on site. The spa has the same features as Glenwood Hot Springs Pool, but also a full hair salon, which comes in handy if your hair doesn't do well in humidity. The spa takes relaxation to another level with an option to rent a private spring water hot tub as an individual or as a couple.
4. Penny Hot Springs
Located off Highway 133 just 25 miles south of Glenwood Springs, primitive Penny Hot Springs is nestled between granite cliffs called "Hell's Gate." Luckily, the water isn't as hot as that name implies. Temperatures can reach a high of 130 degrees but get cooler the further you move from the heat source.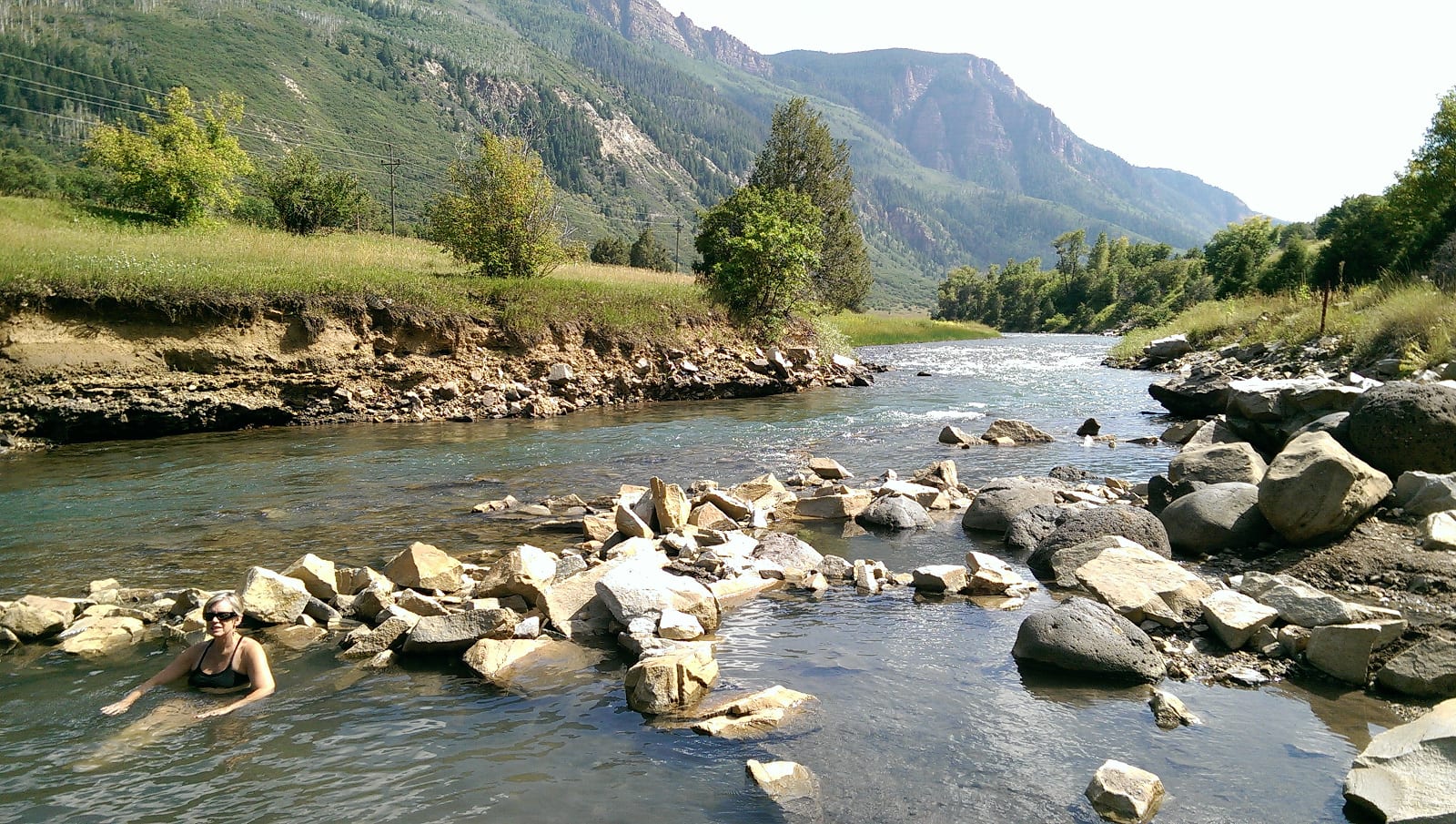 Fall and winter travelers will adore the surrounding scenery and rocky snow-capped cliffs. Remember: If you do visit during these cold seasons, come prepared and layered with dry clothes for when you hop out in the sub-freezing cold.
Spring and summer tourists can delight in the mountains cloaked in lush greenery and much less shivering when exiting the water. Parking will look very crowded, but visitors report always being able to find a spot in the pools. Yet, even when the gorgeous pools adjacent to the Crystal River are crowded, we still can't complain because Penny Hot Springs will not cost you one penny to visit.
5. South Canyon Hot Springs
If you need an alternative to the more popular and crowded pools, take CR-134 off the I-70 and consider a dip in this undeveloped area. South Canyon Hot Springs, also known as Hippy Hot Springs, is a small park featuring two pools: one large and one small. The small pool gets quite muddy and murky at times so we recommend sticking with the large pool.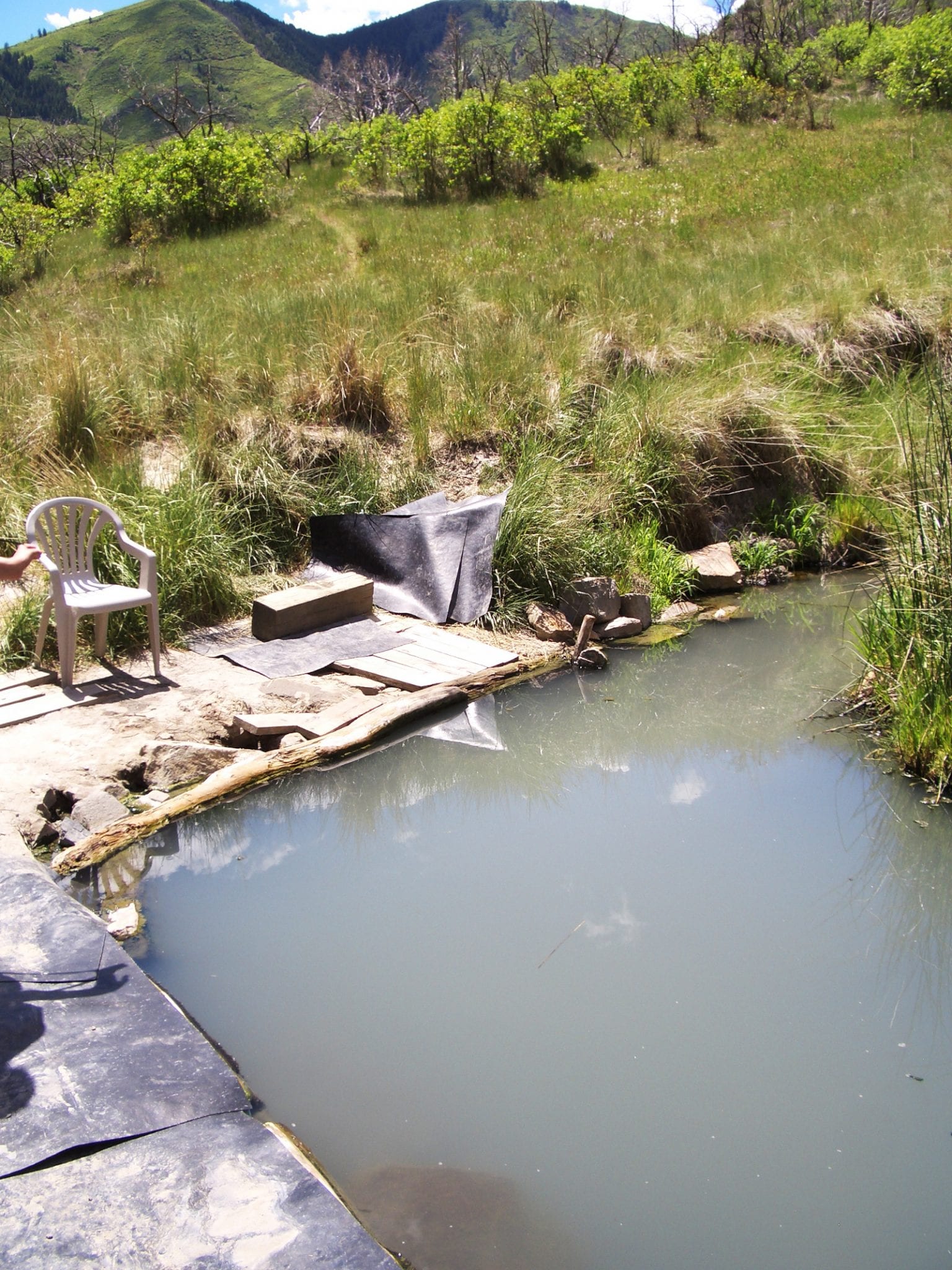 South Canyon definitely earns the nickname of "Hippie" Hot Springs. The seclusion and $0 price tag apparently attracts hippy behaviors like skinny dipping, attempts at harnessing spiritual energy, and good old-fashioned parties complete with Colorado's favorite greenery.
Make sure you plan your visit soon. Last year Entrepreneur Steve Beckley (owner of Iron Mountain Hot Springs) proposed developing the site by adding new recreational amenities and modernization. Locals fought back to preserve the area but who knows what this spot will look like in the future?
No matter which hot spring you choose, just remember: it's all about relaxing in some nice natural hot water. Whether you need a 107-room lodge or a short hike to a hidden hot spring to do it, Glenwood Springs has you covered for any budget and any visitor. But, wherever and however you travel, I think we can all agree to skip the hot tub for some fresh water.