Often overlooked, yet always cherished, the Roaring Fork Valley makes the perfect weekend escape for Coloradoans. The hot springs resort town of Glenwood Springs marks the start of it, with many top hotels to accommodate all its visitors.
Spend your nights at one of the town's many fine hotels, and your days exploring the region's treasures, such as Aspen, Carbondale, hot springs, ghost towns, and thousands of acres of wilderness. At 5,500 feet, Glenwood Springs' elevation is a great starting point for exploring the high country, and strolling around "America's Most Fun Small Town".
Probably Glenwood Springs' Top Accommodations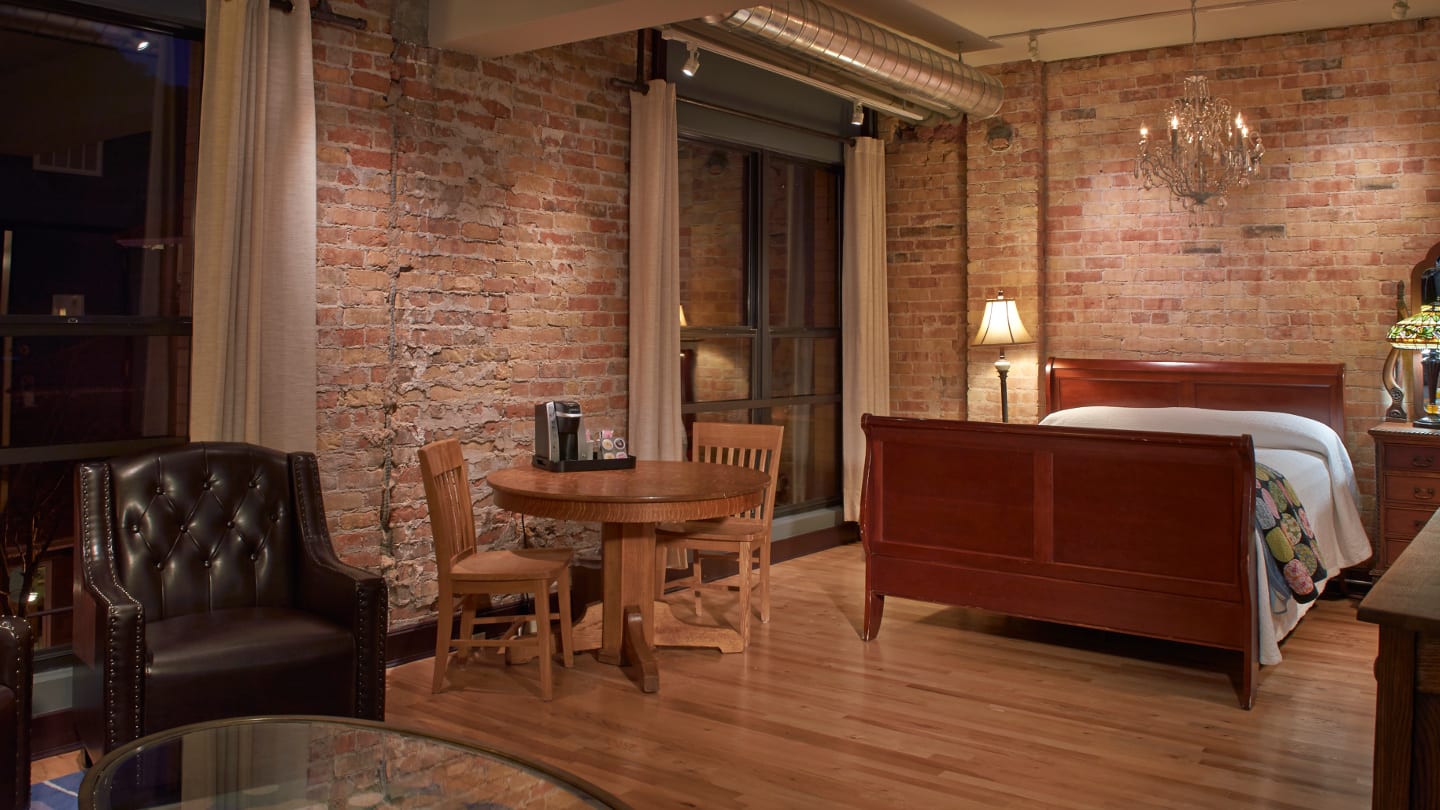 Conveniently situated on I-70, about 2.5 hours west of Denver, this Western Colorado town has long been a popular tourist destination for the rich and famous because of its legendary mineral hot springs. The natural healing powers of these waters, coupled with the region's gorgeous terrain, bring people from all over.
Thanks to its rich history of tourism, Glenwood Springs hosts a myriad of accommodations, from historic hotels to mountainside bed and breakfasts.
This section contains referral links. If you click through and take action, we may receive a commission, at no additional cost to you. 
Here are our choices for the top hotels in Glenwood Springs, CO, in no particular order:
Hotel Colorado – rich in charming history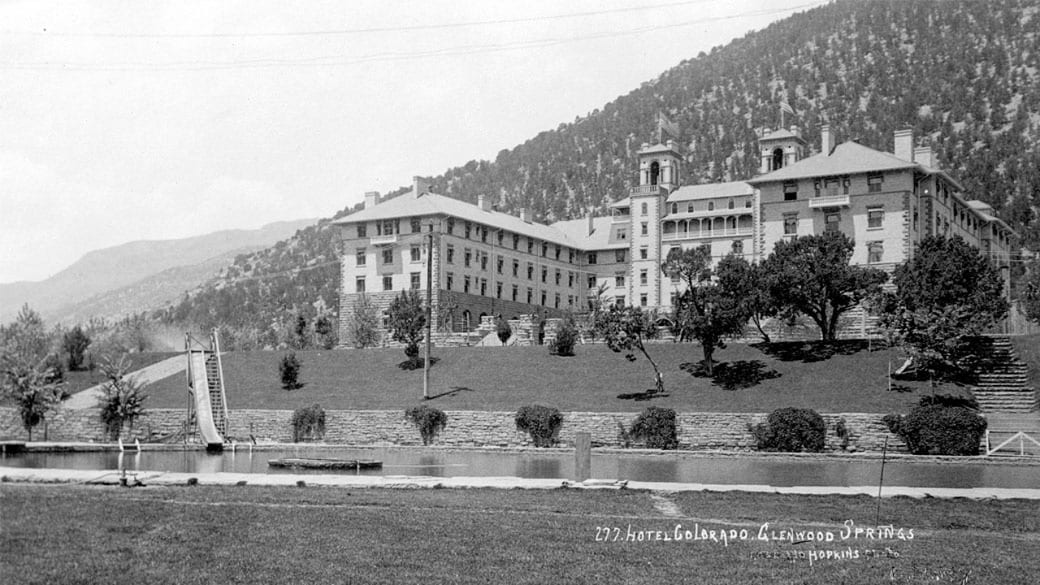 Established early in Glenwood's history as its flagship hotel, this 1893-built resort has been catering to guests of this famous hot springs town. The 3-star Hotel Colorado is conveniently located less than 300 yards from the hot springs resort.
Originally it served wealthy tourists and famous travelers, with such guests as President Theodore Roosevelt and William Taft. Today the 19th Century Italian-styled hotel offers a slew of affordable rooms rich in history. Dine on-site at the delectable Baron's Restaurant year round or savor a summer lunch at the Courtyard Cafe.
Glenwood Hot Springs Resort – largest hot springs pool around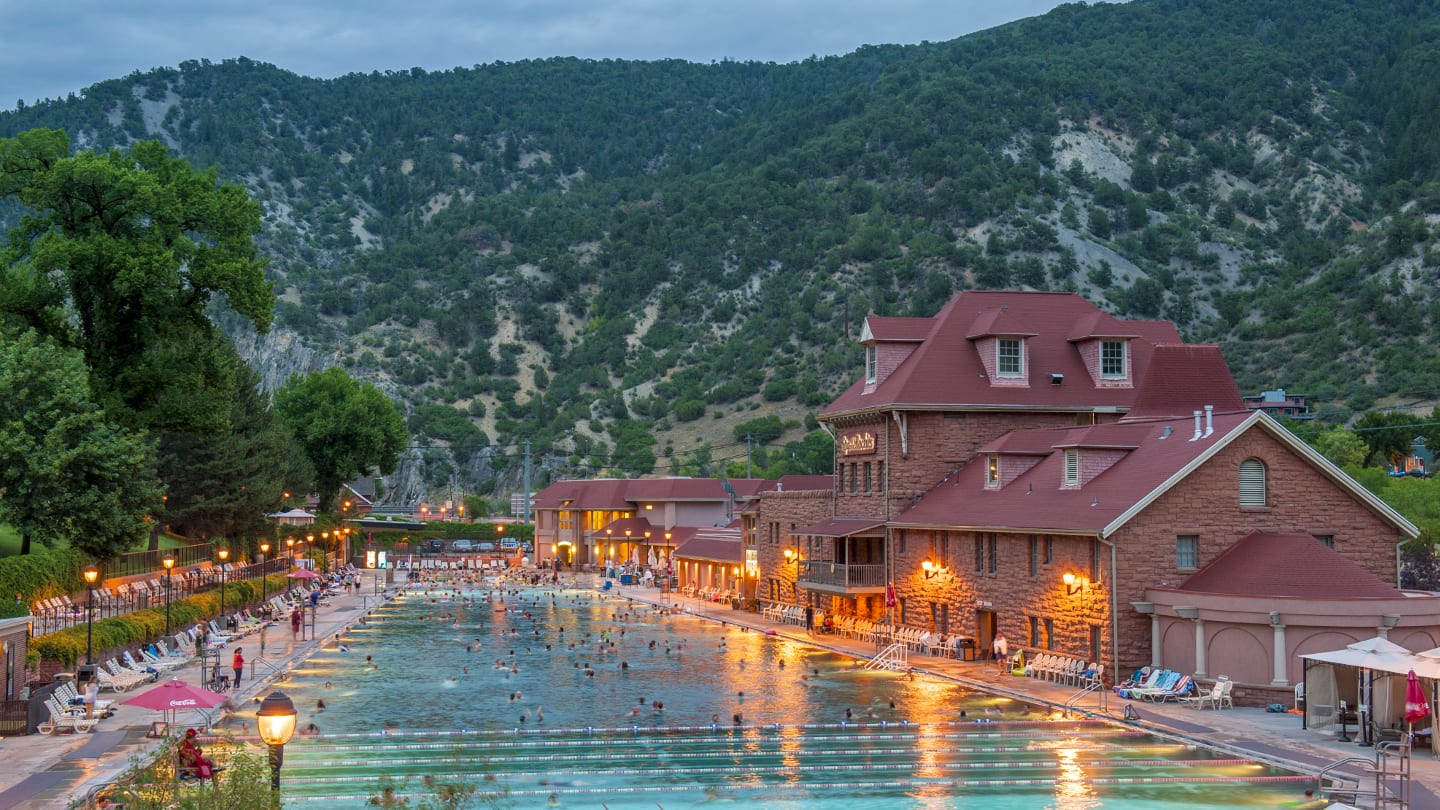 Chances are good if you're staying in Glenwood Springs, you'll be stopping by a hot spring. There are several choices in the area, both primitive and resort. Spend the night on-site at the largest hot springs swimming pool in the world. The Glenwood Hot Springs Lodge has 107 rooms, which come with unlimited pool access during hours and a hot breakfast.
The atmosphere at this premiere hotel is relaxed and perfectly in line with its slogan "Spa of the Rockies". In addition to the giant swimming pool that's 90° – 93°F, there's also a separate hotter pool suitable for large crowds kept at 104°F. Shop and dine on-site, and then rejuvenate after your Rocky Mountain day at the spa.
Hotel Denver – 3-star luxury in heart of downtown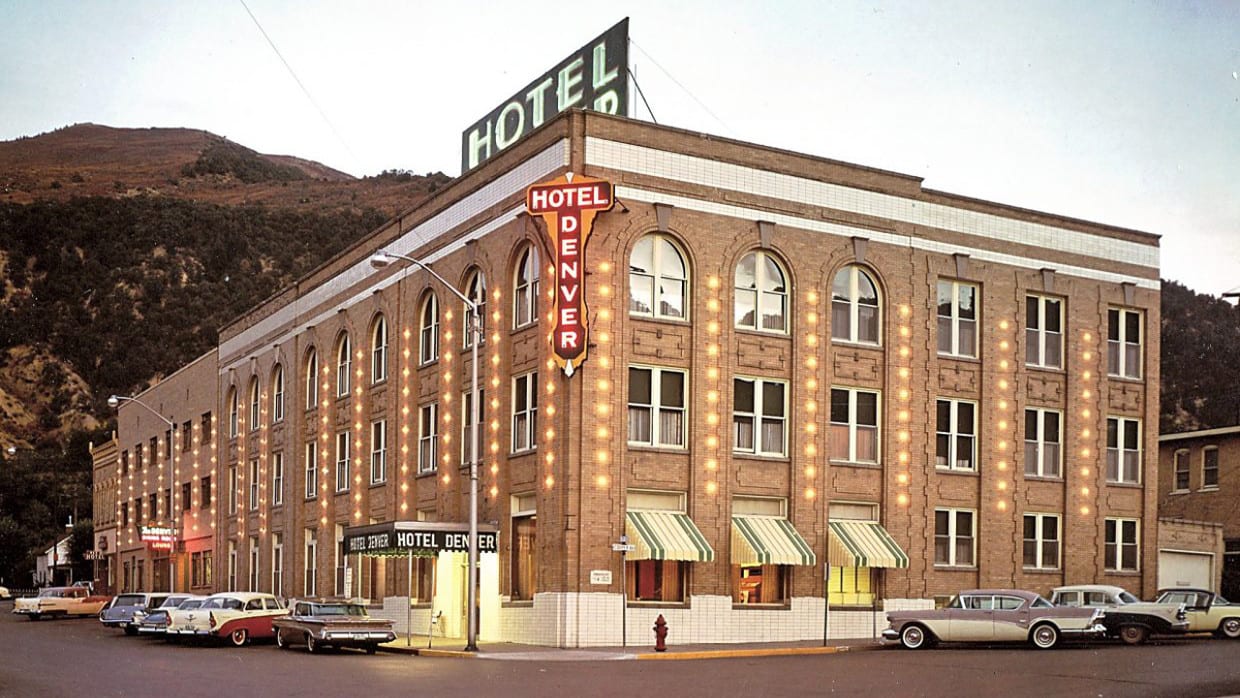 Home to the Glenwood Canyon Brewpub, this historic hotel is conveniently located across Amtrak station. They offer a range of rooms, from Economy and Double Queens to Specialty and Luxury accommodations. There's even a Penthouse overlooking with a panoramic rooftop view of Glenwood Canyon and the Colorado River.
The boutique Hotel Denver is a short walk to unique shops, restaurants, and attractions. It's a 3-star hotel that provides outstanding service and amenities for its guests. Established in 1915, you're sure to have a night to remember at Hotel Denver.
Best Western Antlers – resides on 5 acres of land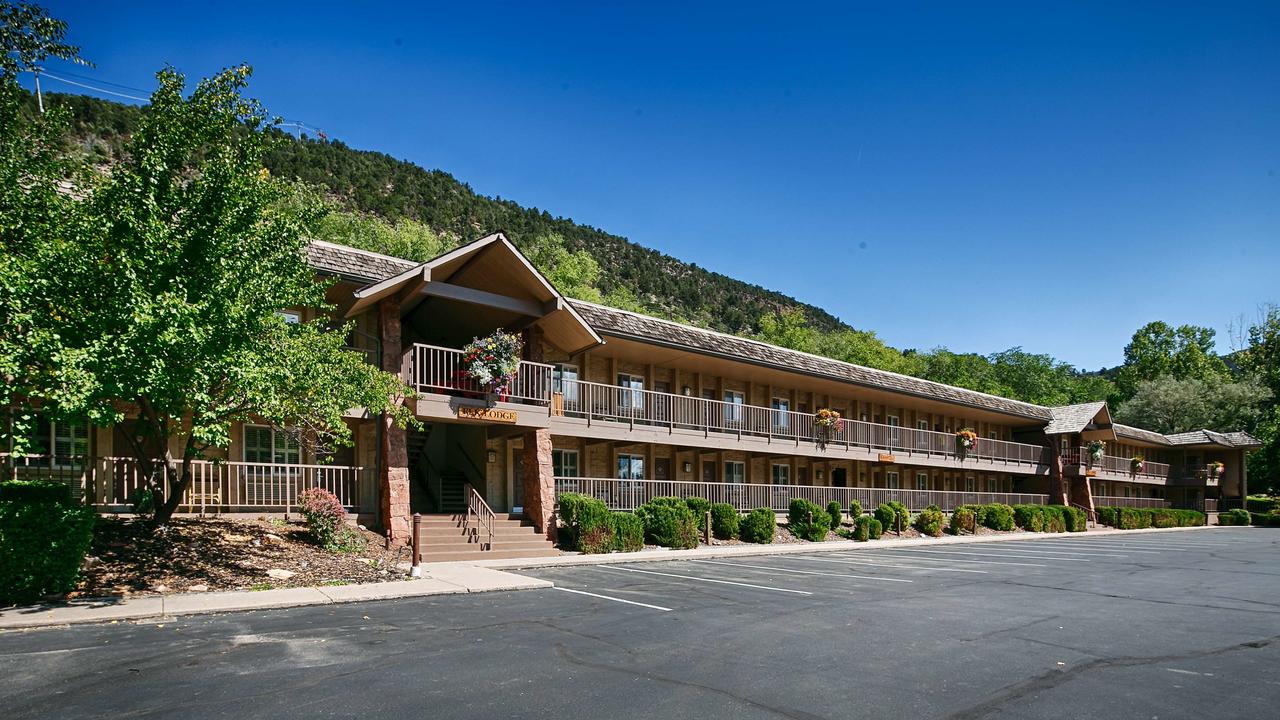 The 3-star Best Western Antlers offers modern, comfortable convenience, only blocks away from Glenwood Caverns and Iron Mountain Hot Springs. The hotel rests on 5 stunning acres, masterfully landscaped each season. It makes it the largest hotel by land size in town.
The hotel has 99 rooms and suites available. Expect top-notch service and on-site amenities including an indoor hot tub, hot breakfast, and a meeting venue reservable for up to 40 people. The Best Western Antlers has a mountain ambiance with a "walk to everything" location.
Quality Inn & Suites On The River – riverside accommodations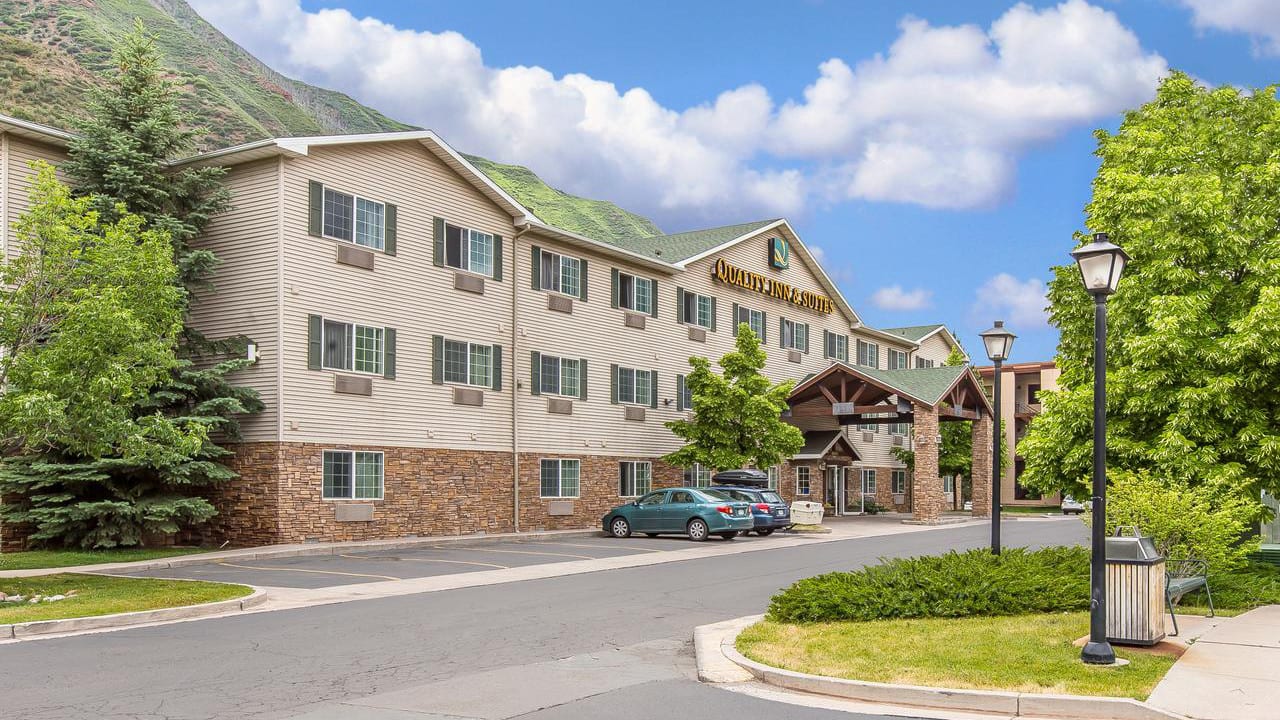 This budget-friendly 2-star property is nestled by the Colorado River in the Roaring Fork Valley. The Quality Inn & Suites On The River provides all the necessary luxuries for a Western escape, including a hot breakfast, free wifi, a business center, exercise room, indoor heated pool, hot tub, and sundeck.
Large guest rooms have everything you require to make the most of your adventures, such as a mini refrigerator, coffee maker, microwave, and TV. Splurge on select rooms with a view of the Colorado River, a kitchenette, a wet bar, and a whirlpool. Pets are not permitted.
Residence Inn by Marriot – modern, spacious suites, extended-stay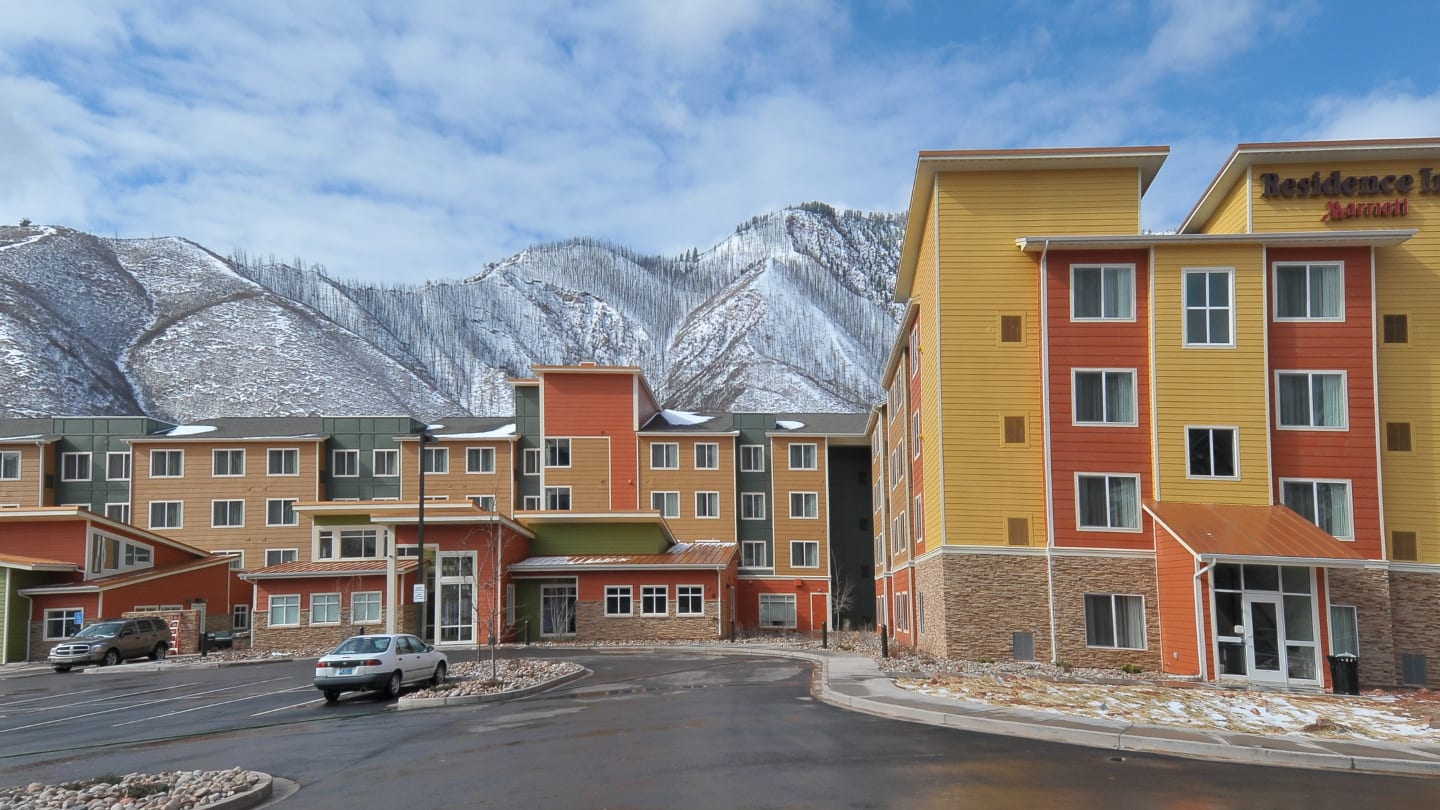 This well-reviewed 3-star hotel is both colorful and comfortable. You can expect Marriott quality and service at the Residence Inn Glenwood Springs. The sprawling property has a whopping 124 hotel suites, located directly across from the Glenwood Springs Community Center.
If you really want to spread out lavishly at the hotel, a suite is the best way to go. Each comes with mountain views, along with a full kitchen and sections for eating, sleeping, living, and working. Choose between a studio, 1 bedroom, 1 bedroom with fireplace, and 2 bedroom suites. The Residence provides a complimentary hot breakfast 7 days a week.
Floradora House – generous hospitality, cozy Victorian rooms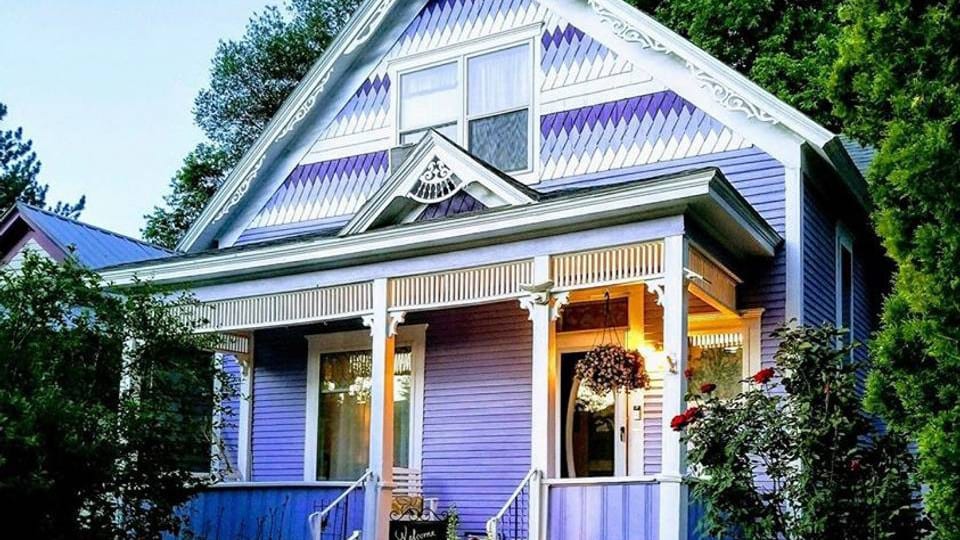 As one of the favorite places to stay on the list (just look at the reviews), this charming five-star bed and breakfast is sure to make memories. It's located in the middle of Glenwood's historic district, ensuring a cozy, picturesque setting. Previously called the Rio Grande B&B, the Floradora House was built in 1909 and has been renovated with the times.
The Floradora House prides itself on its generous western hospitality and delicious, tummy-warming breakfasts for more than 20 years. They welcome you to your "home away from home" in the Roaring Fork Valley. Options at the B&B include the Rio Grande Suite, Colorado Suite, and Garden Suite.
Hotel Glenwood Springs – town's only indoor waterpark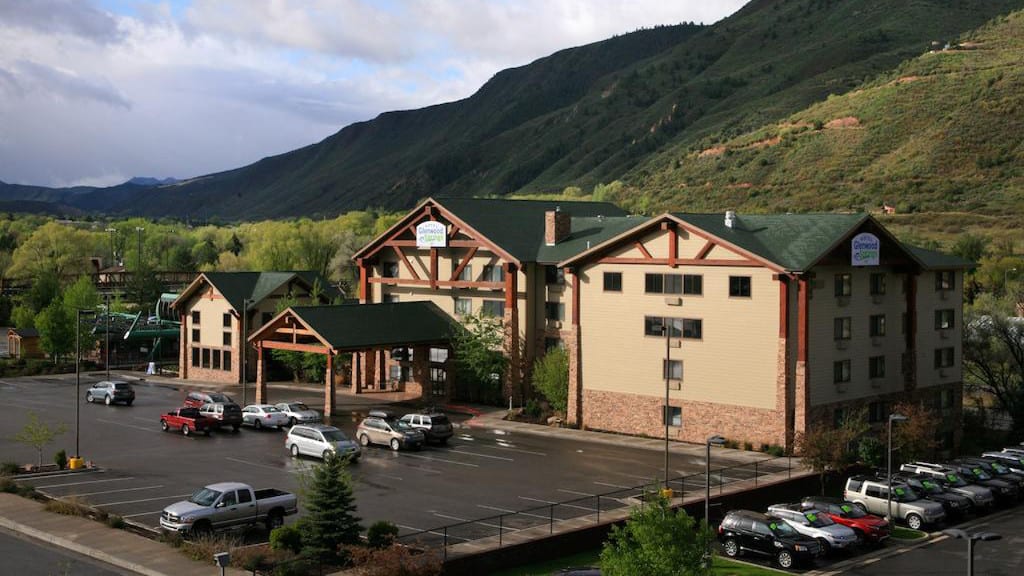 Hotel Glenwood Springs is one of the more unique properties in town, being the only one with an indoor waterpark. Both kids and adults will enjoy the spacious indoor water park at Hotel Glenwood Springs. It's open year-round, complete with a large slide.
Accommodations include several room options, including pet-friendly ones. You can even package attractions with your stay, like a hot springs visit. It's only steps away from Glenwood Caverns Adventure Park too! It makes a perfect hotel for value-priced family fun.
Hanging Lake Inn – wallet-friendly motel with a view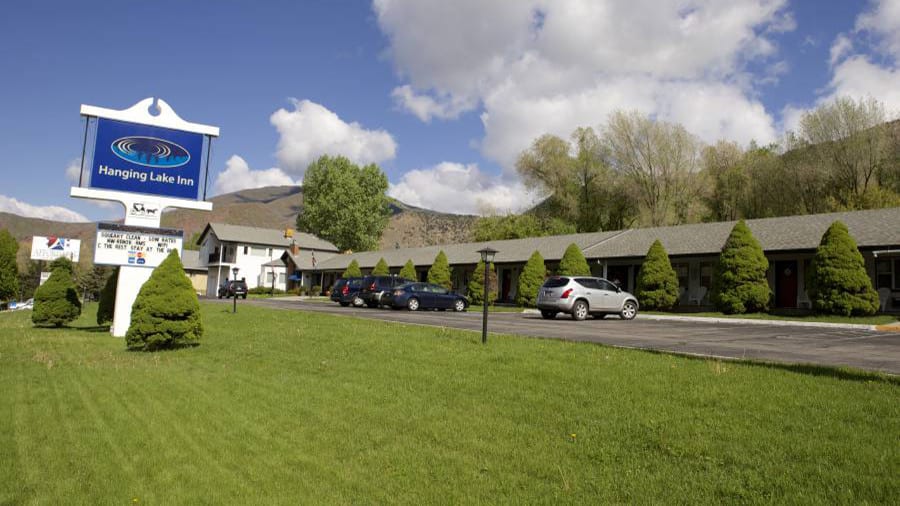 Hanging Lake Inn is a reliable 2-star hotel with some of the most affordable lodgings on the list. It's a great place for a quick stopover in town or an extended family trip. And if you stay here, you should probably visit the Hanging Lake, a natural landmark that can be hiked year-round, weather cooperating.
Park at your door at this motel-style lodge. All accommodations come with squeaky clean rooms, free wifi, and a premium view. Choose between standard and deluxe rooms, with one or two beds. The Hanging Lake Inn also offers a range of stay and play packages for deeper savings.
Courtyard by Marriott Glenwood Springs – modern ambiance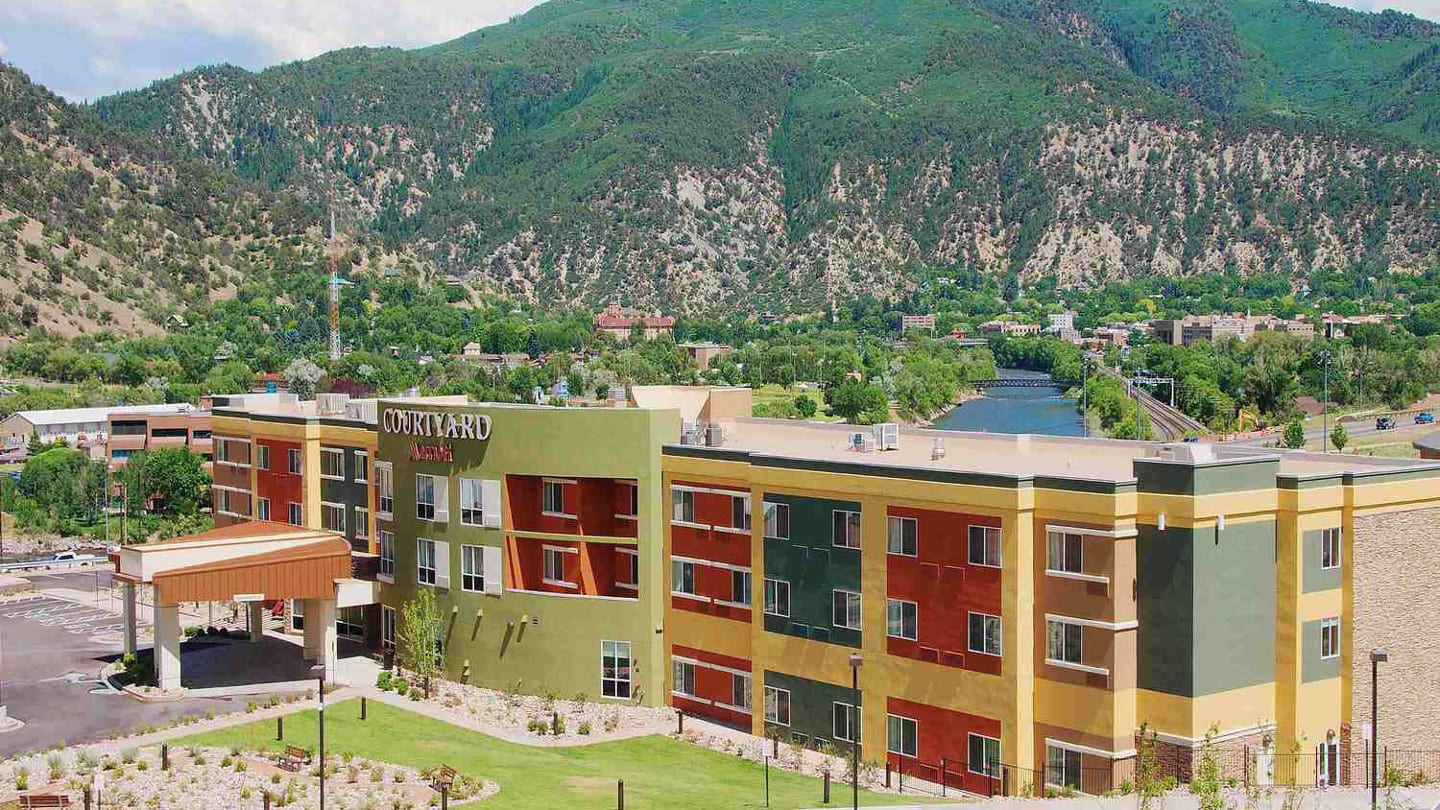 The 3-star Courtyard by Marriott is a wonderful retreat in Western Colorado. The rich, warm ambiance is contemporary and western. There's a huge outdoor patio with gorgeous mountain views, as well as a fitness center with an indoor pool and hot tub.
Choose from 1 and 2-bed guest rooms, as well as a large suite and a 1-bedroom 2-room suite. All 101 spacious rooms have high-speed internet, king or queen Serta beds, large desks, luxury bedding, and HDTVs. The on-site Bistro provides dining.
Glenwood Springs Cedar Lodge – affordable rooms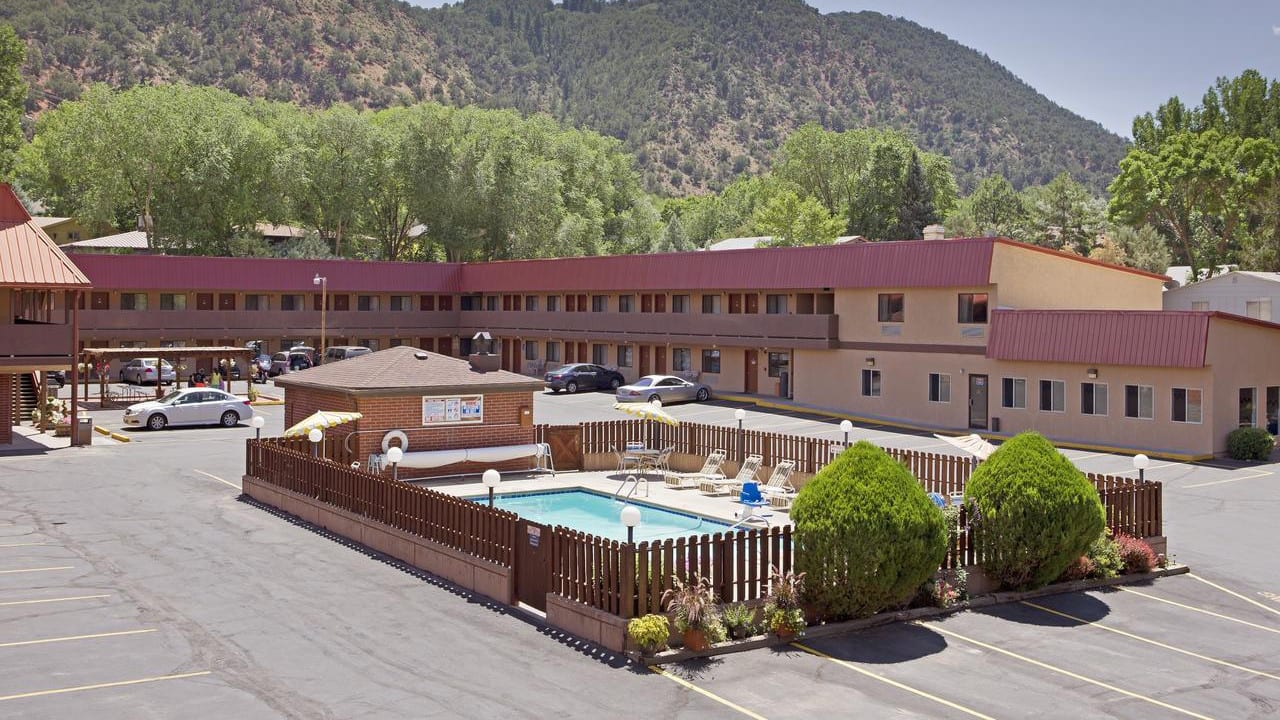 Make the family-friendly Glenwood Springs Cedar Lodge your hub for exploring this wonderful valley. They have both an indoor and outdoor swimming pool, as well as an indoor hot tub and exercise room. It's located less than a mile from many of the town's favorite activities like the Yampah Vapor Caves, and endless outdoor recreation.
All rooms come standard with a microwave and refrigerator, as well as fast wifi and a flat-screen TV. Families will find the space they need and cooking appliances in the kitchen unit suites. Bigger parties can rent out a 4-bedroom cabin with a wood-burning fireplace.
Holiday Inn Express Glenwood Springs – breakfast buffet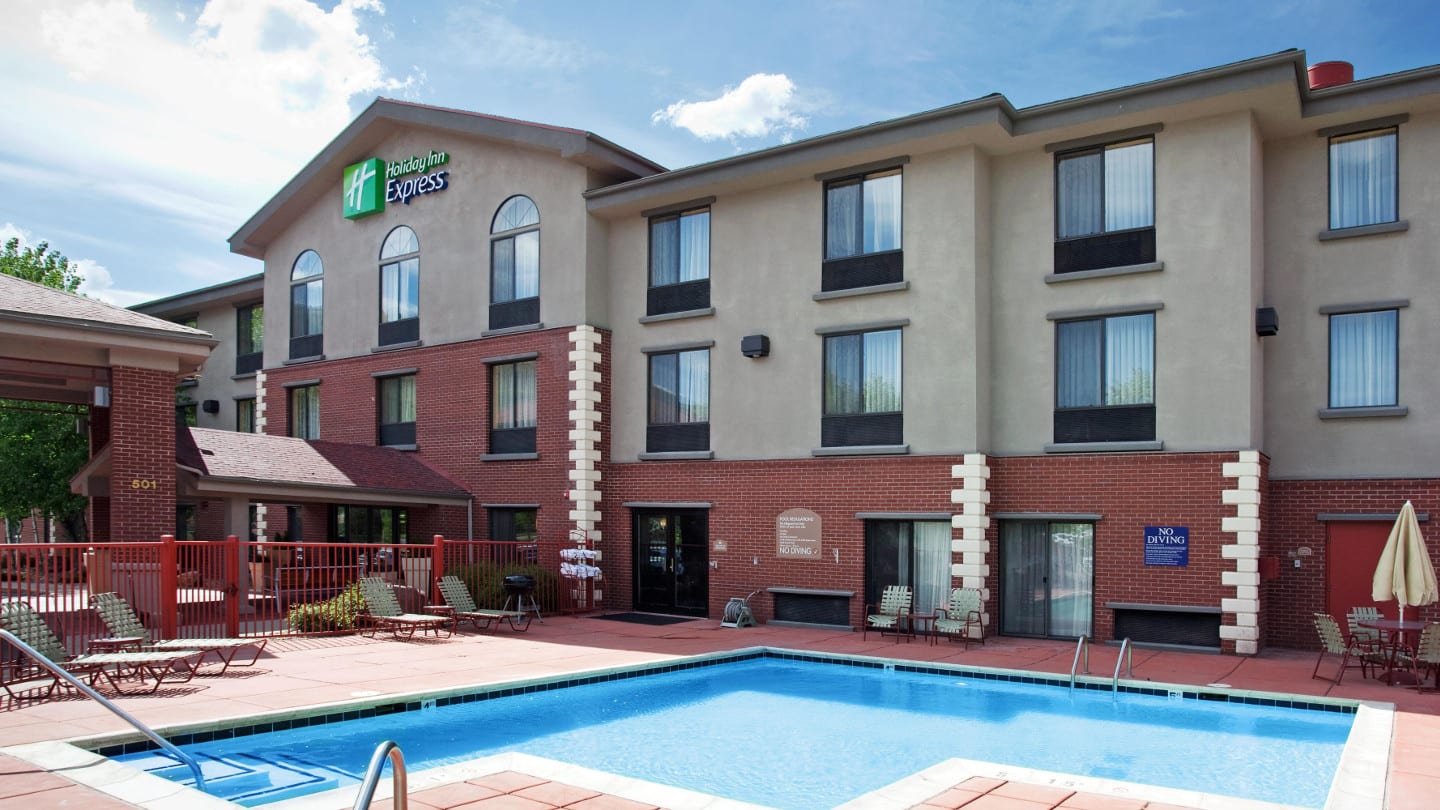 Holiday Inn carries a solid reputation for clean, comfortable rooms, and friendly, reliable service. Your Holiday Inn Express Glenwood Springs stay comes with a comped hot breakfast bar, modern decor, and the essential conveniences: wifi, coffee/tea, work desk, premium channels, daily housekeeping, and blacked-out shades.
On-site amenities include a business center, an outdoor seasonal pool, and a whirlpool. It makes a great stay if you're looking for a comfy, no-fuss hotel in the heart of town. Only service animals are welcome, so this one's not for pet travelers.
Hampton Inn by Hilton – mini-suite style rooms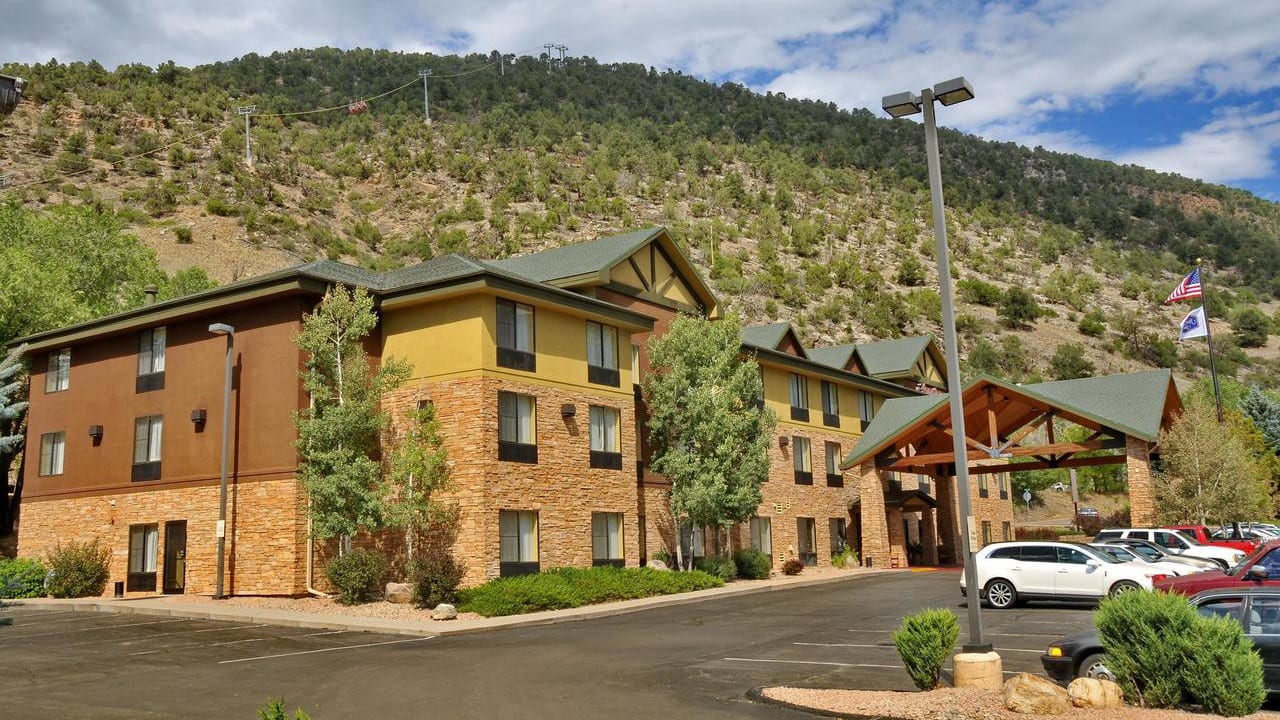 Another consistently well-reviewed 3-star it the Hampton Inn by Hilton. The contemporary ambiance features a range of room options, from single queens to multi-room suites. There is a business center, kids playpen, fitness room, and swimming pool. All overnight guests receive a complimentary breakfast.
All rooms come with free wifi, a desk, a mini fridge, and a microwave. One, two, and three-bed units are available. Pets are not welcome here either, only service animals. Your stay here comes with the 100% Hampton Guarantee.
Silver Spruce Inn – budget Victorian castle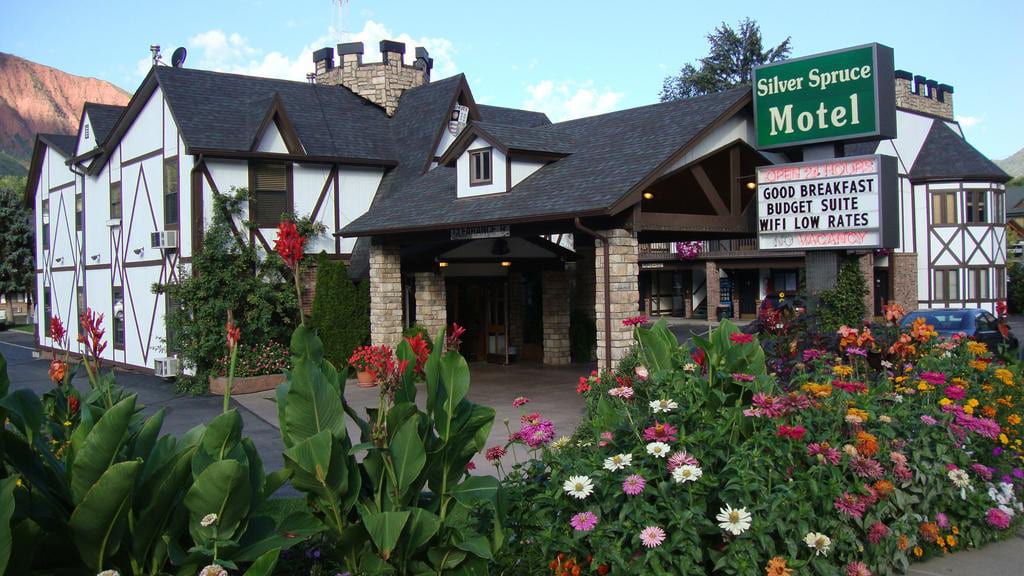 The 2-star Silver Spruce Inn provides a mix of clean, cozy rooms in a prime location in Glenwood Springs. You're within walking distance to all the fun, including only 3 blocks from two hot springs resorts: Iron Mountain and Glenwood. It's 4 blocks to downtown, or just take a free shuttle next door.
Choose between small economy rooms and 2-bedroom condominiums. The 24-hour reception welcomes guests at any time of the night. The free hot breakfast includes eggs, sausage, oatmeal, waffles, fruit, and pastries. BBQ facilities, laundry, fast wifi, and a free Amtrak shuttle. There are no pets allowed.
Starlight Lodge – economy alpine flare, pet rooms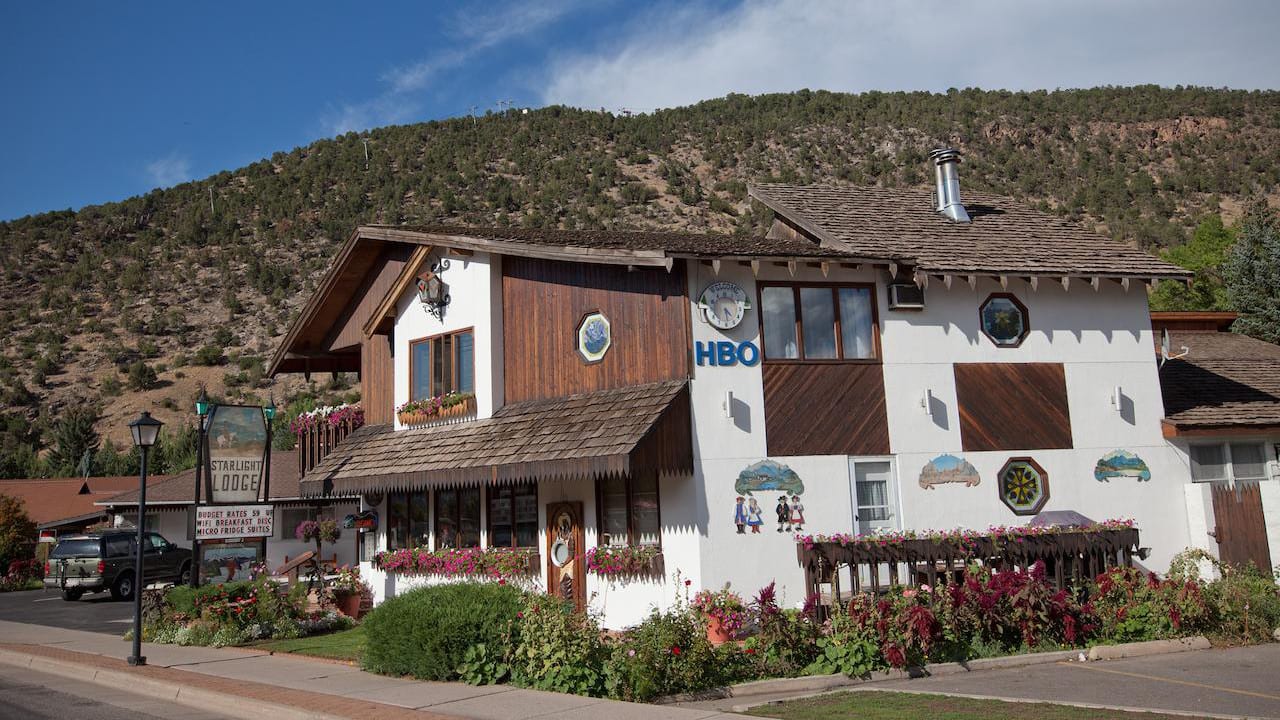 Located only a block from the Glenwood Hot Springs Pool, the Starlight Lodge is perfect for a quick stopover in the hot springs capital of Colorado. The rooms are clean, comfy, and reasonably priced. Amenities are no frills, so if a gym or fitness center is what you seek, look elsewhere.
The alpine exterior is modeled after an Alps chalet, with wood shingles and wooden decor. Pick from economy rooms or upscale suites, all reasonably priced. There is a limited number of pet-friendly rooms available for a fee.
Glenwood Suites – budget 3-star suites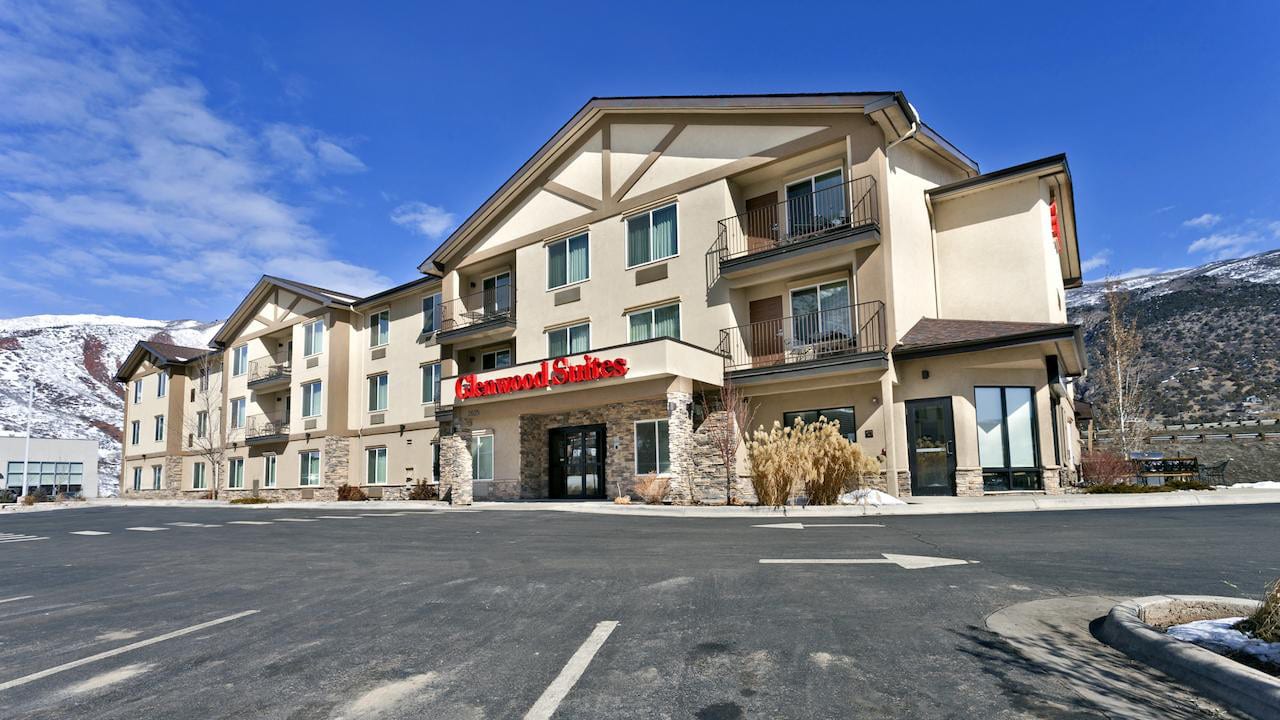 The 3-star Glenwood Suites, an Ascend Hotel Collection Member, comes ready to make your vacation perfect. The 56 air-conditioned suites are affordable, and the wifi, parking, and breakfast are free.
Accommodations available are Suites, Business Rooms, and Family Suites, all featuring a refrigerator, microwave, and LCD TV. Like nearly all of Glenwood Springs' hotels, the Glenwood Suites are conveniently located in town. Families can walk to Johnson's Park Miniature Golf in five minutes.
Sunlight Mountain Inn – base of Sunlight Mountain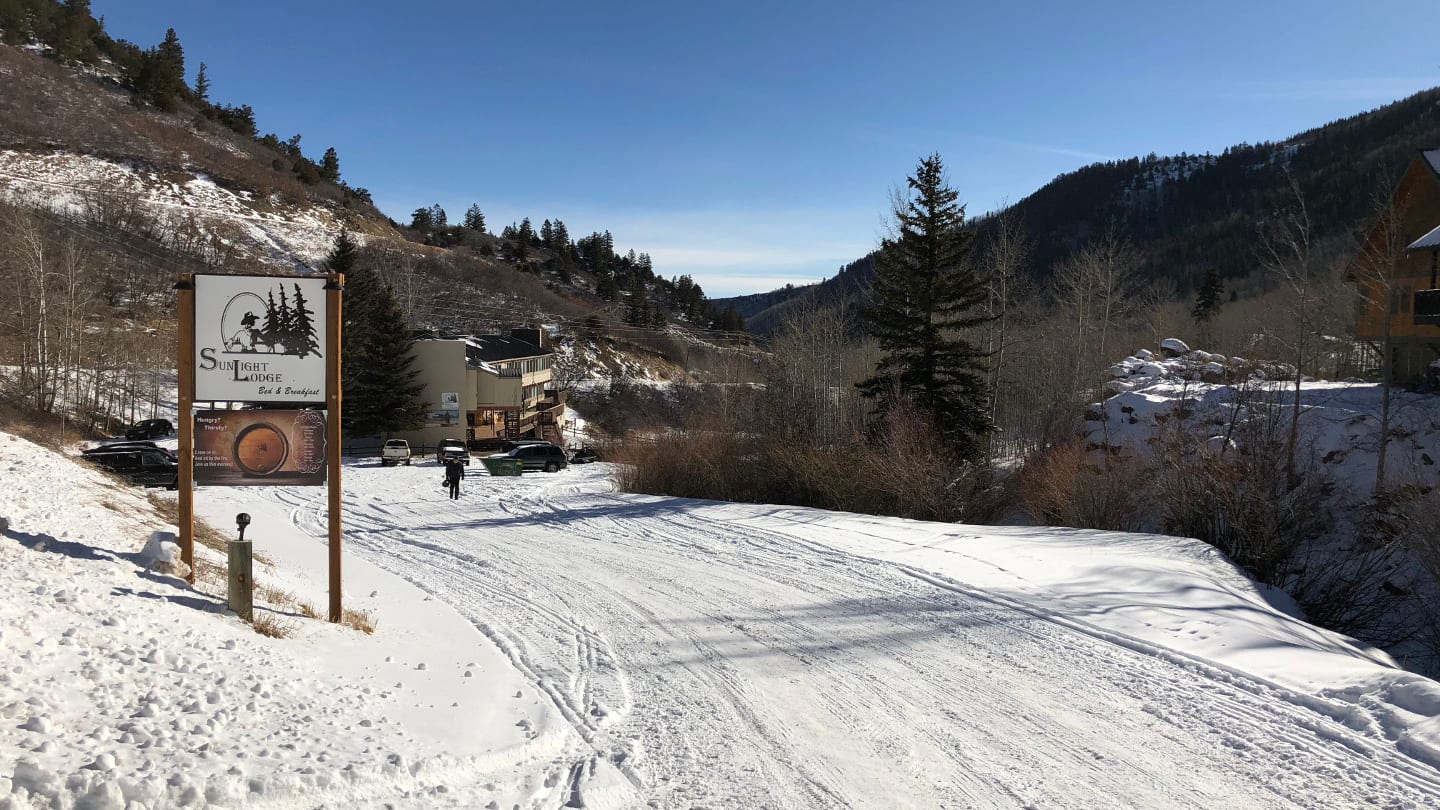 Nestled in the White River National Forest at 8,000 Feet, the Sunlight Mountain Inn is one of the most unique places on the list. It's located high away from town, nearly a 30-minute drive from historic downtown. If you're looking to play in the national forest or at Sunlight Mountain, this is prime accommodation for that.
There are limited rooms to choose from because they are now operating a co-living space for entrepreneurs. Sunlight Mountain Resort opens around mid-December and runs through March. Wintertime activities include incredible cross-country skiing, snowboarding, snowmobiling, and snowshoeing at your doorstep.
Thanks for checking out our favorite places to stay in Glenwood Springs. Have a terrific time exploring the Roaring Fork Valley.