Boasting the World's Deepest Hot Springs and ski area with the state's most powder, Pagosa Springs gets its share of adventurous visitors. There are a good amount of top hotels to choose from, in a range of budgets and accommodations.
Pagosa Springs has always been a highly coveted tourist spot. The town is filled with breathtaking scenery at every corner, every road. Most visitors make the drive down beautiful Highway 285 from Denver. It's just under 5 hours making it a reasonable day drive through the stunning alpine country.
Probably Pagosa Springs' Top Accommodations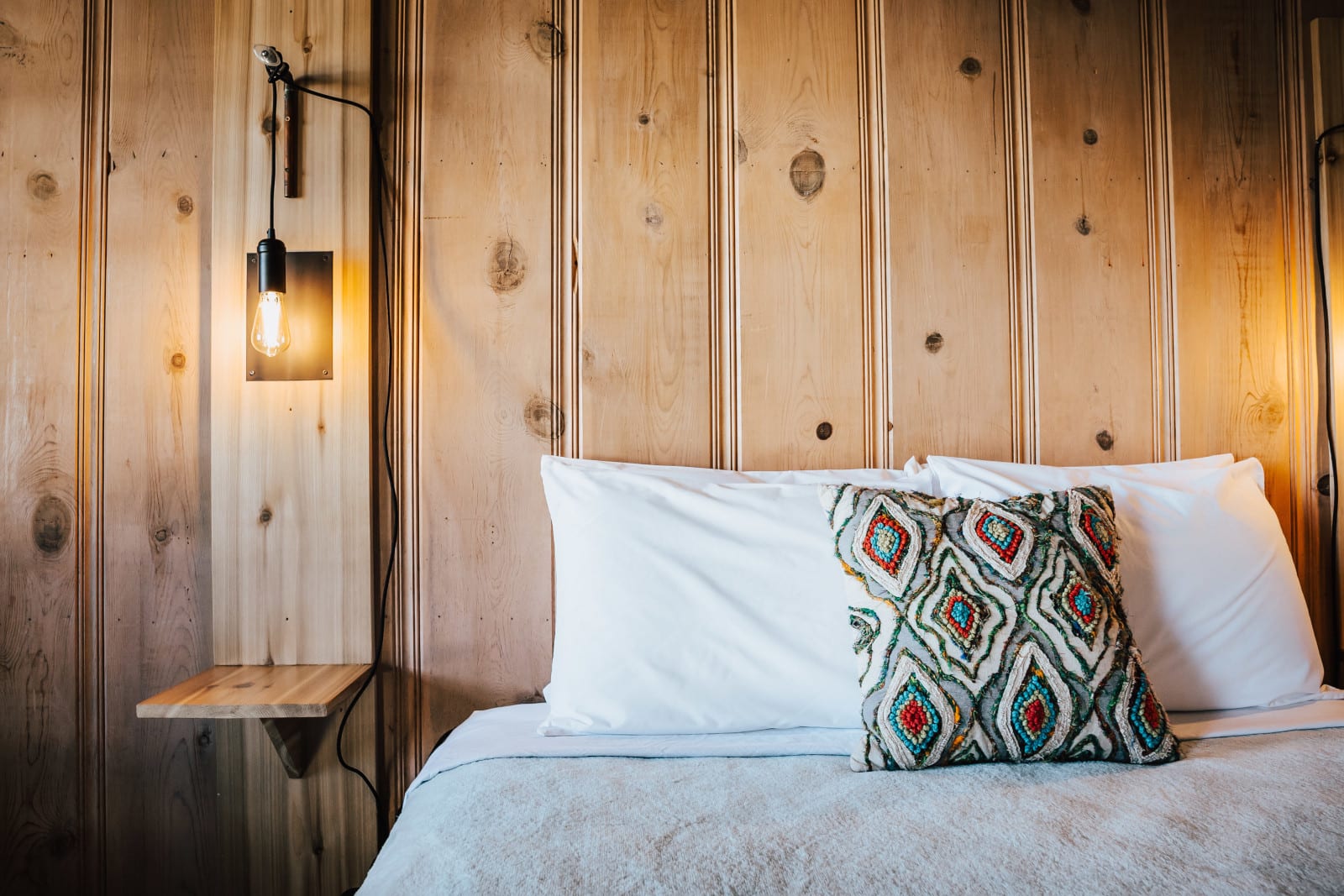 The town is surrounded by wilderness and some of the deepest, most remote forests in the state. Visit the South San Juan Wilderness for some stunning views and isolation.
Aside from basking in the natural beauty of Pagosa Springs, enjoy a soak at its several hot springs. The biggest and most popular is The Springs Resort. Then spend the night at its attached hotel. Another hot spring with on-site lodging is Healing Waters Resort & Spa. Or soak up an evening sunset at Overlook Hot Springs.
With the numerous activities, you can do all over town, you need a reliable list of accommodations that'll make you feel right at home.
This section contains referral links. If you click through and take action, we may receive a commission, at no additional cost to you. 
Here are our choices for the top hotels in Pagosa Springs, CO, in no particular order:
Alpine Inn – comfort and simplicity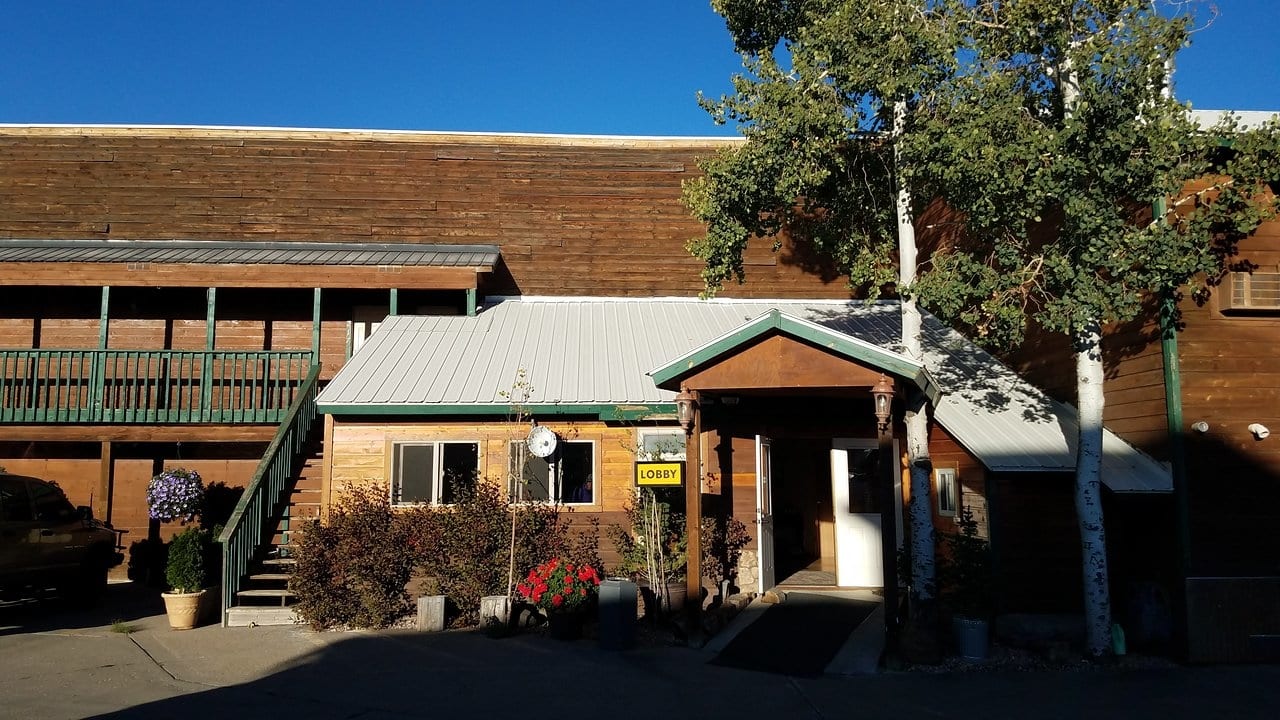 There are places you go to where you feel totally at home. For larger hotel franchises, the entire management team spends hundreds and thousands (if not millions) of dollars coordinating this key goal with architects because that "home feel" is certainly hard to find.
But, what really makes a place feel almost like this is a sense of familiarity, and that's what you can find at Alpine Inn. The family-owned property has two stories and a very down-to-earth vibe. They have 25 guest rooms with bathrooms, basic amenities, and wifi. However, this is not a pet-friendly property.
Though it's classified as a "motel," the place has full facilities like a lobby, dining area, and free parking spaces for guests. You'll feel like this is home because of the old furniture pieces as well as the design of the wood-dominant motel.
Even though most of the pieces here are nearly antique, they're still one of the top-rated accommodations in town. The rooms are clean and the beds are comfortable.
You'll also have an amazing view from any corner of the property because it's located in a secluded area. There are nearby restaurants and houses, but it's not as loud or as busy as downtown. If you're looking for a peaceful retreat with a homely ambiance, Alpine Inn Pagosa Springs is an ideal place for you.
Motel SOCO – roadside accommodation for adventurers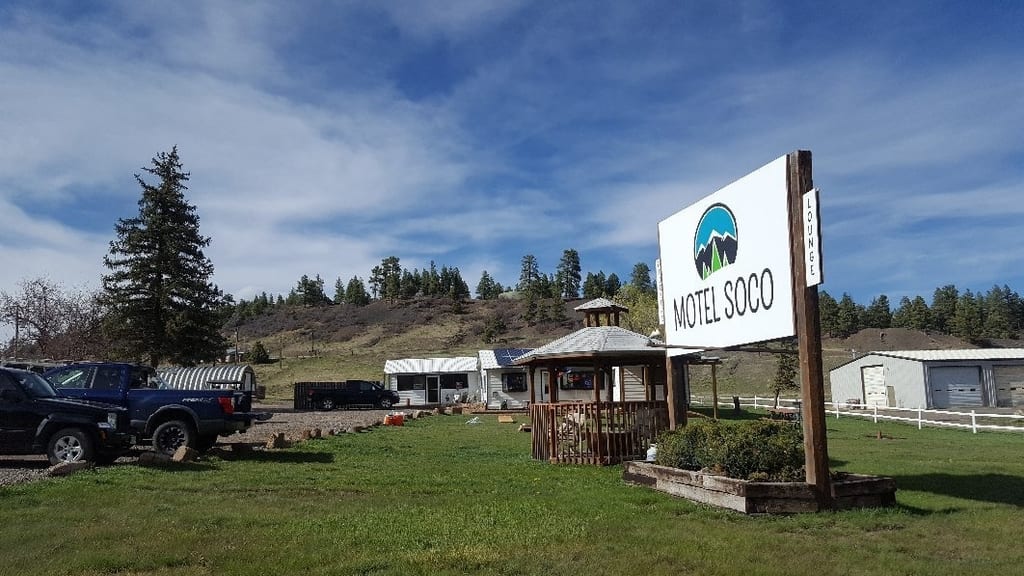 If you're on the other end of the spectrum, looking for a more vibrant place to stay during your exciting Pagosa Springs tour, then Motel SOCO is probably more suitable for you.
This is a full-service lodge with a lounge and a more modern take on rustic simplicity.
The suites are beautifully designed to reflect the outback lifestyle in Pagosa Springs, while still bringing that sense of minimalist class. There's an exciting mix of texture throughout the property, from the brass bathroom walls to the wooden sink, industrial lamps, and leather benches.
The rooms are relatively small (but beds are usually queen or king-sized), but because of the cozy, inviting ambiance, you can imagine staying indoors the whole day to read a book or write.
Motel SOCO is one of the historic structures in town. Built-in the 1940s, it has been renovated on September 2016 under the new management. The place is now a center of hospitality for travelers from all walks of life.
Elktrace Bed & Breakfast – upscale lodging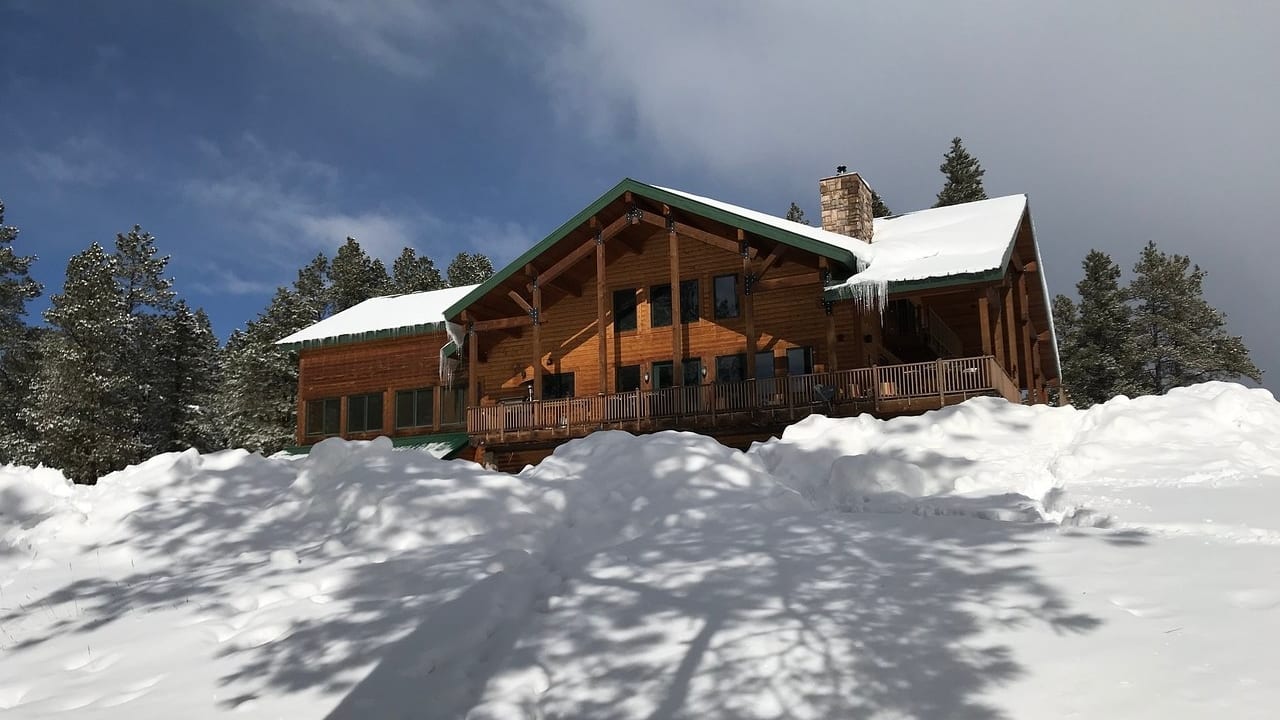 Pagosa Springs is beautiful all year long. If you're looking for a place that complements that beauty in any season, Elktrace B&B is an excellent choice for you.
The property is one of the most revered upscale, fine lodges in Southwest Colorado. The 9, 000 sq. ft. property showcases one-of-a-kind views of the San Juan Mountain Range. At the same time, there are only six rooms available on the property so you'll have more privacy staying here than in mainstream hotel accommodations.
Every corner of the place reflects the comfort of an extravagant country lifestyle. Enjoy your morning coffee or your afternoon readings at the cozy lounge. There's also a TV and a fireplace so you can opt for a family movie time during your stay.
The cabin mansion was built with a central high ceiling so the space actually looks and feels huge. If you're bringing children, you'll be able to get a quick glance to check where everyone is from the second floor.
The rooms are comfortable and cozy. They have the Wolf Room, a 1 king-bed suite with a Jack and Jill Bathroom. There's an electric fireplace and a flat-screen TV. They also have the Buffalo Suite with 2 queen-sized beds and an electric fireplace. Both types of suites have access to property wifi.
Pagosa Riverside Campground – cabin rentals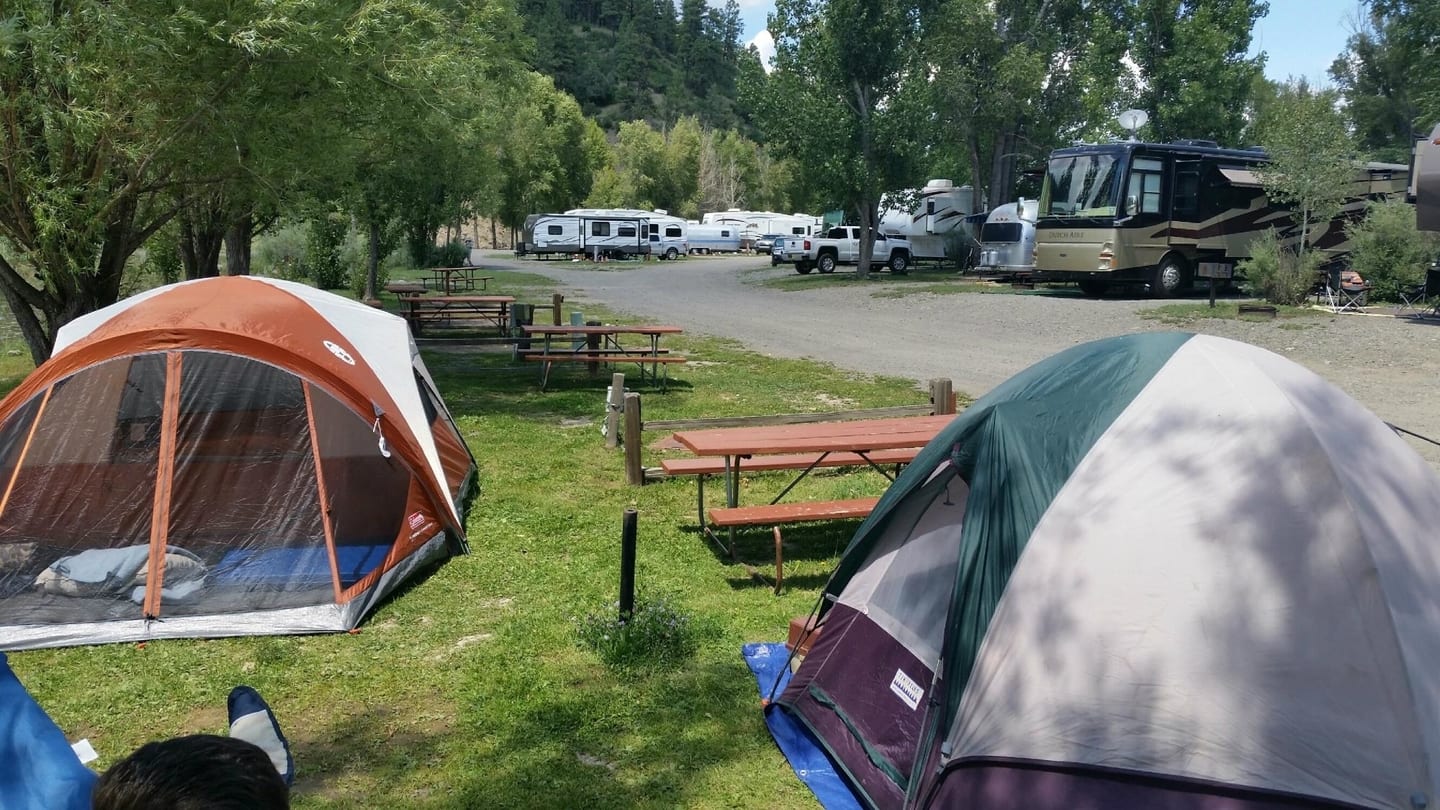 This family resort is one of the hidden gems in Pagosa Springs. It boasts tent and RV campsites, as well as 3 cabins for rent. In the Pagosa Riverside Campground you and your family will have close access to the best outdoor activities in Pagosa while being able to get that authentic family bonding time.
There are three unique cabins with fire pits and picnic tables. Considered "Primitive Sleeping Cabins", these accommodations can sleep from two to four people.
Cabin 1 is the smallest, featuring a double and a bunk bed set. Cabin 2 has two separate single beds. For a more comfortable stay, you can book at Cabin 3 which has a full bath and kitchen, a queen bed, and a bunk bed set.
There are 60 available RV spaces, with amp, big rig sites, open space for slideouts, water station, electricity, and outdoor tables. As for the tent-only sites, they have thirty. Throughout the entire campground, you'll have access to the wifi. Pets are also welcome to join in!
Aside from accommodations, there are other recreational facilities on site including a swimming pool, a playground, paddle boat rentals to enjoy the river, outdoor game activities, fishing rentals, a game room, and kayak/canoe rentals.
The Springs Resort & Spa – premier hot springs resort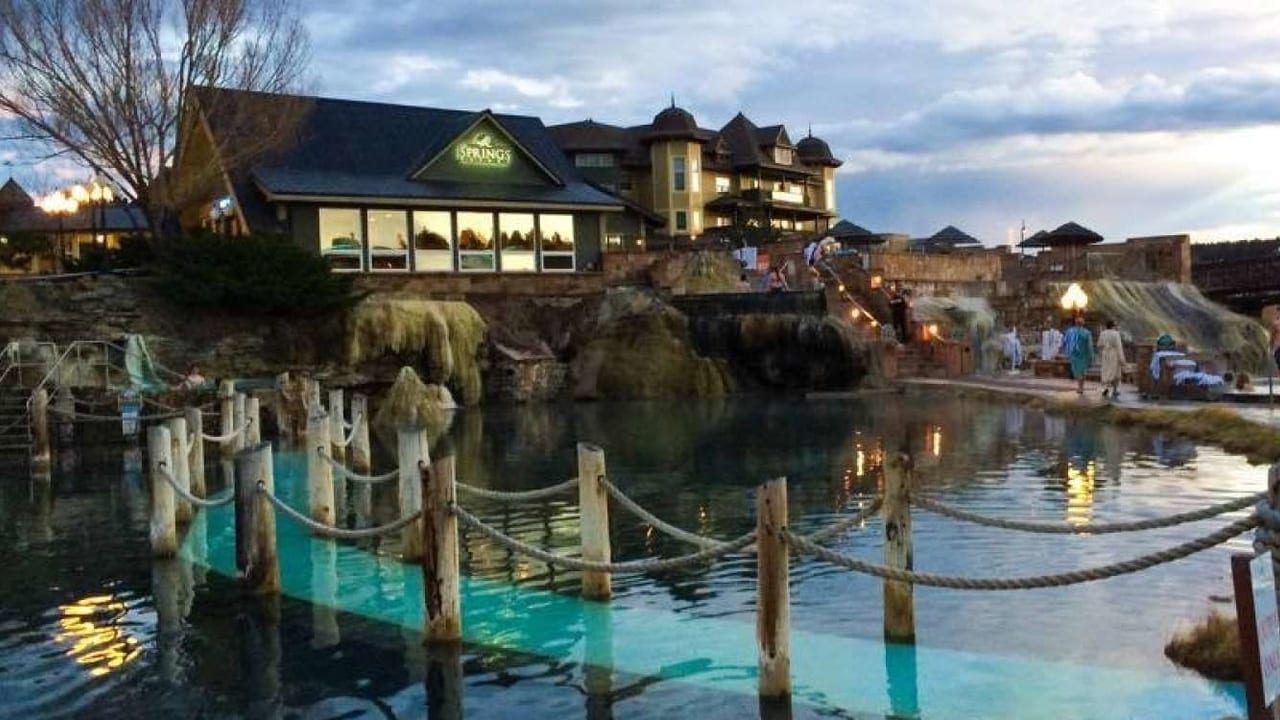 One of the main reasons people flock to Pagosa Springs is because of the numerous hot springs located all over town. One of the most popular hot springs locations is The Springs Resort & Spa.
Located along the banks of the amazing San Juan River, this property features healing experiences from the 23 geothermal hot spring pools on site. The temperature and the sizes vary per pool, from 83-114 °F (28-46 °C) to create options for guests with different preferences. The water from the pools comes from the "World's Deepest Geothermal Hot Spring," the Great Pagosah Spring.
The property is also perfect for large groups or company retreats since they have seventy-nine rooms and suites that range from Classic, Delux, and Luxury options. The property is also proud to be Colorado's first LEED (Leadership in Energy and Environmental Design) Gold Certificate Awardee.
After a relaxing soak in one of their pools, complete the relaxing escape in their acclaimed spa center.
Healing Waters Resort & Spa – on-site hot springs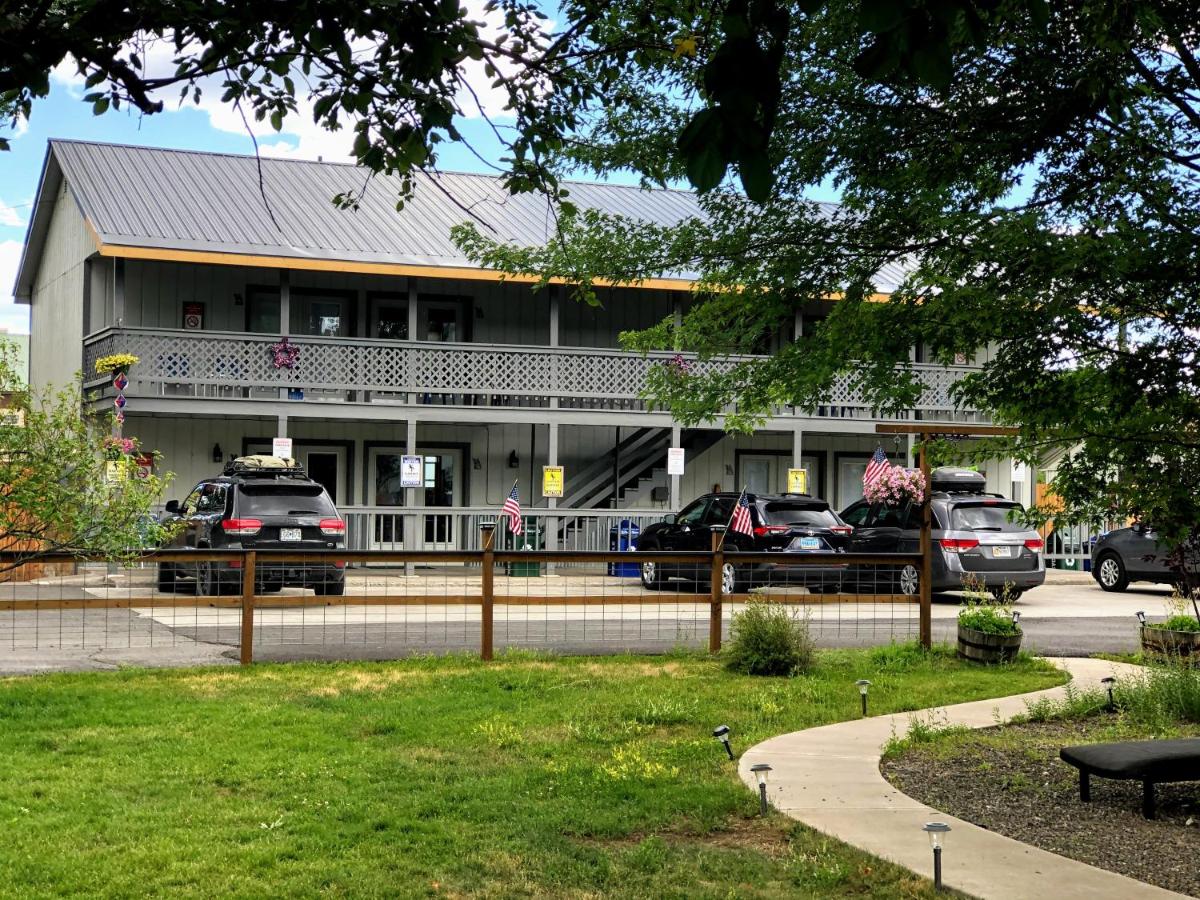 This 3-star accommodation resides in downtown Pagosa Springs, nearby the aforementioned The Springs Resort. Healing Waters has both a big outdoor swimming pool and hot tub filled with geothermal mineral springs water. There are also indoor hot baths for both men and women.
Soaking is available daily from 8 am to 10 pm. Guests staying at the hotel get complimentary access.
Room types include Double Queen Rooms, Single Queen Rooms, Mini Suites, Suites, and the Bunk House Suite. In addition to these options within the lodge, there are 3 park-model cabins for rent. These are like tiny houses, with a queen bed and twin bunk bed, plus a full bathroom and kitchen. They boast a dining and living area and can sleep up to 4 people.
Fireside Inn Cabins – local lifestyle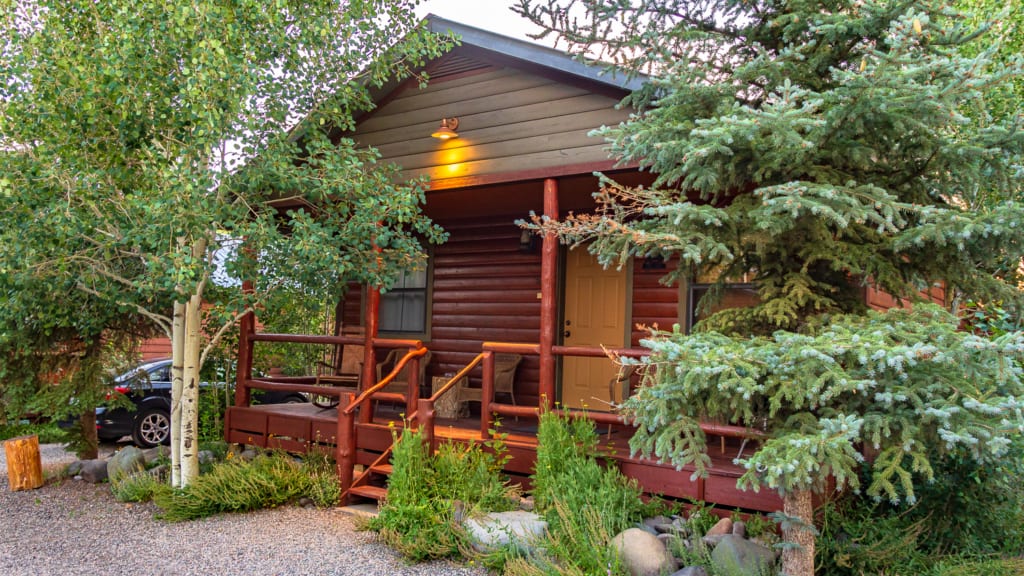 When you go on a vacation, there are times when going to the local communities can be more rewarding than following a more generic, commercialized, city tour. That's what you're getting when you stay at Fireside Inn Cabins.
The property is built along the beautiful San Juan River, but it's also close to downtown. They created a separation from the busy streets of the town center on the property. This way you can still feel that connection to Mother Nature even though you're just minutes away from the local restaurants.
The property has fifteen modern, log-sized, two-bedroom, fully-equipped cabins. The design has a Southwest flair, and the highlight of staying here is the outdoor amenities.
They have sitting areas just in front of the river. So whether you want to try out fishing, or you just need to have that quiet alone time, you can enjoy your little heaven in the hidden corners of the property. They also have a plantation garden where you can pick vegetables to cook for dinner.
The Cabins at Hartland Ranch – private mountain getaway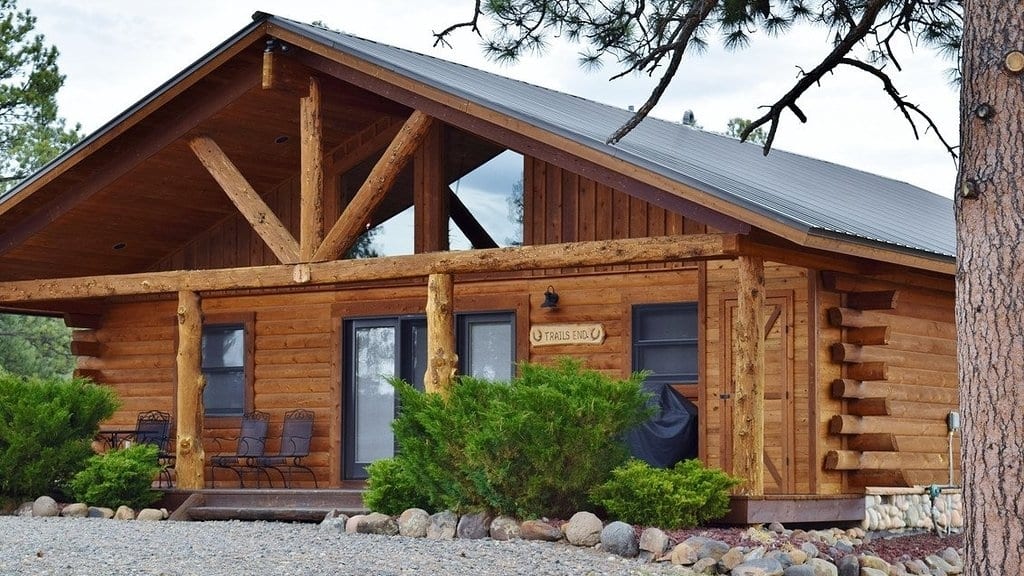 If you're not really up for a community-centered escapade and you just want that, semi-isolated, private property so you and your family can focus on enjoying nature, The Cabins at Hartland Ranch is the perfect accommodation for you.
Enjoy the best views of the Rocky Mountains, while enjoying the best cabin features in town. Their premier mountain cabins have fully-equipped kitchens, washers/dryers, stacked stone fireplaces, slate and wood floors, two porches, and rustic custom types of furniture. Each bedroom has its own en suite bath.
The property is also great for family gatherings and small group reunions.
Elkwood Manor Bed & Breakfast – Victorian-inspired mountain living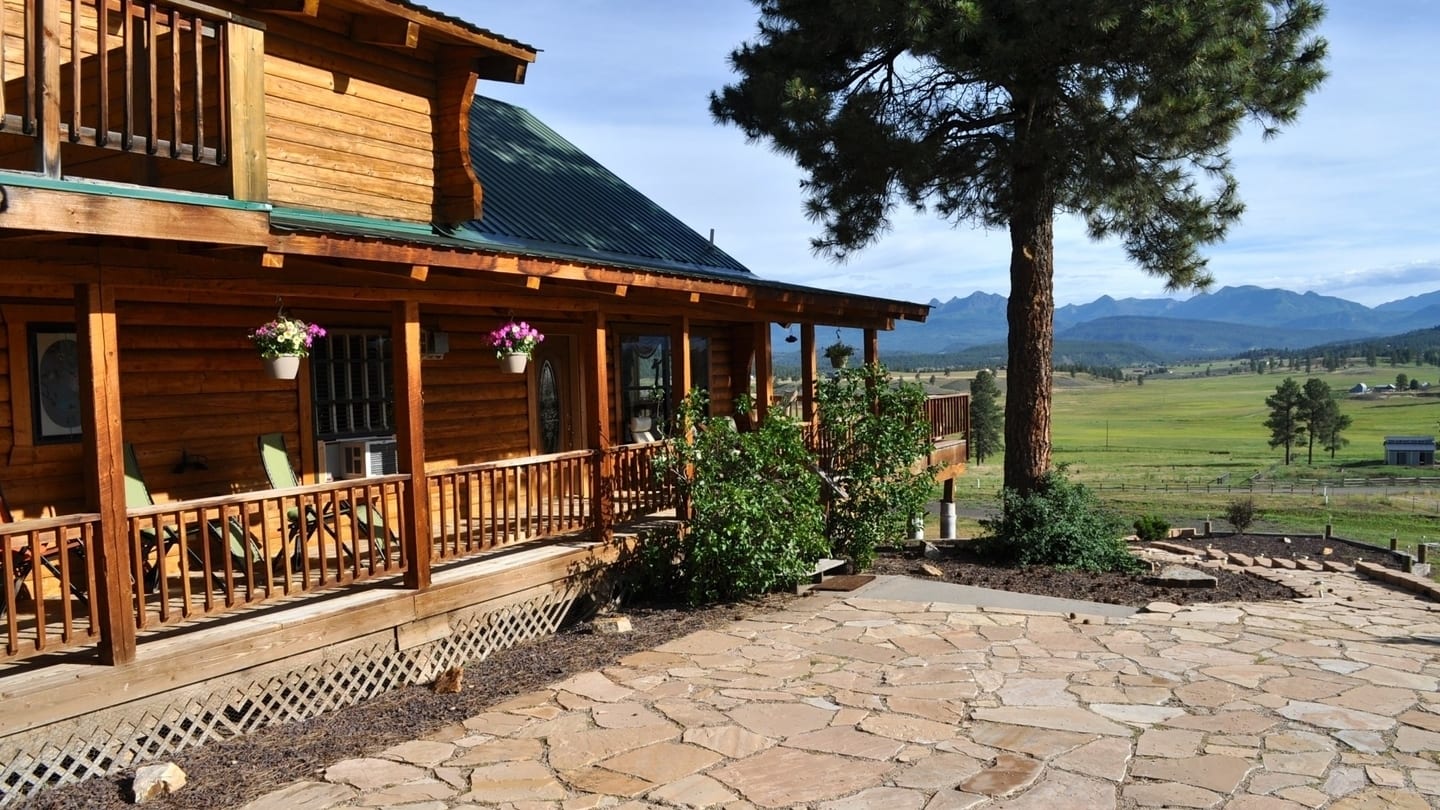 Elkwood Manor Bed & Breakfast is one of the properties that truly stand out in Archuleta County. The entire manor gives you a 360-view of the vast lands around the town. At the same time, the place has a luxurious vibe and an old Victorian design.
Coming in, you'll be welcomed by the huge dining table, coffee space, and lobby. There's a guest room on the first floor and a fully-equipped kitchen.
They have suites that have a hot tub. The suites have eccentric designs and themes, take the Shogun Suite, for example. It has an authentic oriental decor with direct access to the east side porch.
The cool thing about staying at Elkwood Manor is that the suites have some sort of customized privacy, from separate entrance doors to adjoining corridors, so even though other guests are staying at the manor, it doesn't feel too crowded.
The property can also be booked as a whole, making for a perfect location for small gatherings and events.
West End Lodge – comfort and affordability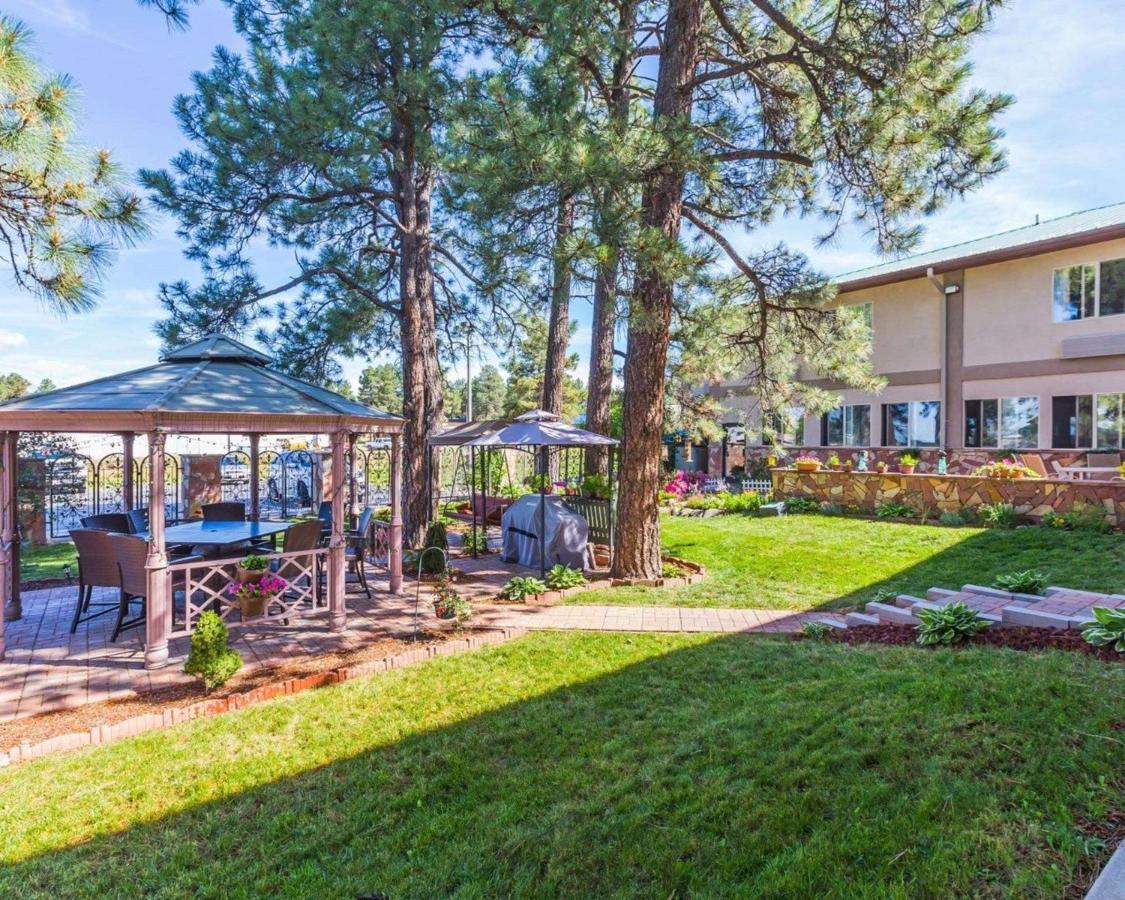 If you're traveling solo or on a budget, the West End Lodge is an apt accommodation. Formerly the Econo Lodge, it boasts full hotel amenities you'll need for your trip (including a laundry facility, breakfast, and free WiFi).
It's one of the most recommended properties in town because of the reliable service. The place offers a wide range of room configurations as well as a complimentary breakfast. If you're not bringing a car, you can ask the concierge for a taxi service or book a Lyft or Uber to fetch you from this location.
Pagosa Springs RV Park – cabin and ATV rentals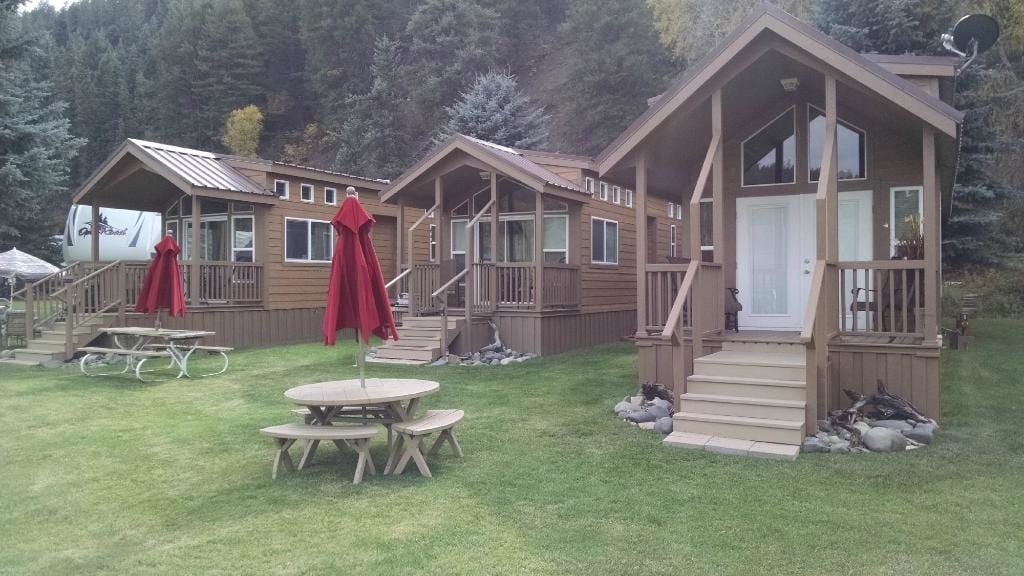 This beautiful campground is best for those who need basic amenities while exploring the outdoor lifestyle in Pagoda Springs. With Pagoda Springs RV Park, you get the best of both worlds. This campground offers cabins and ATV rentals, and an outdoor movie theater.
There are cabins that mimic the tiny house style to create more affordable options for travelers. On the other hand, there are luxury options like their deluxe cabins with lofts. During afternoons and nights, people also flock to the BBQ Bar.
This is one of the most vibrant accommodations you can check while in town and is perfect for families looking for adventure.
Club Wyndham Pagosa – ultimate deluxe retreat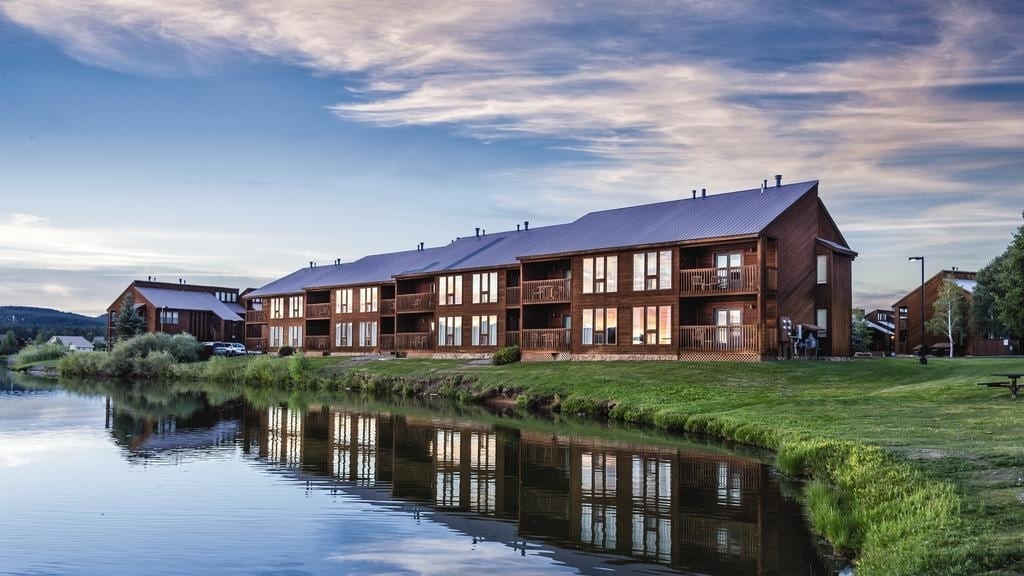 If you want to have a Hamptons-type of summer or winter vacation right in the heart of Pagosa Springs, then Wyndham is one of the top places to stay. Dubbed as the 18,000-acre Rocky Mountain Playground, Club Wyndham offers adventure, scenic vistas, clean mountain air, and endless recreation activities to cater to the whole family.
The club has activities such as tennis courts, ski lessons, golfing, horseback riding, hiking, and table tennis. They also have other lakeside pleasures like boating, fishing, and water-skiing. All this is at relatively competitive pricing.
If you're planning for your Pagosa Springs vacation and this is your preferred destination, make sure to book Wyndham Pagosa months in advance because this property is usually sold out.
Get ready to plan your one-of-a-kind Achueleta County vacation today. Thanks for checking out our list of top hotel accommodations in Pagosa Springs!