Another growing Denver suburb is Commerce City, known for its industry and bustling business sector. Because it borders the capital city, all of its nearby best hotels are located in neighboring Denver, notably in its Central Park neighborhood.
Probably Commerce City's biggest attraction is Dick's Sporting Goods Park. This giant soccer stadium is home to the Colorado Rapids MLS team, in addition to a slew of outdoor recreation fields for various local clubs and meet-ups. It also hosts concerts from time to time, with one of the most famous being the annual multi-day Phish show.
Find lots to do in this city of 60,000 people (a growth of nearly 36% between the 2010 and 2020 censuses). With very close access to two neighboring Denver neighborhoods, Central Park and Northfield, consider making any one of the following hotels your temporary home base.
This section contains referral links. If you click through and take action, we may receive a commission, at no additional cost to you. 
Here are our choices for the best hotels near Commerce City, CO, in no particular order:
Embassy Suites by Hilton Denver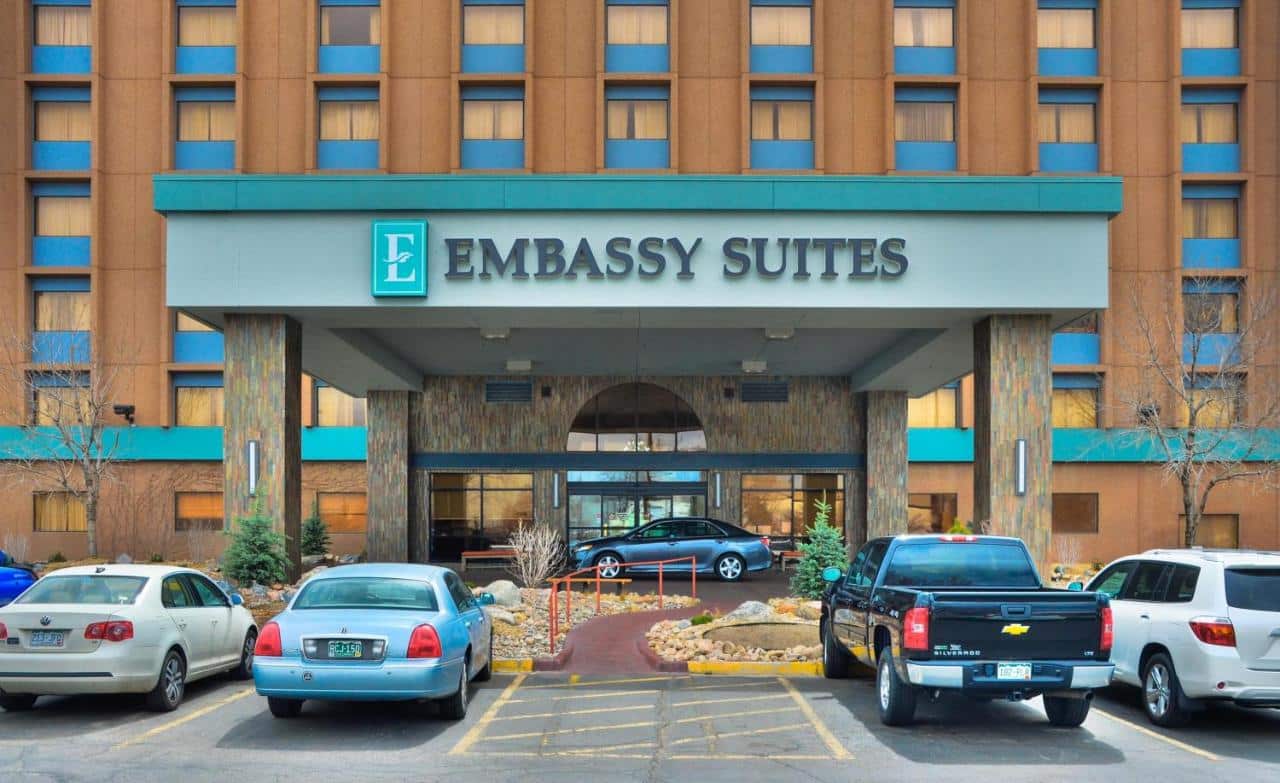 Set just a few miles from downtown Commerce City, this 3.5-star hotel is an excellent option for visitors to northcentral Colorado. Guests can take advantage of Embassy Suites' convenient location to many of Denver's main attractions and airport or relax at the property's swimming pool.
The on-site restaurant, Northfields Bar and Grill, has dining options for adults and children, along with a great drink list. For spending some time off property, several public parks are less than two miles from the hotel, in addition to a few eateries and coffee shops for quick meals.
Every room at the hotel comes with a 37-inch TV with premium channels and a video game console. More in-room amenities include bathrooms with a shower/tub combination, a hairdryer, and designer toiletries.
Enjoy easy access to snow sports facilities for skiing, snowshoeing, and snowmobiling, then come back to relax in the large comfortable beds. Purchase your groceries or quickly eat leftovers from dining out with the mini fridge and microwave.
Renaissance Denver Central Park Hotel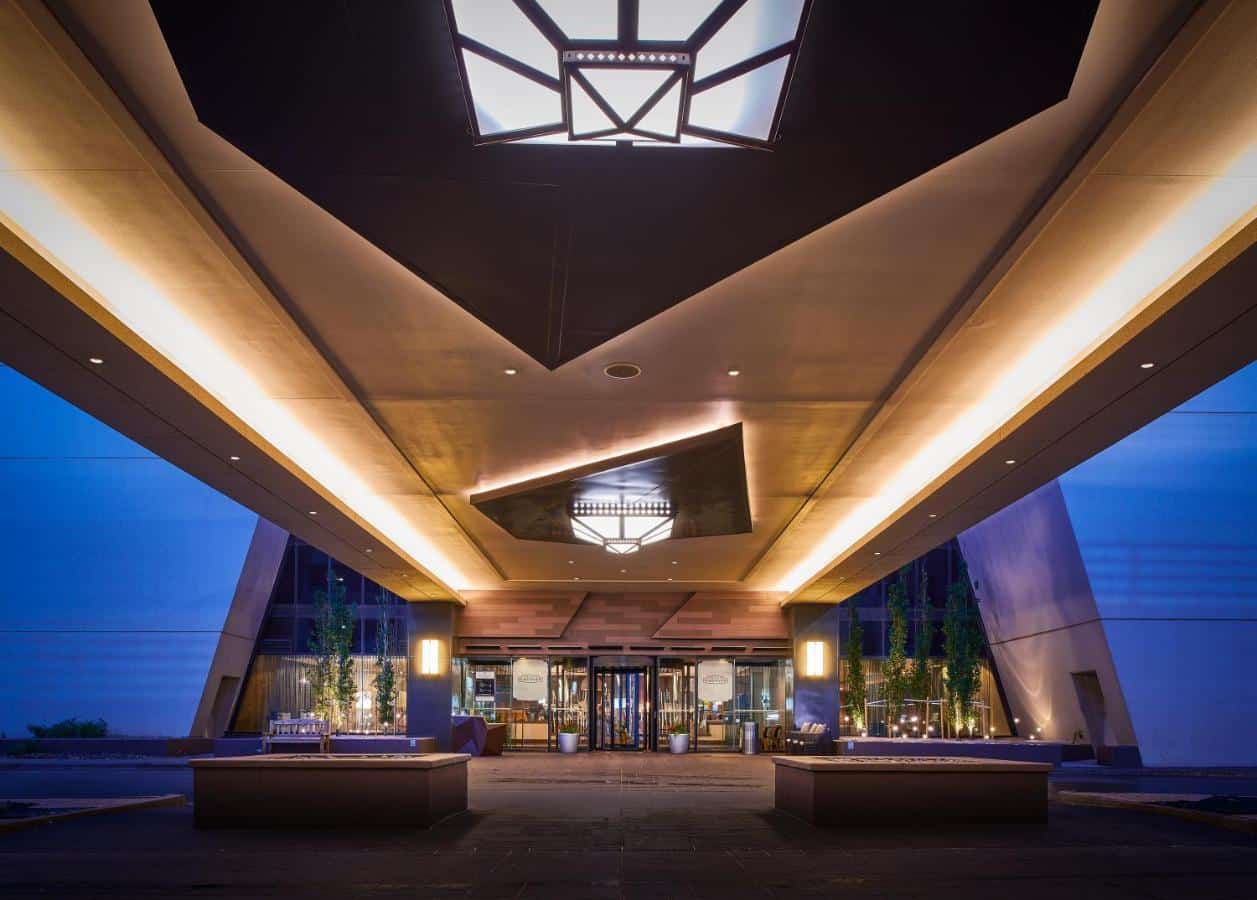 The four-star Renaissance Denver Central Park Hotel is just four miles from downtown Commerce City and nearby many of the Mile High City's attractions. The unique-shaped luxury building has almost everything a traveler could need right on site. Facilities include but are not limited to a grocery/convenience store, two restaurants, an indoor swimming pool, and a seasonal outdoor pool.
Folks in town on business will have the space they need to get work done in the business center and 22 meeting rooms. Four train stations are 20 minutes or less away by foot, and Denver International Airport is about 20 minutes away by car.
All 400 guest rooms have 55-inch HDTVs with cable, private bathrooms fitted with designer toiletries, and beds with premium bedding. Refrigerators, coffee makers, and microwaves are also provided to help guests stay more comfortably. Tourists in town with their families don't pay for any kids in their rooms and can have a baby crib in their space free of charge.
Staybridge Suites Denver Central Park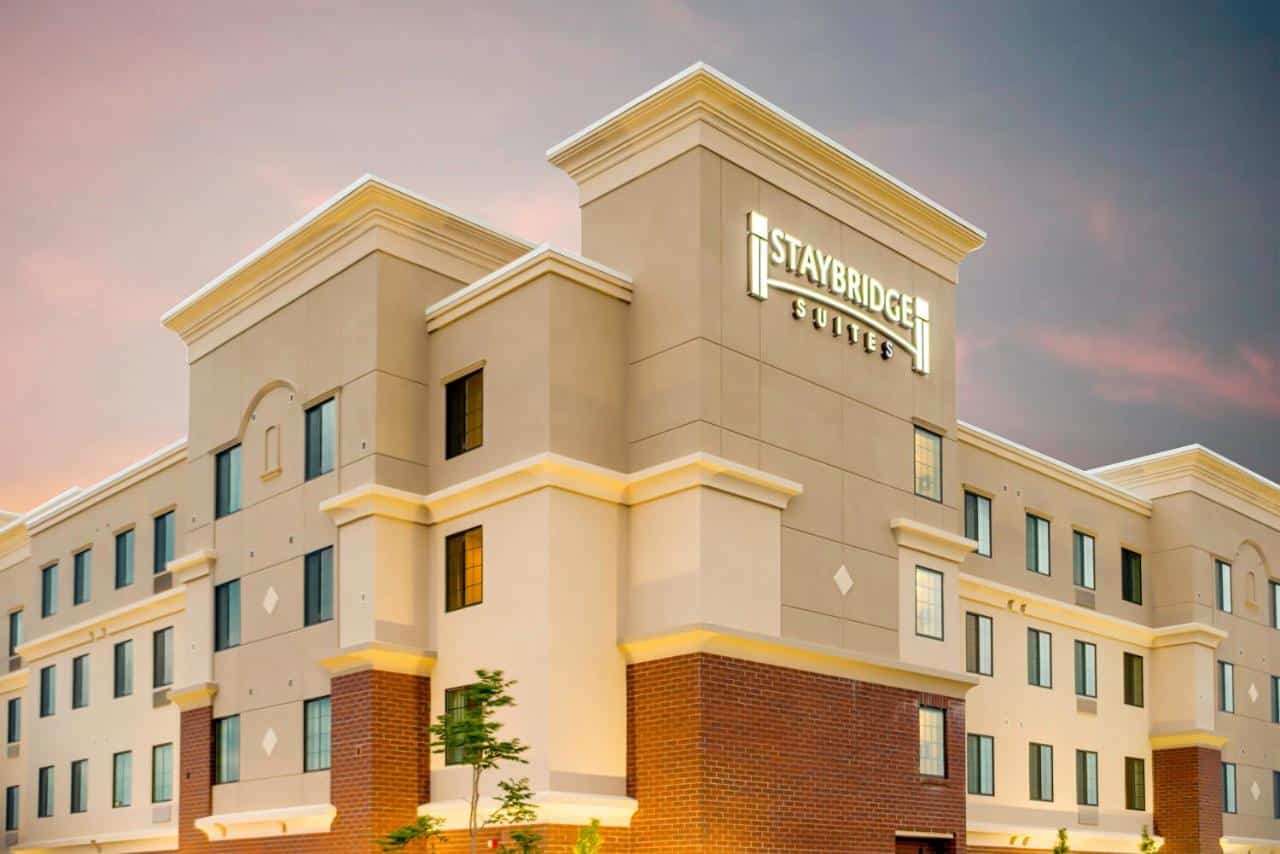 Staybridge Suites Denver Central Park is a three-star IHG Hotel that provides a complimentary breakfast buffet, grocery shopping service, and a free manager's reception on select days. The hotel is about four miles from downtown Commerce City and takes around 10 minutes to get there by car.
There are some beautiful common areas for visitors, like the outdoor picnic area, sitting area with a fireplace, and terrace. Travelers that like to stay in shape while on the go can use the 24-hour fitness center or indoor pool.
All guests have access to free WiFi in their rooms, as well as a patio and dry cleaning/laundry facilities. Each accommodation has a 39-inch plasma TV with a DVD player and cable channels for entertainment. All private bathrooms have great complimentary toiletries, a hair dryer, and a tub/shower combination.
Regarding food and drink, rooms are set up with a kitchen with a full-size refrigerator, stove, dishwasher, and microwave.
Courtyard by Marriott Denver Central Park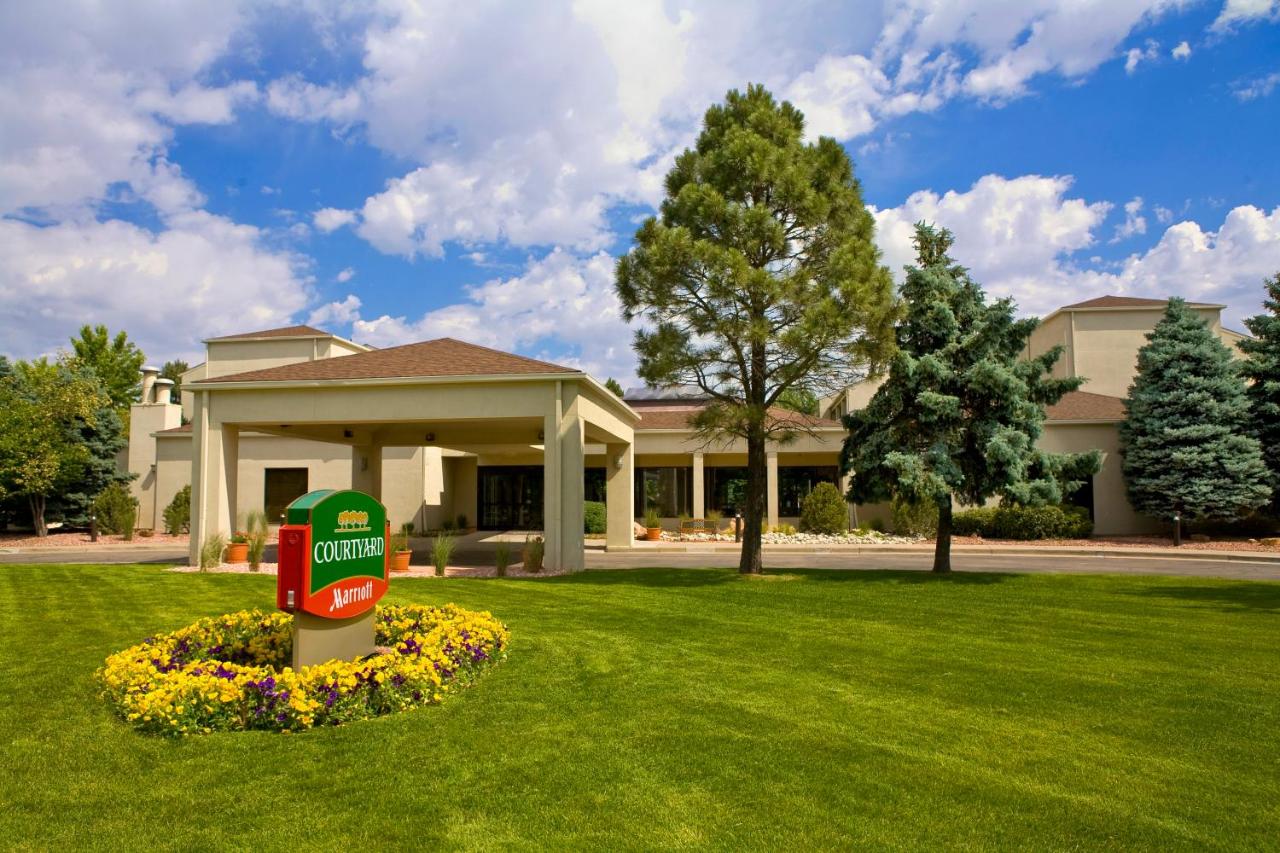 Located just south of Commerce City, Courtyard by Marriott Denver Central Park is a great place to stay to access the Denver area. The zoo, botanical gardens, and Molly Brown House are all under five miles from the property, and several public parks are around 1.5 miles away.
The three-star hotel is home to a heated pool, hot tub, salon, and convenience store to make guests' stay more comfortable. The on-site restaurant, The Bistro, is open daily for breakfast, dinner, coffee, and snacks.
All rooms at the Courtyard by Marriott Denver Central Park are air-conditioned and set up with flatscreen TVs with on-demand movies and cable channels. A refrigerator for extra groceries or leftovers is handy in the accommodations, along with a desk and seating area to get some reading done.
Private bathrooms come with upscale toiletries and a hairdryer. Pets can accompany their owners during their stay, but an extra charge may apply.
Drury Inn and Suites Denver Central Park
Drury Inn & Suites Denver Central Park is a three-star hotel that is well-loved by travelers, as the positive reviews by former guests can confirm. Located just 10 minutes and four miles south of Commerce City, these accommodations are incredibly convenient for everyone exploring the Denver area.
The international airport, Coors Field, the zoo, and Cherry Creek Shopping Center are just 20 minutes away by car, along with plenty of other attractions. The hotel property has an indoor pool, outdoor pool, fitness center, and a 24-hour front desk ready to assist with visitors' needs.
There are 180 rooms arranged over seven floors, all of which are fitted with air conditioning, blackout curtains, and a large LCD TV with premium cable channels. A coffee maker, a refrigerator, and a microwave are provided in all accommodations too.
Two pets (dogs or cats) are allowed per room, and each animal cannot exceed 80lbs. A complimentary breakfast buffet is offered each morning to help visitors start their day on the right foot.
The Source Hotel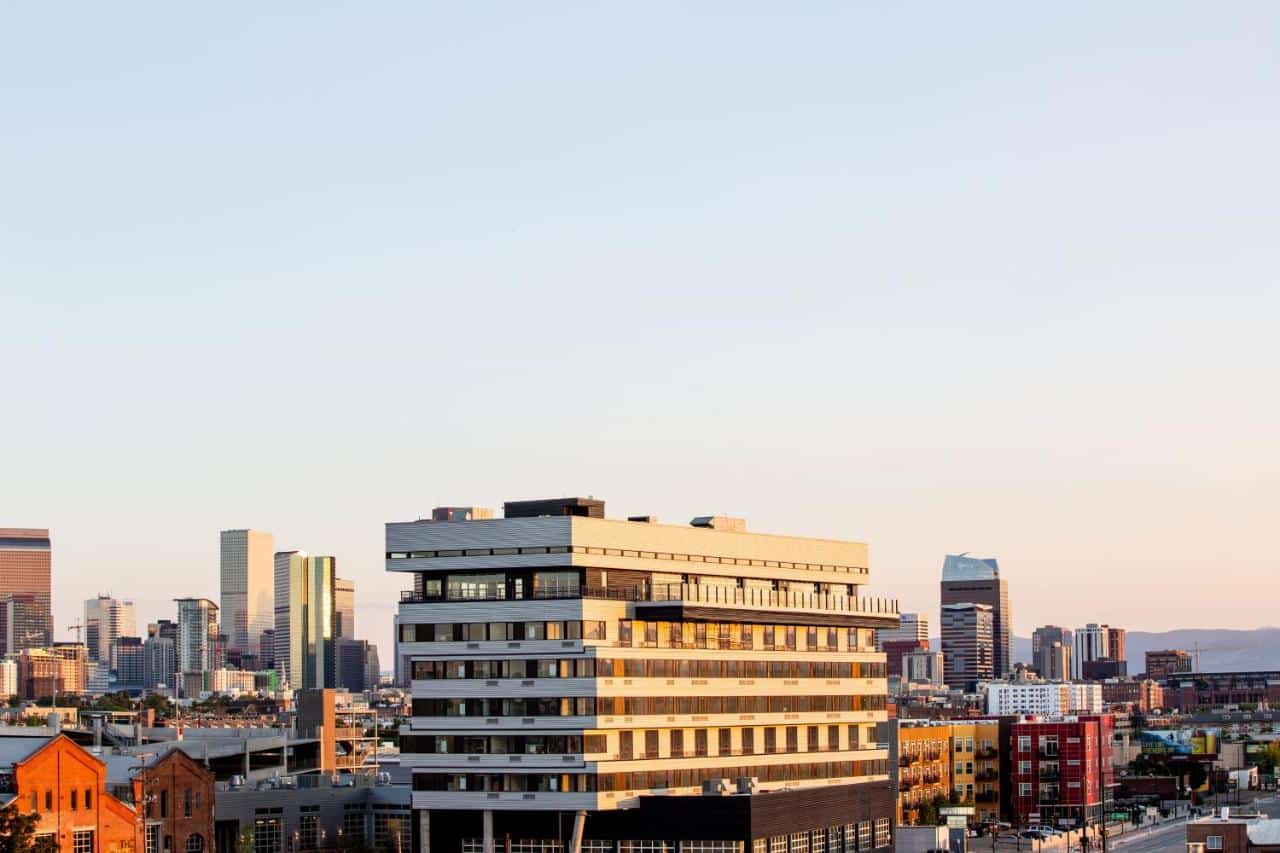 Set just 10 minutes away from downtown Commerce City and less than three miles from many major Denver attractions, The Source Hotel is ideally located for tourists. This four-star property has fantastic views of the Mile High City's skyline and many on-property amenities, like a coffee shop and outdoor fireplace with a picnic area.
Other popular features of The Source are the fitness center, spa area, and saltwater rooftop pool. The Woods is the hotel's on-site restaurant, where guests can eat breakfast, brunch, lunch, dinner, and during cocktail hour.
Every room at the hotel comes fitted with air conditioning, a TV with satellite channels, a safe, and a refrigerator. Bathrooms have a walk-in shower, robes, a hairdryer, and complimentary toiletries. WiFi is available in all areas free of charge. Housekeeping is provided daily.
Residence Inn by Marriott Denver Central Park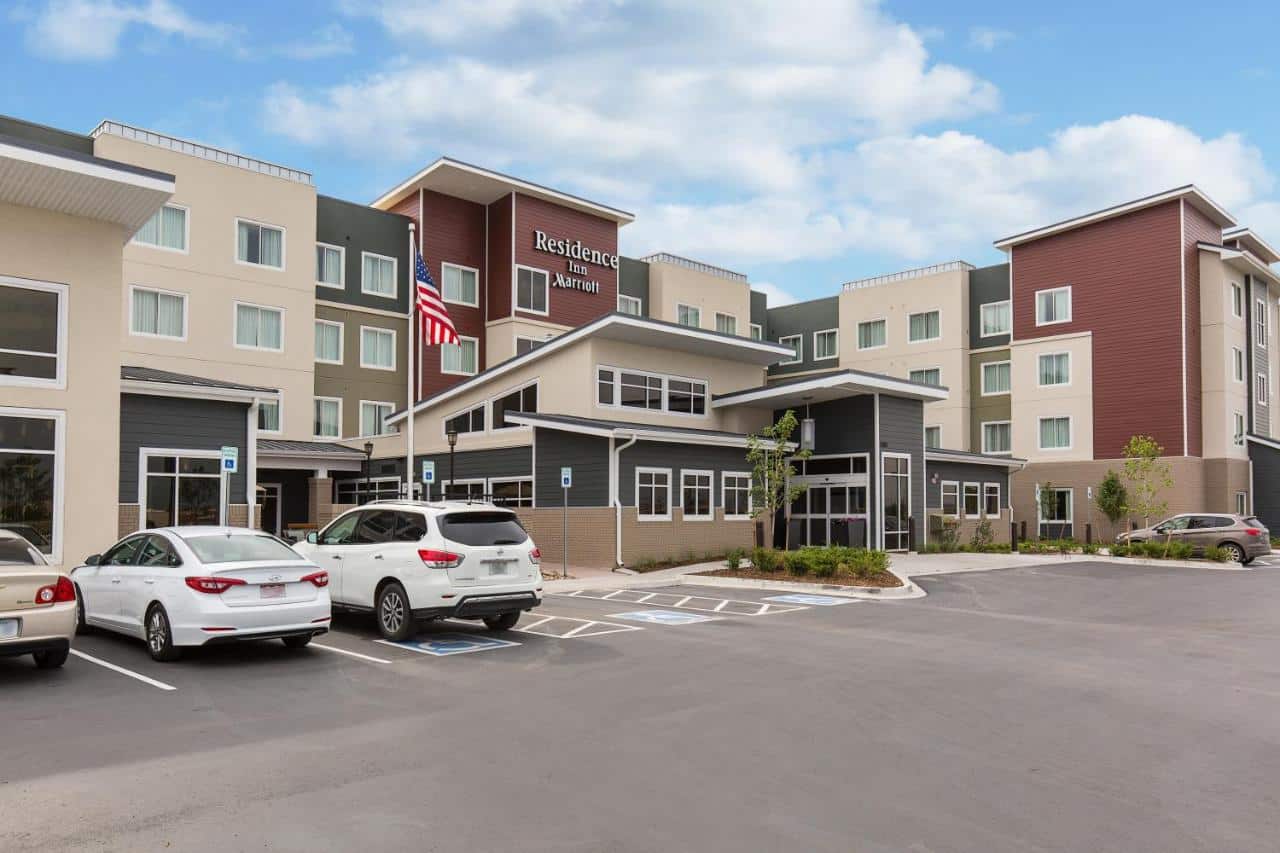 The three-star Residence Inn by Marriott Denver Central Park is 4.5 miles away from downtown Commerce City, taking about 10 minutes to get from one to the other. The property is conveniently located in the heart of Denver and has high-speed WiFi throughout the property, as well as free vehicle parking.
A complimentary breakfast is provided each morning. There's a fitness center and gym for guests who like working out while traveling. Guests that want to sightsee on two wheels can take advantage of the bicycle rental program.
Every room at the hotel has air conditioning, kitchens, refrigerators, and dishwashers. Other amenities include Smart TVs with Netflix and a coffee/tea maker. An in-room safe is set up in all rooms to give travelers a place to store their important documents and other personal items safely.
Have a terrific time exploring Commerce City and the surrounding front range urban coordior! Thanks for checking out our curated list of hotels near Denver's Central Park and Northfield neighborhoods!