Explore the "Grand River of the North" and embark on an exciting outdoor escapade here in Del Norte. The small town straddling the San Luis Valley and San Juan Mountains provides numerous top hotels and vacation rentals to eager travelers.
It boasts a rich culture and awe-inspiring outdoors. Whether you're planning a trip for the summer (fishing, hiking, road biking) or exploring the ski area during winter, Del Norte's charm will delight you all year long.
Because of its location on the edge of the San Luis Valley, it provides easy access to all its quirky attractions, as well as a simple drive west to reach the steep San Juan Mountains.
Probably Del Norte's Top Hotel Accommodations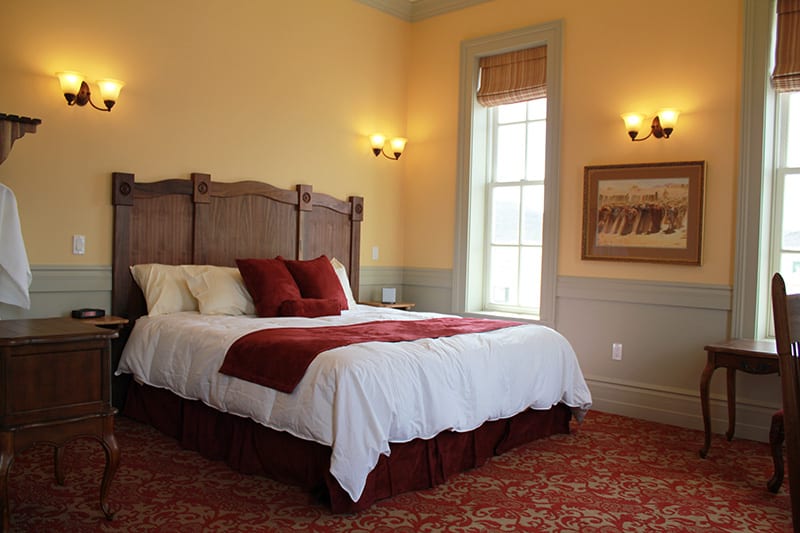 When traveling to Del Norte, it's important to note that attractions are smaller. It's not a bigger mountain town like Durango or Salida. But, that's precisely its charm. You can expect fewer shopping districts in town. However, you won't miss out on adventure because there are places like The Windsor Hotel that connect travelers to the town's history.
Although South Fork is about fifteen minutes to the west at the start of Wolf Creek Pass, Del Norte still makes a great base for adventuring to Wolf Creek Ski Area each winter. The powder-rich resort is only 34 miles from downtown Del Norte.
Another gem in that direction is the Silver Thread Byway, a stunning drive that winds from South Fork to Lake City to Creede to Gunnison. This is a terrific route through an often-skipped part of the Colorado Rockies.
This section contains referral links. If you click through and take action, we may receive a commission, at no additional cost to you. 
Here are our choices for the top hotels in Del Norte, CO, in no particular order:
The Windsor Hotel – historic accommodation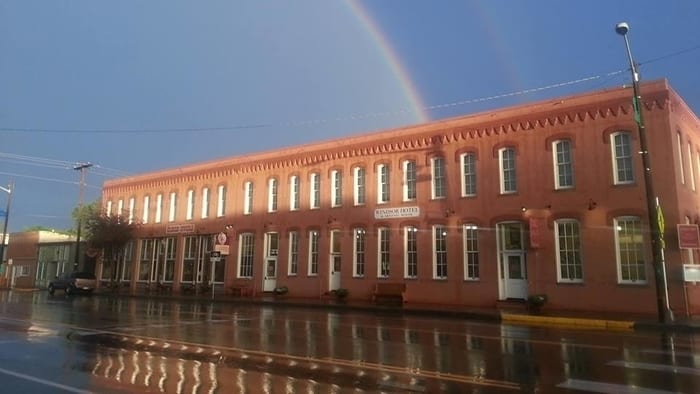 Built back in 1874, The Windsor is located in the heart of downtown Del Norte. Known initially as "The Whitsitt House" the construction of the building started just a few years after the town was founded (1871). During the early years, Del Norte was a booming mining and ranching center, and The Windsor hosted the top social gatherings in town.
However, by the 1970s, tourism in the town declined, and so did the hotel's business. The structure also needed a lot of repairs, and if it weren't for benefactors Doctor Raymond & Mrs. Barbara Culp, the hotel's history would've vanished.
The hotel was saved, and they dedicated the hotel lounge, Bistro BARbara to honor Mrs. Culp. Now, The Windsor Hotel is a "turn-of-the-century," architectural piece that embodies the "Grand Dames" facade of the old century, and welcomes the comfort functionalities of the new 21st century.
The quaint hotel has only 20 newly restored guest rooms. This speaks volumes when it comes to the quality of service and the attention to detail you can expect when you book here. They have different room configurations like the Single Queen, Single King, Double Queen, and the Windsor Suite.
The spacious guest suites have a traditional Victorian interior design, and they are filled with amenities you would need for your trip. They have down comforters, micro-plush blankets, premium pillows, period-style furniture, natural marble countertops, tiles, elegant lighting, HDTV, WiFi, as well as a complimentary coffee and tea.
For a bigger room, book the Windsor Suite. It's perfect as a wedding or family suite because of the privacy it provides and the top-of-the-line amenities in the room. The Windsor Suite has a small patio balcony overlooking the courtyard, a wet bar, living area, open studio, dining area, jacuzzi tub, and other in-room amenities that they have for the guest rooms.
Aside from the suite and guest rooms, the hotel also has two gourmet restaurants, including the Bistro BARBara. The bistro opens from 4:30 pm onwards, perfect for dining, socializing, and imbibing. They serve unique handcrafted cocktails and other Colorado-specialty distilled spirits.
The Dining Room is where they offer an all-day menu. They create unique selections daily and provide locally grown Haefeli's Honey, Gosar Organic Sausages, and Off Family Ranch All Natural Beef.
If you want to get a Colorado-themed menu, check out their 1874 Food Truck Menu, which includes chicken wings, po' boys, BBQ baby back ribs, and a delicious kid's menu. Reserve your spot at The Windsor Hotel at least a month before your vacation. This property is usually sold out during peak season.
625 Grand Ave, Del Norte, CO 81132 | 719-657-9031
Check prices, availability or book The Windsor Hotel
The Mermaid Cottage – electic tiny house living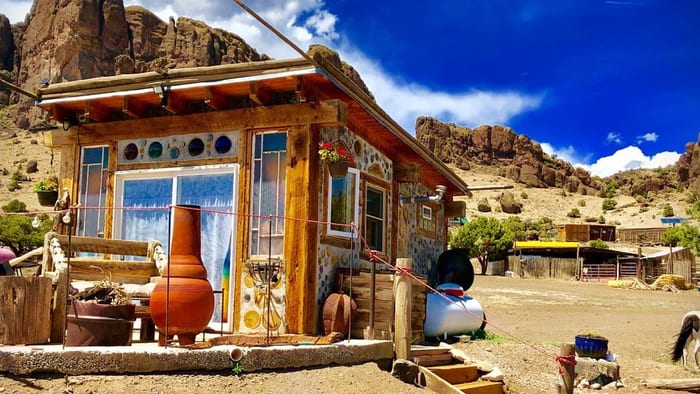 If you're looking for a peaceful and private retreat, check out The Mermaid Cottage. This one-of-a-kind Del Norte abode has become popular over the years because of its funky psychedelic theme and old country vibes. Sitting in the middle of nowhere (along the mountainside, a couple of miles away from the center of Eagle Mountain), it will give you a very unique experience.
The accommodation can be considered a tiny house because of its size. Though small, it has complete amenities suitable for traveling backpackers and honeymooners. They have a queen-sized bed with comfortable bedding, a 2-person dining table, a kitchenette area (small but packed with everything you will need for basic cooking), two adult swings, and a shower.
The house is made out of cordwood and bottles. Throughout the space, you'll see shower bottle walls of different colors. It allows the area to have this unique lighting during the day and an exciting design accent at night.
Though tiny, what makes The Mermaid Cottage an ideal travel destination is the breathtaking views you'll get during sunrise and sunset. There's nothing quite like it. You'll be able to see the house fully transform during the seasons. During winter, guests enjoy the snow-covered plains and snow-capped peaks. Summer brings out wildflowers and greener landscapes.
Sit on the front porch, read a book, relax, and see wild animals passing by. Antelopes are a common sight in the valley. For other activities, you can go trailing, hiking, or learning about agriculture from the owners who have two grow domes within the property. For a genuinely weird trip, stay at The Mermaid Cottage.
3201 Boulders Edge Rd, Del Norte, CO 81132 | 719-588-1892
Check prices, availability or book The Mermaid Cottage
Mellow Moon Lodge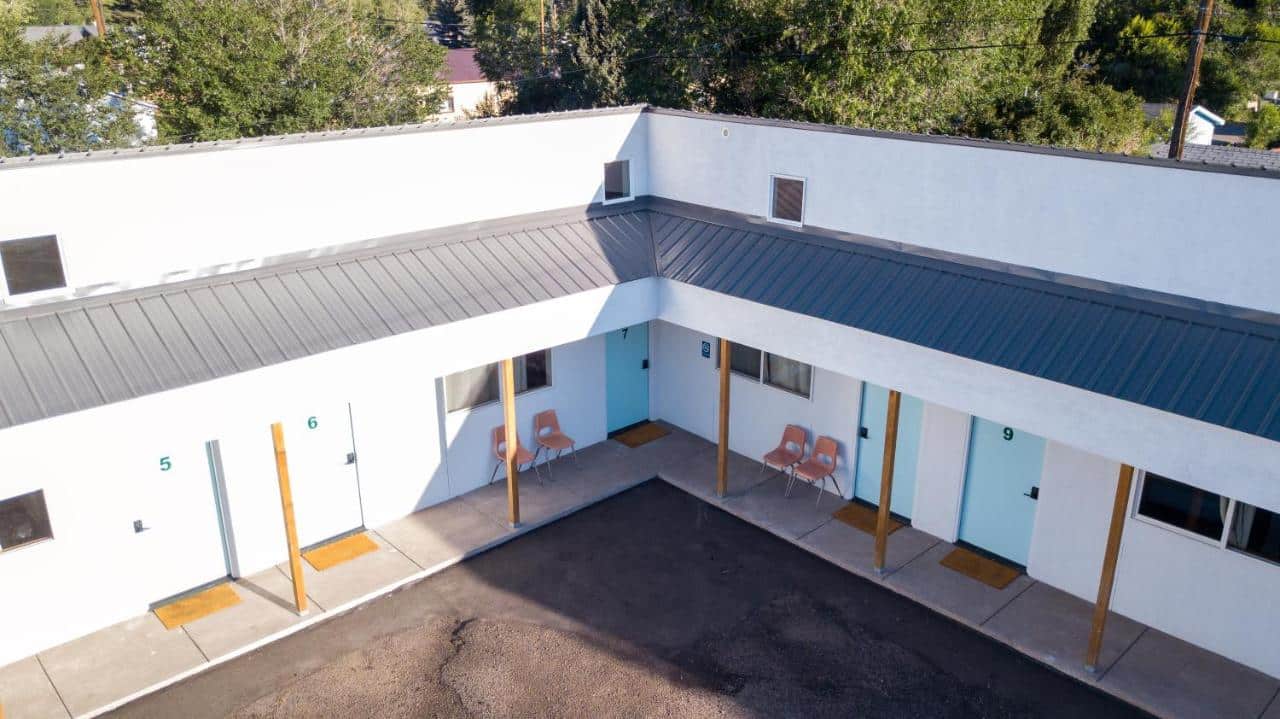 This is another cool and unusual accommodation in the San Luis Valley. The Mellow Moon Lodge is a luxurious, but laid-back place to stay on Grand Avenue in downtown Del Norte. This boutique abode caters to the outdoor lover.
There are 15 rooms for rent, all smoke-free with modern touches like keyless entry, Smart TVs, Tuft & Needle beds, custom furniture, and vintage artwork adorning the walls. Bathrooms feature all-natural toiletries. Even the mini-bar has a modern elegance, with curated vegetarian vegan choices.
Other amenities include free wifi, drinking water, coffee, and tea. There is a contactless check-in that's available 24 hours a day. The front porch is a lovely place to unwind with its own fire pit. The Sendero Bike Shop is on-site. Choose from a King Room, Double Queen Room, and Family Suite.
Dogs are welcome at the Mellow Moon Lodge and are charged a fee per dog per four days. Two dogs are permitted max per room, and unfortunately, no cats due to allergy concerns.
1160 Grand Ave, Del Norte, CO 81132 | 719-207-0747
Check prices, availability or book Mellow Moon Lodge
Thanks for checking out the top hotels and accommodations in Del Norte! Be sure to get into the backcountry and explore all the amazing natural landmarks in the region, such as the natural arch.