Manitou Springs is a fun, eccentric town situated at the base of Pikes Peak. With this 14,000-foot playground in its backyard, Manitou boasts a range of top hotels and luxury vacation rentals to accommodate sightseers.
Located six miles west of Colorado Springs is this quaint, vibrant town of Manitou Springs. Known as an artists' enclave, Manitou Springs' art scene is sought after. There are a variety of activities that you can choose from – theater, art galleries, music festivals, and sidewalk sculptures! Downtown is lined with businesses, along with several great hotel choices.
Probably Manitou Springs' Top Accommodations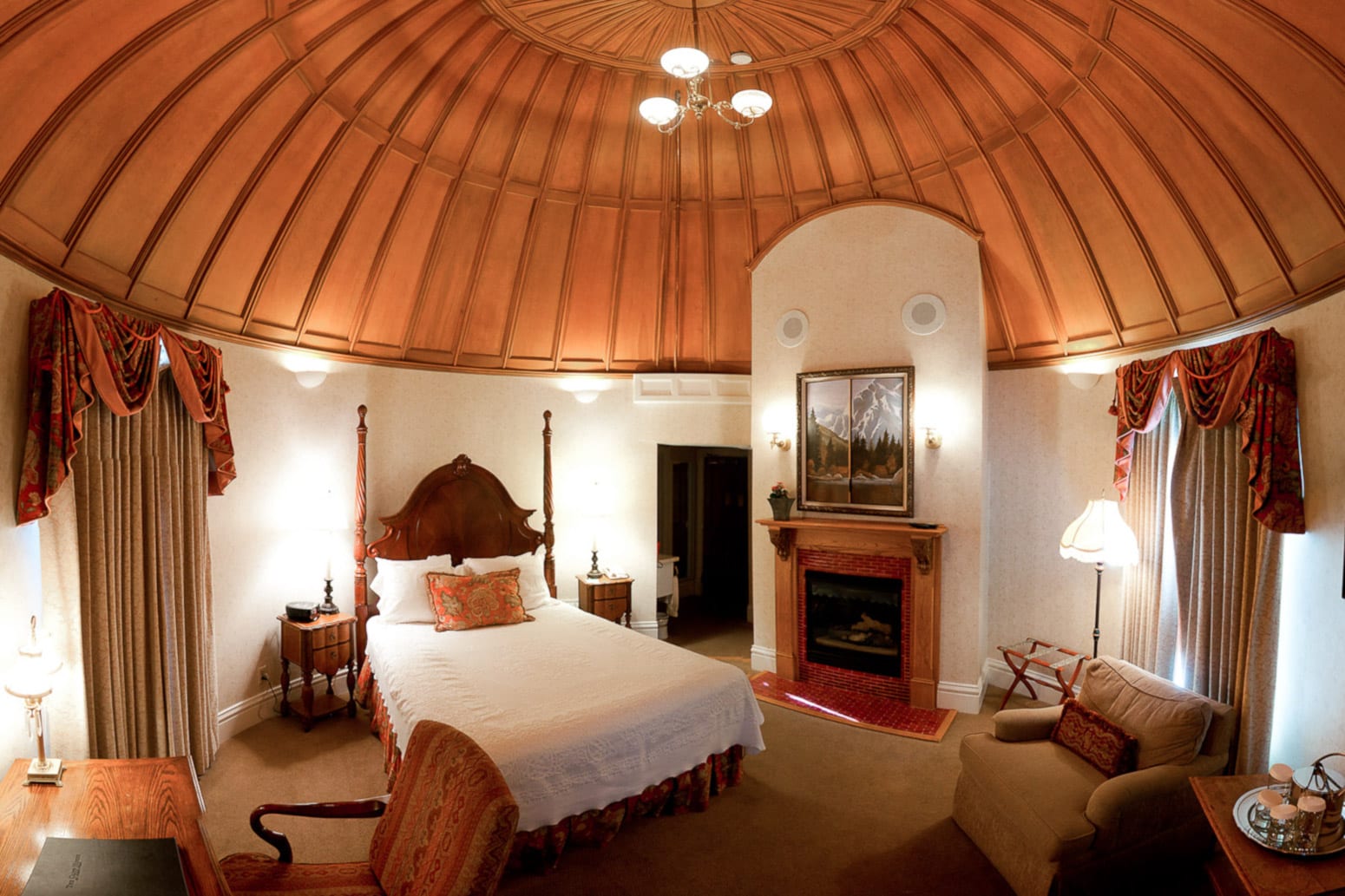 Manitou Springs is also an outdoor destination with attractions like the Cliff Dwellings Museum. This historic Ancient Puebloan village was relocated from the Four Corners region of Colorado. Another highlight is available inside year-round at the Cave of the Winds. You can go on a Lantern Tour for a memorable and dusty experience.
Being at the foot of Pikes Peak, travelers can enjoy the historic downtown in the morning followed by leisurely sightseeing on the Pikes Peak Cog Railroad. This ascends to the summit of the tall 14er. After you head back to town, and before your hotel, stop by the SunWater Spa, a natural hot springs resort, for some R and R.
This section contains referral links. If you click through and take action, we may receive a commission, at no additional cost to you. 
Here are our choices for the top hotels in Manitou Springs, CO, in no particular order:
The Cliff House at Pikes Peak – romantic European-style getaway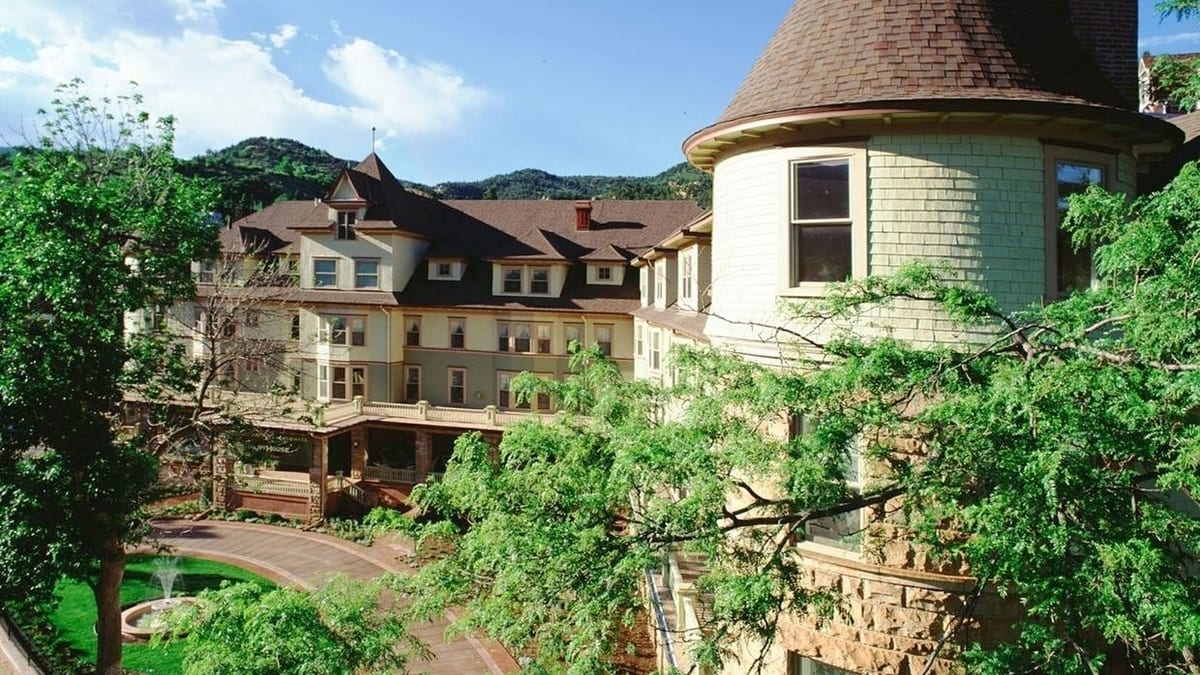 Experience the Victorian splendor of The Cliff House at Pikes Peak. Built back in 1874, the Cliff House has been serving guests for over 145 years now, longer than the number of years Colorado has been a state.
It was originally built as a stagecoach stop. They called it "The Inn." When the gold strikes in the Pikes Peaks region played out, travelers started to surge and that's when they decided to open their doors to guests. The interest in the ancient mineral springs also began to rise.
The Cliff House is now a part of the National Registry of Historic Places. They have 54 elegant guest rooms and luxury suites that are packed with modern amenities and special features like gas fireplaces, spa tubs, steam showers, and towel warmers.
Blue Skies Inn – upscale bed and breakfast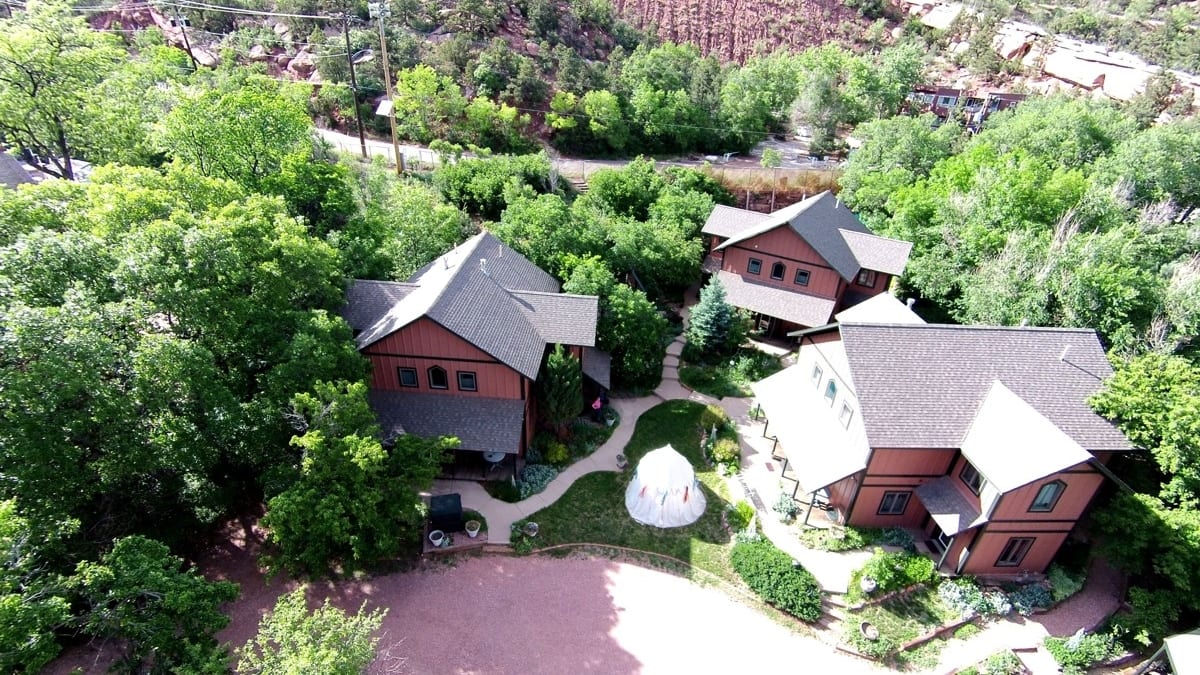 If you need privacy and a little bit of pampering, then Blue Skies Inn could be the best place for you while staying in Manitou Springs. This friendly and charming B&B is located at the base of Pikes Peak. They have three separate houses with guest rooms that have an average size of 450 square feet. The suites have a bedroom, sitting room, and bathroom.
What makes Blue Skies a special retreat are its unique rooms. Every suite has a theme and offers special views of the surrounding forests. This is also perfect for family reunions and small occasions.
Pikes Peak Inn – comfort motel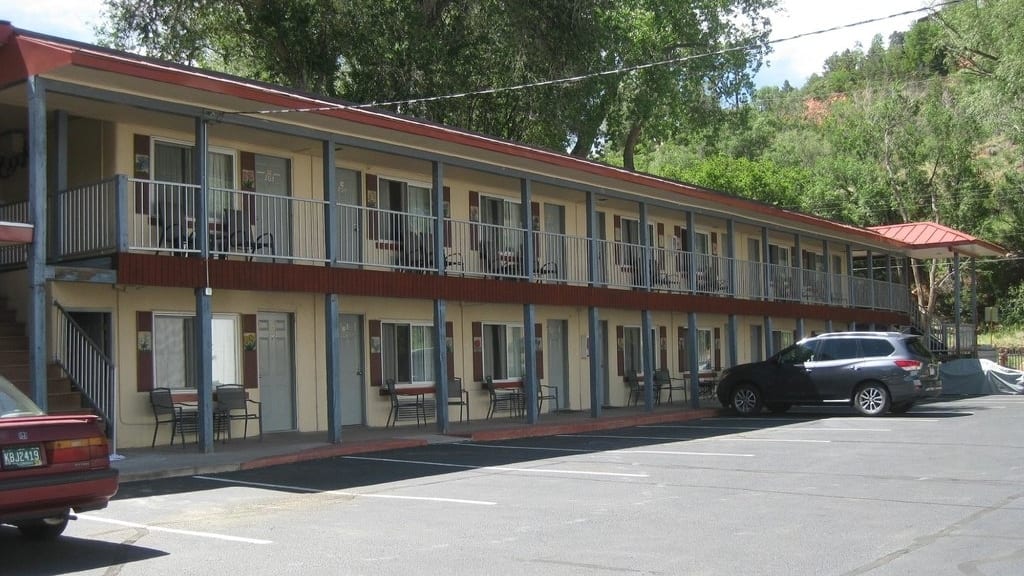 If you want to explore the historic downtown Manitou Springs and you want to stay in a place that's just minutes away from the vibrant street, then Pikes Peak Inn is a solid choice. This family-owned property is known for having amazing customer service.
The design of the entire place is quite traditional, but the rooms are clean and comfortable. They also have a jacuzzi and patio suites just in case you need a refresher.
For those looking to get the best value as well, Pikes Peak Inn offers one of the most competitive rates in town!
Days Inn By Wyndham Manitou Springs – top traveler hotel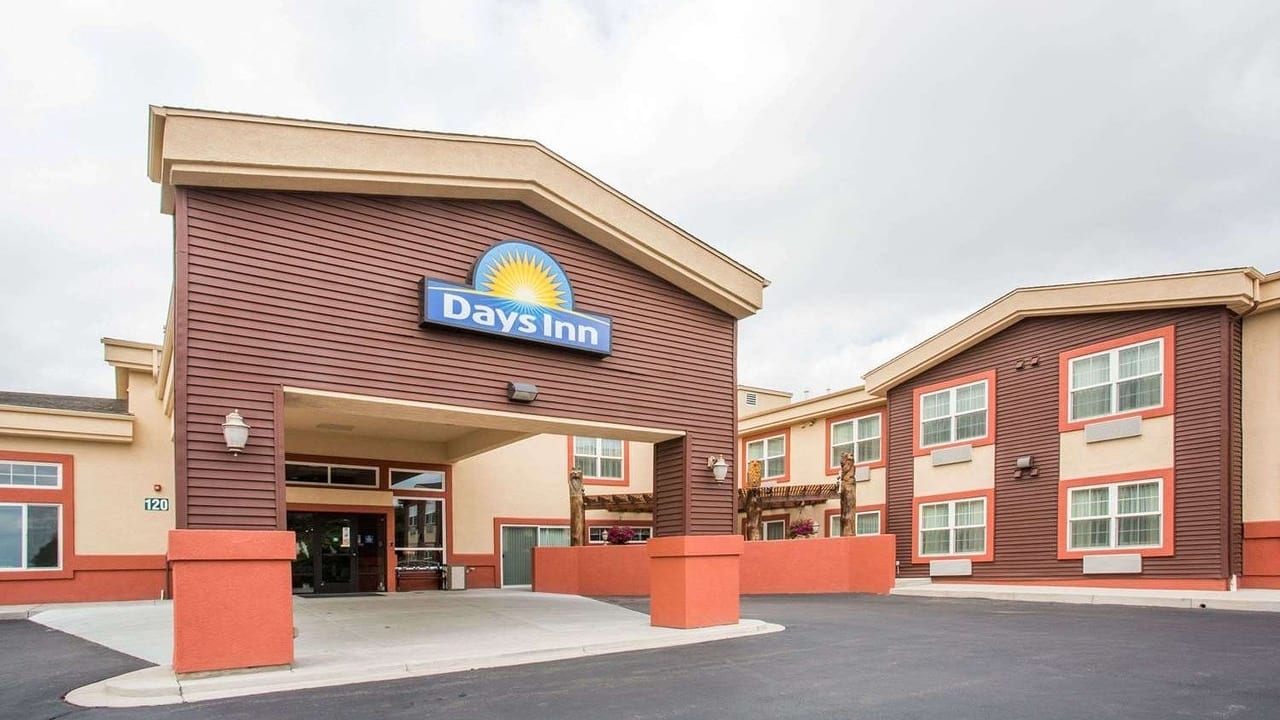 If this is the first time you're traveling to Manitou Springs, whether it's for business or leisure, Days Inn is a reliable choice for you.
The large property has received a Certificate of Excellence from TripAdvisor for 2019 and has continued to be one of the top hotels in town. You get all the major and minor amenities you need in a hotel like free parking, high-speed Internet, gym, restaurant, business center, and concierge services (even babysitting, if needed!).
They also have a free continental breakfast that's lauded by previous guests.
Eagle Motel – stunning mountainside views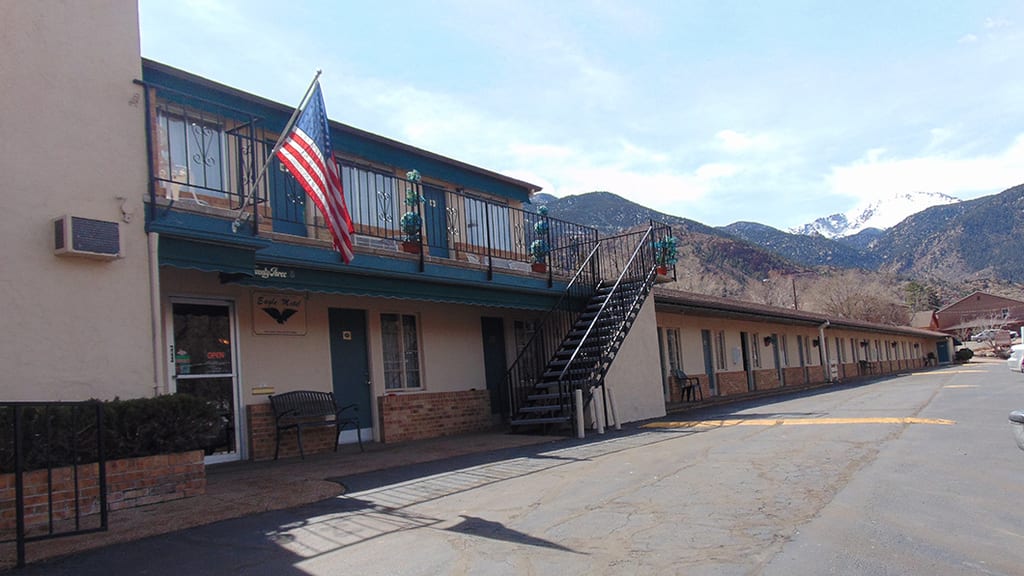 The Eagle Motel provides an invigorating stay where you can bask in the iconic Manitou Springs mountainside views. The property is just walking distance from the main downtown so it's easy to access local restaurants and shopping boutiques.
The two-level property's design is pretty straightforward, but the rooms are always exceptionally clean and well-kept. The rooms are spacious, with options for two Queen-bed or 1 King-bed accommodations. They also have a seasonal hot tub, smoking, and non-smoking rooms, WiFi, coffee makers, and free continental breakfast.
Red Wing Motel – beautiful low-key accommodation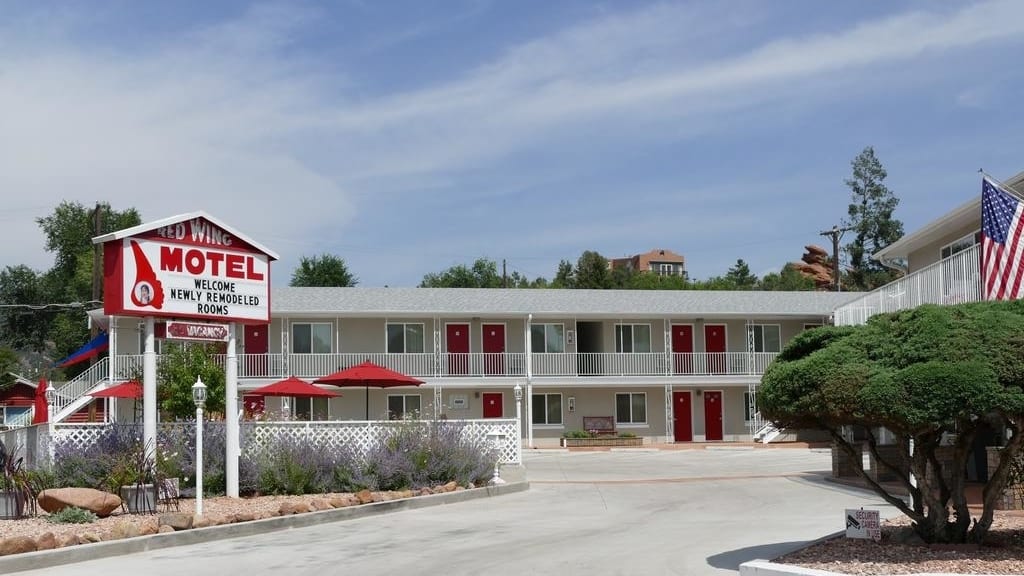 Red Wing Motel is one of the most reliable accommodations in Manitou Springs. The motel design is quite traditional – it's a two-level property with similar-sized rooms.
But, what makes this stand out is their low-key beautiful bedrooms. The design is light and it's not too consuming. If you have a lengthier Manitou Springs vacation, you can request a room with a kitchen.
The entire place also has a warm ambiance. As one of the previous guests noted, "it's kinda like staying at your parent's house." So, if you're looking for an affordable and comfortable stay, without too much of a fuss, Red Wing Motel is an ideal location.
Villa Motel at Manitou Springs – delightful stay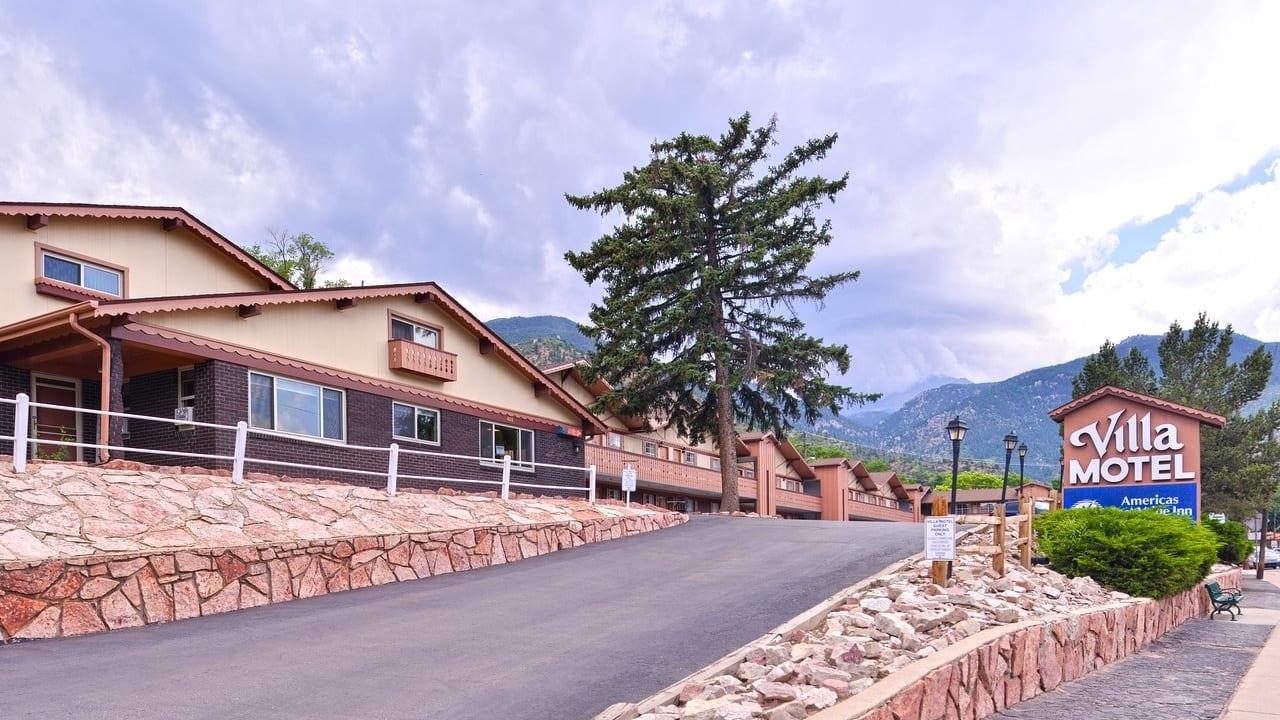 The Villa Motel is one of the most beautiful properties in town. Located at the base of Pikes Peak, you'll get a grand welcome when you arrive at the gorgeous patio.
You can create an outdoors itinerary without having to go far. This property is just two blocks away from the historic district of Manitou Springs and 10 minutes away from the Colorado Springs Downtown.
They have spacious rooms and suites that are perfect for any type of traveler. If you need more room, you can book either the King Jacuzzi suite or any one of their cottages. Their cottage accommodation is a quaint one-story unity with amenities like cable, air conditioning, and the Internet.
Magnuson Hotel – family accommodation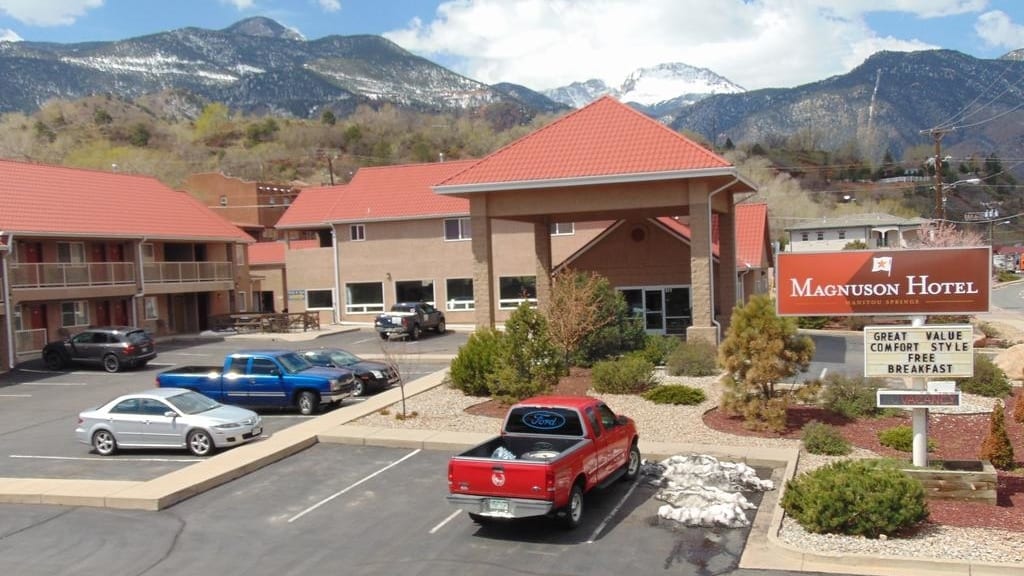 This kid-friendly accommodation is a great choice for those visitors with family. The Magnuson Hotel is a prime location for those looking to soak in the soothing ambiance s of Manitou Springs. Every morning, guests are treated with a complimentary continental breakfast. After a packed day of sightseeing and tours, guests can unwind in their indoor pool with a jacuzzi.
Magnuson Hotel is ideal for families because of the large open spaces in the property. When you're traveling with children, it's ideal for them to have a place to run and play.
To elevate your Manitou Springs escapade, you can also coordinate a Jeep Tour or a Private Rock Climbing tour with the hotel's concierge.
Magnuson Grand Pikes Peak – bright and clean rooms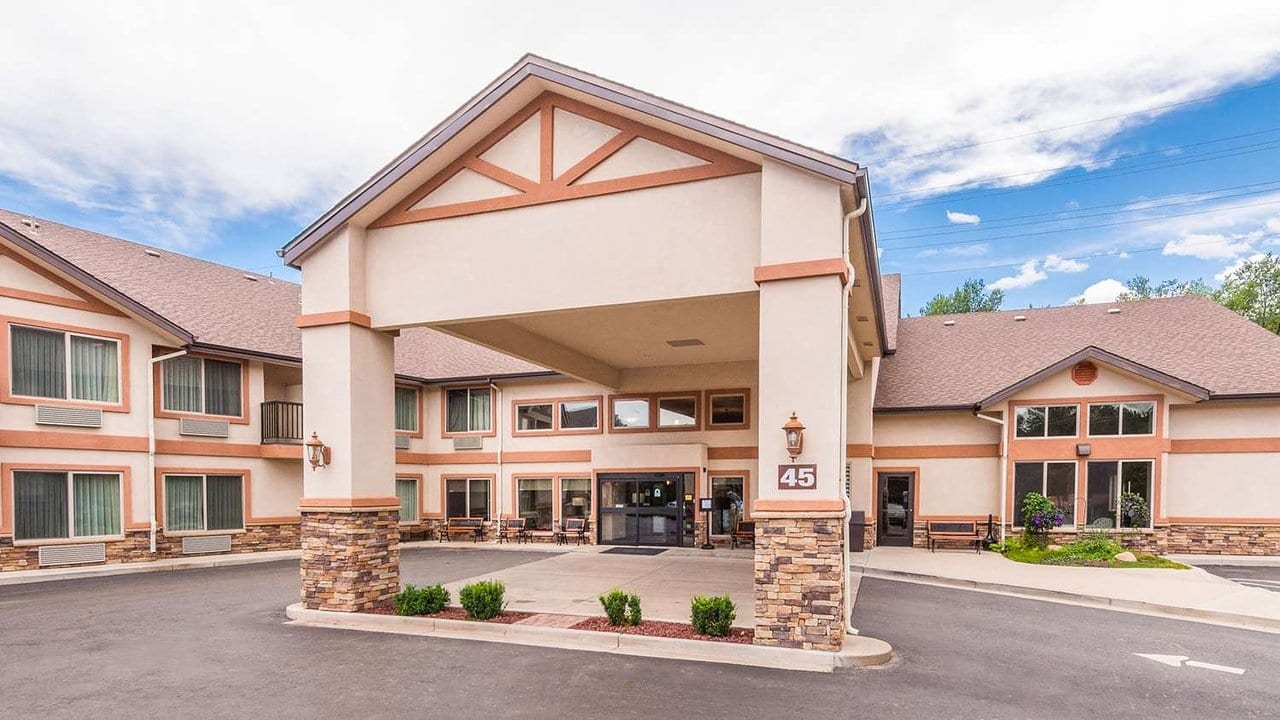 Magnuson Grand Pikes Peak is one of the more traditional hotels in Manitou Springs. There's a mix of old Americana touches, which you can see as you enter the property and you're welcomed with this grand brick fireplace in the lobby.
The property has a light color scheme, which makes the place even more beautiful as the natural light comes in during the day. The rooms also reflect the same quality. They have minimal amenities like a TV, a small table, and coffee makers. And this design opens up space even more.
The simplicity and beauty of this property are an absolute delight.
Rodeway Inn – great specialty hotel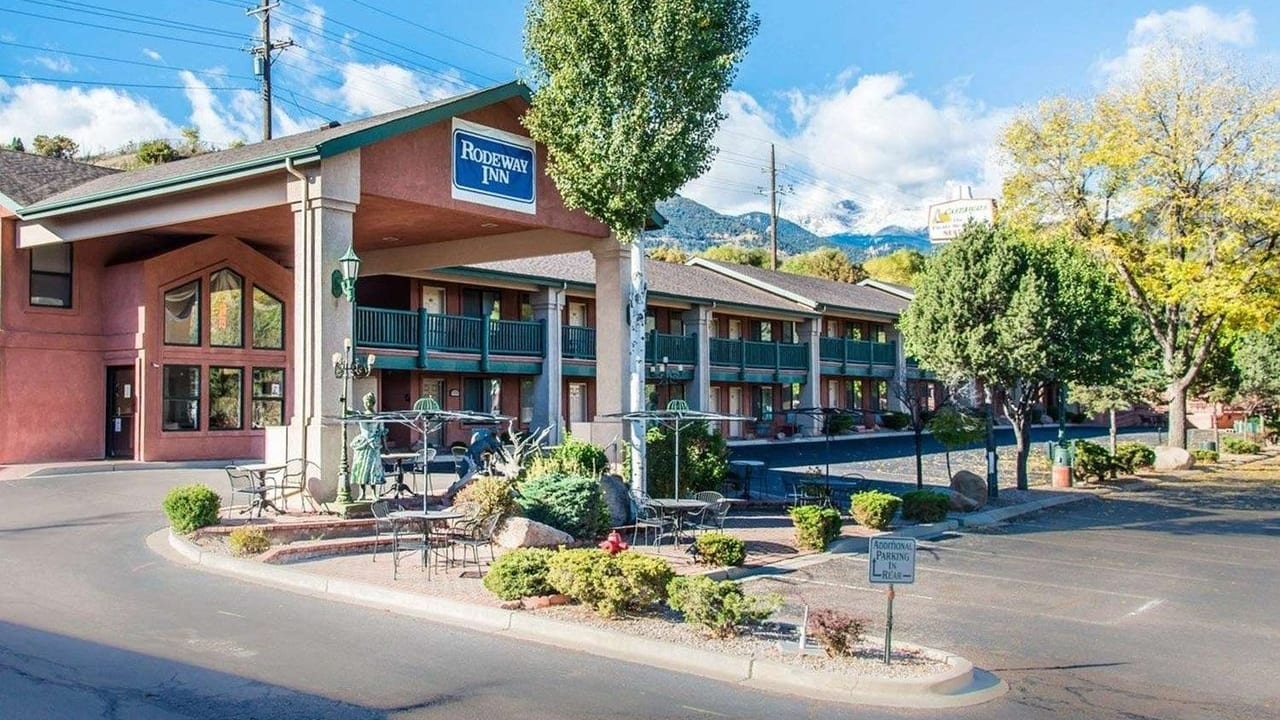 If you need full hotel amenities, but would like to stay on track with your vacation budget, then Rodeway Inn is a good place for you. Value is the mantra of the inn.
They have ample spaced rooms with historic themes and designs. From red accent chairs to old, well-maintained antique pieces of furniture, and Victorian artwork, staying here can be quite refreshing.
They also have these "small villa" types of accommodation that are designed like French apartments. You have a rounded room for common spaces and couches, and there's a hallway that'll lead you towards the rooms. There are marble and granite countertops and exuberant hot tubs with antique designs.
For a classy French accommodation experience near the mountainside, book at the Rodeway Inn today!
El Colorado Lodge – mountain cabins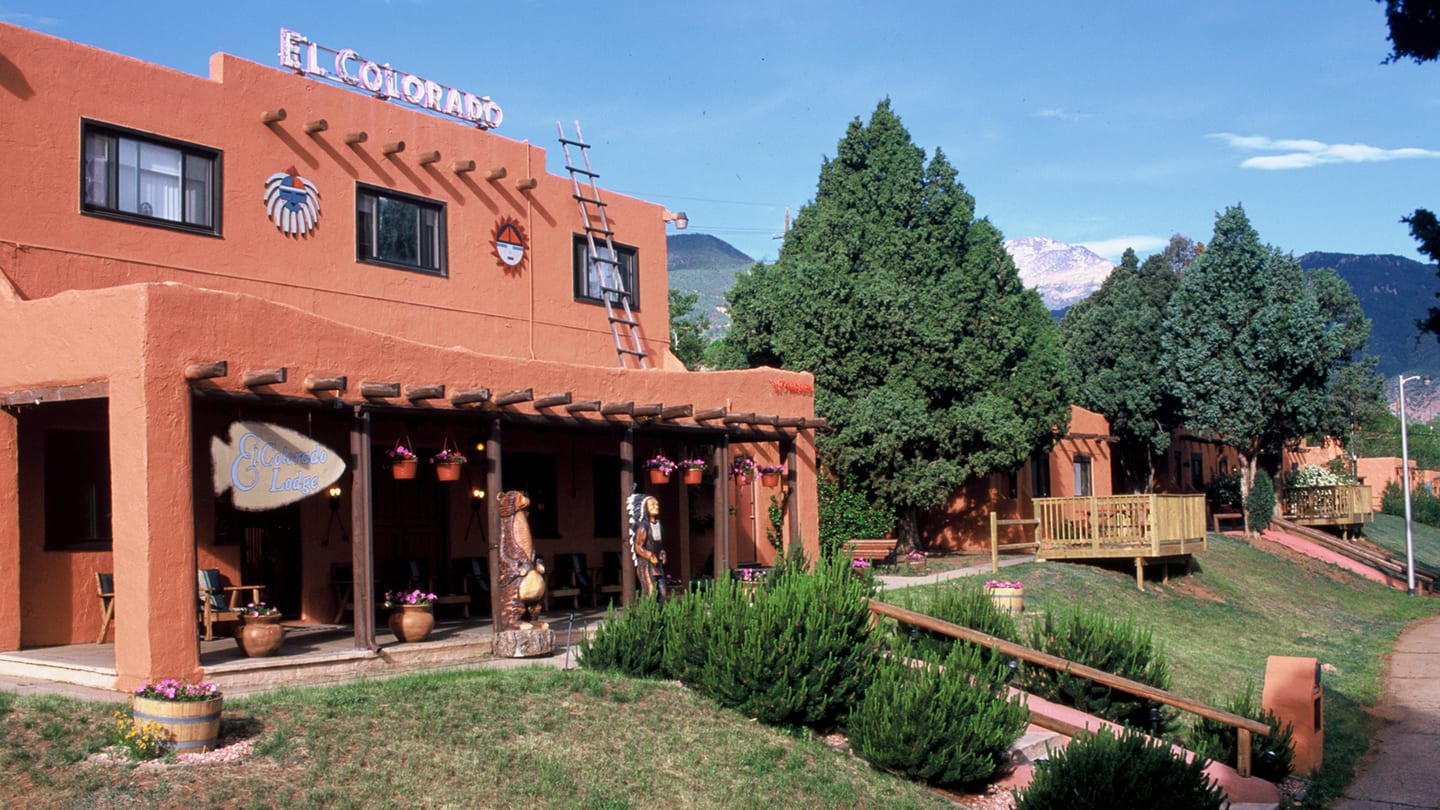 For a less traditional hotel say, you can explore the cabin accommodations here at El Colorado Lodge. The property offers 27 adobe cabin units designed with the Southwestern Colorado aesthetic in mind.
Each cabin is a part of the 4 acres of land you can explore at the El Colorado Lodge. Host picnics, family lunches, or dinners in their open dining areas.
The cabins are fully equipped with TVs, microwave ovens, small refrigerators, and air conditioning. There are larger cabins with wood-burning fireplaces and full-sized kitchens. Since the property is pet-friendly, it's the type of accommodation that families and couples can enjoy with their dogs.
Green Willow Motel Cottages – historic cottages and cabins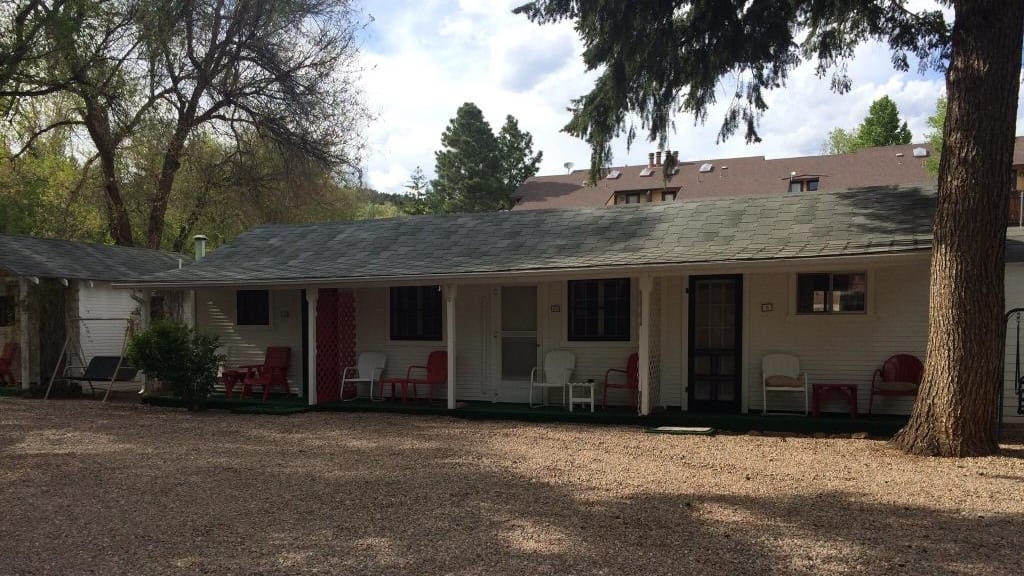 The welcoming Green Willow Motel Cottages has been in business since 1953. The property has now been passed down to three generations of the Heruth family. The property is a beautiful recreational place that's been designed in a way where guests can enjoy the outdoors as well as the cabins themselves.
There are open tents where guests can eat and gather while being surrounded by nature (a small running creek and trees). The cabin design is quite modern with basic amenities like a kitchenette and TV.
Since the property is connected to the wildlife in Pike Peaks, there are times when deers drop by the front lawn. For a relaxing, nature-filled stay, book at Green Willow Motel Cottages.
Thanks for checking out our top list of hotel accommodations in Manitou Springs! Hope you enjoy your stay in this beautiful Pikes Peak town.