Discover the native wildlife and alpine landscapes of Nederland, Colorado. This small town is known for its mining history, eclectic culture, and mountain town vibes. It offers various activities for everyone to enjoy and hotels to match.
Located only 20 minutes west of Boulder, Nederland is a fun place to visit any time of year. There are several great accommodations located throughout the town and tucked into the hills. The downtown section runs a couple of blocks and has just enough unique shops and quality restaurants to keep your whole group happy.
Plus it's located along a national scenic byway, the Peak to Peak Highway. So for added adventure, just hop on Highway 119 and drive south to the casino and old mining towns of Black Hawk and Central City.
Probably Nederland's Top Places To Stay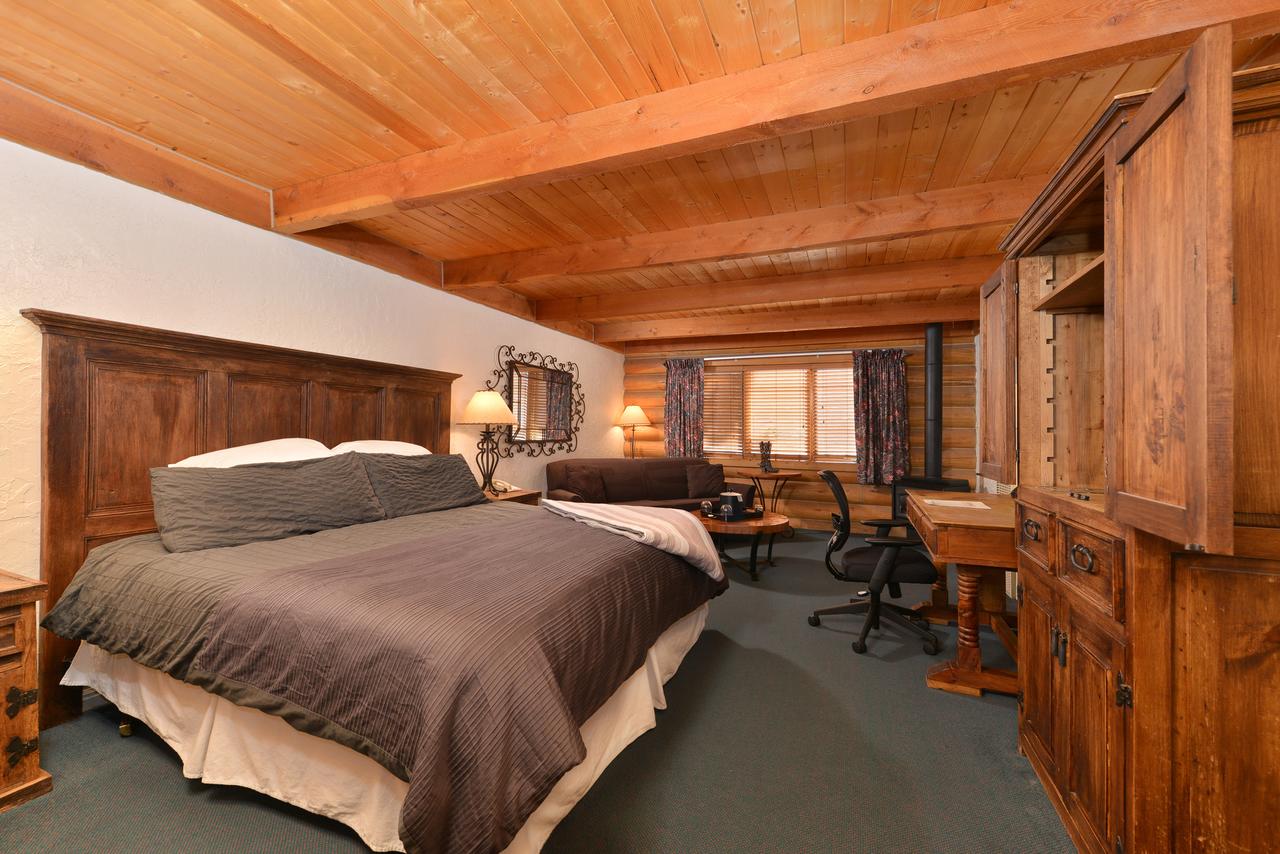 Because of its high elevation, Nederland offers beautiful and breathtaking terrain that'll make your trip picture-perfect. You can visit Rocky Mountain National Park during summer for excellent hikes (or in winter for snowshoeing). If you want to spice up your summer trip, explore Caribou, a nearby ghost town that's also known for its rich tungsten mining history. You'll see relics and ruins of both tucked into the national forest.
For scenic hiking routes, you can check out Hessie Trailhead, Eldora Mountain, and the Indian Peaks Wilderness. In winter try downhill skiing or snowboarding at the locals' favorite Eldora Mountain Resort during winter. It's a mere 15-minute drive from downtown Nederland.
This section contains referral links. If you click through and take action, we may receive a commission, at no additional cost to you. 
Here are our choices for the top hotels in Nederland, CO, in no particular order:
Goldminer Hotel – Historic Accommodation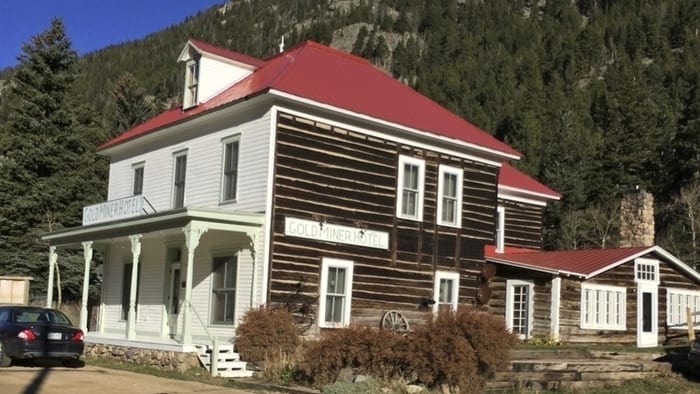 Nederland has a vibrant mining history. But, what attracts tourists and locals to visit the town is its serene community and beautiful nature views. At the Goldminer Hotel, you'd get these two features with an added feeling of nostalgia.
The hotel is a historic structure that was built more than 115 years ago. Since then, the hotel hasn't really changed much. The owners decided to maintain its foundational roots to "symbolize permanence and importance." Over the past decades, it has undergone different owners and managers, and each era has retained the hotel's value for hospitality.
Located at the center of Eldora Historic District, Goldminer Hotel is listed as a national icon on the National Register of Historic Places. Before, the hotel had thirteen small rooms. Since it was also a hostel over the past decades, it used to serve backpackers and travelers. Now, they have renovated the rooms and trimmed them down to five suites, four bathrooms, a lobby, a kitchen, and a social hall.
You can see the sitting room and lobby on the first floor. Decorated with beautiful antiques and leather chairs, anyone can feel comfortable and homey just lounging in this area.
The hotel's large kitchen is also located on the first floor. They serve unforgettably delicious breakfasts here. The big communal table makes guests "feel part of the hotel cast rather than just a member of the audience."
As for the uniquely decorated rooms, they have different configurations and bed layouts. The rooms that do not have a private bath are The Spencer and The Divide, which are the smallest suites in the hotel. Every room is equipped with a TV, DVD player, and WiFi.
601 Klondike Ave, Nederland, CO 80466 | 303-258-7770
Check prices, availability or book Goldminer Hotel
The Boulder Creek Lodge – Deluxe Rustic Suites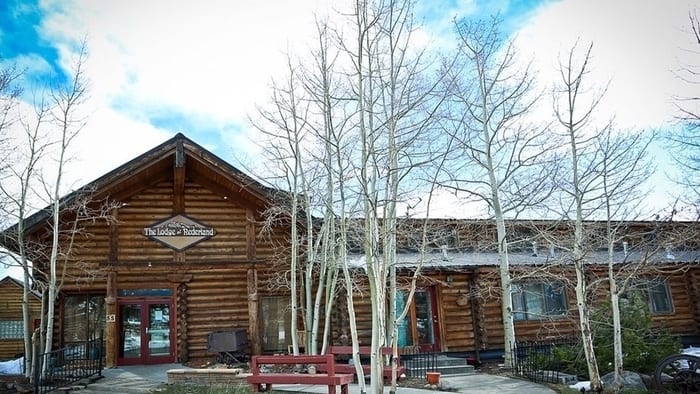 Though it's nice to relive the past era, there are still those who'd prefer the comforts and familiarity of modern architecture. If you're looking for the latter, The Boulder Creek Lodge is the place for you.
This rustic accommodation is located at the heart of Nederland, so you're close to the main attractions in town. Most of the guests at the hotel stay here because they're skiing at the Eldora Ski Resort, which is just 10 minutes away from the property.
Coming in, you'd be welcomed by the bare wooden structure of the hotel. The open stair is a sight to behold. The lobby is also a warm place to stay and relax, especially if you've been driving for hours before you arrive.
Though it looks homey on the inside, the property has a lot of hotel amenities, including conference and meeting rooms. At the same time, delicious meals and freshly brewed coffee are always available at their on-site restaurant.
They also have a beautiful jacuzzi tucked in the far corner of the lodge. For casual exercise, you can also use the fitness room. Tours and guides can be referred to by the hotel staff.
The property offers various room configurations. Some may prefer the grander suites with leather sofas and beautiful bathrooms. On the other hand, solo backpackers are welcome, too! They offer bunk bed accommodations for travelers. These rooms have shared amenities with other guests.
As for the suites, they're equipped with a mini-refrigerator, coffee/tea maker, beautiful wooden writing desk, sofas, antique cabinets, TV, WiFi, private bathrooms, and TV. So, if you're up for a relaxing Nederland stay, book at The Boulder Creek Lodge for your vacation!
Sundance Lodge – Mountain Cabin Experience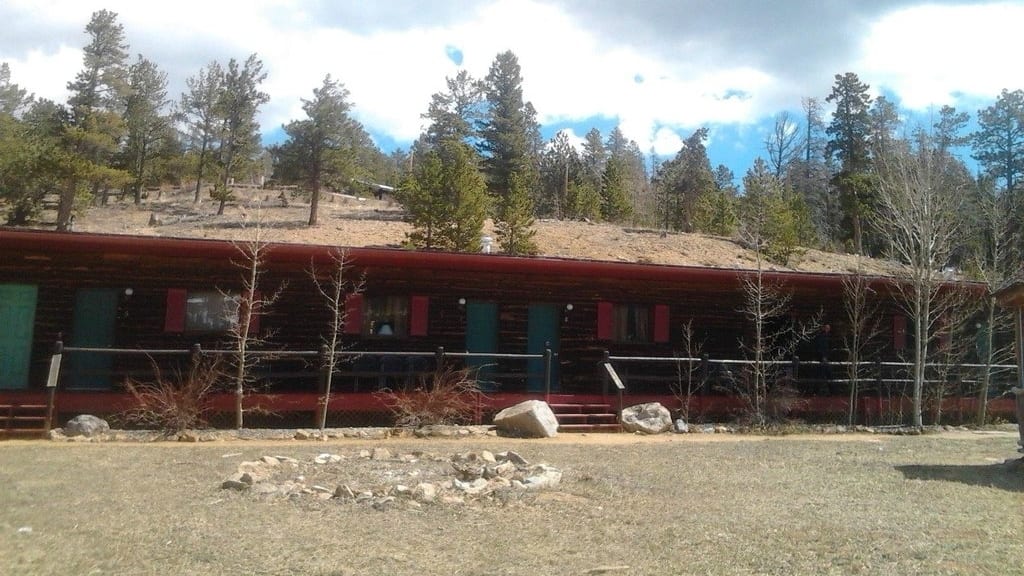 If you want your vacation to be spent in tune with nature, Sundance Lodge may be the way to go. This rustic hotel is surrounded by a beautiful national forest.
Sitting at an elevation of 8,650 ft, you should prepare for colder weather during your stay, at least at night year-round. It came under new ownership in 2017, so bear in mind if reading older reviews. The lodge also has its own cafe.
Known by the locals, The Sundance Cafe provides amazing breakfast, lunch, and dinner. For special occasions and requests, you can also get a hold of their premium wines. The cafe has a bar lounge for cocktails and drinks. Though the food is spectacular, what's impressive about eating here is the view. They have an outdoor setting beside the valley and its pine trees. Cool summer mornings are perfect on their sun decks.
For friends and families traveling to Nederland, they also have spaces available for private events. As for the accommodations, this mountain lodge offers 12 charming suites with different bed configurations.
Each room is equipped with a flat-screen Direct TV, high-speed internet, private bath or bath-shower duo, and custom decor. The rooms are clean and comfortable. Relatively smaller than other accommodations, what makes the stay at Sundance Lodge memorable is the outstanding views throughout the property. For a peaceful and tranquil stay, book at Sundance Lodge!
Thanks for checking out some of the best hotels in Nederland! It's always a fun time in this friendly town full of year-round festivities.