The town of Granby rests in the heart of Grand County and serves as a gateway to the west entrance of Rocky Mountain National Park (RMNP). It's also home to Lake Granby, one of Colorado's largest lakes, and its own ski resort, Granby Ranch. So year round there are plenty of hotels and lodging in Granby to accommodate travelers.
Its charming downtown is home to several restaurants, shops, and outdoor outfitters, and is the perfect place to take an evening stroll after a full day of adventures. There are several accommodations located in Granby, but most lodging options are found just outside, with more ranch-style lodging.
Known as Colorado ranch country, most visitors will find ranch-style accommodations that lend themselves to the beauty of the area and that pride themselves on access to endless outdoor activities. Enjoy the best of the Rockies with these accommodations in Granby.
Probably Granby's Top Places To Stay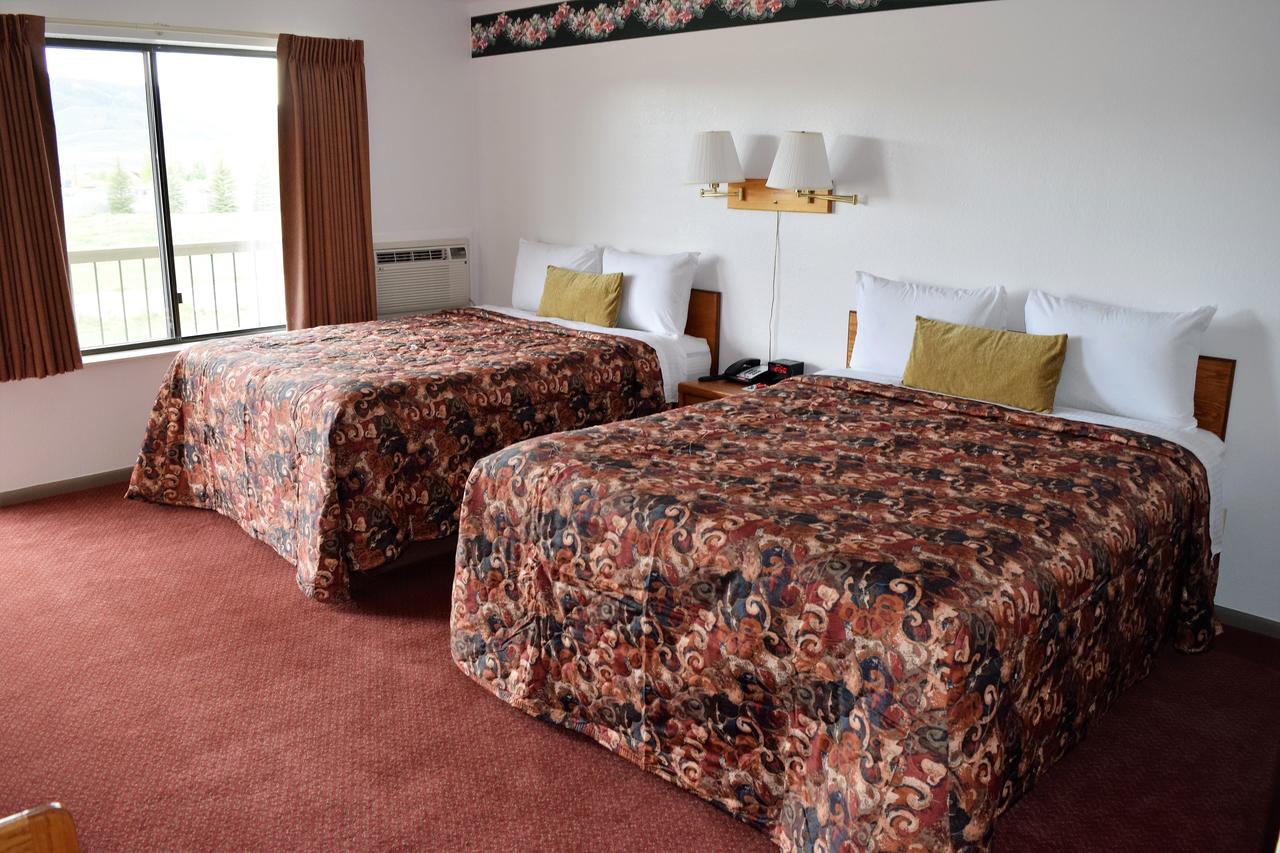 Nestled in the Rocky Mountain Valley and surrounded by majestic mountain peaks, Granby offers access to almost every outdoor activity, no matter the season, that Colorado has to offer. This region is booming with tourists each summer, looking to camp, hike, fish, and go boating.
Aside from acting as a gateway to RMNP, Granby is also near six big lakes, five of which reside in the Arapaho National Recreation Area (NRA). The sixth is Grand Lake, which borders the Arapaho NRA.
In the winter Granby welcomes beginner and intermediate skiers to its slopes at Ski Granby Ranch, perfect for the family ski holiday. Less than thirty minutes south is Winter Park Ski Resort, so Granby makes a fun base for exploring both mountains, in the summer too. Plus the Hot Sulphur Springs Resort & Spa is only 10 miles west of town, providing year-round respite.
Book a hotel in Granby, and experience a real, laidback Colorado town.
This section contains referral links. If you click through and take action, we may receive a commission, at no additional cost to you. 
Here are our choices for the top hotels in Granby, CO, in no particular order:
Snow Mountain Ranch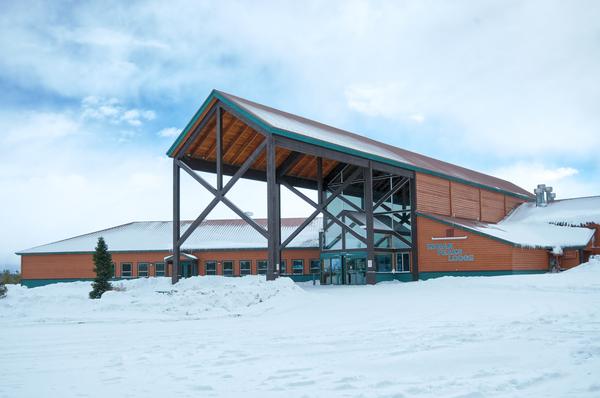 As part of the YMCA of the Rockies – Snow Mountain Ranch is the perfect getaway for an affordable family vacation in Colorado. Located on 8,000 acres of pristine scenic landscape, Snow Mountain Ranch offers access to recreational activities, family programs, and a variety of lodging options. Designed to have almost everything available at your fingertips, the ranch provides easy access to hiking trails, fishing, disc golf, mini-golf, a Nordic center, and much more.
Amenities:
Meals available on-site
Indoor pool
On-site recreational activities
Organized group activities
Family programs
Accommodations are cabin style and range from two-bedroom to larger five-bedroom cabins. The cabins feature a fireplace, full kitchen, linens and towels, spacious living areas, and beautiful mountain views. Three lodges that sleep up to six guests each, two of which feature bunk bed setups, and all include a private bath, mini-refrigerators, towels, and linens, plus an outdoor deck or patio.
For those who are looking to "rough it," they also provide yurts for rent and campsites.
1101 Co Rd 53, Granby, CO 80446 | 970-887-2152
Check prices, availability or book Snow Mountain Ranch
Littletree Inn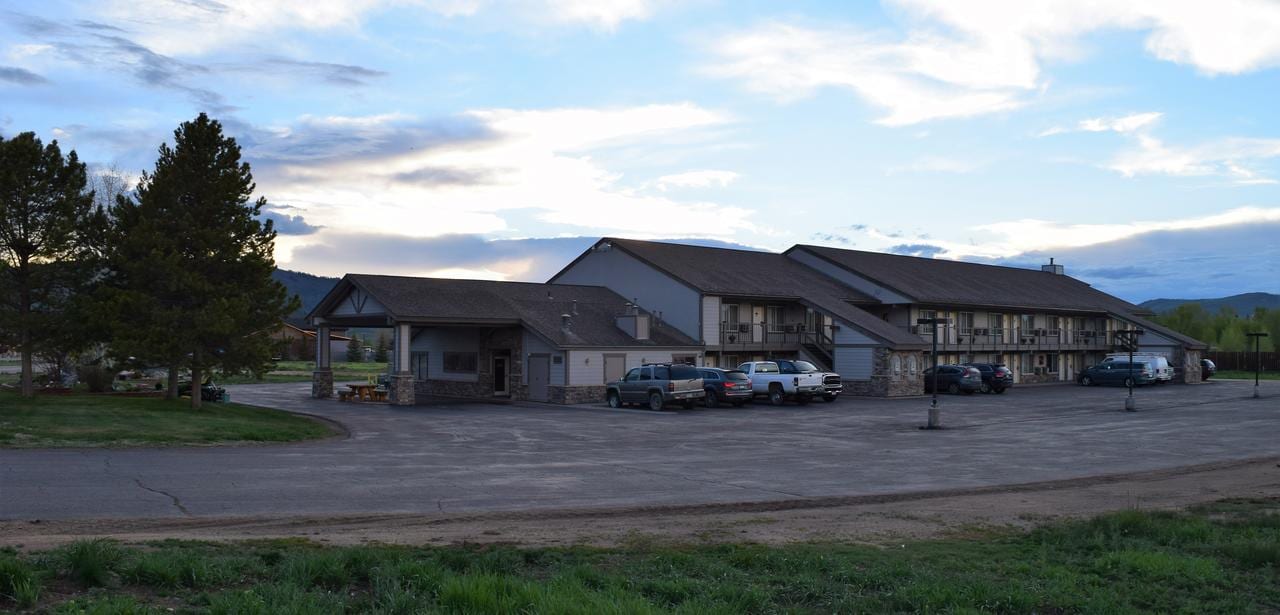 For a classic hotel-style stay in Granby, book a room at the Littletree Inn. Offering affordable accommodations in the heart of Grand County, the Littletree Inn is open year-round and is a great jumping-off point for all your outdoor adventures.
Amenities:
Private seasonal hot tub
Air conditioning
Centrally located
Pet-friendly
Free Wi-Fi
Choose from rooms with either a King-size bed or two Queen-size beds. Basic amenities include flat-screen T.V.s, air conditioning, a bathroom with shower and tub, plus a kitchenette with a microwave, sink, and refrigerator. Plus, all rooms offer views of the surrounding mountains.
62000 US-40, Granby, CO 80446 | 970-887-2551
Check prices, availability or book Littletree Inn
Trail Riders Motel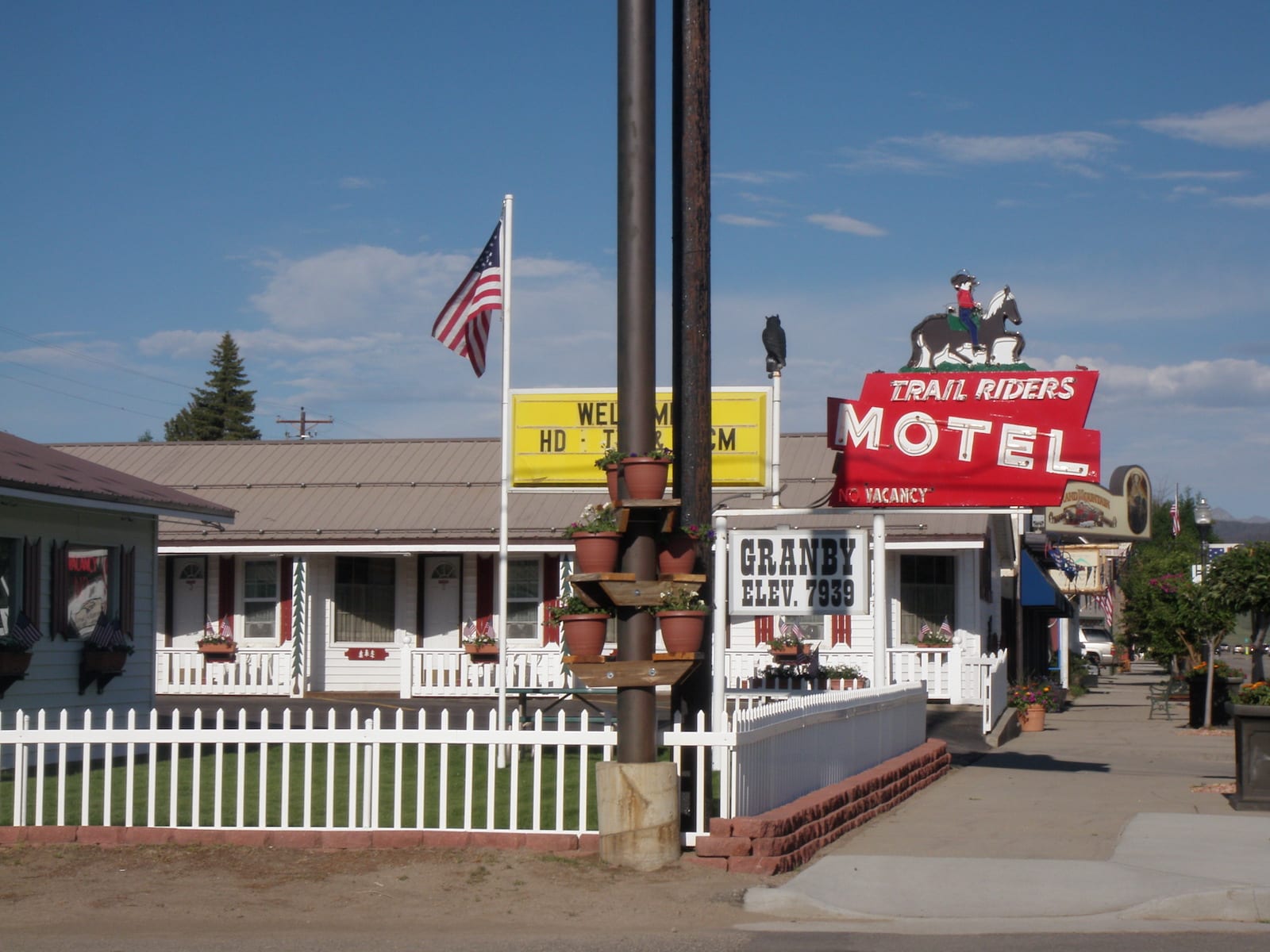 Located in the heart of Granby, the Trail Riders Motel is the only motel in Granby that is located within walking distance of local restaurants and shops. Or venture outside of town with a 10-minute drive to Lake Granby, a 15-minute drive to Grand Lake, and 16 miles to Rocky Mountain National Park.
Amenities:
Walking distance to restaurants & shops
Affordable
Outdoor grill with two cornhole boards
Free Wi-Fi
Affordable accommodations are basic, with rooms featuring one Queen-size bed or two Queen-size beds. All rooms have a microwave, small refrigerator, free Wi-Fi, and coffee.
215 E Agate Ave, Granby, CO 80446 | 970-887-3738
Check prices, availability or book Trail Riders Motel
Inn at Silvercreek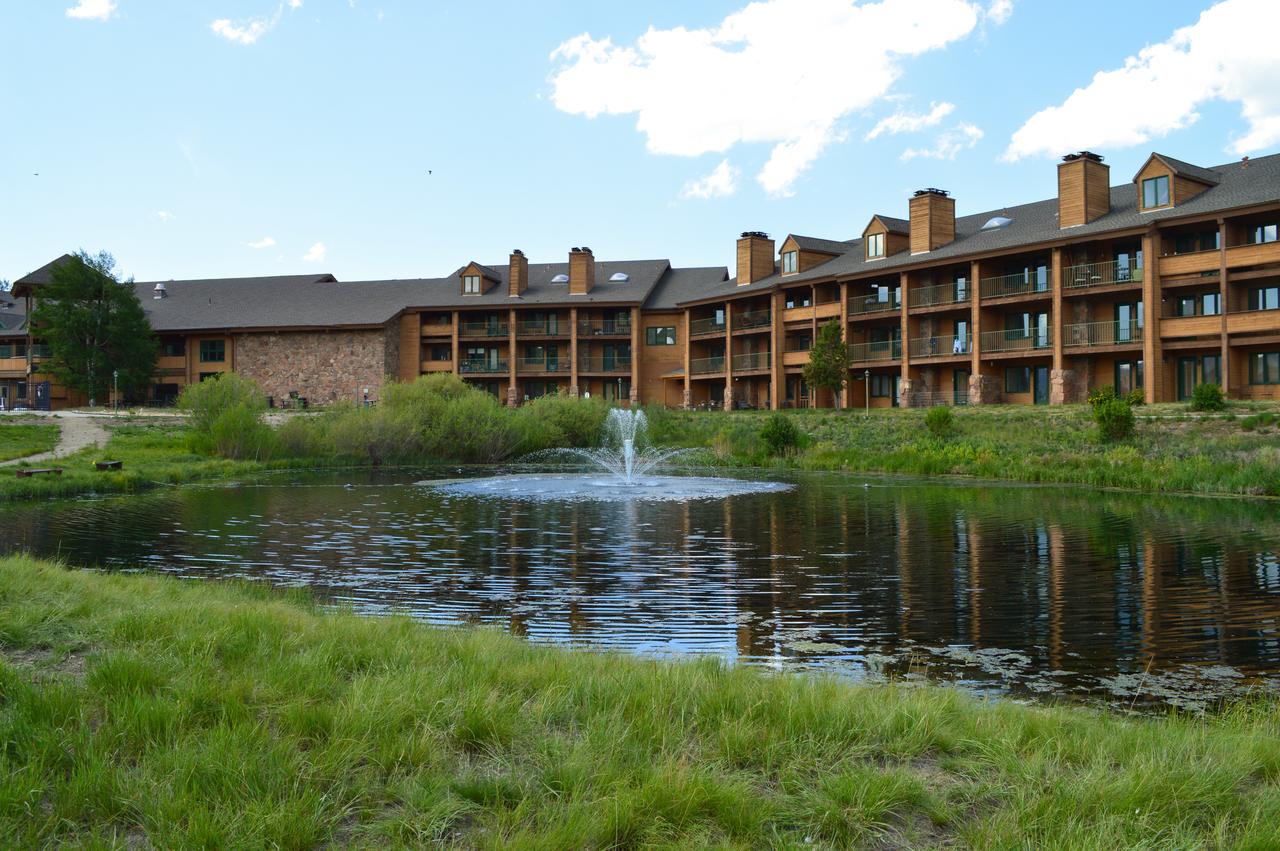 Enjoy spacious accommodations, beautiful mountain views, and a plethora of on-site amenities at the Inn at Silvercreek. With a classic Colorado vibe, the large hotel offers a rustic-mountain feel, complete with today's modern amenities. Its location is also ideal for all your outdoor adventures, including Rocky Mountain National Park and Winter Park Ski Resort.
Amenities:
On-site restaurant
Arcade & family room
Fitness room
Outdoor/Indoor pool
Outdoor hot tubs & sauna
Bar/lounge
Ski/snowboard rentals
Pet-friendly (certain rooms)
Free Wi-Fi
The inn offers 350 traditional hotel-style rooms, plus studios, lofts, and suites available. All accommodations feature modern amenities, a private balcony or patio, and mountain views. Studios and lofts include an in-room fireplace, kitchen facilities, a microwave, and a refrigerator.
62927 US-40, Granby, CO 80446 | 970-887-2131
Check prices, availability or book Inn at Silvercreek
Rimrock Canyon Ranch
Who wouldn't want to rent their own private ranch? Well, you can do just that at Rimrock Canyon Ranch. Located just five miles off US 40, Rimrock Canyon Ranch is a large ranch featuring a fully furnished four-bedroom ranch house, a private canyon with a trout-filled creek, a small lake, and private access to BLM land.
The land was originally granted to one of Teddy Roosevelt's private guides in the early 1900s and has operated as a small family ranch for over 100 years.
Amenities:
Private ranch house
Private entrance
Mountain views
Outdoor patio
Easy access to outdoor activities
Free Wi-Fi
The four-bedroom house features two bathrooms, a full kitchen, a sunroom with a hot tub, an outdoor patio, and 360-degree mountain views. Linens and towels are included, plus satellite T.V. There is a minimum of a three-night stay, and there is a caretaker on site for anything you might need during your stay.
1211 County Road 213 Parshall, CO 80468. | 250-539-5393
Check prices, availability or book Rimrock Canyon Ranch
Antler Basin Ranch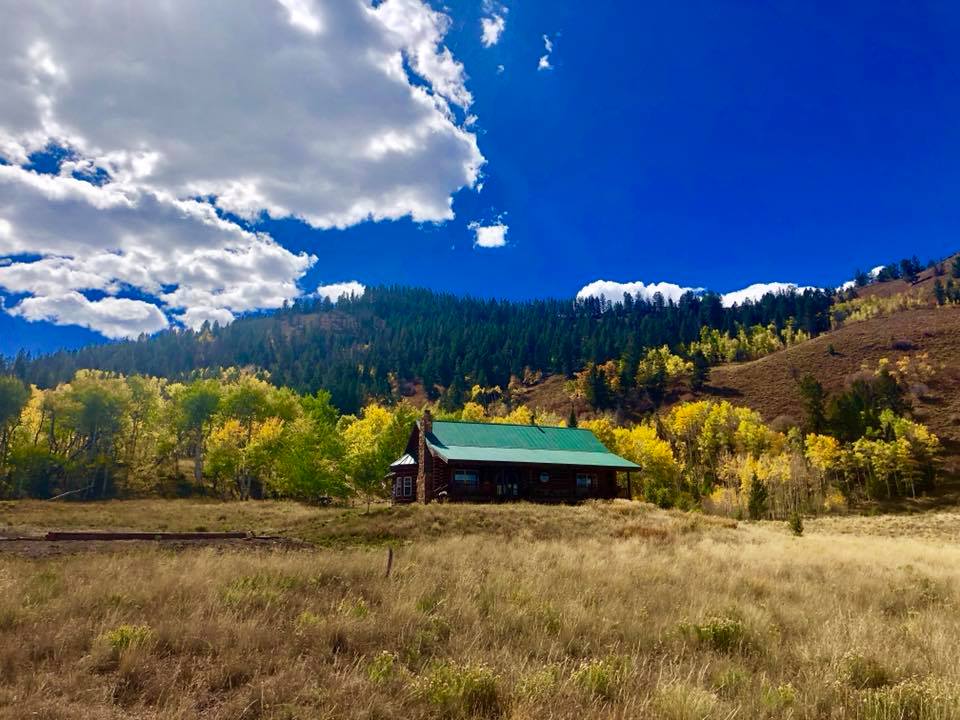 Perfect for a family reunion or large group vacation, the Standing Bear Lodge at Antler Basin Ranch is another great option as a private lodging option in Granby. Nestled on a 280 private-acre retreat, the Standing Bear Lodge is surrounded by views of Rocky Mountain National Park and the Continental Divide.
Because of its terrific location, guests will enjoy easy access to biking, hiking, fishing, cross-country skiing, and more. The historic ranch was the first downhill and ski jump area in Grand County in the 1950s. Guests today can still see the original tow equipment used.
Amenities:
Private ranch property
Mountain vista views
Historic property
On-site recreational activities/games
Free Wi-Fi
Sleeping up to 12 people, the lodge is equipped with three bedrooms, two bathrooms, a gourmet kitchen, a two-car garage, a fitness room, and games like foosball and a ping pong table. The lodge rests at the end of a private one-mile drive, accessible even in winter.
966 Co Rd 57, Granby, CO 80446 | 303-619-2914
Check prices, availability or book Antler Basin Ranch
C Lazy U Ranch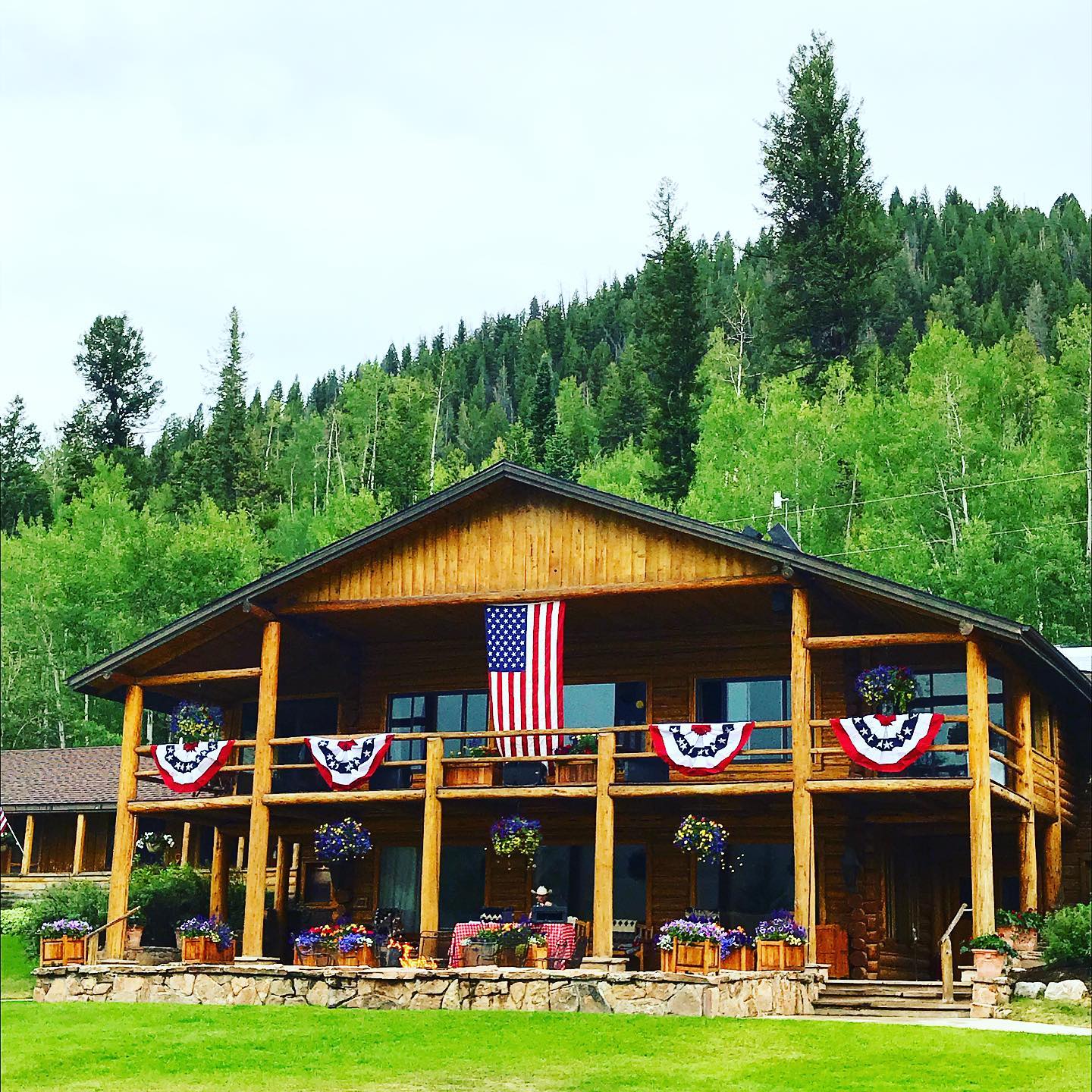 For the ultimate Colorado experience, stay at the all-inclusive C Lazy U Ranch. The historic dude-ranch has been providing its guests with the real Colorado experience for over 100 years. Guests will enjoy luxurious amenities, home-grown experiences, beautiful cabins, and gourmet meals.
Feel free to explore on your own, but the ranch also offers a schedule of activities including horseback riding, fishing, trap shooting, archery, mountain biking, yoga, a zip line course, and so much more.
Aside from their on-site activities, guests will enjoy a family-style breakfast, lunch, and dinner from the resident executive chef and team. Plus, during the summer, guests can take part in the Woodsie Breakfast, which is a traditional cookout breakfast hosted outside. Don't forget to treat yourself to their on-site spa overlooking Willow Creek.
Rest and relax in one of six luxurious tents that are suspended over the river with a glass bottom, so you never lose sight of the view.
Amenities:
All-inclusive resort
Spacious property
Mountain views
On-site activities
On-site spa
Free Wi-Fi
The resort offers 40 guest ranch accommodations that include individual rooms and private cabins. Cabins are available in one, two, and three-bedroom configurations. All cabins include refrigerators, plush robes, updated furnishings, fireplace, spacious living areas, rustic-mountain accents, and scenic views.
3640 Colorado Hwy 125, Granby, CO 80446 | 970-887-3344
Check prices, availability or book C Lazy U Ranch
Drowsy Water Ranch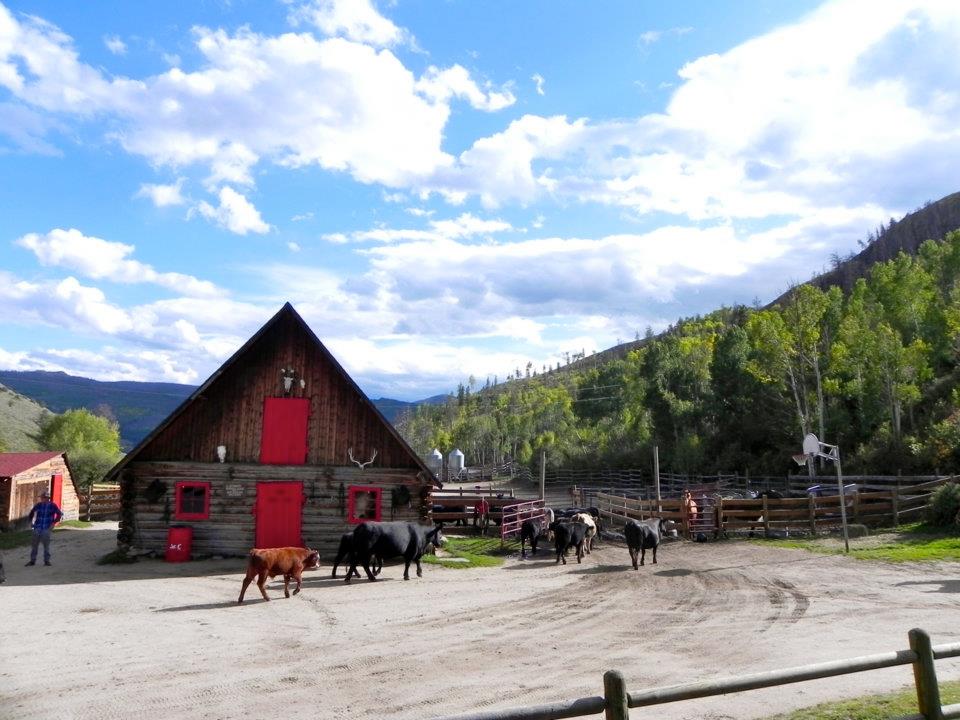 Live the ranchers' life in luxury at the all-inclusive Drowsy Water Ranch. Guests will never be bored with the seemingly endless list of activities available. During a typical ranch week, guests can enjoy horseback riding, country dance night, community meals, raft trips, and teepee building, just to name a few.
As an all-inclusive resort, breakfast, lunch, and dinner are all provided. The main lodge is the hub of the ranch and is the perfect gathering place for all guests.
Amenities:
All-inclusive dude-ranch
Spacious grounds
On-site store
Scenic views
Knowledgeable staff
Free Wi-Fi
Whether you are on a family vacation or a solo trip, the ranch offers a variety of accommodations to meet your travel needs. Choose from one, two, three, and four-bedroom cabins. Each cabin offers comfortable furnishings with unique mountain décor, including wood paneling and log construction.
1454 County Road #219, Granby, CO 80446 | 970-725-3456
Check prices, availability or book Drowsy Water Ranch
Sun Outdoors Rocky Mountains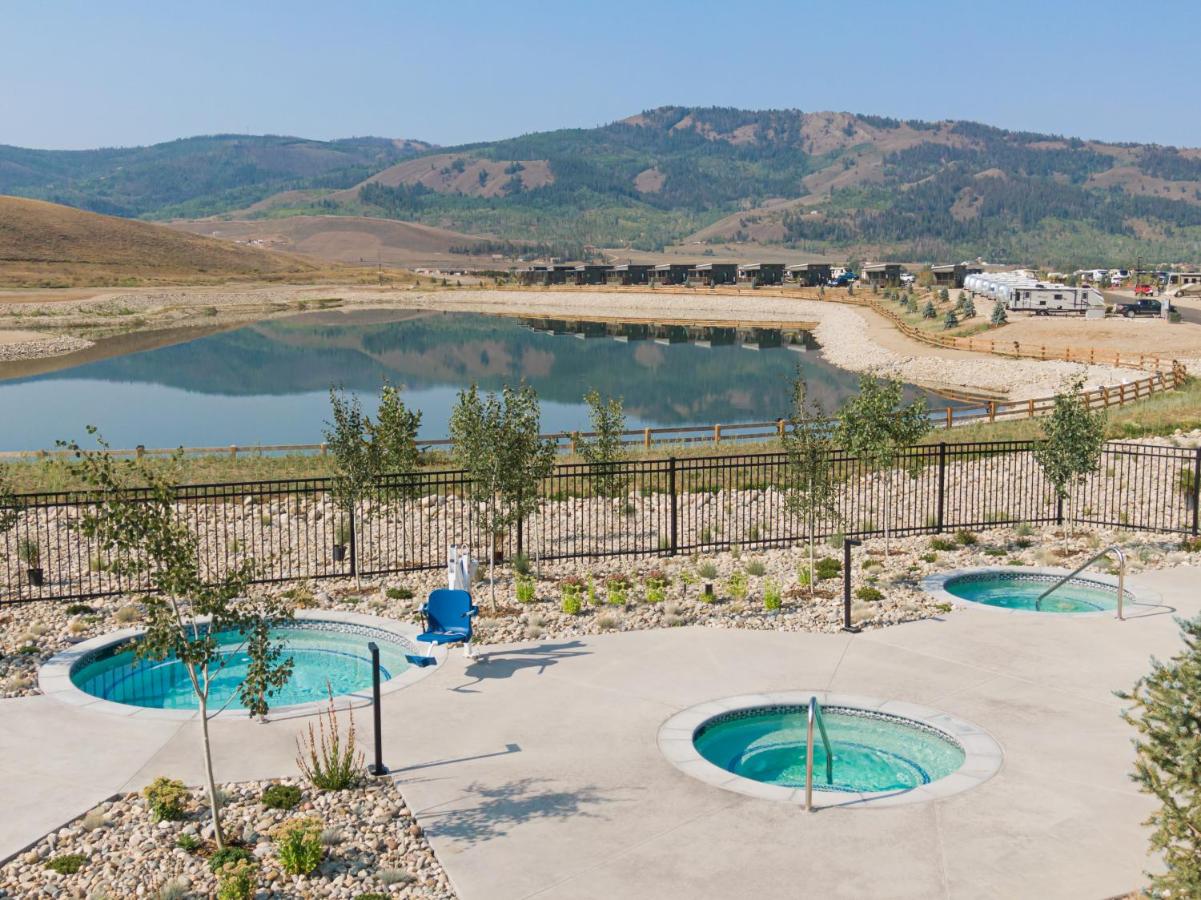 If you're looking to enjoy nature to its fullest, and live a life of luxury, consider Sun Outdoors Rocky Mountains. This upscale resort has a slew of different lodging options and camping.
The amenity list at this place goes on and on. Hit the gym, shower, go swimming, and then relax in a hot tub. Play mini-golf, tennis, or sand volleyball. These are just a few of the options. Afterward, grab a bite to eat at two on-site restaurants.
For accommodations, choose from Airstreams, Alpine Retreats, Arrowhead Studios, Bearclaw 2-bedroom Cabins, Conestoga Wagons, Foxtail Studios with Loft, Lookout Lodges, and Mountain Hideaways. This is the premiere place to stay in Granby, very close to the Arapaho National Recreation Area and all its wonderful lakes.
That's a roundup of the fine western accommodations available around Granby, Colorado. Enjoy your stay in this authentic Middle Park town.