Another noteworthy northern front range town, Loveland offers a great mix of city life and natural attractions. It has a lovely historic district with plenty of top hotels to choose from.
The "Sweetheart City" is sometimes confused with Loveland Ski Area, which is its own ski resort that carries a Georgetown, CO mailing address. The town of Loveland, on the other hand, is a whopping 2 hours from the ski resort by the same name.
It features a range of tourist attractions, vibrant city life, and close access to the Rocky Mountains. Escape the bustle of Denver for a night in one of Loveland's top hotels.
Probably Loveland's Top Hotel Accommodations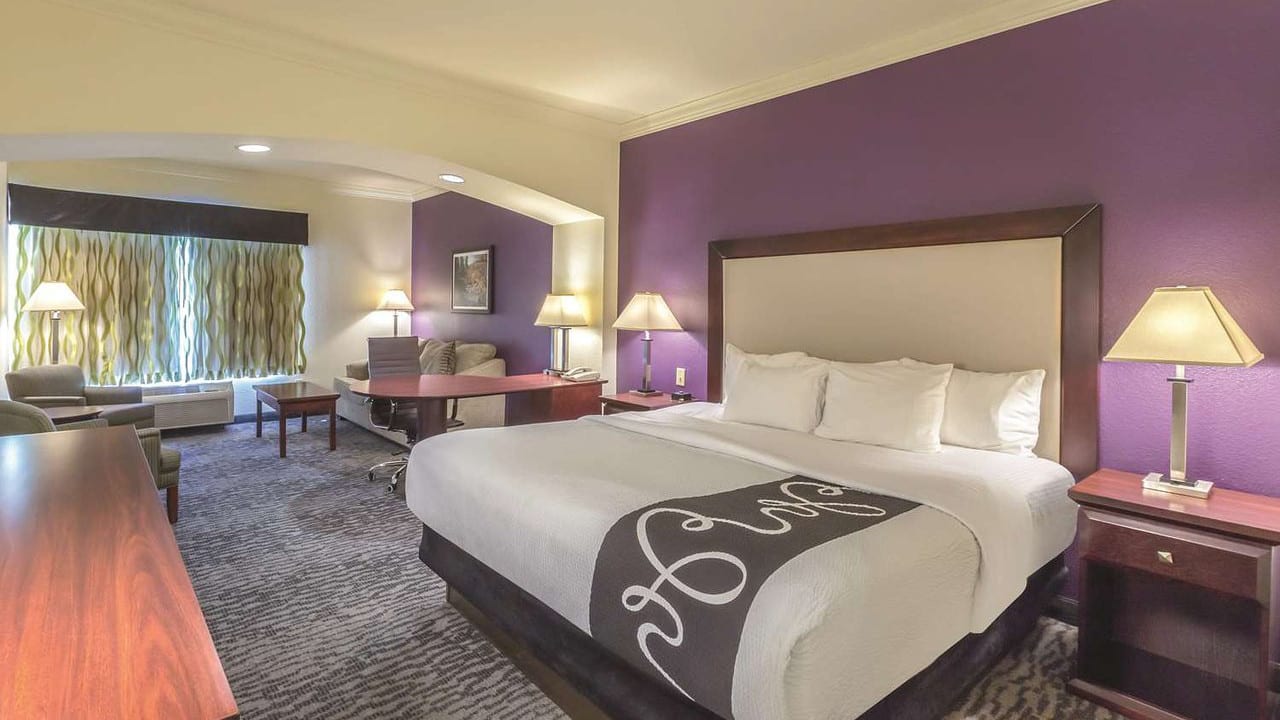 Loveland is located between Denver and Fort Collins on I-25. If you're visiting town, be sure to scope out the greater Ft Collins-Loveland metropolitan area, which has received accolades from multiple publications. There are loads of attractions and hotels to accommodate all types of travelers.
Loveland features a one-of-a-kind art walk at Benson Sculpture Garden and the community gem, Boyd Lake, a year-round state park, complete with campgrounds. There's also camping and a larger lake at Horsetooth Reservoir to the northwest in Fort Collins. Discover the wonders of Loveland and its cozy, affordable lodging.
This section contains referral links. If you click through and take action, we may receive a commission, at no additional cost to you. 
Here are our choices for the top hotels in Loveland, CO, in no particular order:
Candlewood Suites Loveland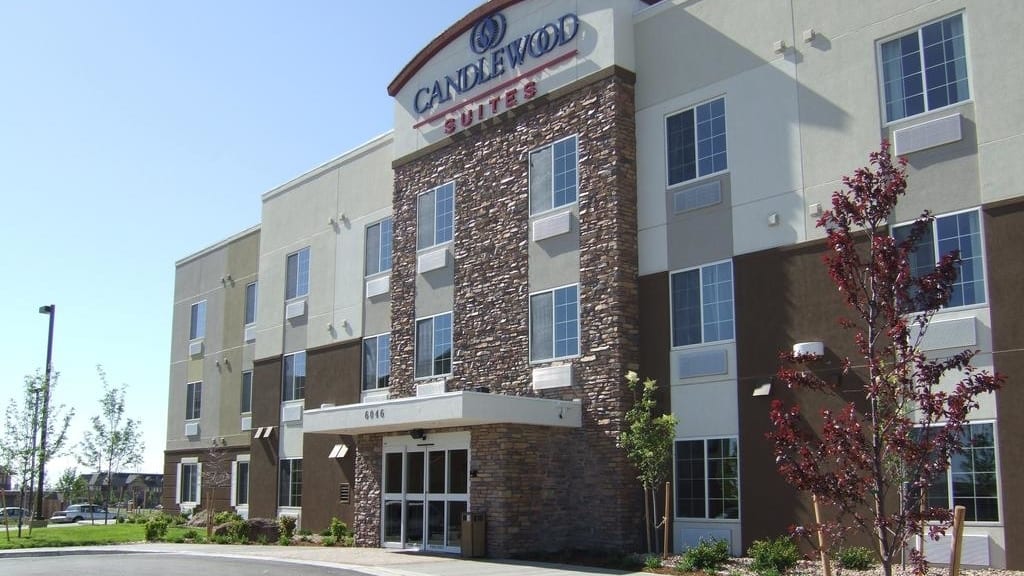 Candlewood Suites Loveland is a good stop if you will have an extended stay. The hotel is simple and straightforward, but they have full facilities that would cover your personal, leisure, or business needs.
For business travelers, Candlewood Suites has an on-site business center that's open 24 hours a day. This looks like a co-working station where you can also enjoy a free cup of coffee. The business center has a copier, printer, and scanner.
Their 24-hour fitness center is also best for anybody who would need access to exercise while traveling. They also have an offsite fitness center that has an added $12 fee.
Candlewood Suites can accommodate large groups with their 63 guest suites, 4 accessible suites, and three floors. Their suites give you the comfort of a full home amenity with a spacious kitchen and entertainment area. The kitchen is complete with a stove, microwave oven, toaster, refrigerator, icemaker, dishwasher, pots, silverware, and dining table.
Rooms are also equipped with an internet connection, a two-line phone, and a phone with voicemail. Since the suites are packed with everything you will need during your travel, you can also keep your costs low because you can simply buy products from the local market and cook your own meals.
Quality Inn & Suites Loveland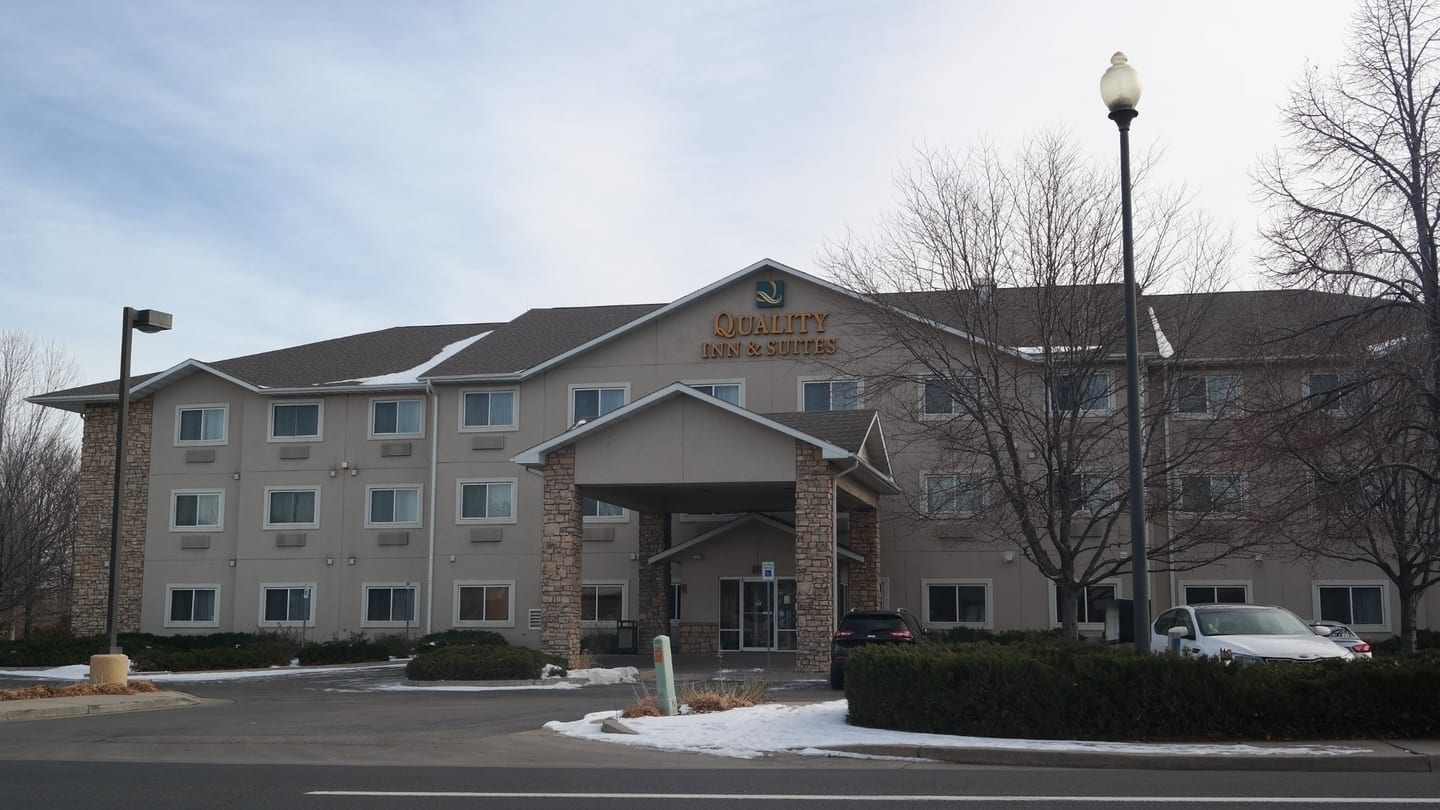 Quality Inn & Suites Loveland has more of a brighter vibe. This award-winning hotel has been a favorite of frequent flyers to Loveland. It's close to the Boyd Lake State Park, Loveland Museum/Gallery, and Rialto Theater.
Established in 2009, Quality Inn is a part of the Choice Hotels franchise. They pride themselves on offering top value to their affordable price points.
The entire hotel is also filled with amenities that you would need during your trip including a business center, copier, fax machine, indoor heated pool, indoor pool, meeting rooms, laundry area, and premium WiFi.
The suites have ample space for any traveler. In-room amenities include a refrigerator, microwave, TV, and coffee maker. Each guest will also be able to enjoy the free hot breakfast included in their stay.
La Quinta Inn & Suites Loveland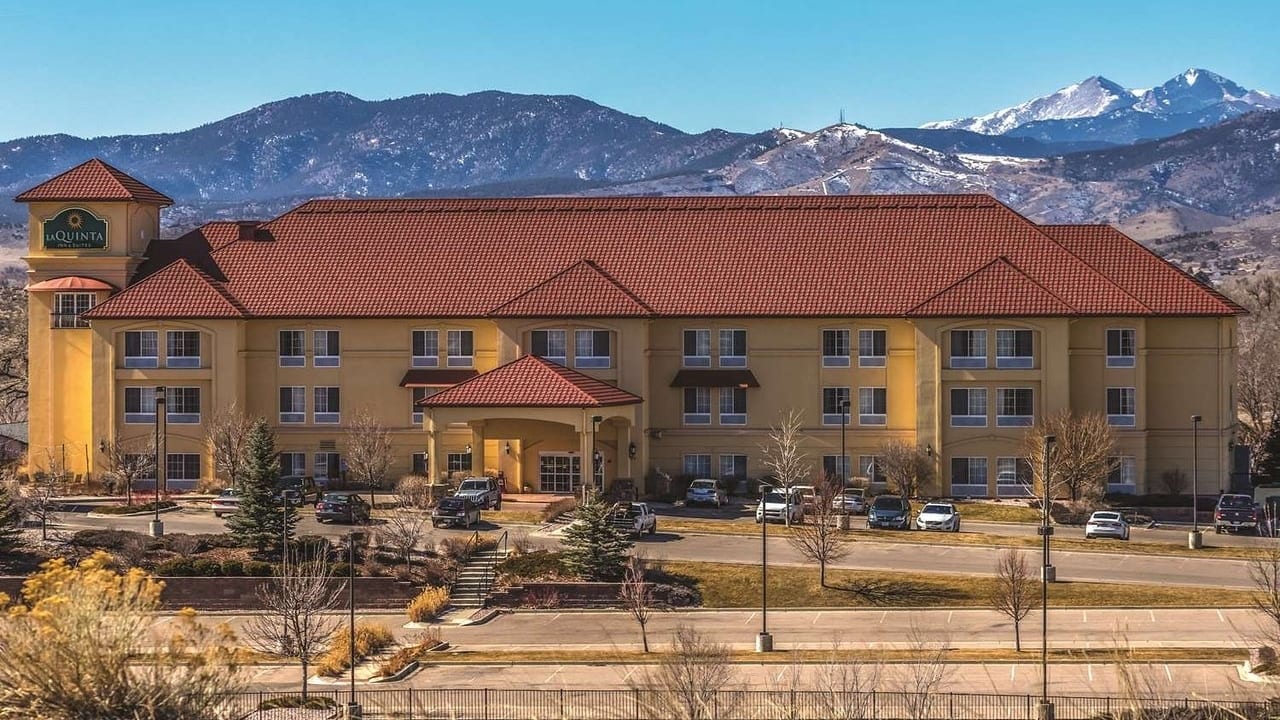 La Quinta Inn & Suites features a friendly atmosphere. The staff is hands-on and welcoming. One of the previous guests even noted that the staff accommodated their early departure during their stay as the person took the time to bring in muffins and hot coffee because the breakfast buffet is not yet available.
As for the amenities, La Quinta Inn & Suites has 69 rooms and three floors. They are also a pet-friendly hotel. The common area has free coffee and tea, and for those wanting to relax, they have an indoor pool. Other activities like golf, hiking, rafting, and biking are also available nearby. The staff will be able to recommend the best spots and locations to do these activities.
The one thing to note about La Quinta Inn & Suites is that it's not a luxury hotel. However, significant amenities will be offered, and it's hugely accessible to the main attractions in town. A short drive will bring you to the scenic Estes Park, which features different shops and boutiques. Trail Ridge Road through Rocky Mountains National Park is also near here.
Embassy Suites by Hilton Loveland
Now, if you're looking for a five-star experience, you can check out Embassy Suites by Hilton. The massive hotel has an open veranda at the center of it so guests can enjoy the open skyline that features the full scale of the property.
The rooms are clean and spacious, so whether you are backpacking through the Rocky Mountains or visiting for business, the rooms are perfect for your needs.
You can also enjoy their sassy two-room suites that have a private bathroom, separate living room, a wet bar, mini refrigerator, microwave, and coffee maker. For those who want to relax, they also have a full-service Spa Botanica on-premise.
Shoppers will enjoy its proximity to the Promenade Shops at Centerra and site-seeing at the Thunder Mountain Harley Davidson. Meanwhile, outdoor activities are also available at the Cache La Poudre River Rafting and the Rocky Mountain National Park.
Best Western Plus Loveland Inn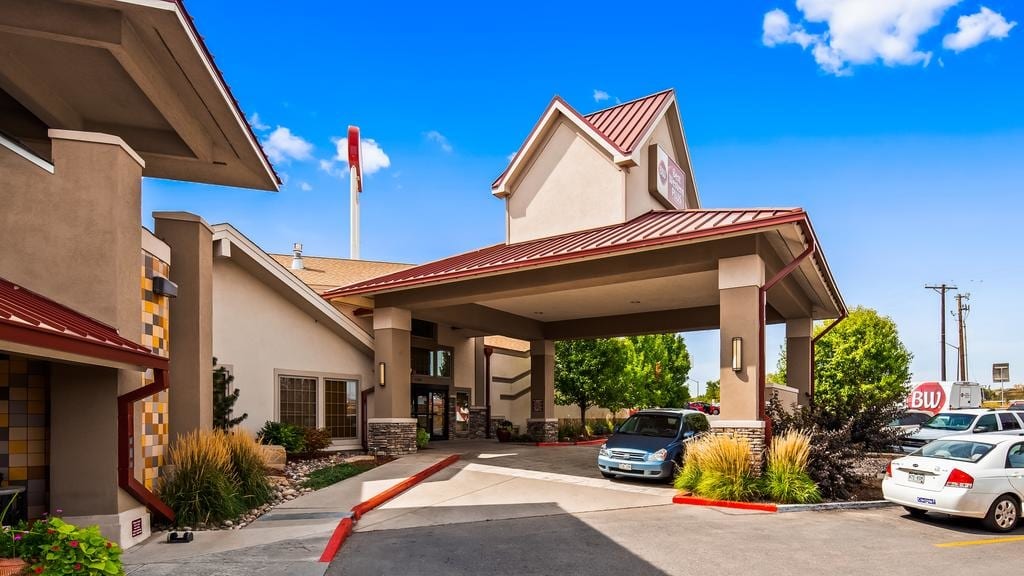 Best Western Plus Loveland Inn is one of the favorites for those who are traveling by road. Since it's at the crossroads of U.S. Highway 34 and I-25, it's easy for travelers to spot.
The full-service hotel has an on-site restaurant and meeting areas. The breakfast buffet offers American favorites like waffles and pastries, fruits and yogurt as well as breakfast staples like scrambled eggs, sausages, cereals, and chilled juice.
Compared to the other hotels above, Best Western Plus Loveland Inn has a cozier interior design. The lobby is filled with green and wood highlights that will make you feel comfortable and homey. The outdoor pool also has a perfect view of the Loveland landscape. Though it's open, it's at the center of the property so you can still get your privacy.
To enjoy a great stay at a competitive price, check out Best Western Plus Loveland Inn.
Fairfield Inn & Suites Loveland Fort Collins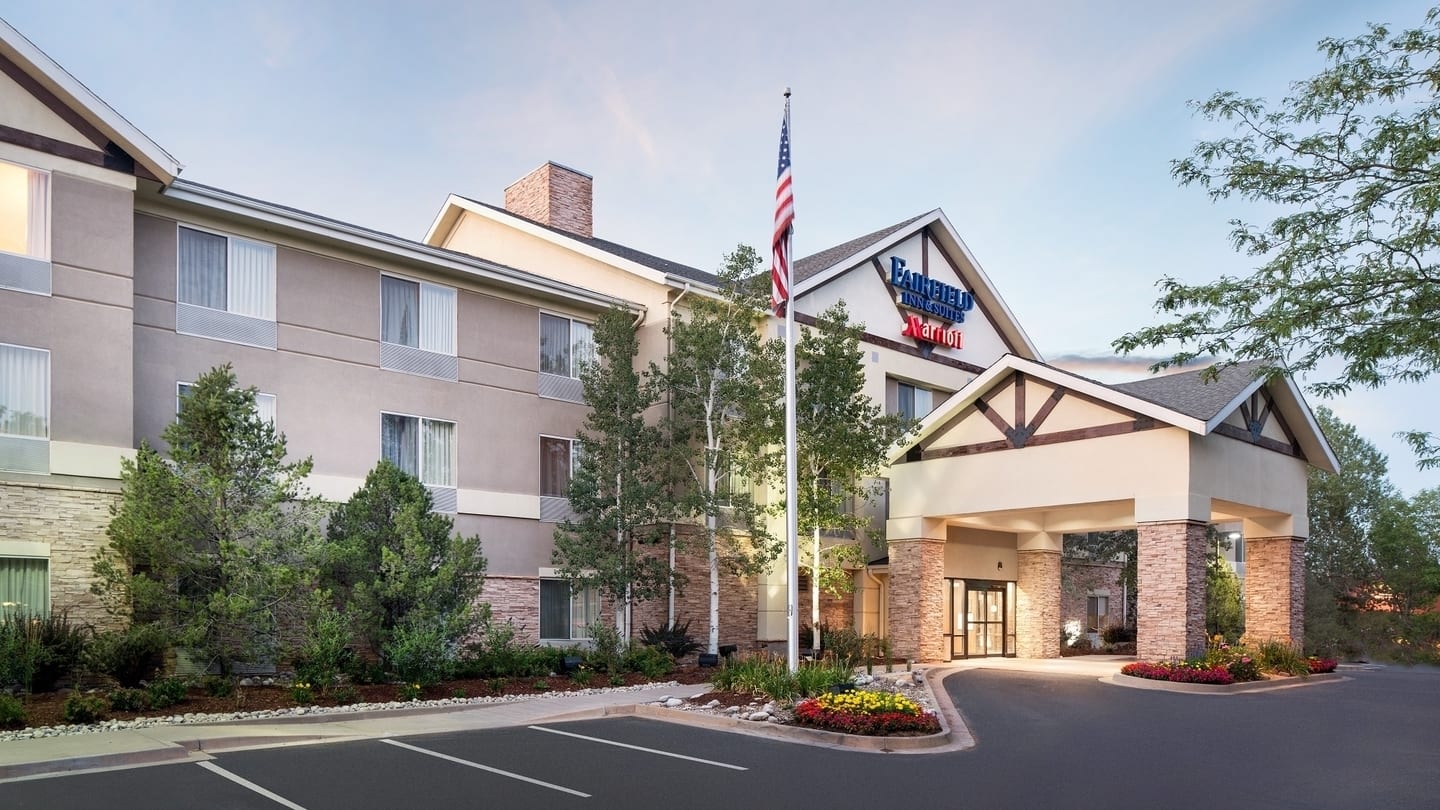 Fairfield Inn & Suites Loveland Fort Collins is a classy hotel. The decor has more of a streamlined, modern, and professional look. However, this doesn't take away from the comfort of the suites and amenities. With a total of 82 rooms and three floors, this property is a top choice for large groups and conferences.
Fairfield Inn & Suites by Marriott is part of the Marriott franchise, which makes its amenities quite similar to other Marriott hotels. This location is also consistently ranked as one of the Top 100 Fairfield branches.
You'll appreciate the space in the rooms. They have big, comfortable beds, and there's a complete living room area that has a separate TV.
As for dining, they have a local restaurant dinner delivery, BBQ and picnic area, convenience store, grab-and-go breakfast, hot breakfast, and a buffet breakfast. Fairfield Inn & Suites is 50 miles away from the Denver International Airport. However, they have taxi and car rental services for their guests.
Holiday Inn Express Hotel & Suites Loveland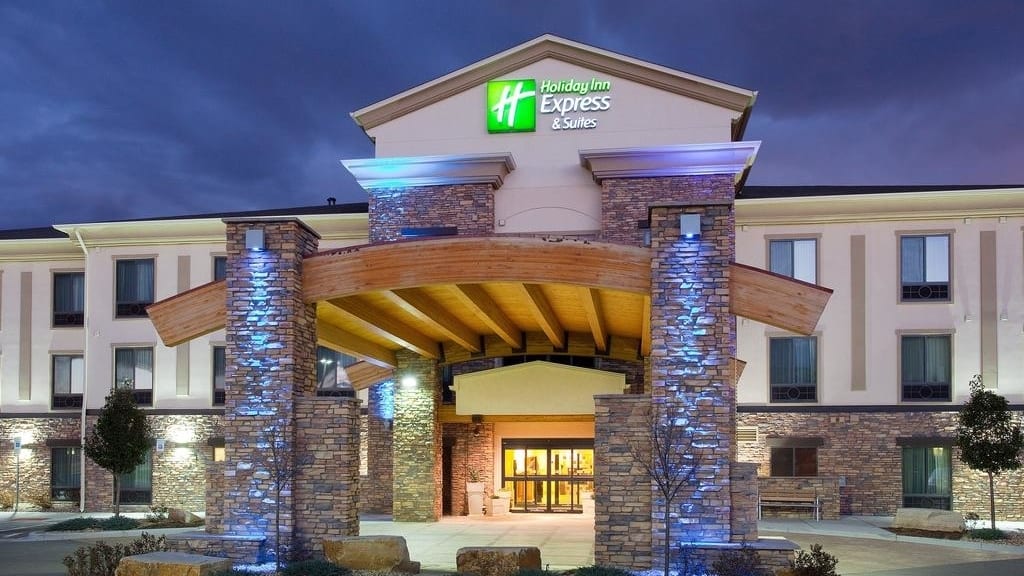 Holiday Inn Express Hotel & Suites is a great option that's located just right off the interstate. The rooms have spectacular views of the mountains and town (depending on the orientation of your room). The hotel has 82 smoke-free rooms, an indoor pool,a  fitness center, and a 24-hour business center.
They also have a laundry service, bilingual staff, and BBQ grills. It's easy to find parking in this location, which would be a bonus if you will continuously be traveling around town.
The Holiday Inn Express is also just minutes away from the major attractions in the town like the Ranch Events Complex, Budweiser Events Center, and the Colorado State University.
Hampton Inn Loveland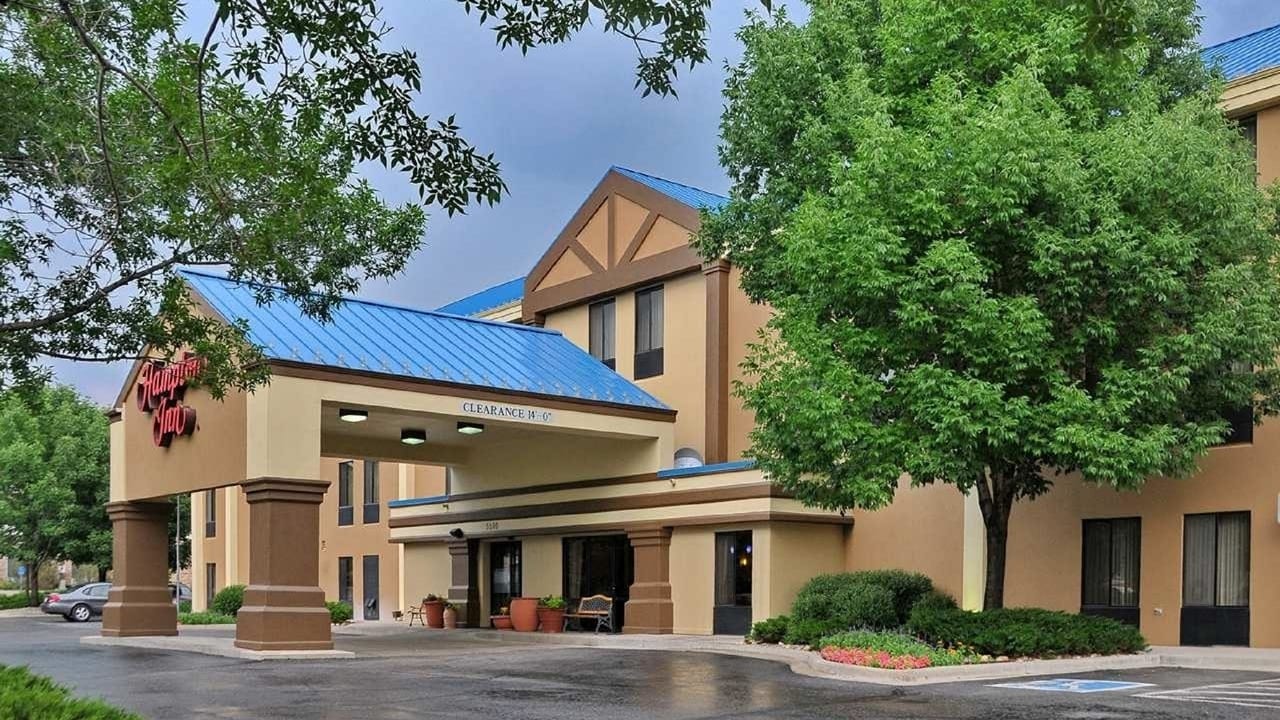 Hampton Inn is ideally situated at the center of the main town's attractions. The interiors are not as grand as a luxury hotel, but the amenities are excellent.  They have 80 rooms, including accessible rooms, a business center, phone service, fax, copier, and printer. There are also cribs and high chairs for families who will be traveling with babies.
The retro decor is also reflective of Loveland and its community. Though the Hampton Inn franchise has a unified approach to hospitality, they add these tiny details to make the property more in tune with the local town.
The hotel's continental breakfast is also fantastic since they are freshly cooked. The variety of choices may also be a surprise since there's far more than your basic muffins.
The other noteworthy detail of Hampton Inn is its membership and its app. The app allows members to book online and inform the local staff of any requirements for their stay.
My Place Hotel Loveland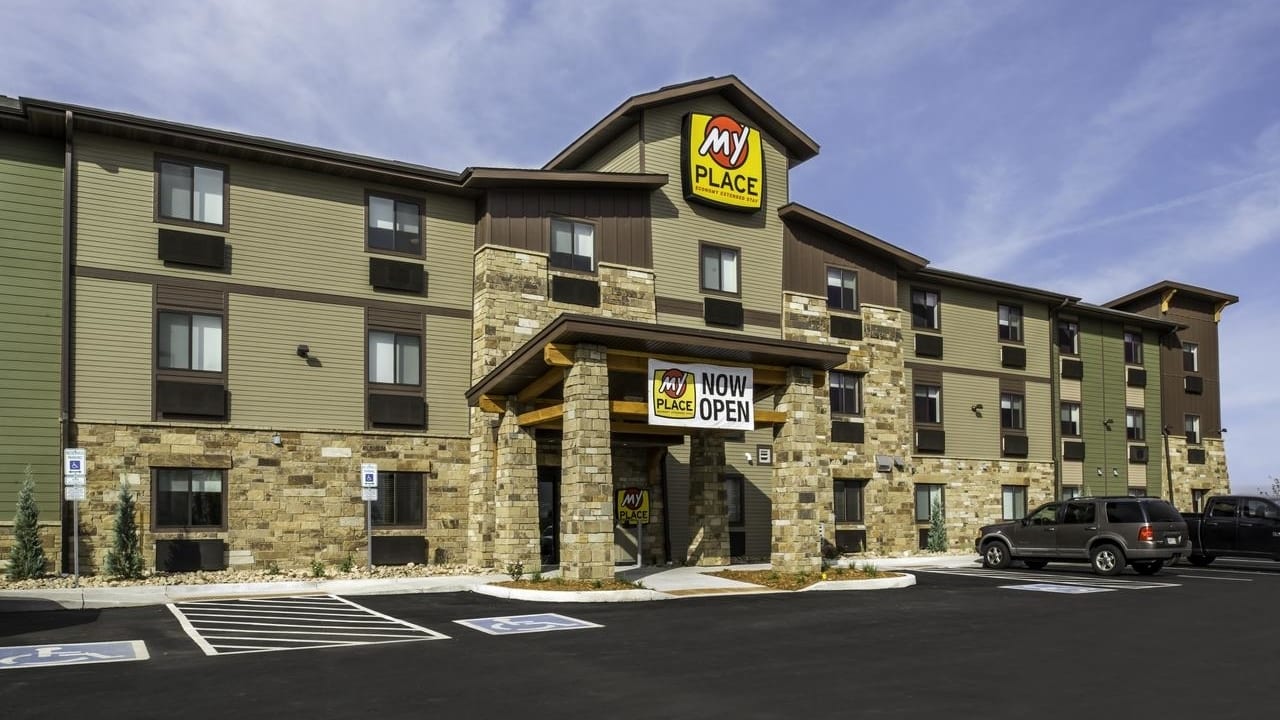 My Place Hotel Loveland is the type of hotel accommodation that suits budget-friendly travelers. If you're visiting Loveland for a conference, a special event, or just to tour the town, this is an excellent place to stay.
It's close to the center of the town, so you'll have convenient access to the area's attractions. The rooms are spacious enough, and they have top mattresses, microfiber bedding, and options for soft or firm pillows.
My Place Hotel also has the "My Kitchen" feature for those staying in longer. This way it feels like you're staying in a serviced apartment. The kitchen includes a full-sized refrigerator, burner cooktop, and microwave.
And just in case you don't want to go down to the restaurant to enjoy a continental breakfast, the staff can bring you breakfast in bed. My Place Hotel is a budget-friendly hotel, but its friendly staff, clean rooms, and location are what make this a special place to look into when you're in Loveland.
Residence Inn Loveland Fort Collins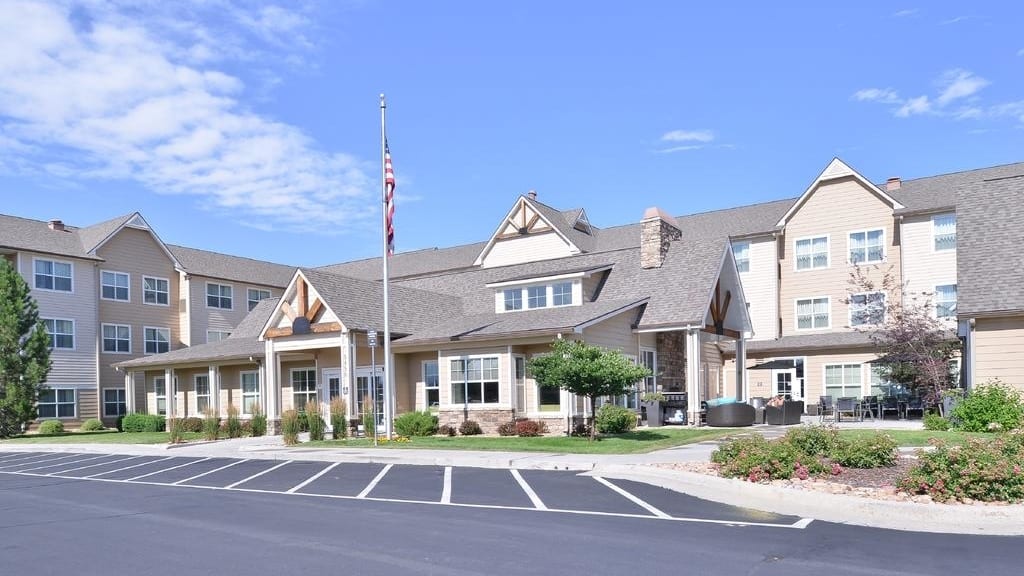 Another Marriott accommodation, the Residence Inn Loveland Fort Collins is a reliable and upscale option. The facade is a reflection of traditional American architecture.
The ceilings are quite high, so you can feel the airiness of the lobby, which is comfortable and spacious. This is great if you'll be meeting with business partners or with local friends. Though it has touches of modern interiors, the fireplace and the brick designs still bring you back home.
The hotel has a heated indoor pool and whirlpool as well as a complimentary breakfast buffet. They also have a sports court, fitness center, and laundry area. The entire property was designed to make you feel right at home.
If you are a Marriot member, you will also receive 5x points for staying here. Lastly, Residence Inn is a recommended local hotel for special events and weddings.
Sylvan Dale Guest Ranch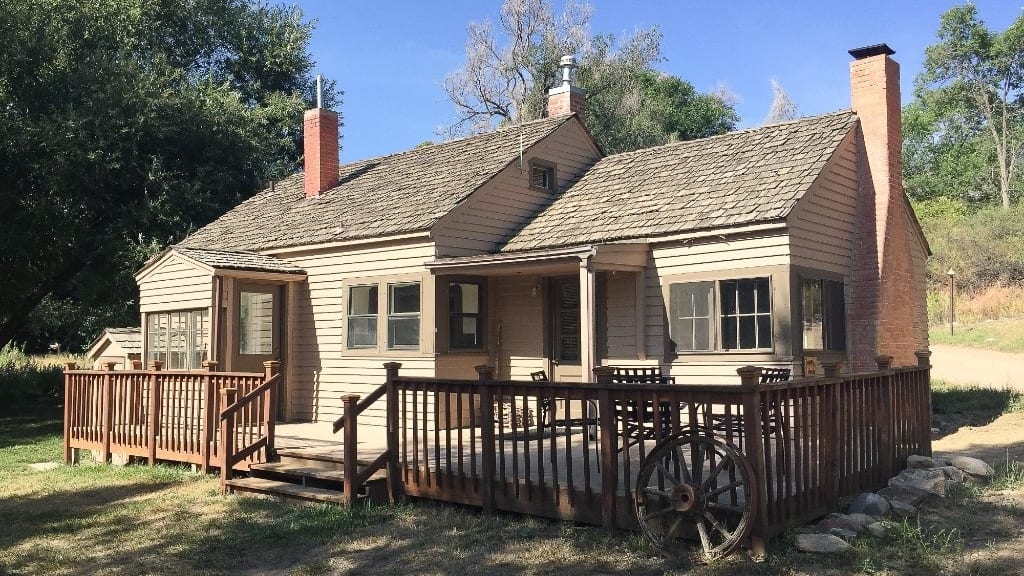 Sylvan Dale Guest Ranch offers a unique experience. Having a strong history in Loveland, the ranch is known to most locals.
Sylvan Dale was initially a small cattle ranch at the mouth of the Big Thompson River. By 1929, it was sold to a Christian school. However, when the depression came in the 1930s, it was closed. Sylvan Dale decided to lease out the property as a youth camp, and this is where the ranch's history began.
It was passed on to Maurice Jessup who further developed the land and expanded its reach from 124 acres to 3,200 acres. Now, Sylvan Dale is offering different types of packages for its guests. They have business retreats, weddings, holidays, trails and riding lessons, and "Dude Ranch Vacations," where everybody can feel like a cowboy.
Sylvan Dale usually has their cabins for B&B stays. They have cabins that are good for two to ten people. The ranch is a recipient of TripAdvisor's Certificate of Excellence.
To enjoy Loveland's roots and natural treasures, Sylvan Dale Ranch is the place to go.
Make Loveland your base with these top hotels and experience the highlights of Northern Colorado. It features unique attractions for each time of the year.