Tucked away on the south side of Highway 70, 12 miles east of the Eisenhower Tunnel, Georgetown is a quaint gem with several top hotels and accommodations. Because of its distance of 45 minutes from downtown Denver, it makes a great lunching-off point and an escape for a night in the Rockies.
Explore Clear Creek County's rich culture and history. From humble beginnings, Georgetown has grown from a simple mining barracks to a vibrant multi-cultured town! Explore the different historical sites and museums and taste exclusive delicacies like the breakfast burrito at Mountainbuzz Cafe & Pizzeria or the pho at Pho Bay.
Georgetown has a lot to offer and if you're planning your stay, here's a curated rundown of cozy accommodations.
Probably Georgetown's Top Places To Stay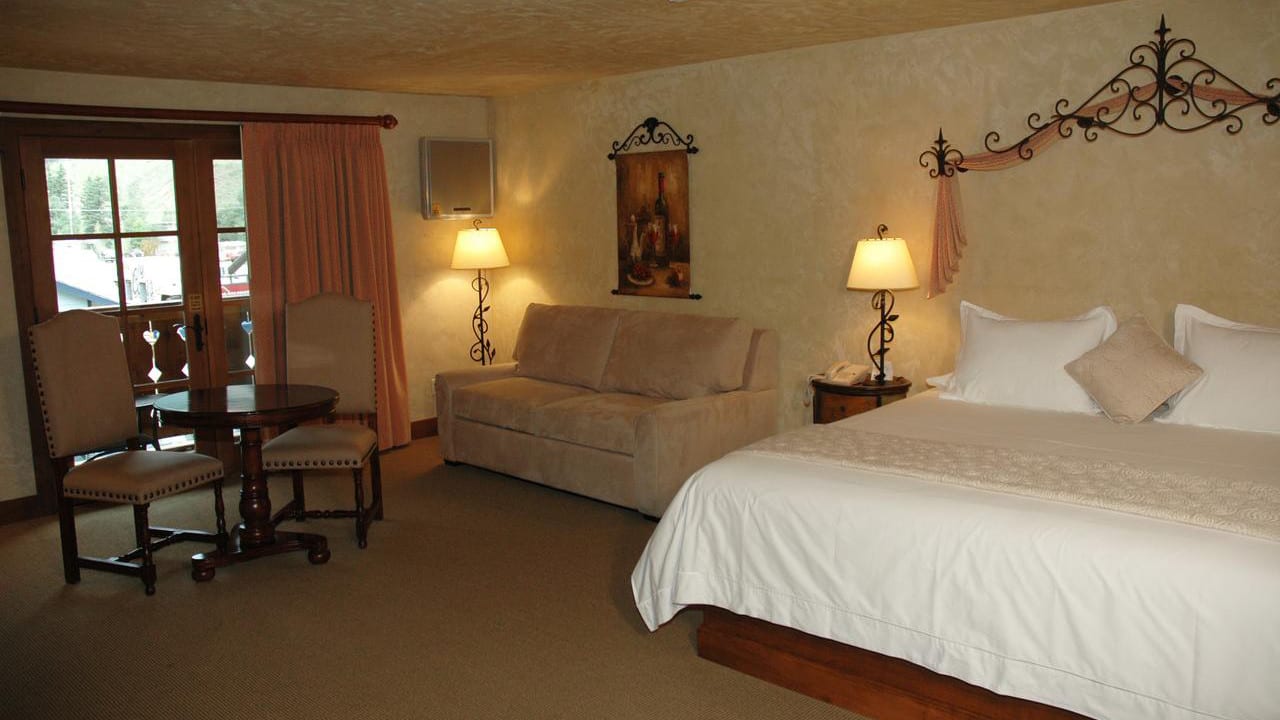 Summer is a special time in Georgetown. The streets are filled with tourism from the Georgetown Loop Railroad a fascinating roundtrip train ride to Silver Plume, with an optional tour of a historic mine.
The town's other biggest attraction is probably Guanella Pass. This scenic byway connects Georgetown to the south with Highway 285 at Grant, right before Kenosha Pass. It's a beautiful drive spring, summer, or fall, and weather permitting in the winter. Dispersed camping and campgrounds, as well as big-time hikes up 14,065-foot Mount Bierstadt.
Situated directly in town, Georgetown lake offers year-round recreation, with a surprising amount of ice fishing in the winter. Loveland Ski Area is situated just 12 miles west of town, providing 1600 acres of outstanding terrain.
There's no shortage of things to do and lodging to choose from. Whether you're looking for a budget hotel or a luxurious staycation experience, these top hotels will make your Georgetown stay all the more memorable.
This section contains referral links. If you click through and take action, we may receive a commission, at no additional cost to you. 
Here are our choices for the top hotels in Georgetown, CO, in no particular order:
Hotel Chateau Chamonix – European elegance in historic district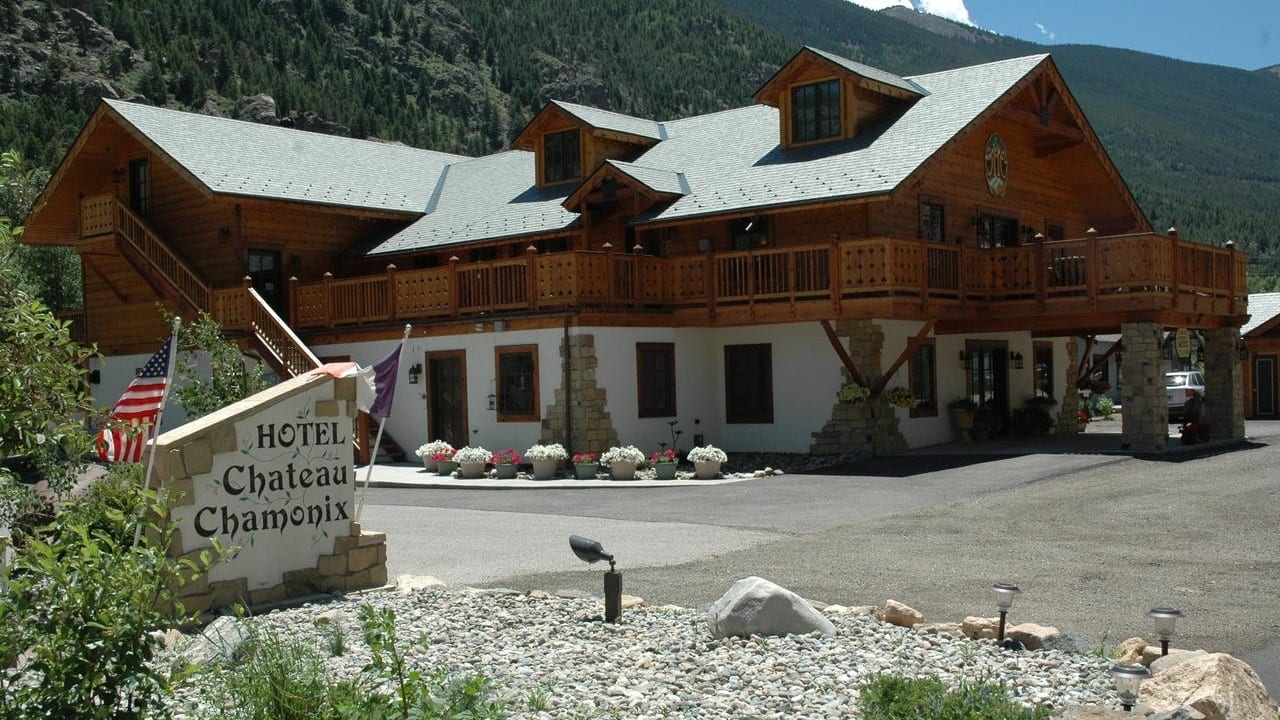 Experience the majestic luxury at Hotel Chateau Chamonix and enjoy the winter in front of the inn's fireplace. Since the interiors are quirky and non-traditional, you would be pleased to see their eccentric front desk. Simple, but commanding. The common rooms are relaxing and filled with antiques and art.
The 2-level property has Georgian-inspired decors that are reminiscent of the European taste. Coming from the road, if you're staying during the winter, you'd be welcomed by the white mountain backdrop and the gorgeous stream by the hotel. You will also be greeted with a cheeky glass of wine upon check-in, and you can request for your breakfast to be delivered to your room.
You can choose from the first-floor or second-floor suites. The first-floor suites have their own 2-person private hot tubs, while the rooms upstairs share a shared hot tub, but they have their own private decks which feature fantastic views.
Though it's located a little far from downtown Georgetown, you will still be minutes away from the shopping district where you can visit the Aspen Creek Gifts, Buckskin Trading Company, Georgetown Rock Shop[, Kneisel & Anderson, and the Sophie Gallery.
Georgetown Mountain Inn – ultimate country accommodation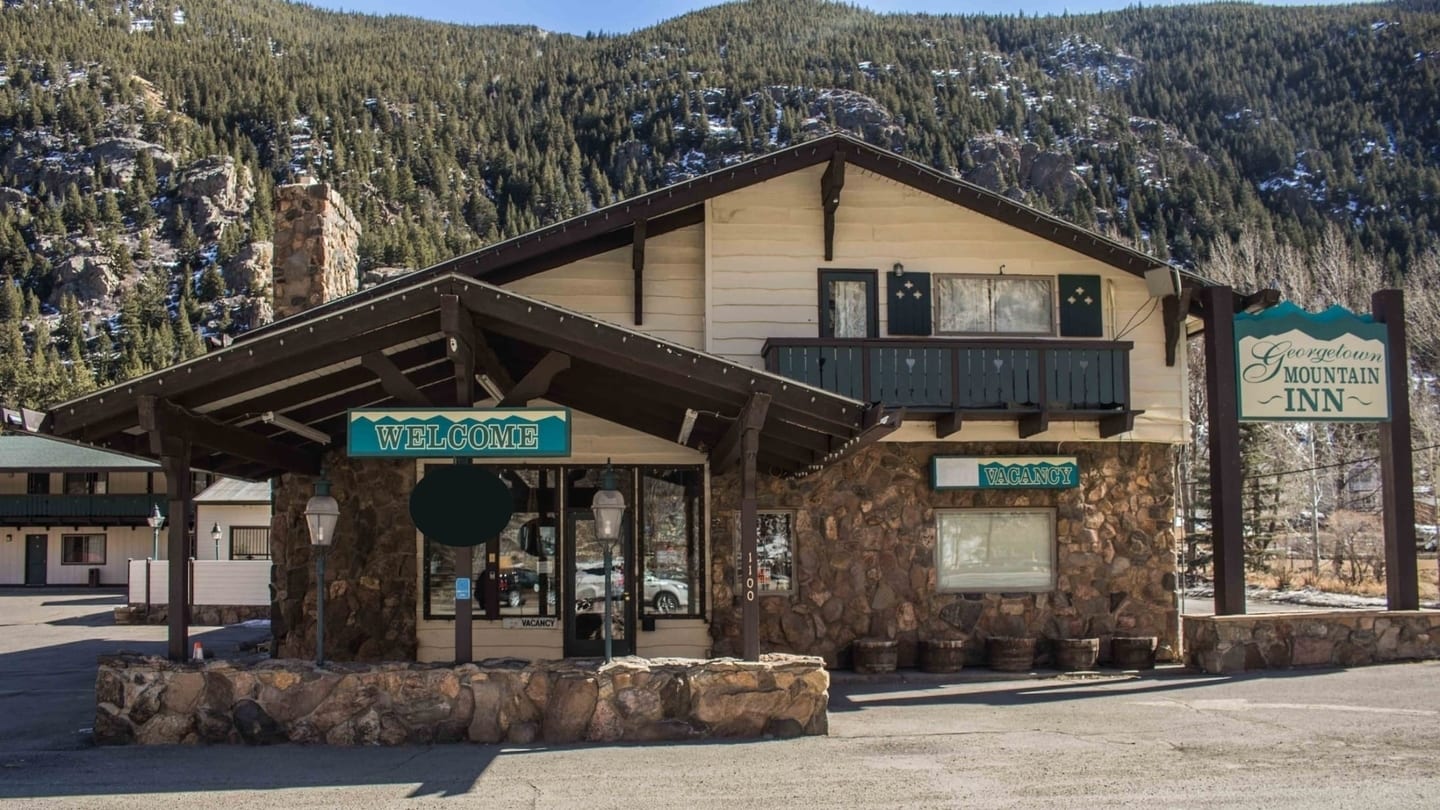 Georgetown Mountain Inn is a known destination in town. Being in business for the past few decades, this inn has become a bedrock of the town's tourism. The inn encourages families and big groups to stay because they have amenities and rooms that can accommodate these types of parties.
The cozy, inviting, and rustic accommodations offer you six different types of rooms: Colorado-style rooms, Log rooms, Guest Suite, Antique Room, Wheel Chair Accessible Room, and the Standard Room. Each room will have complimentary WiFi access, satellite TV, housekeeping, and a local phone line.
All-in-all, the inn has this relaxing alpine atmosphere, which is excellent in any season. Though it has a rustic feel in it, they have hotel-type amenities that will keep you occupied during your stay. Georgetown Mountain Inn has a heated indoor pool and hot tub.
If you just want to sit back and relax and forget about the hustle of city life, then this rare Georgetown gem is a must-see.
Rose Street Bed & Breakfast – historic b&b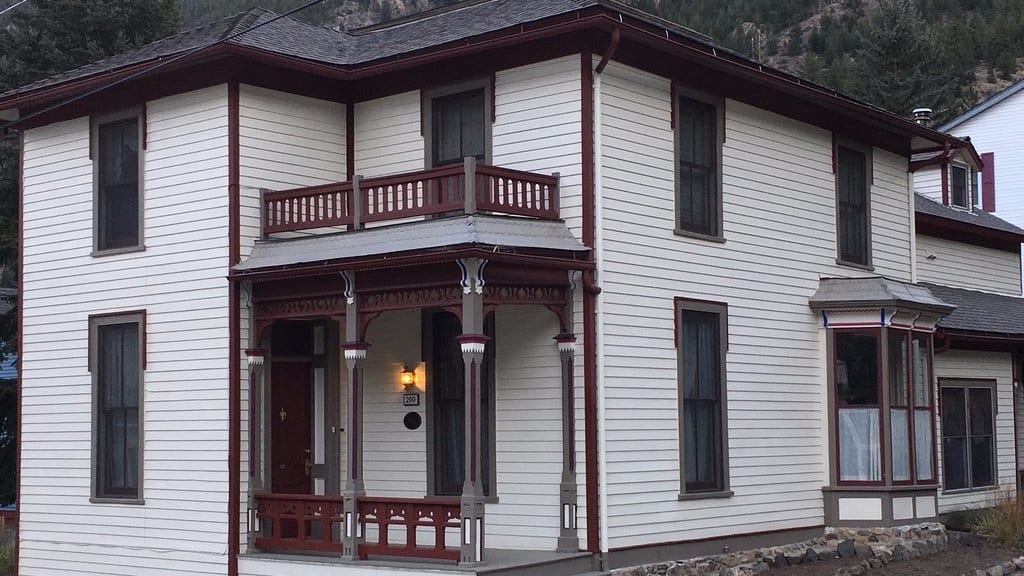 Since Georgetown is rich in culture and history, it's normal to see centuries-old properties still alive and preserved up to this date. One of those properties is the Rose Street Bed & Breakfast.
Located in this high county of Colorado, Rose Street B&B was built in 1882 at an elevation of 8590 ft. It sits at the heart of Georgetown's National Historic Landmark District. You can walk about around town to reach authentic Georgetown shops, restaurants, parks, and museums.
The property, though it only has four suites, is massive. The management even advises guests to be on the lookout for deers roaming around the property's backyard. Wildlife is abundant in Georgetown, and you can capture them at home just a couple of meters away from you!
This unique experience will give you something to keep forever. They have an amazing full-service breakfast that includes homemade bread and a rotating menu (which you will appreciate if you're staying in longer). At the same time, they have this lux spa bath experience that will make you feel pampered.
In the afternoon, treat yourself to Rose Street's afternoon treats; quiet library time, or a separate room in front of the fireplace as you enjoy a chef's choice variety of snacks and hot beverages. Check out Rose Street and book weeks or months in advance because this is an in-demand accommodation in town.
Horstmann Bed & Breakfast – relaxation destination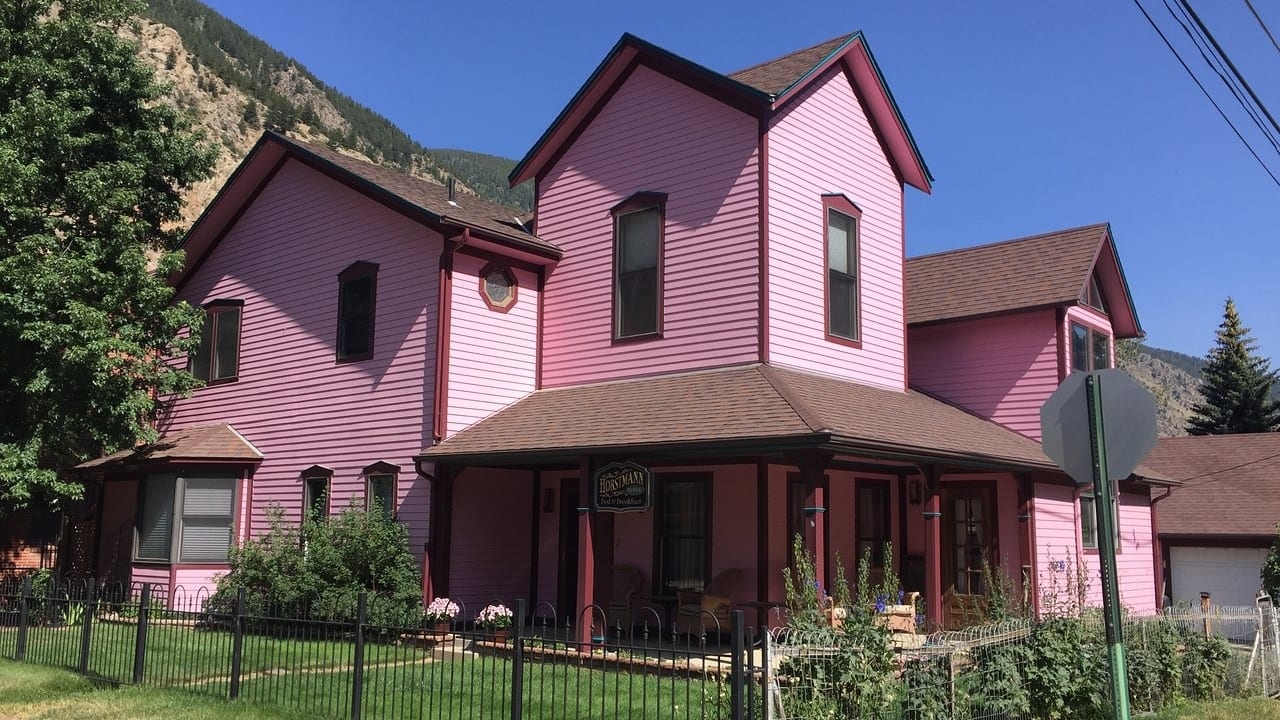 Nowadays, B&Bs have become more popular than hotel stays. In Georgetown, there are probably many homeowners who now lease out their houses or rooms for a quick bed and breakfast stay. However, this quaint gem is a part of historic Georgetown.
Visiting Horstmann Bed and Breakfast at any season would bring you different experiences. During summer, the lush greens of the front yard would make you feel like you're staying in a dream home. During winter, the white, flush snow around the house would make you feel like you're back in the old mining era of Georgetown.
Horstmann B&B is run by the family, and you will most likely be greeted by them when you arrive. George and Rita are experts when it comes to hospitality, bringing in their personal touch in every interaction.
The rooms are terrific, and as one previous guest has noted, the decor, cleanliness, and comfort can even match that of the Ritz. If you're new to town, what more can you ask than the proprietors personally giving you the hidden gems to explore in Georgetown?
From skiing during winter, to local shopping and spa experiences, discover the historic community of Georgetown. Thanks for checking out our list top hotels in Clear Creek County.