Carbondale is a wonderful town filled with a lively arts and culture center. It's also known for its booming agri-tourism.
With about 200 creative organizations, businesses, artists, and artisans, the town has created a collective known as the Carbondale Creative District where people can collaborate and explore local artistry. Check out the local theaters and museums for exciting plays and art displays.
If you're up to explore the country lifestyle in Carbondale, check out their farms and ranches. Cedar Ridge Ranch and Sustainable Settings both offer tours and educational lectures open to all visitors.
Of course, Carbondale wouldn't be as exciting if not for their local shopping district. Visit the town's historic downtown where you'll find artisan clothing stores, vintage home furnishings, flower, and gift shops. They also have specialty stores for those who are exploring the town's nature-filled activities. They have bike shops, ski, snowboard, skate, and trail running shop!
Carbondale is filled with various activities that everyone can enjoy! You can go fishing at the Roaring Fork River, one of Colorado's most beautiful trout fishing river. You can also check out the fantastic 18-hole golf courses in Carbondale, including the Ironbridge Golf Course. On the other hand, if you're up to get ultimate relaxation and pampering, check out the amazing natural hot springs in town like the Penny Hot Springs and the Avalanche Hot Springs! So, to prepare for your trip, here are the most beautiful accommodation in Carbondale!
Probably Carbondale's Best Hotel Accommodations
This section contains referral links. If you click through and take action, we may receive a commission, at no additional cost to you. Rates listed below are subject to change.
Here are our choices for the top hotels in Carbondale, in no particular order:
Comfort Inn & Suites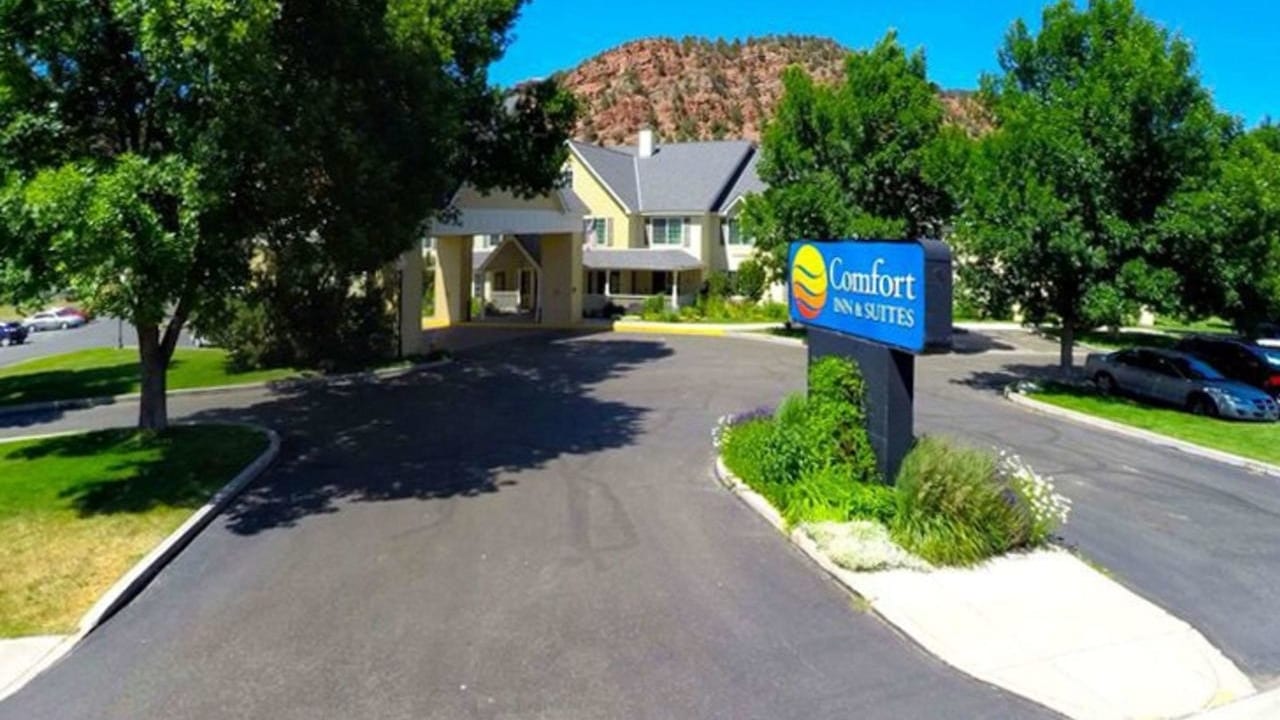 Carbondale is a beautiful town filled with fun events and activities all year round! If you're looking for accommodation that'll help you have the most memorable trip, Comfort Inn & Suites is a perfect choice!
The hotel is nestled away from the hustle and bustle of downtown Carbondale and sits right beside the valley. The privacy and quiet are one of the most attractive features of this property. Because of its location, the hotel allows you to explore great Western Colorado outdoors without having to sacrifice your access to the new shops and restaurants in town.
This premier hotel is currently ranked as the top hotel (according to *Tripadvisor*) in Carbondale. Just within the hotel's surrounding areas, you'd get to enjoy outdoor activities like walking trails and biking – perfect for that morning run with your dog!
Comfort Inn & Suites has a total of 76 beautiful guest rooms and suites outfitted with modern amenities the enhance the comfort of your stay. Their suites have amenities like a microwave, refrigerator, cable TV, work desk, coffee maker, and complimentary WiFi. The beauty of this property is that it's not a high-rise accommodation. This may sound like a letdown, but by building low (2 levels), they do not damage the views of the mountains the surrounding forests. Each guest room will have access to unique nature views around the hotel.
For a nature-inspired, comfort accommodation, choose Carbondale's Comfort Inn & Suites!
Days Inn by Wyndham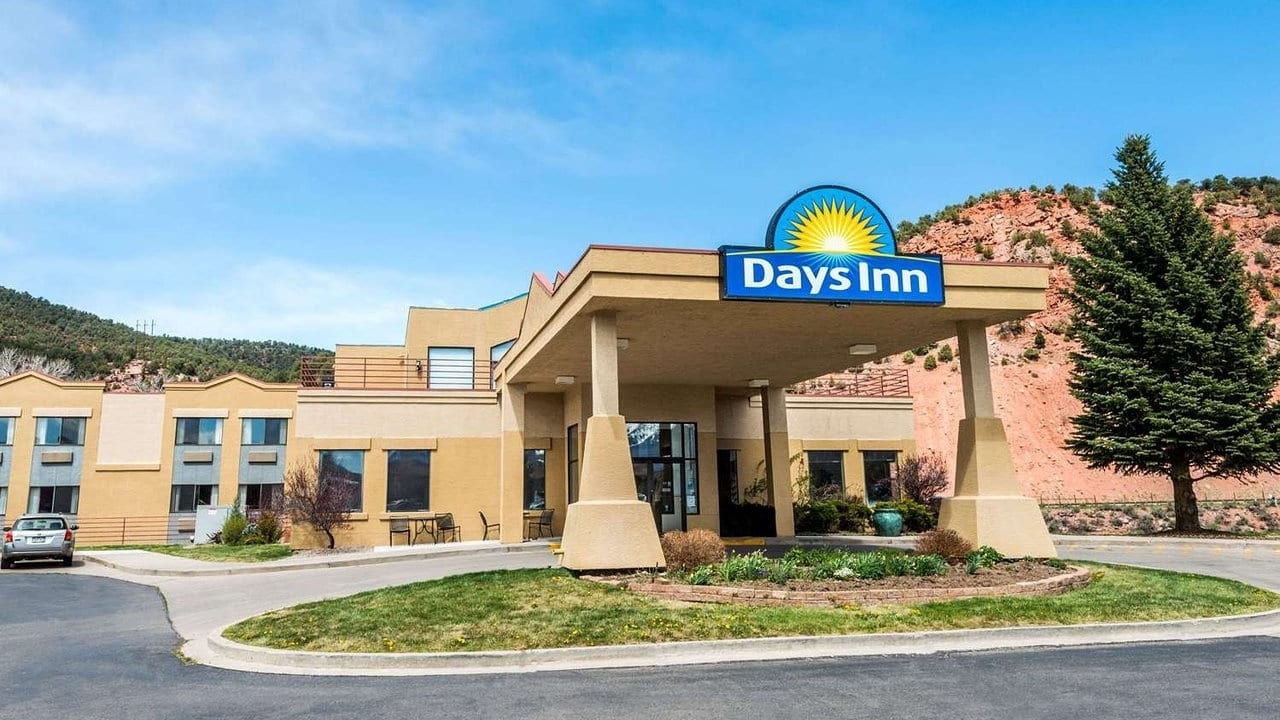 For the best value hotel, check out Days Inn. This Carbondale hotel is known for its outstanding customer service and comfort beds. Just like the previous hotel accommodation, this property has a semi-remote location. It's relatively smaller, but the perks of the amenities and the privacy are quite the same.
Coming in at Days Inn, you'd be welcomed by the beautiful valley backdrop as well as the views of the surrounding forest. The most talked-about feature of this hotel is the indoor pool and hot tubs. They beautifully designed pool recreation area with high ceilings where the natural light comes in during the day. This makes the whole experience all the more enjoyable.
The hotel also has other amenities like the gym, a business center,  a self-serve laundry, and 24-hour reception area.
The rooms are also filled with basic amenities you'd need for your stay, including private bathrooms, drawers for your things, TV, and an ergonomic desk. If you want to stretch your legs and get that fresh air, their outdoor dining is a beautiful place just to sit back and relax while basking in the natural beauty of Carbondale's wildlife.
Marble Distilling Co. & The Distillery Inn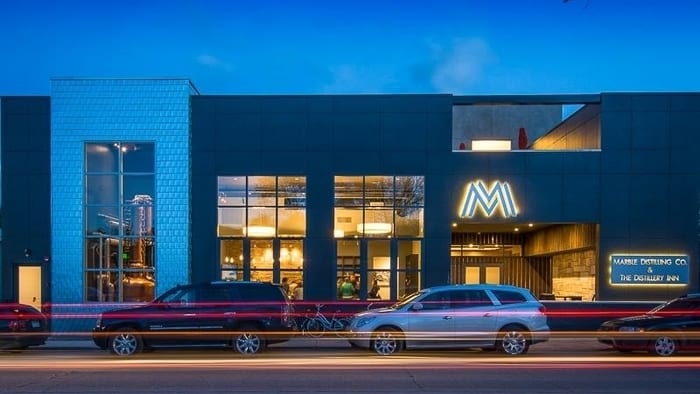 If you're looking for an extravagant accommodation in Carbondale, explore your options at the Marble Distilling Co. & The Distillery Inn.
Just a couple of minutes away from Aspen, this beautiful eco distillery is opening its doors for tours and guests. The entire property is an actual craft distillery and boutique luxury inn located at the heart of Carbondale.
The brand is focused on handcrafted spirits and sustainability lifestyle. Their products feature all-natural Colorado grains and spirits that came from the Pure Crystal River Water. People from across town as well as tourists visit their popular Marble Bar all throughout the day. It's a fun place to enjoy the day and socialize. They feature a variety of artisanal drinks as well as their custom Marble trademark spirits. It's also an entertainment hub where they feature live music, comedy, karaoke, and trivia nights!
On the other hand, if you want an elevated experience, dine and drink at their Marble Bar Aspen, a concept and tasting room. Here, you get to enjoy their beautiful lounge areas,  socialize, and get entertained with their weekly events.
As for the central accommodation, they only have five suites. The suites have a luxurious eco-design with a blend of greens, hardwood tones, and leather. The suites are also equipped with a custom kitchenette, refrigerator, mini-bar, gourmet coffee maker, en suite spa bathrooms and rain shower, TV, sleeper sofas, as well as king-sized beds with Fili D'Oro Italian linens.
Enjoy the beauty of Carbondale's nature as you look out from the room's balcony. At night, you can enjoy the warmth of the fireplace, too. You will also get complimentary organic bath amenities by Colorado-based Ranch Organics & Carbondale's very own Osmia Organics.
To top off your experience, in case you have a Tesla, Marble Distillery Inn also has a private parking lot with two Tesla Charging Stations. For boutique elegance in Carbondale, book at the Marble Distillery Inn.
Carbondale / Crystal River KOA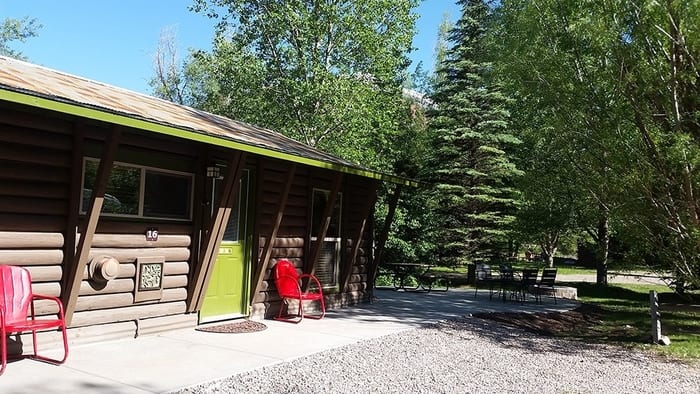 On the other hand, if you're up for a cabin experience, check out the Carbondale/Crystal River KOA. This puts you in closer access to nature.
Formerly known as the BRB Crystal River Resort Cabins and RV Park, the renovated property now features 13 authentic old-west log cabins. What's exciting about this property is that you'll have access to a ton of activities within the entire KOA. Instead of planning a dizzying itinerary, jumping from one place to another, Carbondale/Crystal River KOA allows you to get the best outdoor experience in town without having to drive all over town.
Just minutes away from the cabin, you can already enjoy outdoor activities like fishing, skiing, trail hiking, and horseback riding. They also have jeep tours and fly-fishing activities.
The authentic log cabins are also very comfortable. Depending on the cabin you would book, each accommodation will have a full sofa, bar area, dining table, TV, full kitchen, outdoor patio, fireplace, refrigerator, and AC. Some cabins would have bunk beds, while others would have king-beds. There are also configurations for a one-bedroom cabin and bigger ones with two bedrooms.
Dandelion Inn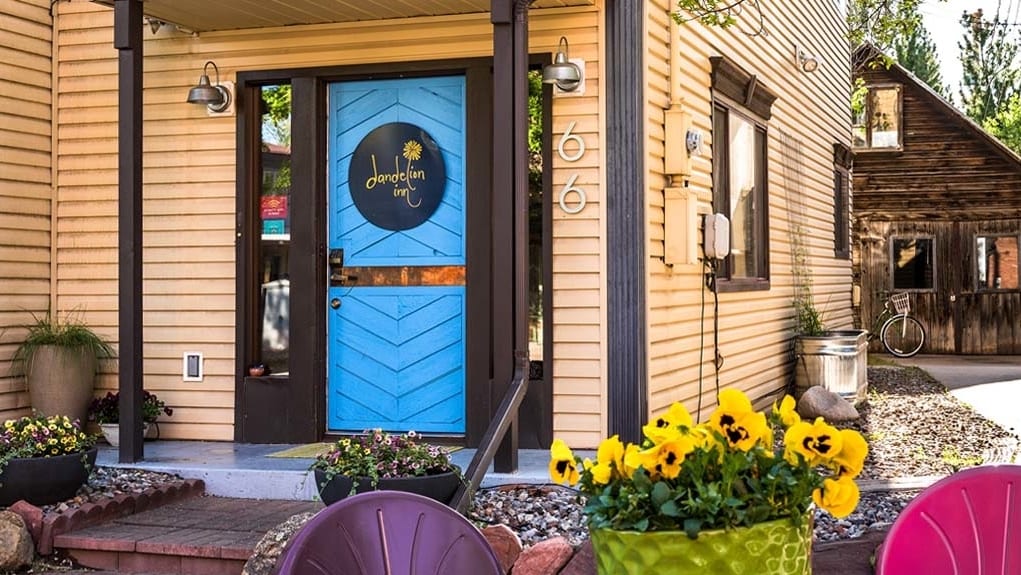 If you're up for a charming house retreat that offers you a look at the authentic Carbondale local suburban lifestyle, check out Dandelion Inn.
This humble abode resides in the middle of Carbondale's exciting town. It's near local dining attractions like the Fatbelly Burgers, Village Smithy, and Phat Thai (in case you want to explore the town's exciting cuisine).
Owned by Kelley and Jon Amdur, this remodeled inn focuses on design, good food, and luxurious beds. The couple wanted to create a place where people can feel light and relaxed. They have multiple types of accommodation that fit any kind of traveler. They have the Downstairs Queen, Upstairs Queen, Bunk room, Upstairs Suite, the Condo, and the Whole House.
Each room has its own dining table, private bath, beautiful outdoor views, high ceilings, and beautiful pieces of furniture. This is one of the most comfortable accommodations in town, not only because the beds are very fluffy, but because the whole place just speaks home.
For a casual, lively, and memorable Carbondale stay, check out Dandelion Inn today!