Less than five hours west of Colorado's capital city lies the outdoorsy, Western Slope city of Grand Junction. As the county seat of Mesa County, GJ has its fair share of cool hotels and overnight accommodations.
At 4,583 feet in elevation, it's lower than Denver's mile-high status, which results in slightly warmer days. And possibly longer evening sunlight on the west side. It's a year-round type of town, with recreation for all four seasons. You can definitely take on winter in GJ, and explore nearby gems like the Grand Mesa Byway after your morning ski turns at Powderhorn Mountain.
Probably Grand Junction's Top Places to Stay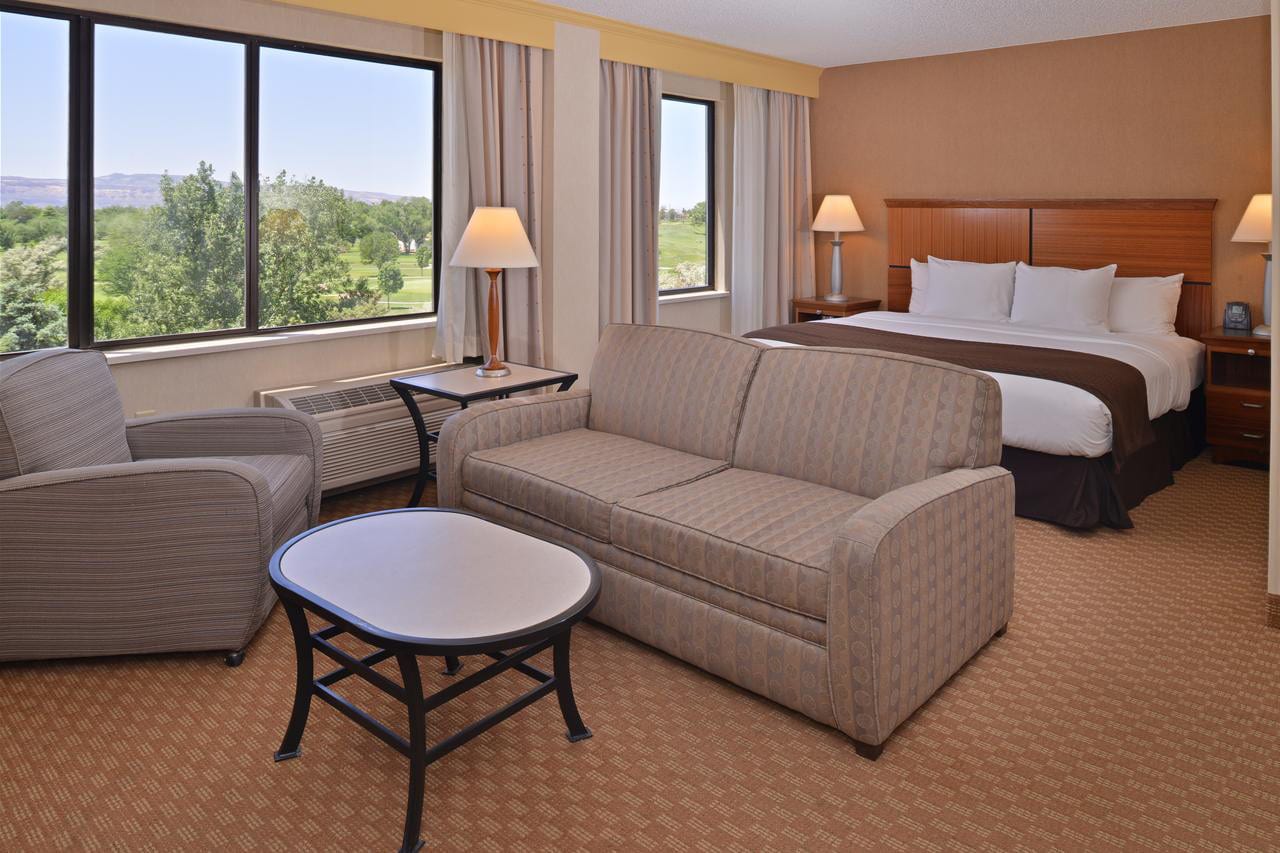 Even with the winter gems, most people head to the Western Slope to explore the unique mesas and red rocks of the region during summer. Among the most visited attractions is the CO National Monument, which connects the towns of Grand Junction and Fruita. Rim Rock Drive is a bucket-list scenic drive for sure. It's also a mountain biking mecca.
While Grand Junction does have a lovely downtown area, with a range of shopping, dining, and entertainment over several city blocks, it's also spread out and intermingled with nature. There are upscale hotels that put you within walking distance of the nightlife, or cozy b and b's tucked away from the bustle.
After perusing the list below, consider neighbor Fruita's best hotels, if you're still looking for that perfect Mesa County basecamp.
This section contains referral links. If you click through and take action, we may receive a commission, at no additional cost to you. 
Here are our picks for the top hotels in Grand Junction, CO, in no particular order:
Castle Creek B&B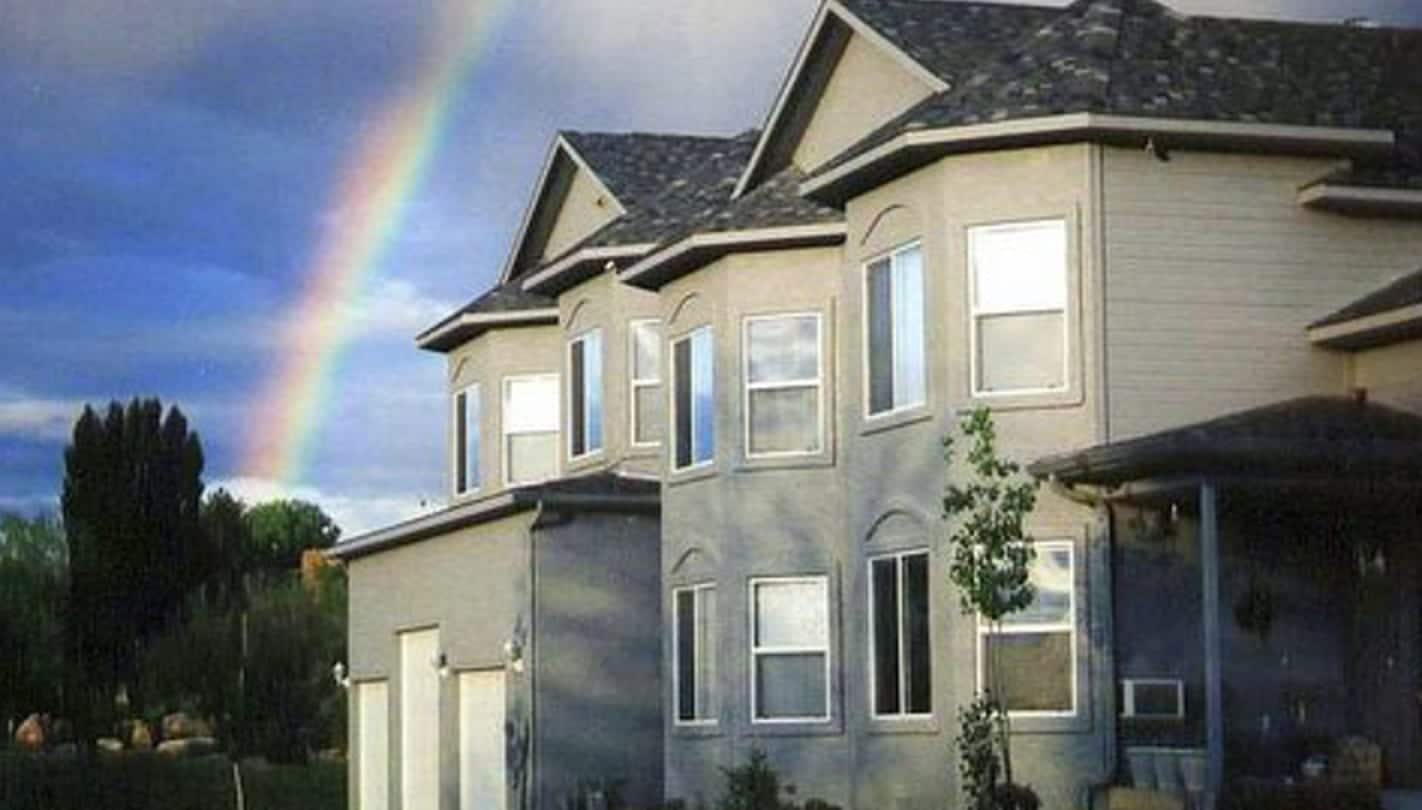 Located in the perfect haven for explorers and adventurers alike in Grand Junction, travelers staying at Castle Creek Bed and Breakfast will never run out of activities to do. From skiing and hiking trails to glamorous wine trails and educational dinosaur digs, this wonderful getaway offers close access to the sights.
Luxurious suites with regular room rates come with a full country breakfast buffet, complete with coffee and house blended tea. The room boasts a two-person jet tub and a 14-foot wide bay window for you to bask in all that western sunshine.
They offer honeymoon and anniversary packages and other various specials. They also do retreat services.
Clarion Inn GJ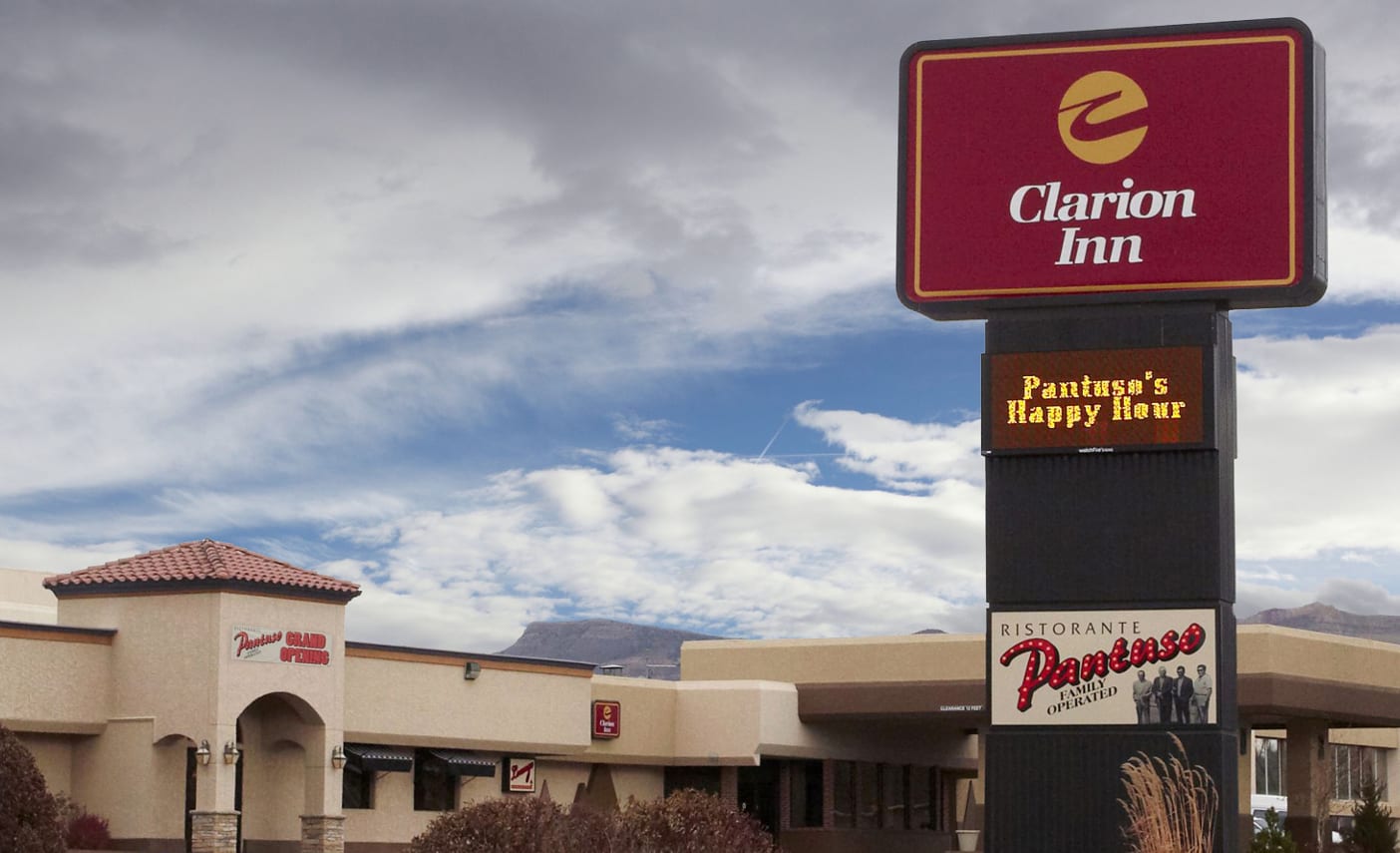 Conveniently located less than a mile away from Grand Junction Regional Airport, Clarion Inn prides itself on its award-winning property and its array of cozy suites. Breakfast is on them with their daily complimentary morning buffet.
They also provide 24hr airport transportation showcases, free high-speed wifi, and an indoor and outdoor pool. To top it all off, the Inn is perfectly located strategically nearby the area's best attractions such as its finest wineries, sprawling golf courses, and best shopping malls.
They are happy to give special discounts to large groups of travelers and sports teams, and with their state-of-the-art facilities, are also a good choice to host meetings and special events.
Holiday Inn Express & Suites GJ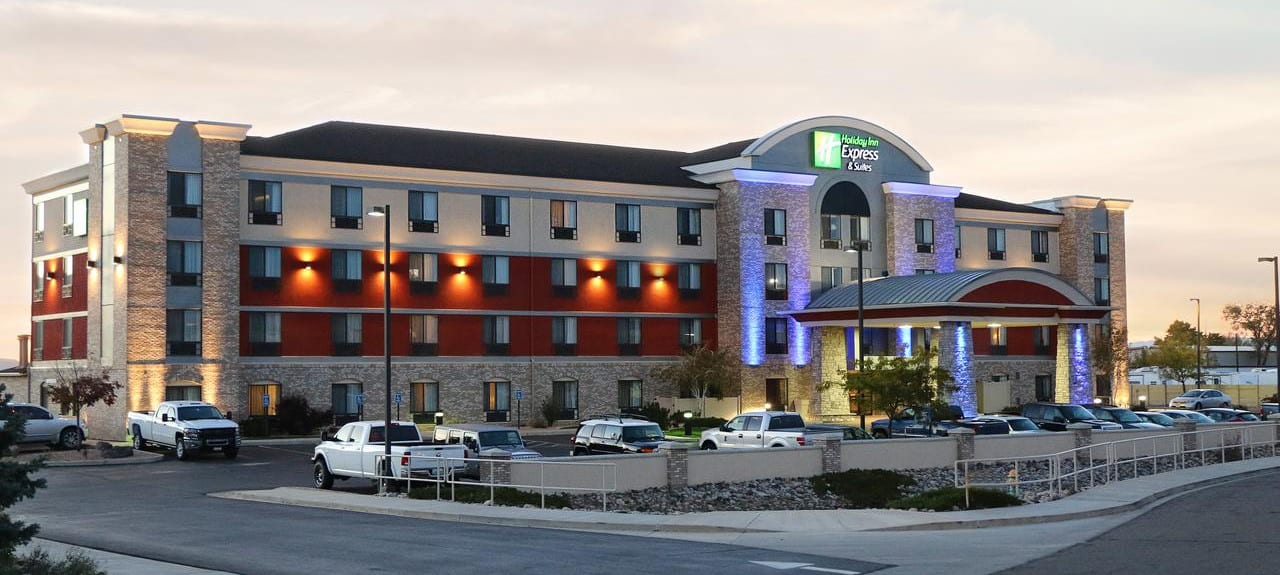 Skiing enthusiasts are in for a treat here at the Holiday Inn with the Powderhorn Ski Slopes only less than 30 miles away. To kick start their day and prepare them for their long adventures up on the slopes, the hotel provides all guests with a complimentary breakfast every morning with a buffet full of a wide array of scrumptious choices.
They pride themselves on being "big on the little things" and provide Wi-Fi access along with in-room coffee and tea services to make each traveler feel right at home.
All rooms come with black-out shades and allergy-sensitive features. Families traveling with toddlers or infants can also request a crib. Their suites also come with cable and HDTV, a two-line phone, and the option of opting for a connecting room.
SpringHill Suites by Marriott Grand Junction Downtown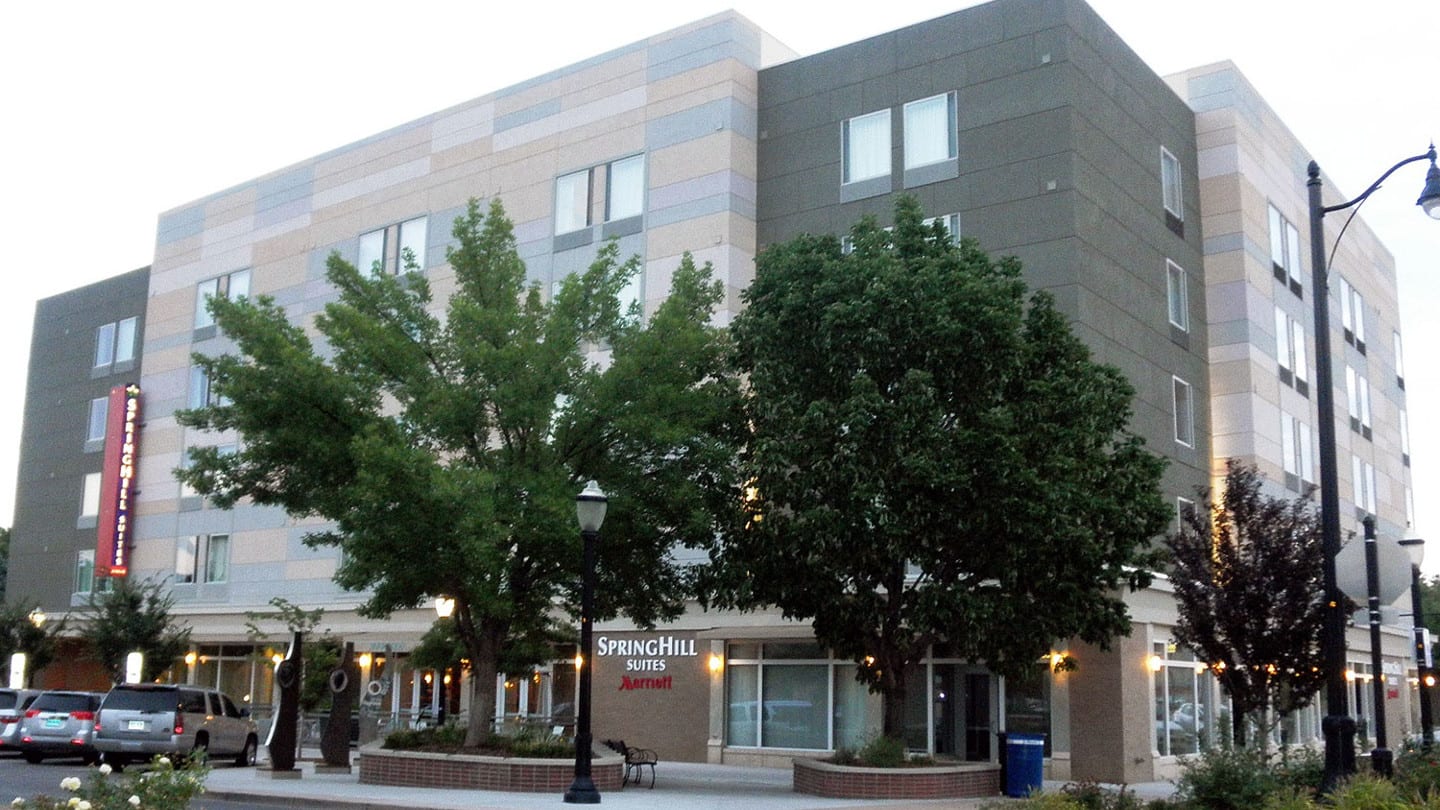 Known for their spacious stylish suites and classy spaces, the SpringHill Suites by Marriott is located in the historic downtown area of Grand Junction right in the heart of its best shops and restaurants. Guests will have access to the area's favorite music venues and museums and will get a better glimpse of the culture and nightlife.
The hotel itself has live music at Marlo's Lounge where guests can unwind while drinking to their heart's delight. They also provide high-speed internet access and complimentary breakfasts.
Guests are also granted access to the hotel's pool and fitness rooms. In addition, they are also given a full pass to their service health club.
Hampton Inn GJ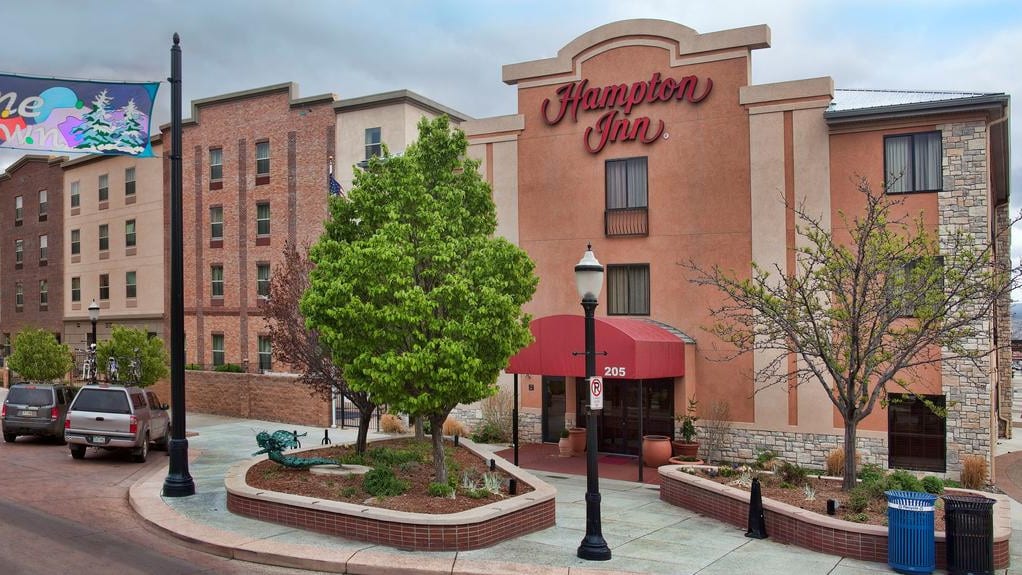 Surrounded by some of Colorado's beautiful natural wonders, the Hampton Inn is situated cozily right at Grand Junction's haven of nature and adventures. With the Colorado National Monument and Colorado River only a few minutes away, guests at the Hampton Inn conveniently have access to raft rides, spectacular hiking trails, fishing, and stunning rock formations.
Being the home of the state's best wineries, guests hoping to spend their holiday with a little more quiet and relaxation can opt for a day of wine tasting. Perhaps sip some vino after a few games at one of Grand Junction's extensive and challenging golf courses.
The Hampton Inn offers beautiful rooms that come with free high-speed internet access, a 37-inch HDTV, and a coffee maker. Guests are also provided gym access and a complimentary breakfast. Travelers who have no time for the early buffet can simply grab one of their free "On the run" breakfast bags.
DoubleTree by Hilton Hotel GJ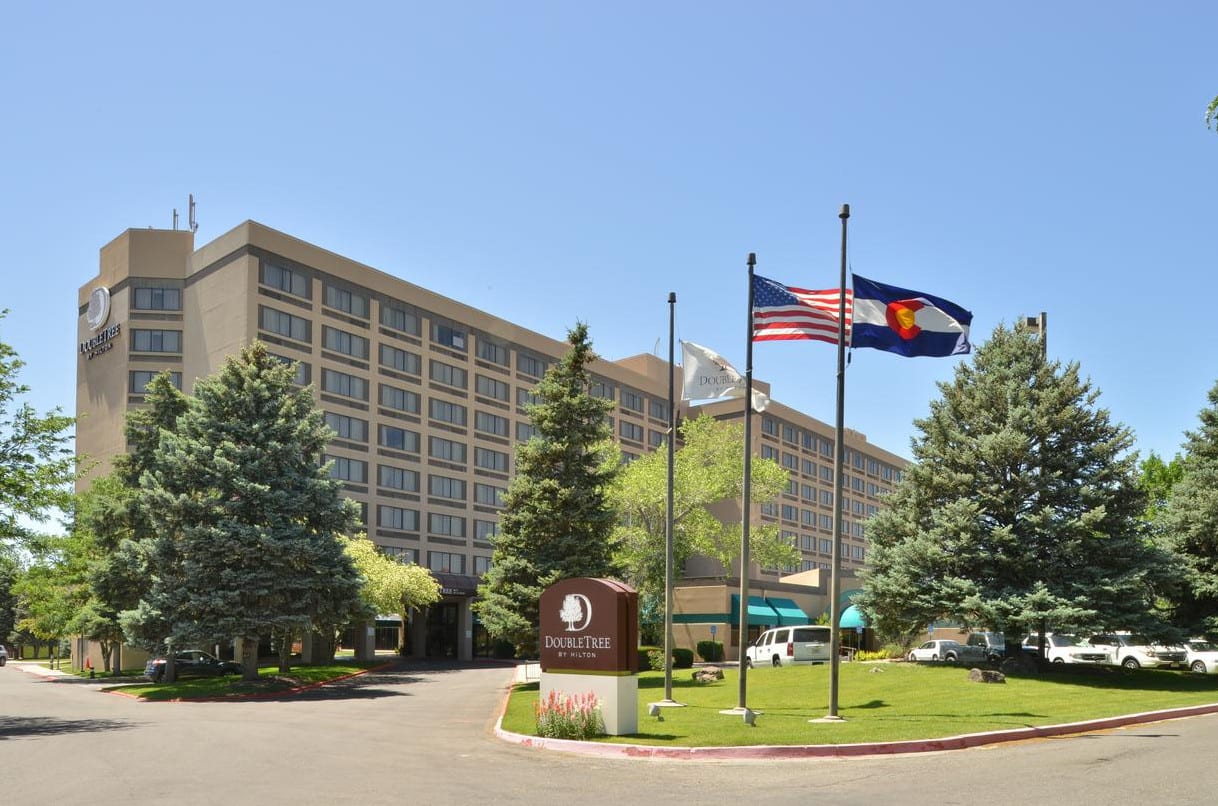 Five minutes away from Grand Junction Regional Airport and situated right in the middle of Colorado Wine Country, the DoubleTree by Hilton boasts spectacular views of the Grand Mesa Plateau. Contemporary and sleek, yet still maintaining that warm inviting aura, this hotel showcases everything fun and the adventurous trip may need.
Their rooms include spacious suites, classic guest rooms, and executive accommodations with two-line phones perfect for the traveling businessman. They also offer recreational facilities such as their seasonal outdoor pool and whirlpool and fitness center.
Guests also have the luxury of dining at their chic Bistro 743, known for serving regional favorites from breakfast all the way to dinner. The DoubleTree also offers events services with their various meeting spaces good for conventions either small or large. They also have a beautiful Grand Ballroom that can accommodate up to 350 guests.
La Quinta Inn & Suites GJ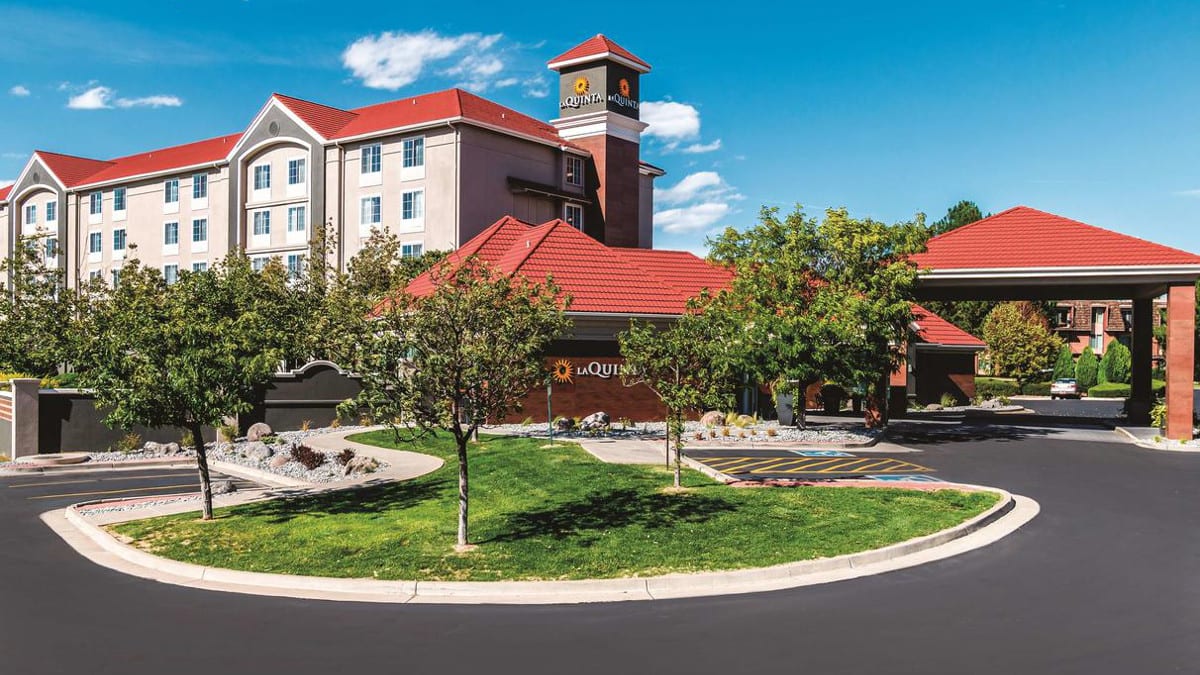 Experience a whole new form of style and elegance at the La Quinta Inn, located just four miles away from downtown and only a mile away from its airport. All rooms come with free high-speed internet access, local calls, and a Bright Side Breakfast. It consists of healthy fruits and yogurt, as well as homemade waffles and delectable breakfast pastries.
Each room comes with a panel TV with 30+ HD channels and a CubieBlue clock that lets you charge all your electronic devices. This hotel is an easy drive to some of Grand Junction's best local attractions such as the Botanical Gardens, the Allen Unique Car Museum, and the Dinosaur Museum.
Candlewood Suites GJ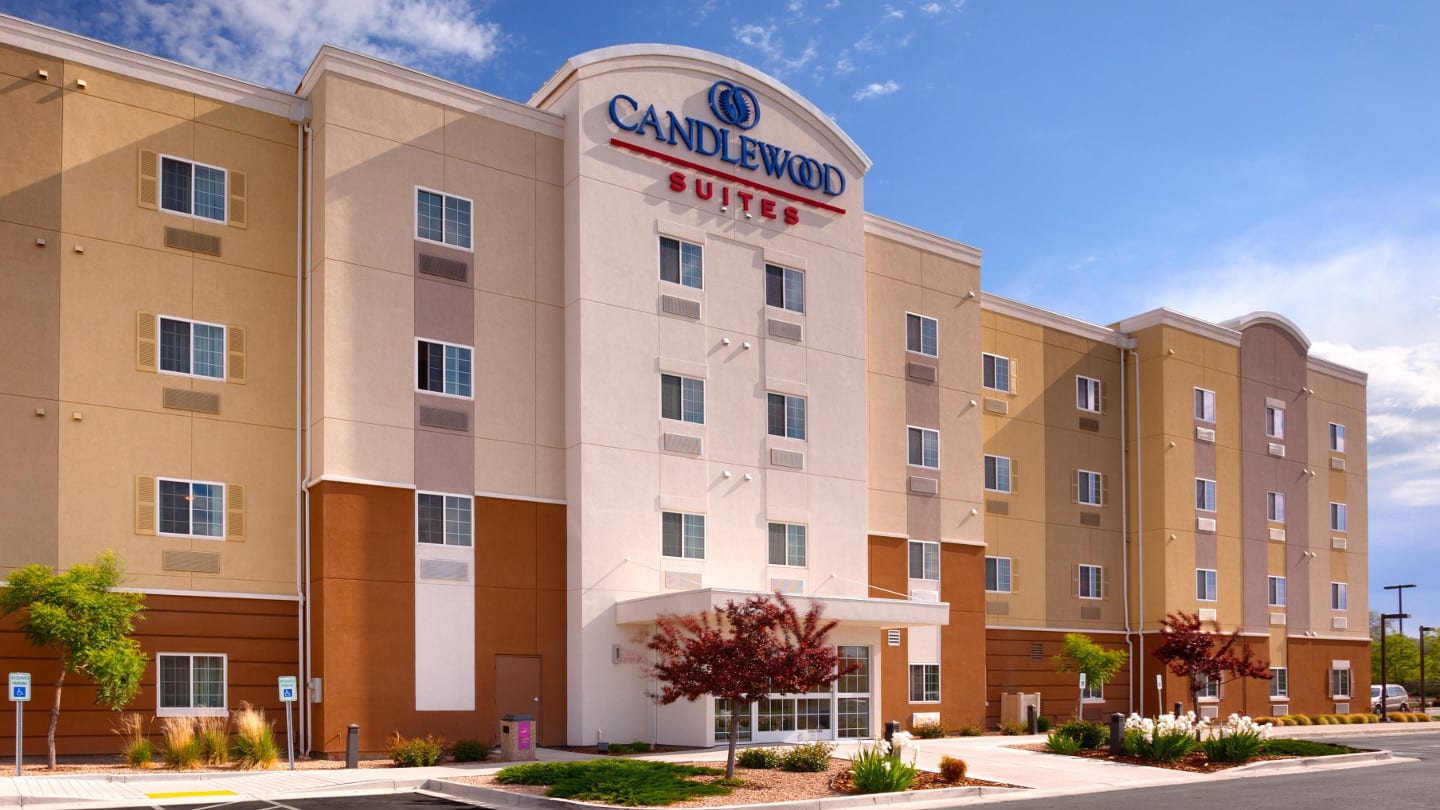 Candlewood Suites brands itself as Grand Junction's "home away from home." An extended-stay hotel, Candlewood is an ideal place to stay for people working on temporary projects, or for students hoping to tour Colorado Mesa University.
The hotel offers rooms with fully-equipped and spacious kitchens complete with a stove, stocked refrigerator, dishwasher, and microwave oven. In line with that, their rooms also come with free wireless internet access, a flat-screen TV, DVD players, and flexible workspaces.
With stunning views of the Bookcliffs range and the Colorado National Monument, Candlewood Suites is only a short drive away from some of the area's best attractions. Located off I-70, the hotel is only a short distance away from Mesa Mall, and other shops and restaurants.
Grand Junction Palomino Inn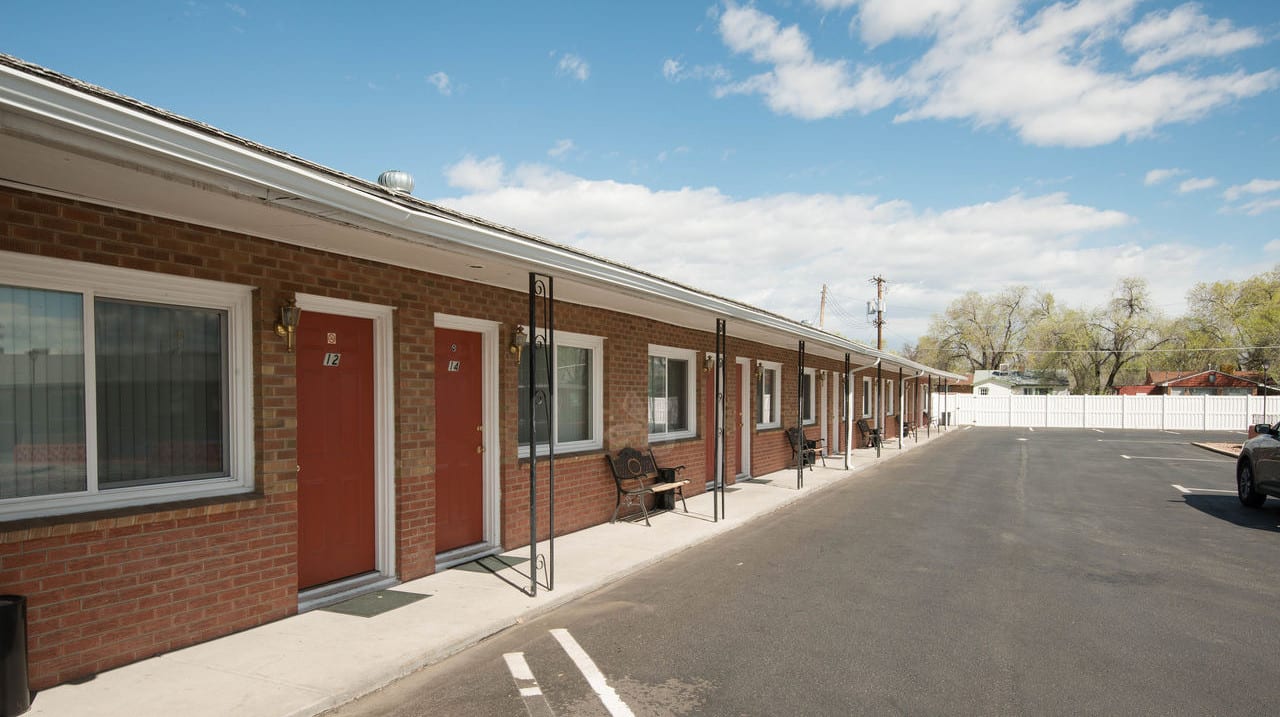 Palomino Inn is a classic motor lodge located right on the historic US Route 6 that will leave you reminiscent of old long drives on random summer days spent with friends. Despite its retro exteriors, all rooms are up to date and modern.
They come with free satellite TV with an HBO and ESPN Sports package, an in-room microwave and refrigerator, and a flat-screen TV. They also have an outdoor pool and provide guests with a free continental breakfast.
Previously certified by TripAdvisor with a Certificate of Excellence as a top Motel, Palomino Inn is conveniently located right in the heart of Grand Junction, making it only a few minutes away from its best restaurants, stores, and attractions.
Fairfield Inn & Suites GJ Downtown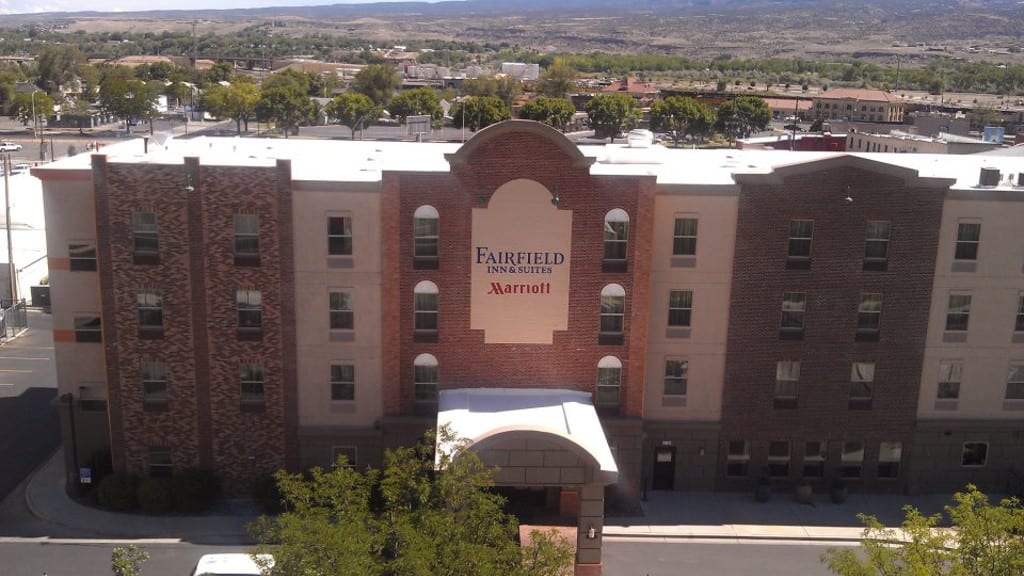 Located right next to Two Rivers Convention Center, Fairfield Inn and Suites is a terrific place for any gathering. From conventions and seminars to retreats and receptions, their staff is always more than willing to assist you regarding any event in mind.
Enjoy Downtown Grand Junction by taking a quick stroll into town and delighting in its galleries and music venues. One does not need to look that far, though— Fairfield Inn also holds music nights of its own a couple of times a week, along with an outdoor gallery.
They also take pride in their spacious rooms, which are often 40% larger than standard hotel rooms. Each suite comes with TempurPedic mattresses, full kitchens, and free high-speed internet access. They also provide guests with a complimentary hot breakfast, and access to their pool and health club.
Residence Inn GJ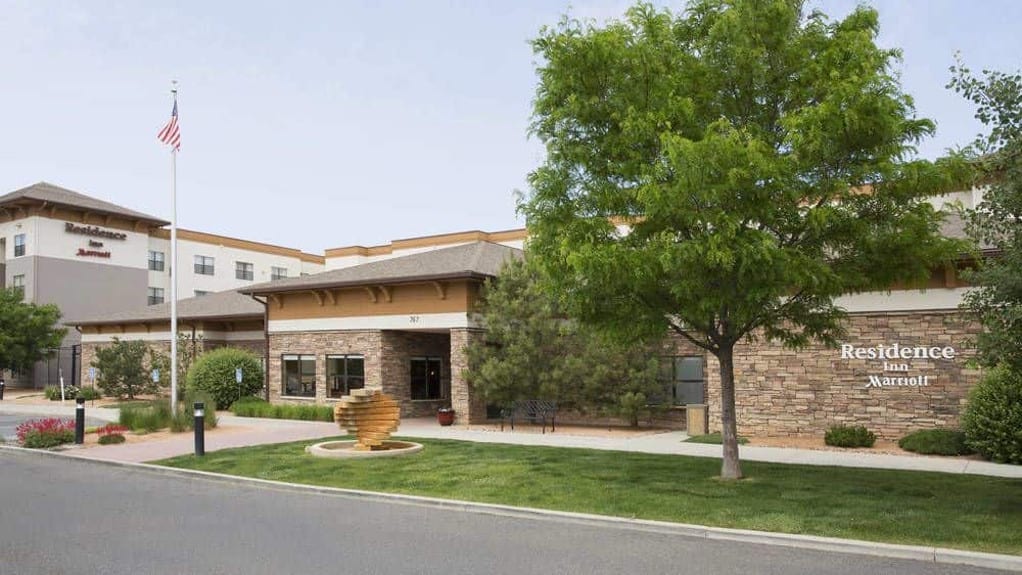 The Residence Inn located right at the center of Colorado's wine country exudes comfort, relaxation, and sophistication. It features apartment-style suites perfect for extended stays, boasting 50% more space than the typical hotel room.
With spectacular mountain views, this hotel provides free Wi-Fi access throughout its entire property and complimentary breakfasts. They boast a gym on-site and charming outdoor patio space.
Their grand and spacious rooms all come with a full kitchen, plush Marriott bedding, a flatscreen TV, and large workspaces. They also host social events and business meetings, with their two meeting rooms being able to hold up to 60 guests.
Econo Lodge GJ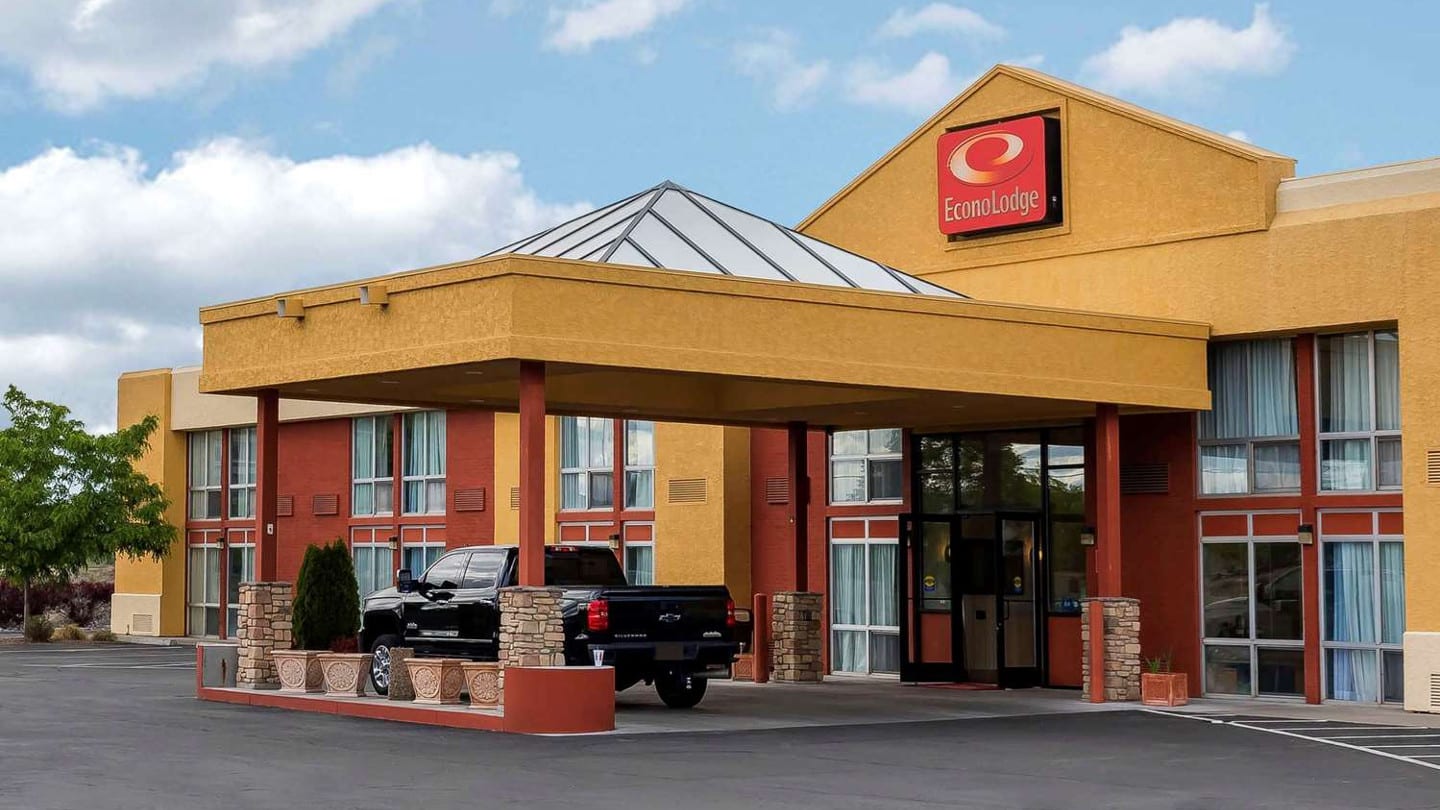 Located just off I-70, the Econo Lodge is an award-winning and pet-friendly discount hotel ideal for travelers hoping to make the most out of the great outdoors. It's conveniently situated just a short ride away from fishing, hiking, and mountain biking destinations.
The hotel also lies in close proximity to Colorado's famed dinosaur quarries and the Powderhorn Ski area. They offer guests complimentary breakfast, free Wi-Fi access, and clean inviting rooms equipped with TVs, hair dryers, coffee makers, desks, and comfortable mattresses.
Other nearby attractions a few minutes away from the Econo Lodge include the Colorado National Monument, the Western Colorado Botanical Gardens, and the Two Rivers Convention Center.
Holiday Inn Hotel Airport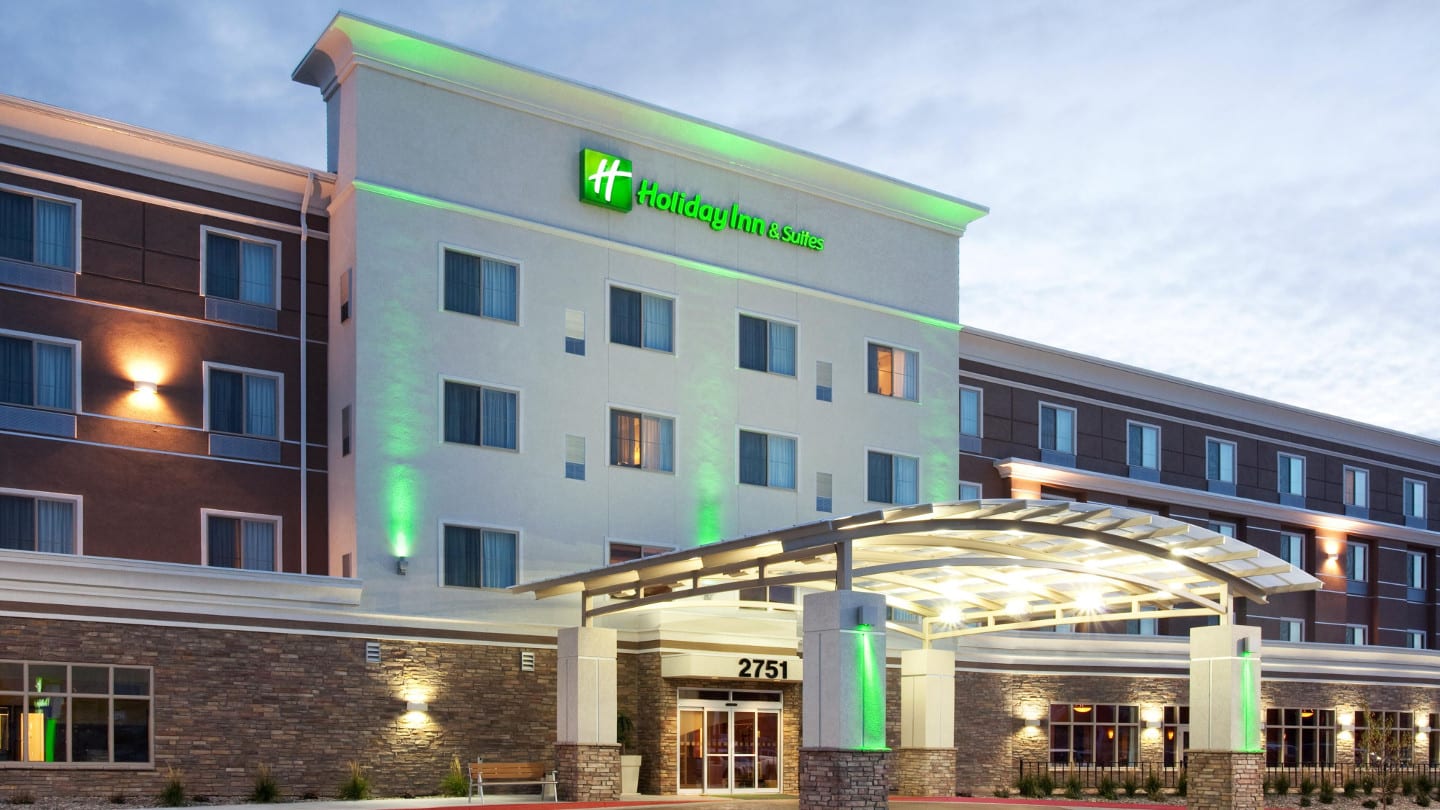 With majestic views of the Grand Mesa, the Holiday Inn Airport its guests superb amenities, modern yet comfortable décor, and an overall relaxing stay that will leave you wanting to come back for more. Being only a mile away from Grand Junction Airport, they offer their guests a free airport shuttle and area van to bring them around the numerous nearby attractions.
They provide free Wi-Fi access, free meals all day for children aged 11 and under, and spacious luxurious rooms with either a king bed or two queen beds. All rooms come with a flexible workspace, a flatscreen TV, cable, and a kitchenette. Some of their other amenities also include a pool, cocktail lounge, and a complimentary fitness center.
Courtyard by Marriott GJ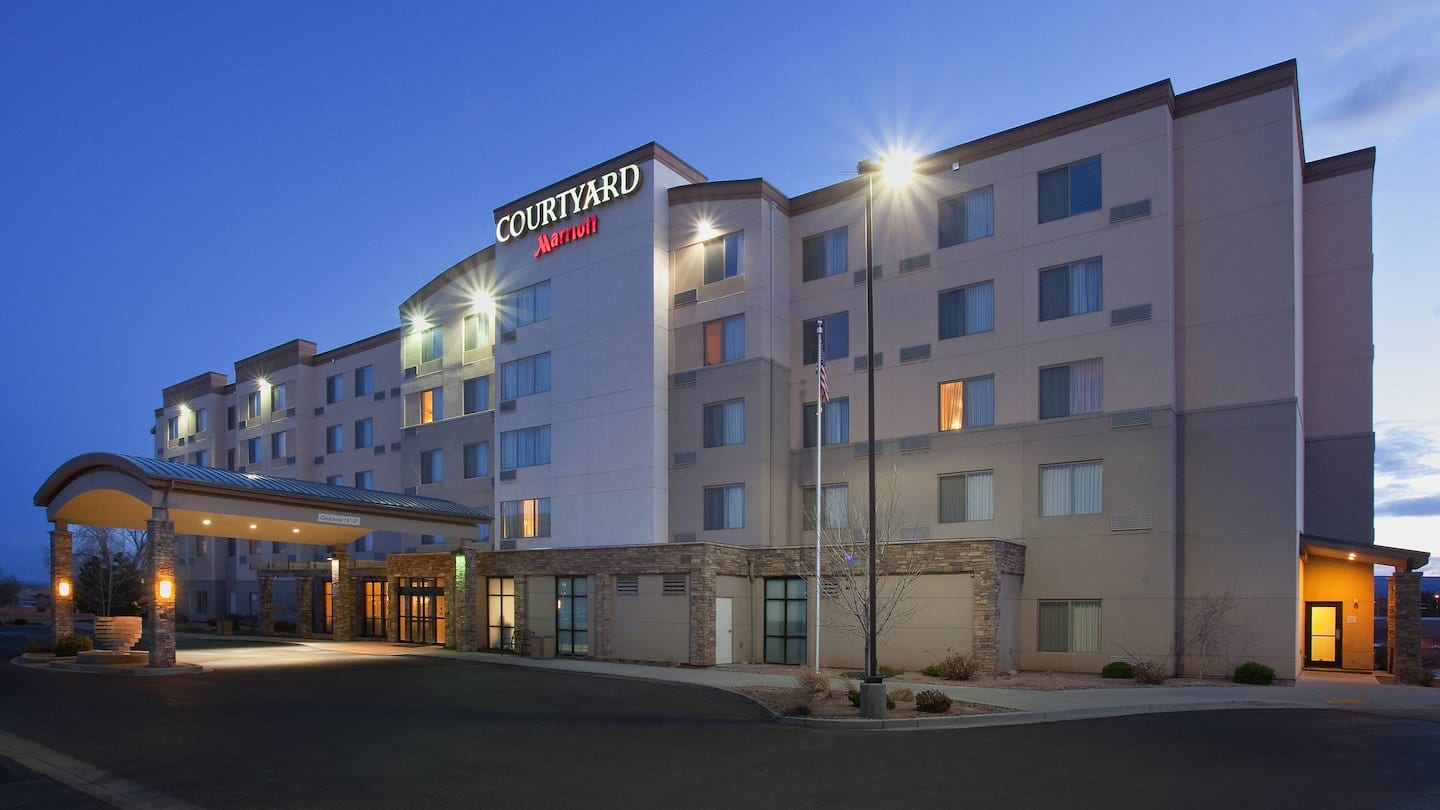 Indulge in the unparalleled beauty, comfort, and high-quality service brought to you by the Courtyard GJ. Located in the heart of Colorado's wine country, this hotel offers rooms with free Wi-Fi access, and relaxing sofas, all topped with premium cable.
Some of their best rooms give a stunning view of the Rocky Mountains, making it all the harder to get out of their comfortable beddings. The hotel offers an onsite bistro that provides breakfast and an extensive dinner menu complete with a full bar.
Being only ten minutes away from downtown Grand Junction, the hotel also provides shuttle service within a 5-mile radius.
Willow Pond Bed & Breakfast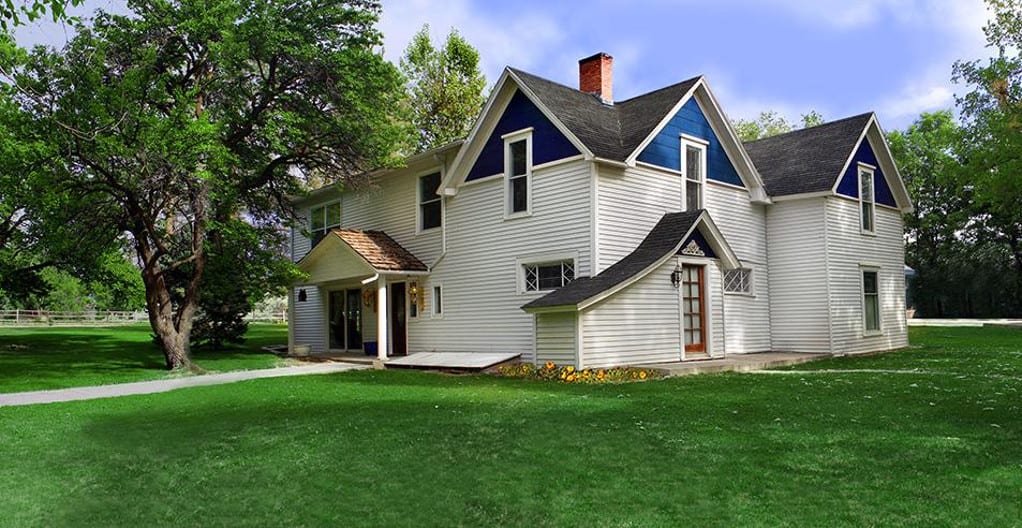 Cozy and quaint, Willow Pond B&B offers lodging in a farmhouse setting with beautiful pastoral views, an old willow tree, and a pond. Their country-style rooms come with either a queen or king-sized bed, air conditioning, free Wi-Fi, a TV, and a separate shower and bath.
They provide a full complimentary breakfast with a wide range of options. From Norwegian pancakes with fruit toppings to egg frittata and cinnamon swirl French toast, Willow Pond only uses the finest and best locally grown ingredients.
In addition, they pride themselves on their excellent reviews and 5-star ratings from both TripAdvisor and Environmentally Friendly Hotels.
Two Rivers Winery & Chateau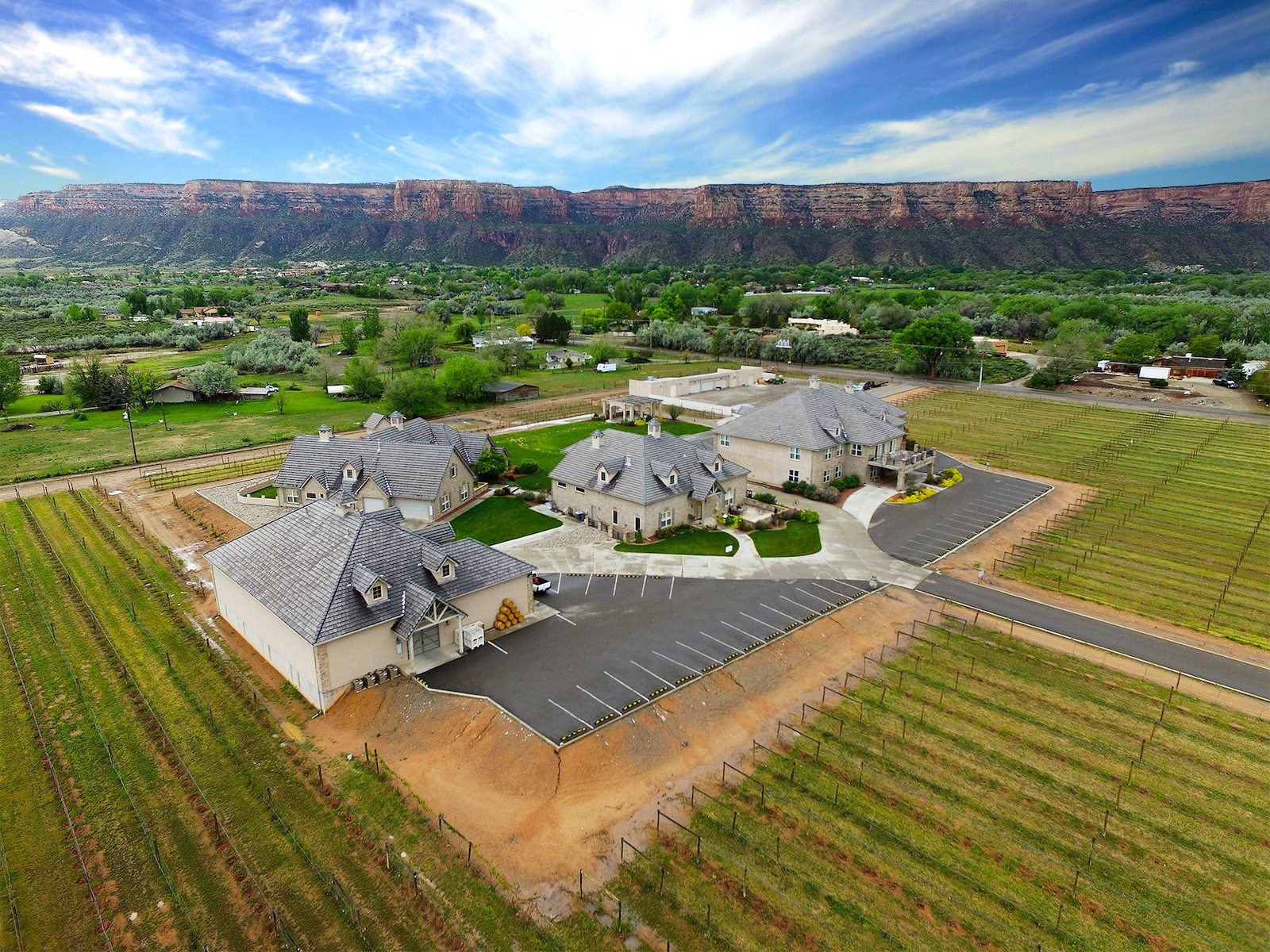 Established in 1999, Two Rivers Winery and Chateau offer an entirely unique and luxurious experience. Built upon 15 acres of land, the site is visited daily by wine enthusiasts. They offer award-winning wines of noble varieties and spectacular views of the Colorado scenery.The Chateau functions both as an event center and an inn with upscale lodging. Perfect for weddings, receptions, and even business meetings, this destination facility's architecture exudes that authentic French country chateau. Their catering kitchen is fully equipped and will leave even the best chefs pleased.
All of their suites come with cable television and Wi-Fi access. Elegant and sophisticated, their rooms also come with king beds, sitting areas, and private baths. A buffet-style breakfast is served every morning and their tasting room is open daily.
The aforementioned accommodations show you the variety and luxury level available within Grand Junction. Enjoy your stay at one of these Mesa County hotels.