Just east of Denver, Aurora has plenty to do and see and top events taking place throughout the year. There are festivals for beer, wine, music, and plenty of seasonal and holiday events all year long.
Aurora is home to several great attractions, including Cherry Creek State Park, Aurora Reservoir, Aurora History Museum, and Stanley Marketplace. Between these places and the eclectic events, there are many options for things to do.
Before heading out, visit the website of the event you're planning on attending. Details of these events can change. Also, the website has additional information on pricing, parking, and any rules or restrictions.
Here is a list of the top events and festivals in Aurora, in order of occurrence throughout the year:
Earth Day Celebration
Earth Day is an annual holiday where people show support for various environmental issues and raise awareness for protecting the environment. Aurora's Earth Day Celebration takes place at the scenic Aurora Reservoir.
Past activities include an Earth Day-themed scavenger hunt and HawkQuest demonstrations. Attendees have also learned about water conservation and viewed forestry demonstrations. During a previous event, volunteers helped prevent future beaver damage to the area by wrapping 200 trees along the shoreline.
April | auroragov.org
Colorado Remembers
Colorado Remembers is a yearly ceremony to commemorate all those who have served in the military as well as their families. It's presented by the city of Aurora and the Colorado Freedom Memorial Foundation.
Activities have included a pancake breakfast, live music, a ceremony and tribute, and tours of the Memorial. There has also been displays of military artifacts. While the entire event is open to the public at no cost, donations are gratefully accepted.
May | visitaurora.com
Chalk Lines & Vines
Chalk Lines & Vines is a unique wine festival that also features chalk artists displaying their work. Attendees can sample various wines from more than 15 Colorado wineries across the state, enjoy live musical performances, and watch more than 10 different artists utilize chalk to create a beautiful work of art.
This is a two-day event happening outdoors at the Arapahoe County Fairgrounds Event Center on the Central Green. Guests are welcome to bring a picnic or purchase a bite to eat from the various food trucks on-site.
May | arapahoecountyeventcenter.com
Carnival on the Plaza
Carnival on the Plaza is presented by the City of Aurora and is a free one-day event every summer. The fun takes place at Fletcher Plaza on Colfax Avenue.
Attendees can expect all of the traditional carnival activities – balloon twisting, inflatables, carnival games, face painting, custom caricature drawings, and frozen treats. This event is free, and event information noted there are activities for individuals of all abilities.
June | auroragov.org
Aurora Rhythms Concerts
Aurora Rhythms Concerts are held once per month starting in June and running through December. These are live musical performances held in various library locations throughout the city, including Tallyn's Reach Library, Aurora Central Library, and Mission Viejo Library.
These concerts are put on by the City of Aurora's Library and Cultural Services Department. Some concerts even feature a pre-show performance by Aurora Dance Arts. In addition to the music, there are creative activities for kids and free refreshments.
June through December | auroragov.org
4th of July Spectacular
Aurora's 4th of July Spectacular celebrates Independence Day with a family-friendly event. The city opens its Great Lawn starting at 6 p.m. to start the festivities. Some years have had live entertainment and local food trucks.
In the past, fireworks have launched starting at 9:30 p.m. The city has also suggested bringing your own seating, such as lawn chairs and blankets. This event is free and open to the public.
July | auroragov.org
Arapahoe County Fair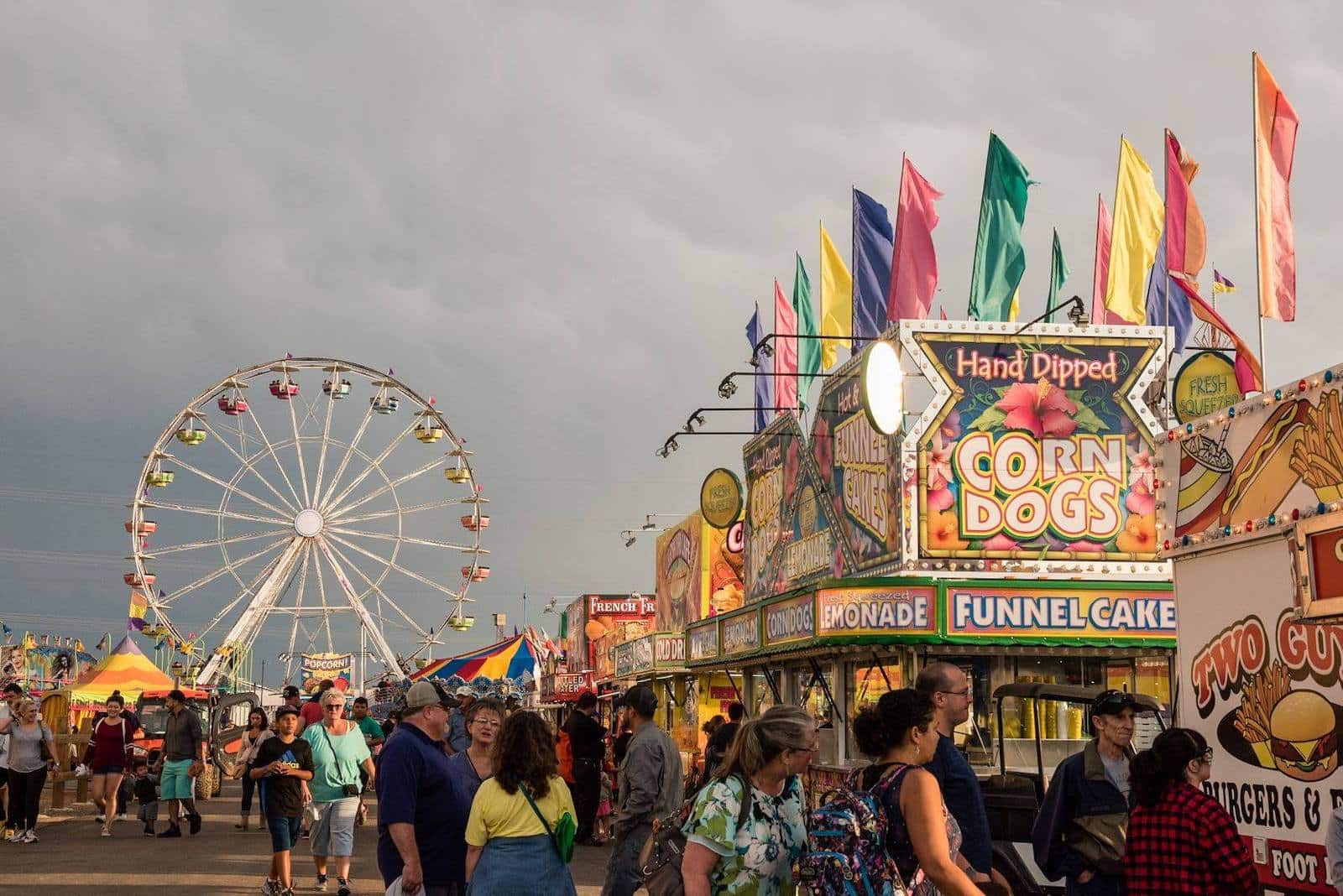 Arapahoe County Fair is an annual multi-day event each summer. There is live music, rides, a petting farm, 4-H exhibits, and a kids' activity area. There are also various public competitions for baking, candy, photography, knitting, crocheting, woodworking, and more.
The Main Stage hosts bands throughout the entire festival, which is at no additional cost with an admission ticket. There is also food and alcohol available for purchase.
July | arapahoecountyfair.com
Pours on the Plains
Pours on the Plains is a popular craft beer festival that takes place at the Arapahoe County Fairgrounds. More than 15 Colorado breweries pour samples, and there are awards given for People's Choice brew as well as a Judge's Choice Award.
Past breweries in attendance have included Little Dry Creek Brewery, Welcome Home Brewery, Blue Spruce Brewing Company, and Bent Barley Brewing Company. In addition to tasting local beer, other activities include axe throwing, lawn games, a "Guess the Bottle Cap" game, and pretzel necklace making.
July | arapahoecountyfair.com
Global Fes
Global Fest is an annual celebration and showcase of international cultures and traditions. It takes place at the Aurora Municipal Center Great Lawn.
Admission to the fest is free. There are dance and musical performances on multiple stages and in the past, there was even a globally-inspired fashion show. Other activities include an international marketplace, food vendors, art displays, and activities for children.
August | auroragov.org
Agriculture Festival
The Agriculture Festival is an educational event where attendees can learn about where the food they eat comes from and how to support healthy environments with regenerative agriculture. It takes place at the Plains Conservation Center in Aurora, which is an education center and nature preserve on 1,100 acres.
The goal of the event is to foster a connection between people and the food we eat. Past activities have included wagon rides, scavenger hunts, 1880's homestead village, and tipi camp tours, and farm animal interactions. There has also been a farmer's market and various food trucks on-site.
September | auroragov.org/plainscenter
Park Lights & Movie Nights
Park Lights & Movie Nights features family-friends movies which are shown at various parks throughout Aurora, including Moorhead Park, Terrace Park, Aqua Vista Park, and Utah Park. These events happen throughout September, and movies start at sunset each night.
Blankets and chairs are welcome as well as food to enjoy during the film. Kettle corn is also available for purchase. Previous movies have included Moana, Encanto, Sing 2, Spiderman: No Way Home, In the Heights, and Ghostbusters: Afterlife.
September | auroragov.org
ThirstyFest
ThirstyFest is a beer festival in Aurora with all net proceeds benefitting Water For People, a Denver-based international non-profit which works to provide safe water systems across the world. In addition to beer, there is also live music and food trucks.
Cheluna Brewing Co., Left Hand Brewing Co., Upslope Brewing Company, Great Divide Brewing Co., and Holidaily Brewing Co. are just a handful of local breweries that have attended. Other vendors have included Laws Whiskey House, Rowdy Mermaid, and Golden Moon Distillery.
September | thirstyfestdenver.com
Fall into Fun Festival
The Fall into Fun Festival is presented by the City of Aurora every year to kick off the autumn season. It's held at the Aurora Municipal Center.
There are plenty of fall-themed activities as well as live entertainment and vendors. Local food trucks are on-site, and there is also an area for kids. Best of all, there is no cost to attend the event.
October | auroragov.org
Treat Street
Treat Street is a Halloween festival at the Arapahoe County Fairgrounds. There is plenty to do for the whole family, including games, a petting farm, activities, live entertainment, and pumpkin painting. More than 20 local booths will hand out candy.
Costumes are encouraged, and if you wear one, entry to the event is free. There is even a costume contest with prizes. There is an adult beer garden (21+ only) as well as food trucks serving a variety of options.
October | arapahoecountyeventcenter.com
Boos Cruise
Boos Cruise is Aurora's annual Halloween celebration. It's a family-friendly drive-thru trick-or-treating event.
Attendees can expect a load of candy from local businesses and city departments. Costumes are encouraged. There is a fee per car to participate.
October | auroragov.org
Veterans Salute
The Veterans Salute in Aurora is a time to honor and recognize all those who have served. There is a vendor fair, a formal ceremony, and a luncheon.
Attendees can get a chance to learn about various community organizations at this event. Tickets are on sale prior to the event date.
November | auroragov.org/salute
Festival of Wreaths
The Festival of Wreaths features a variety of wreaths that have been crafted by members of the community. The wreaths are displayed at the Aurora History Museum Gallery throughout the month of November and the beginning of December.
There is an opening ceremony with festive entertainment and hor 'd oeuvres and a chance to vote on your favorite wreath and bid in a live auction. This is a fundraiser by the Aurora Museum Foundation and Aurora History Museum and Historic Sites. Proceeds benefit educational programs and support exhibits.
November and December | auroragov.org
Visit the Village
Visit the Village is a holiday-themed day at the Arapahoe County Fairgrounds with plenty of seasonal fun. Frosty's Fun Zone has holiday games and inflatables, and Santa's Workshop has ornaments and make-and-take crafts.
A hot chocolate station, s'mores, adult beverages, and concessions are available. There is also a gingerbread house decorating contest with a prize for first place. If attendees donate a new, unwrapped gift, admission is free.
December | arapahoecountyeventcenter.com
Holiday Tree Lighting
The annual Holiday Tree Lighting is the perfect way to kick off the festive season. The Mayor of Aurora will turn on the lights on the Great Lawn.
Other events during this holiday celebration have included Santa being escorted into the city, live reindeer, crafts, and ice sculptures. There are treats and hot cocoa available, as well as an opportunity to take a photo with Santa Claus.
December | auroragov.org
All of these events in Aurora make it a great city to check out all year. With close proximity to Denver and several hotel options, it's even easier to experience all of the fun.