Located in one of the highest elevations in the state, Silverton is home to several top events. The big festivals here involve some of the favorite activities to do in Colorado, such as skiing, fat biking, snowboarding, and cycling. There are also community events celebrating the arts and music.
Silverton is located amongst the San Juans and is home to a popular tourist attraction, the Durango & Silverton Narrow Gauge Railroad, which hosts some cool special event train rides throughout the year. Additional popular activities here include hiking, camping, jeep rentals, and enjoying the historic downtown. There are several restaurants and breweries to check out here.
These events and festivals reflect the love of the outdoors and nature here, as well as an active lifestyle. Keep in mind that the details of each event can change, so it's always best to confirm. The official websites can often offer valuable information on any rules and restrictions, registration information, pricing, and parking.
Here is a list of events in Silverton, CO, in order of occurrence throughout the year:
Women's Big Mountain Camp
Women's Big Mountain Camp is an annual weekend event that takes place at Silverton Mountain. It's an adventurous weekend for experienced skiers and snowboarders that are considered high intermediates and above, and are also over 16 years old.
The weekend includes two days of guided skiing at Silverton, including one helicopter drop for heli-skiing. The price of the event includes fun giveaways and brown bag lunches on Saturday and Sunday. Participants are grouped with women of similar ability.
January | silvertonmountain.com/experience/events
Silverton Whiteout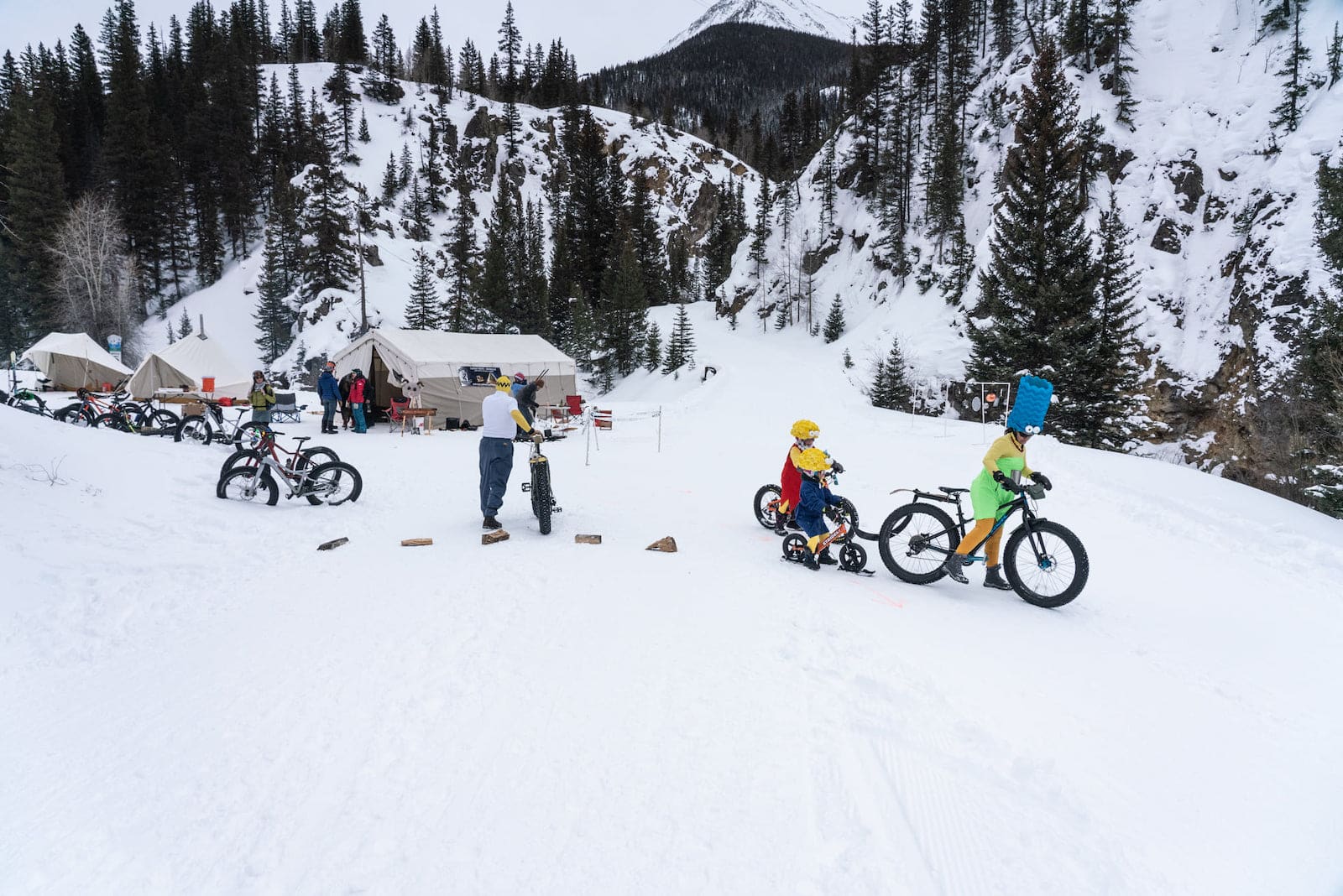 Silverton Whiteout is a 10-hour fat bike race. Any non-motorized and self-powered way to move is allowed to participate, including walkers, skiers, snow shoes, and runners. There are various race categories, including solo, duo, three to four-person teams, and family teams.
The course is approximately 8 miles long, which can be adjusted depending on the current snow conditions. Along the route, participants can find rest stations with a fire and snacks. The route is designed for participants to enjoy scenic views throughout the duration, including passing by the historical Blair Street. The event concludes with a fun post-race party with live music.
February | silvertonwhiteout.com
Silverton Snow Scape Winter Festival
Silverton Snow Scape is an annual family-friendly winter festival. This event takes place an entire weekend in February and can overlap with the Silverton Whiteout fat bike race.
Events can include Nordic relay races, a classic cardboard box sled derby, broomball at Kendall Mountain Ski Area, a capture-the-flag snowball fight for children, ice hockey skills clinics and pick-up games, and adult Nordic trail races. More information can be found on the website as the event gets closer.
February | silvertoncreativedistrict.org
Silverton Skijoring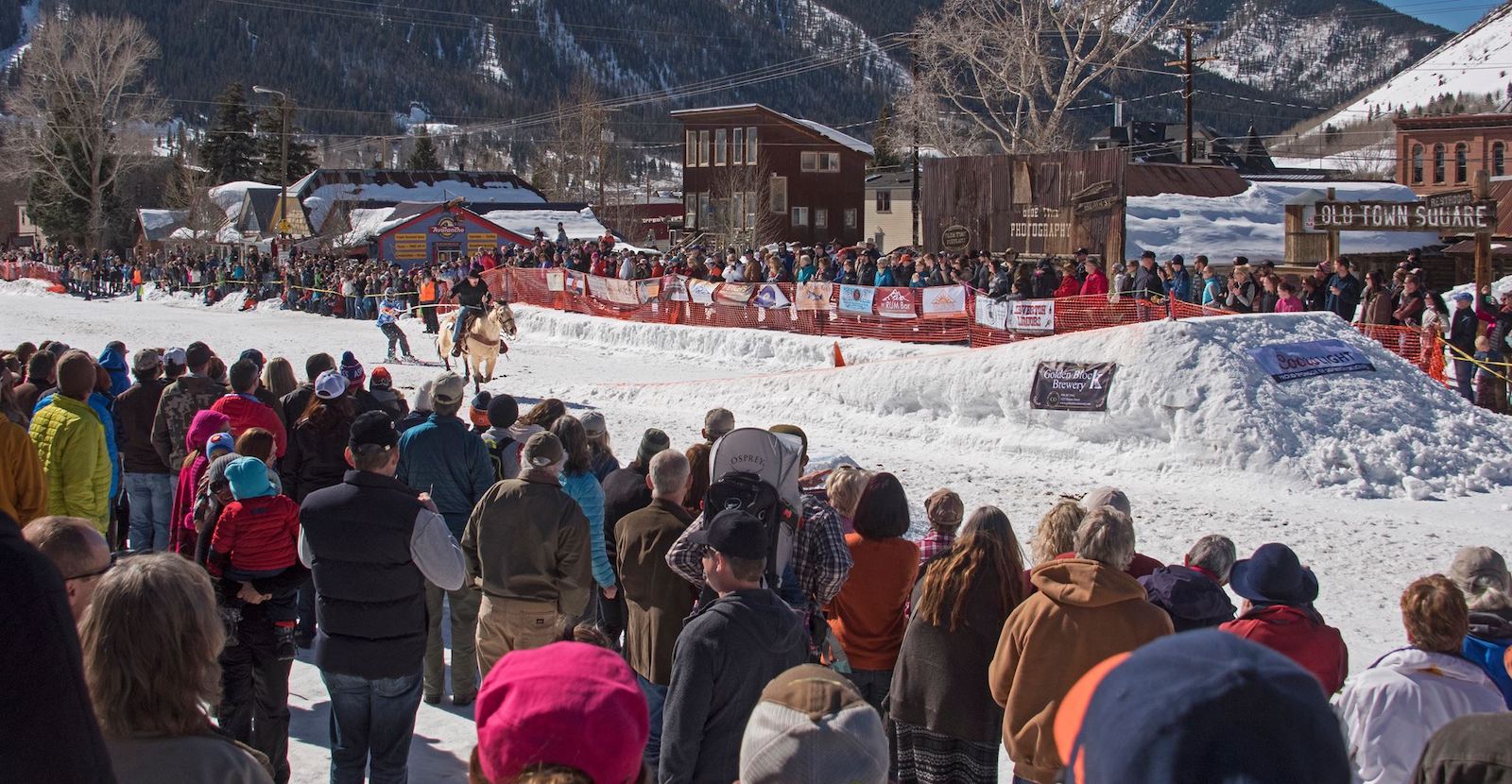 Silverton Skijoring is an annual wintertime event held by The Town of Silverton along with Karen Srebacic-Sites Coldwell Banker Distinctive Properties. The unique event was brought to the town by local residents in 2010. It consists of various horse-related events, such as a rider pulling someone on skis similar to water skiing.
The race draws thousands of spectators each year with hopes to support Silverton's winter economy. There is a Party Zone with beer from SKA Brewing and cocktails from K.J. Wood Distillers. Dogs and drones are now allowed near the event's race course or near the stable area. There is also a snowmobile class and a post-race celebration (with awards) at the Grand Imperial Hotel.
February | silvertonskijoring.com
Silverton Banked Slalom Races
The Silverton Banked Slalom Races is a snowboarding event taking place at Kendall Mountain for two days. Each participant chooses a category based on snowboarding ability and age and then gets two runs down the course. There is an awards ceremony with prizes from Venture Snowboards, Patagonia, Smartwool, and Traeger Grills.
This event is a fundraiser to help local kids in Silverton get experience with the sport of snowboarding, where there could be a financial barrier. Used snowboard equipment is also accepted for anyone who wants to donate to the Silverton School snowboard program. Participants must have a valid season pass or purchase a day ticket.
February | silvertonbankedslalom.com
Silverton Split Fest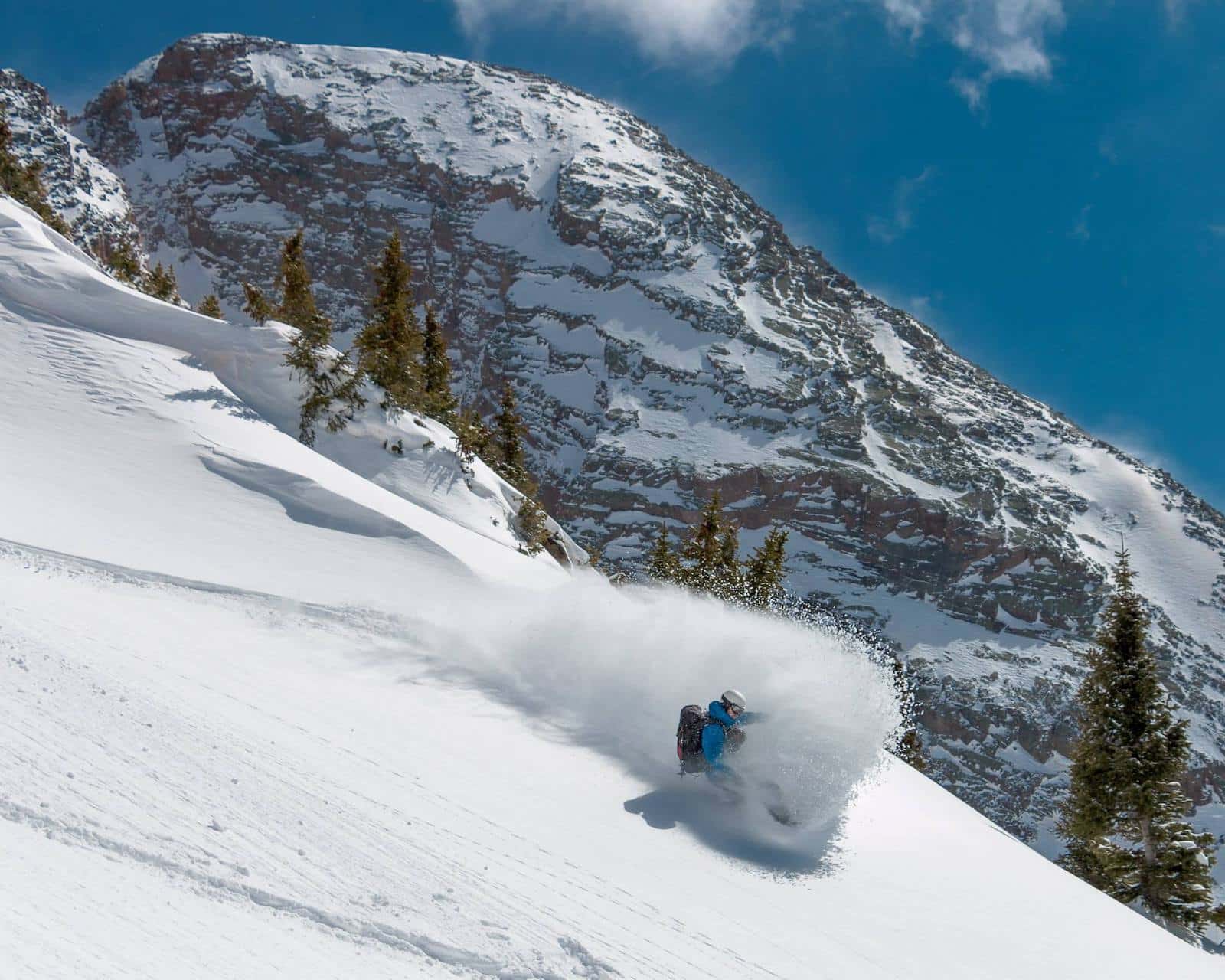 The Silverton Split Fest is an annual multi-day event that takes place in April. It's an opportunity to check out the newest splitboard gear, learn new backcountry skills, and ride new lines. Years passed have included a raffle gear fundraiser to benefit the Colorado Avalanche Information Center and the Silverton Avalanche School.
The weekend package includes free splitboard demos from various manufacturers, a Thursday night happy hour and a pizza party with beer, as well as a Friday and Saturday catered dinner with beer and backcountry education. There is also an opportunity to take classes on avalanche rescue and splitboard basics for a separate fee.
April | venturesnowboards.com/products/silverton-splitfest-2022
Silverton Mountain Brewski
Silverton Mountain Brewski is an annual one-day event featuring two of Colorado's favorite pastimes – skiing and craft beer. The all-day event consists of a full day of skiing at Silverton Mountain starting in the morning. During the afternoon, there is a beer tasting with a handful of Colorado breweries.
The package includes an unguided lift ticket (starting at 9 am), a pint glass, the beer tasting, and event entry starting in the afternoon. For those not interested in skiing that day, there is an alternative option to just purchase a pint glass and some drink tickets. Past local breweries that participated have included Avalanche Brewing Co., Elevation Beer Co., Three River Brewery, Steamworks Brewing Company, and Ska Brewing.
April | silvertonmountain.com/experience/events
Iron Horse Bicycle Classic
Iron Horse Bicycle Classic is an entire weekend of various cycling events and races in Durango. Some of the road races include a course that brings riders all the way to Silverton. It's actually a race against the Durango & Silverton Narrow Guage Railroad, which has a slightly different route than Highway 550 from Durango to Silverton.
This event was founded in 1972 and is one of Colorado's oldest cycling traditions. It started when Tom Mayer challenged his brother to a race to Silverton. The website has the full weekend schedule, a detailed list of each event, merchandise, and information on how to register.
May | ironhorsebicycleclassic.com
Silverton Summer Sounds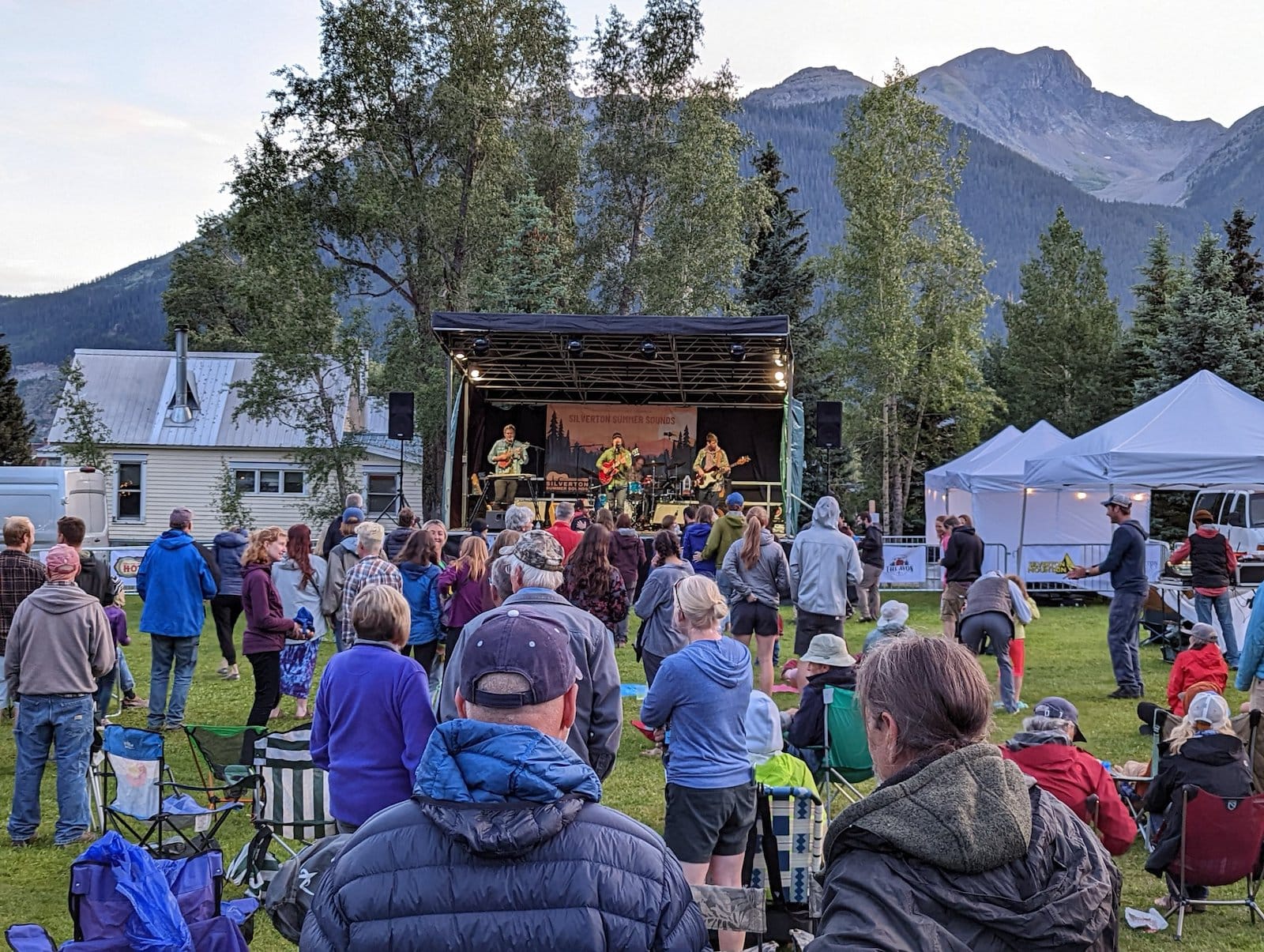 Silverton Summer Sounds is an annual concert series taking place every second Friday from June through September. The live music performances are at Memorial Park, conveniently located near the downtown district with shops, hotels, and restaurants.
This is a family-friendly event taking place outdoors and is totally free to attend. The concerts typically take place from 6 pm to 9 pm and go on whether it's rain or shine. While guests are welcome to bring chairs or picnic blankets, there are no dogs or outside alcohol allowed. A list of performers can be found online as the event gets closer.
June through September | silvertoncreativedistrict.org/silverton-summer-sounds
First Friday Art Walk
The First Friday Art Walk in Silverton celebrates the town's art scene on the first Friday of each month from June through September. On these evenings, more than a dozen galleries and shops will be open for art demonstrations, live music, activities for children, shopping, and refreshments.
This event is organized by the Silverton Creative District. You can find a downloadable art walk map on the website to guide your journey.
June through September | silvertoncreativedistrict.org/art-walk
Silverton 4th of July Celebration
The Town of Silverton hosts an annual 4th of July event to celebrate Independence Day. It's an entire day of events, including a 5K and 10K fun run in the morning, a parade starting at the courthouse with floats and classic cars, and a live concert.
A celebration in Memorial Park includes a family picnic time where people can bring their own picnic, chairs, and blankets. For the afternoon annual ducky derby, participants can purchase ducks in advance at the Visitor Center or in Memorial Park. The ducks are launched at Cement Creek. The evening ends with a firework celebration at 9:30 p.m.
July | townofsilverton.colorado.gov/July-4th-celebration
Silverton Arts Festival
The Silverton Arts Festival is an annual August community tradition featuring a multi-day celebration of arts. This weekend event gives local, regional, and national artists an opportunity to showcase their work. Interested artists must fill out an application online. The event often coincides with a Friday night concert at Memorial Park, which is part of the Silverton Summer Sounds music series.
Some of the types of artwork you may find, include painting, photography, wood, glass, jewelry, metal, mixed media, sculpture, drawing, ceramics, digital art, drawing, fiber arts, and bath products. Admission to the fest is completely free and open to the public. There is also an award ceremony. More information about this event and about the Silverton Creative District can be found online.
August | silvertoncreativedistrict.org/silverton-arts-festival
These popular Silverton events make a great reason to come visit this scenic mountain town. Whether participating or just enjoying the event as a spectator, there is no shortage of unique and memorable festivals here. So grab a hotel room or nearby campsite and head down to Southwest Colorado.