Since the turn of the millennium, Colorado's towns have been revolutionizing their waterfront areas with new whitewater parks. In doing so, it has never been easier to get out for a quick, fun float around the state whether tubing, kayaking or on a stand-up paddle board (SUP).
There is whitewater action available near the center of over a Colorado dozen towns. Whitewater parks, for those that are not familiar, are simply modifications to a river's natural flow that create purposefully built features like drops, waves and eddies. They are typically designed by experts to mimic the river's existing features with safe options for riders of all ability levels.
All of these whitewater parks are open to kayakers and several of them are frequented by tubers as well. The flow for these rivers is highest in the springtime, so typically tubers wait to ride until summer when it's not as fast, but kayaks will be seen earlier.
The higher elevation Colorado rivers will be even chillier than those on the front range, such as Clear Creek, Boulder or Pueblo whitewater parks. Here's a look at some of Colorado's best whitewater parks.
Clear Creek Whitewater Park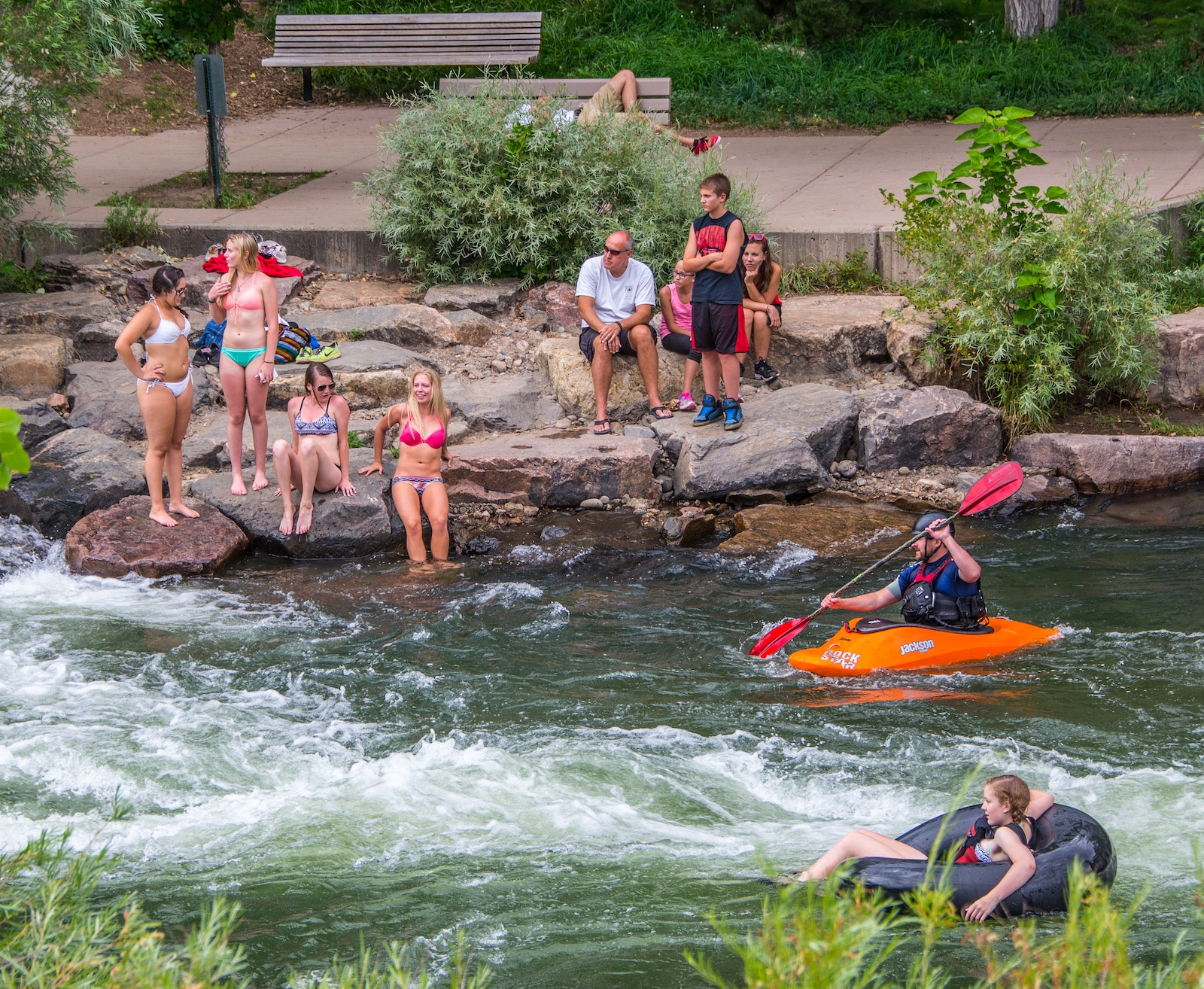 Piercing directly through downtown Golden, Colorado all the way to the Coors factory, the Clear Creek Whitewater Park is a great, free float with easy access from Denver. Although the journey is brief, the Clear Creek Whitewater Park features a short, fun combination of easy floating and whitewater rapids that often has visitors navigating through its obstacles several times in a row.
The Clear Creek Whitewater Park was dedicated in 1998, making it one of the first urban whitewater parks in the state. It is most popular for river tubes, though kayaks are also frequently used during the spring and early summer.
To reach the water, simply park anywhere on the west side of town and walk your raft along the path on the north side of the creek. After passing the RV park, visitors can walk approximately .5 miles to the end of the path to drop in. Those floating can exit the river at a few different points, with obvious signage and fencing for exiting before the brewery.
Confluence Park in Denver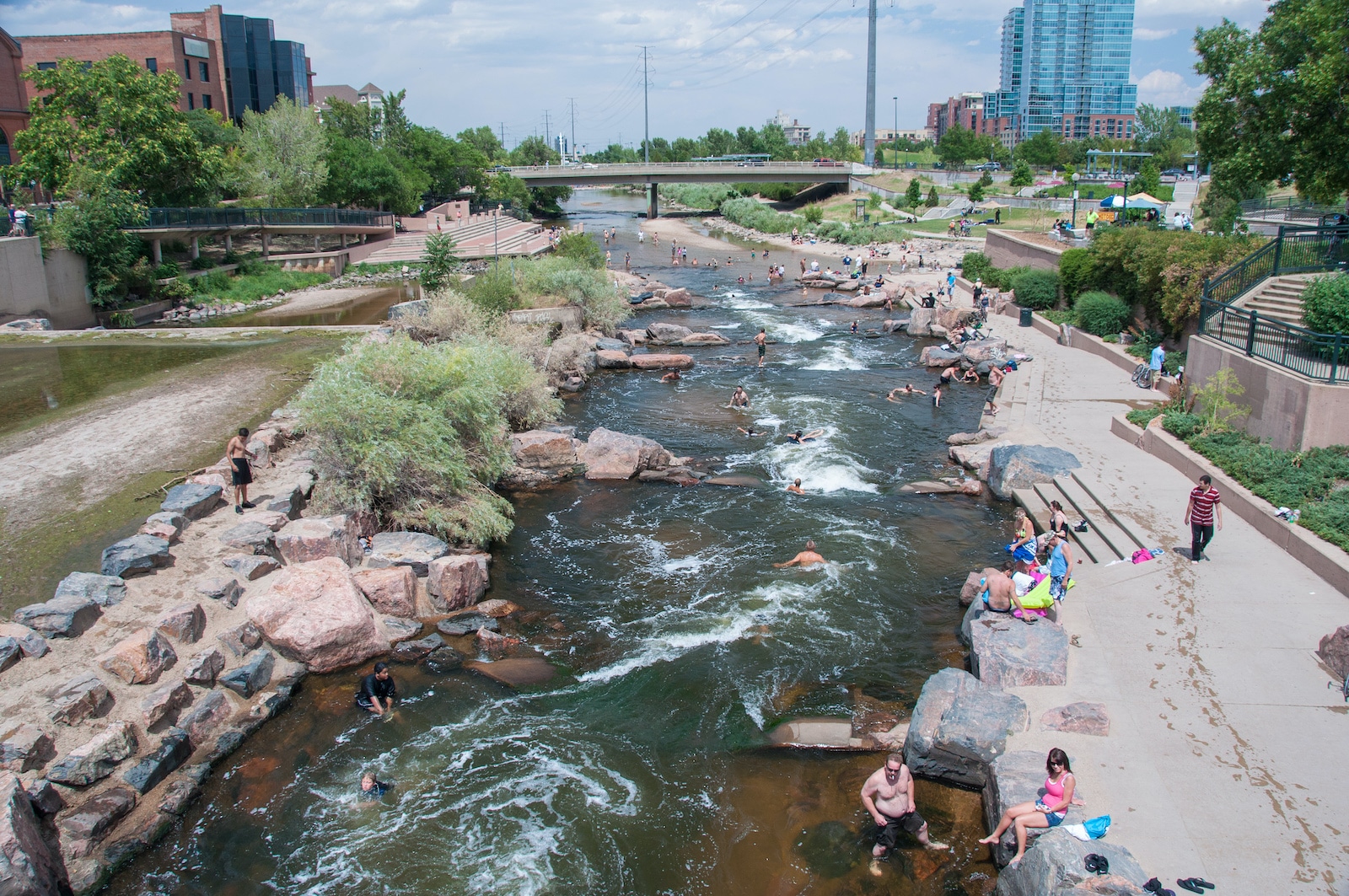 If you'd like to practice your paddling and don't mind potentially large crowds of onlooking spectators, Confluence Park in Denver is a great easy-access whitewater park in Colorado's capital city. Getting its name from the confluence of the Platte River and Cherry Creek, this short whitewater course features class 3 rapids through one of Downtown Denver's most popular outdoor areas.
Fit for kayaks, SUPs, tubes, and floats, the South Platte River rapids are brief but fast and fun. To put in, simply walk along the path adjacent to the river about a hundred feet and enter the river just below the dam. After the rapids, riders can exit the river on either side after the confluence, near the REI flagship store.
Salida Whitewater Park
In 2000, the Salida Whitewater Park was completed on the Arkansas River, next to the small community's historic downtown area. Offering a quarter-mile of expert-designed features, the Salida Whitewater Park has since attracted thousands of visitors to navigate the easy-to-access course.
There are four main whitewater features of the Salida Whitewater Park, two of which create large, intimidating holes during peak season. To see the world-class action for yourself, we suggest a visit during FibArk, the country's oldest whitewater festival now centered around the Salida Whitewater Park.
Buena Vista Whitewater Park
North of Salida in Chaffee County, the town of Buena Vista has its own modified section of the Arkansas River offering tons of whitewater fun. Comprised of five primary features, the Buena Vista Whitewater Park is located adjacent to the historic South Main Town Square.
Built in 2005, the BVWP has a fun mix of holes and waves for beginners, intermediates, and experts to enjoy. For those who prefer to watch the fun from the shore, the area also features riverside trails, disc golf, a skate park, an off-leash dog park, and more. The Buena Vista White Water Park and its adjacent facilities were made possible by grants from the state and now features well-maintained changing rooms, bathrooms, and parking areas.
Pueblo Whitewater Park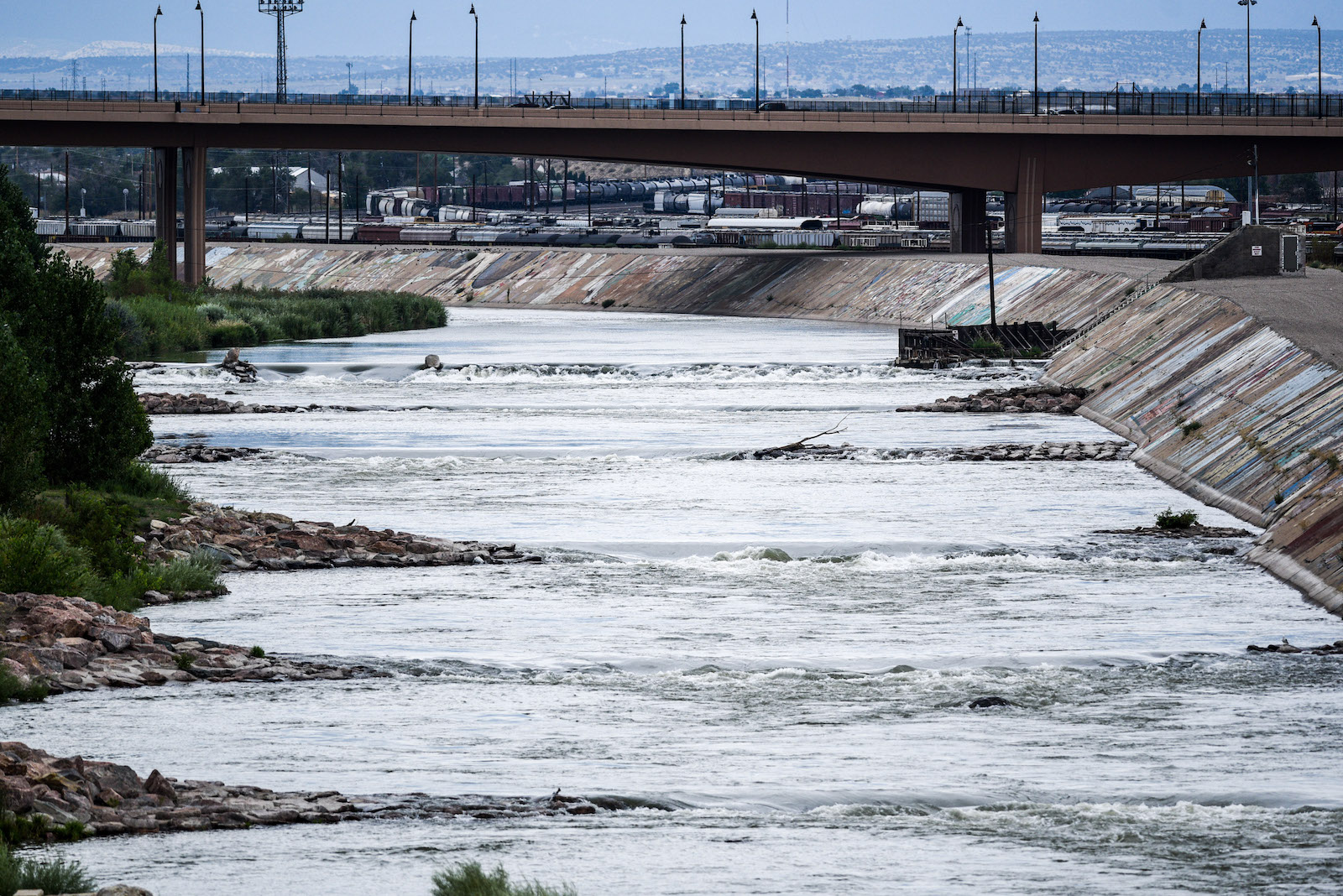 Continuing downstream along the Arkansas River, the Pueblo Whitewater Park is a popular spot for kayaking and river surfing near the city's historic downtown area. The Pueblo Whitewater Park contains eight manmade drops and waves along a half-mile stretch.
Designed for expert navigation, the Pueblo Whitewater Park is not for beginner kayakers or new river surfers without a guide. All visitors are required to wear a life jacket in the park and helmets, wetsuits, and other protective gear is strongly recommended.
Vail Whitewater Park
If you're craving whitewater kayaking or river surfing action in Colorado's high country, the Vail Whitewater Park on Gore Creek is a great place to get your fix. Running through Vail Village beneath the International Bridge, the Vail White Water Park is best from mid-May to July, while the Gore Creek flow is high enough.
Officially opening in 2010, the Vail Whitewater Park has remained a popular Eagle County destination for kayakers and river surfers. The park also serves as the central whitewater course for the town's Summer Mountain Games.
Avon Whitewater Park
Not far west from Vail, the Avon Whitewater Park offers another great Eagle County summer experience. Located on the Eagle River in the heart of Avon, Colorado, the whitewater park is made up of 3 primary features, Baby Bob, Bob Jr, and Bob Sr., optimized for quality rafting throughout various seasonal flow rates.
Built in 2006, the Avon Whitewater Park is often a part of longer Eagle River rafting trips in the spring and summer. Making for a very exciting 350 feet, helmets and safety equipment are recommended for navigating the park's class III to IV rapids.
Glenwood Springs Whitewater Park
Further west into Garfield County, the town of Glenwood Springs constructed the first-ever man-made whitewater features on the Colorado River. Built in 2008, the Glenwood Springs Whitewater Park has attracted thousands of kayakers, river surfers, tubers to navigate its pair of fun features.
The Glenwood Springs Whitewater Park is located just west of the Midland Ave Bridge. Over in less than half of a mile, riders looking to avoid the two large features can hug the far right shore of the river. Those brave enough to pass through will be treated to a class II to IV hole and wave, with a separate riding wave for river surfers to enjoy the action.
Montrose Water Sports Park
Along the Uncompahgre River, the Montrose Water Sports Park is another great state grant-funded whitewater park designed for visitors of all experience levels. Consisting of six drop features alongside new riverfront viewing areas, the Montrose Water Sports Park was completed in 2006 and occupies roughly a half-mile of River Bottom Park.
Onsite, visitors can utilize the ADA-accessible put-in/take-out ramps to access the water, while the surrounding park features disc golf, sports fields, and several picnic areas. The Montrose Water Sports Park is popular for kayaking and river surfing well into the late summer, as sustained irrigation flows keep water levels high for longer than most whitewater parks in the state.
Pagosa Springs Whitewater Park
When in Pagosa Springs, there are few better ways to beat the summer heat than a float through the whitewater park. As one of the state's oldest man-made river runs, the Pagosa Springs Whitewater Park features a large handful of class II-III rapids on the San Juan River directly next to the center of town.
Although it is suitable for kayakers in the spring, the San Juan River is typically dotted with river rafts and tubes throughout the summer. Shuttle service and tube rentals are available in town, though the Whitewater Park is free for visitors with their own rides and equipment.
Gunnison River Whitewater Park
Located about a mile southwest of Gunnison along Highway 50, the Gunnison River Whitewater Park is a man-made course that consists of a few mild features. Although it was originally designed for canoes, kayaks, SUP, and floats, river surfers can also catch a wave on this free Gunnison County attraction.
In the summer, the Gunnison River Whitewater Park is a central feature of the Gunnison River Festival, which also gives visitors a chance to race, or attend live music and other events.
Boulder Creek Whitewater Course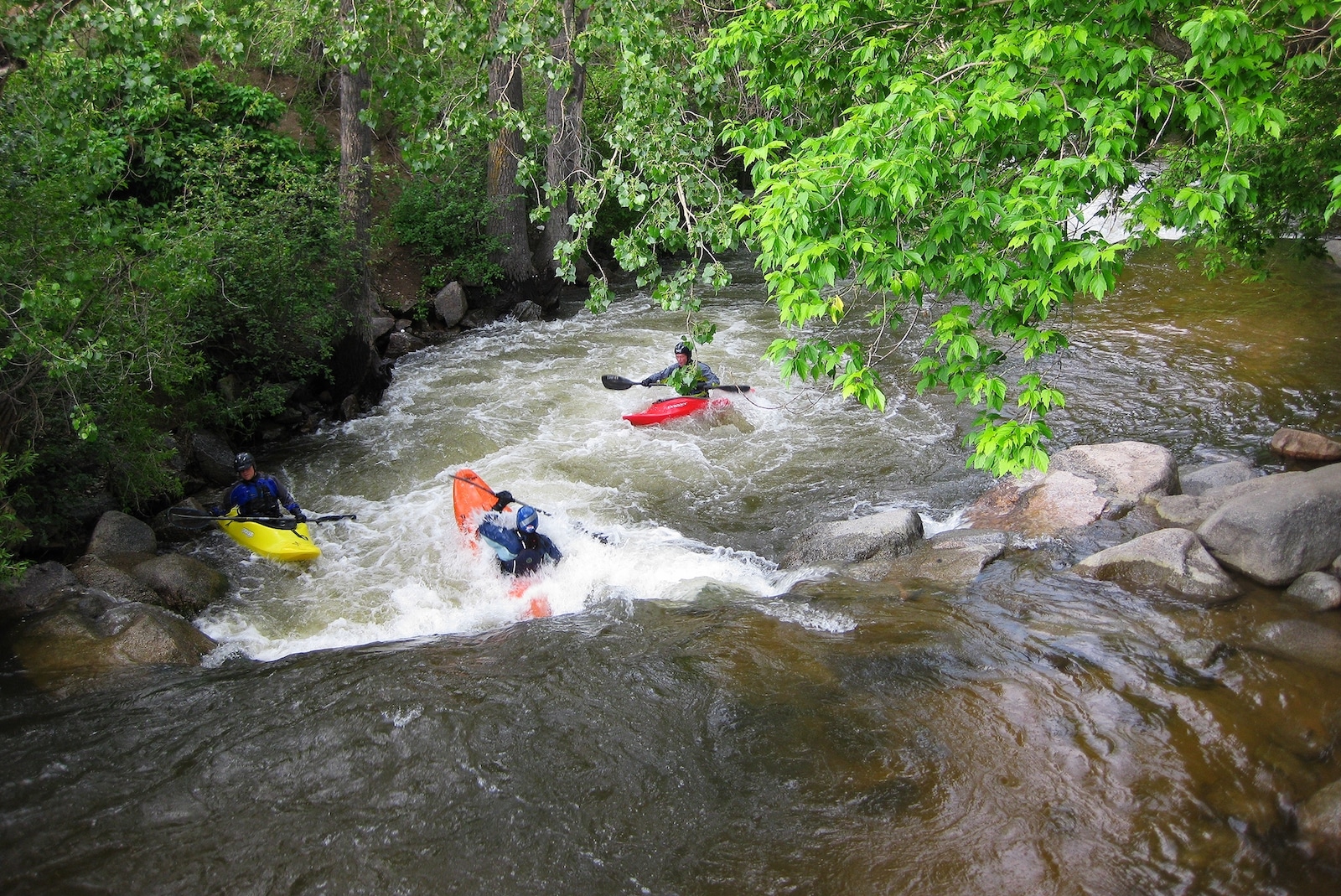 For new, intermediate, or advanced riders, there is a great whitewater course located in Boulder, Colorado's Eben G. Fine Park. Amassing roughly half a mile of purposefully built drop features along Boulder Creek, the whitewater course is easy to access with put-ins and take-out points all along the adjacent bike path.
Although upper portions of Boulder Creek are reserved for expert riders, visitors paddling or tubing through the manmade course in Eben G. Fine Park can enjoy a fun class III run. Parking may be limited, and spectators can also enjoy the adjacent playground and picnic area.
Yampa River Steamboat Town Run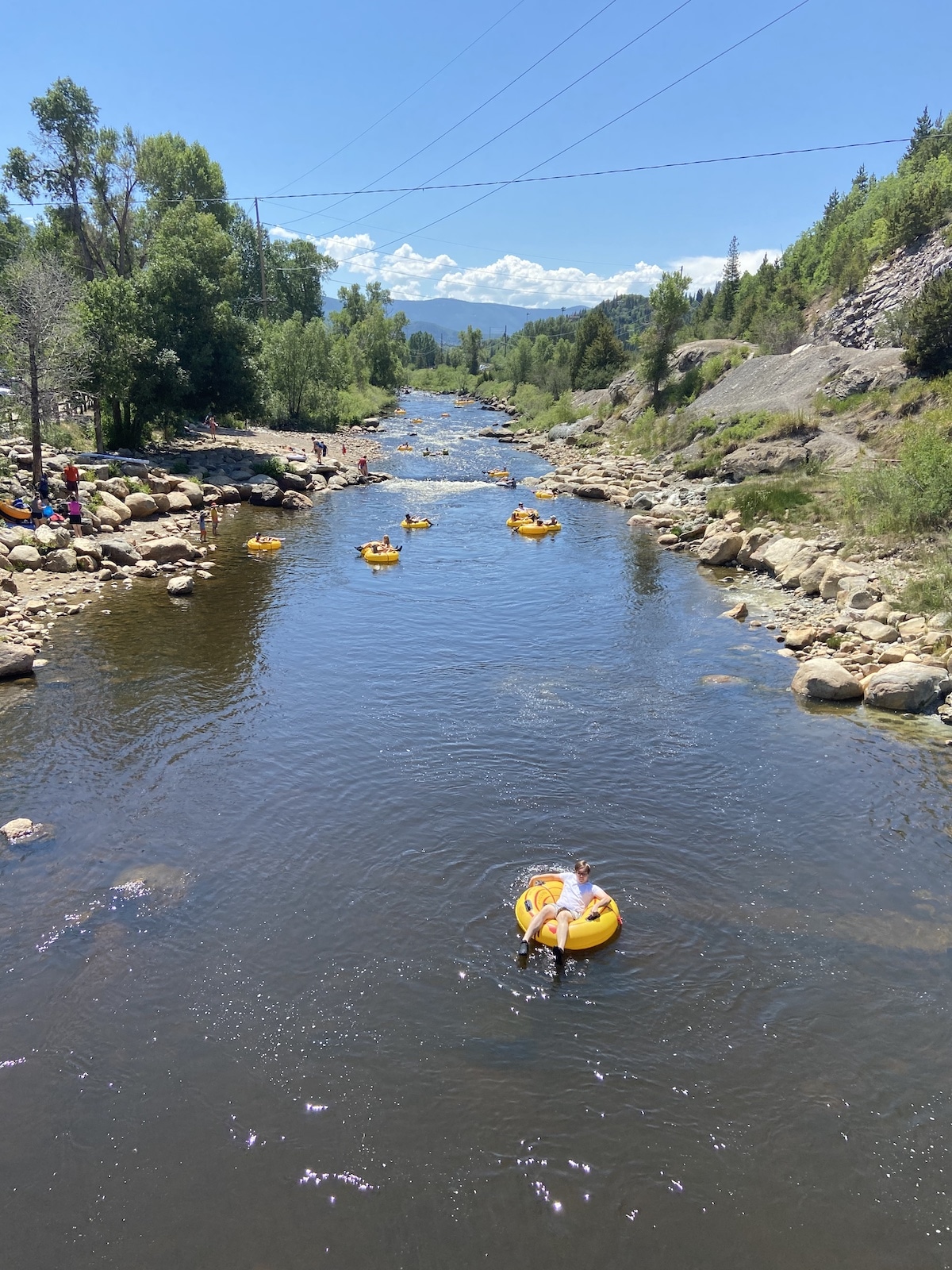 Finally, the Steamboat Town Run is another great Colorado whitewater sports destination. Found on the Yampa River in Routt County, the course consists of class II to III rapids directly next to the town of Steamboat Springs and is popular for SUPs, kayaks, duckies, and tubes.
As Yampa is a naturally flowing river, raftable waters are typically only an option in late spring and early summer. While the run is somewhat mild, the Steamboat Town Run is famous for "Charlie's Hole," a dramatic feature located near the 13th street bridge and the Bud Werner Memorial Library.
That's a baker's dozen of the best whitewater parks in Colorado. Be sure to play safe and have a proper game plan for your water sport of choice.