Golden's section of Clear Creek is one of the best tubing areas close to Denver. On a hot, sunny day, it can't be beaten. Clear Creek Whitewater Park offers exciting ripples, waves, and drops.
Anybody looking for a lazier float can avoid a lot of the whitewater by choosing the right stretch of Clear Creek. It's free to float, as long as you have a tube.
River Tubing and Kayaking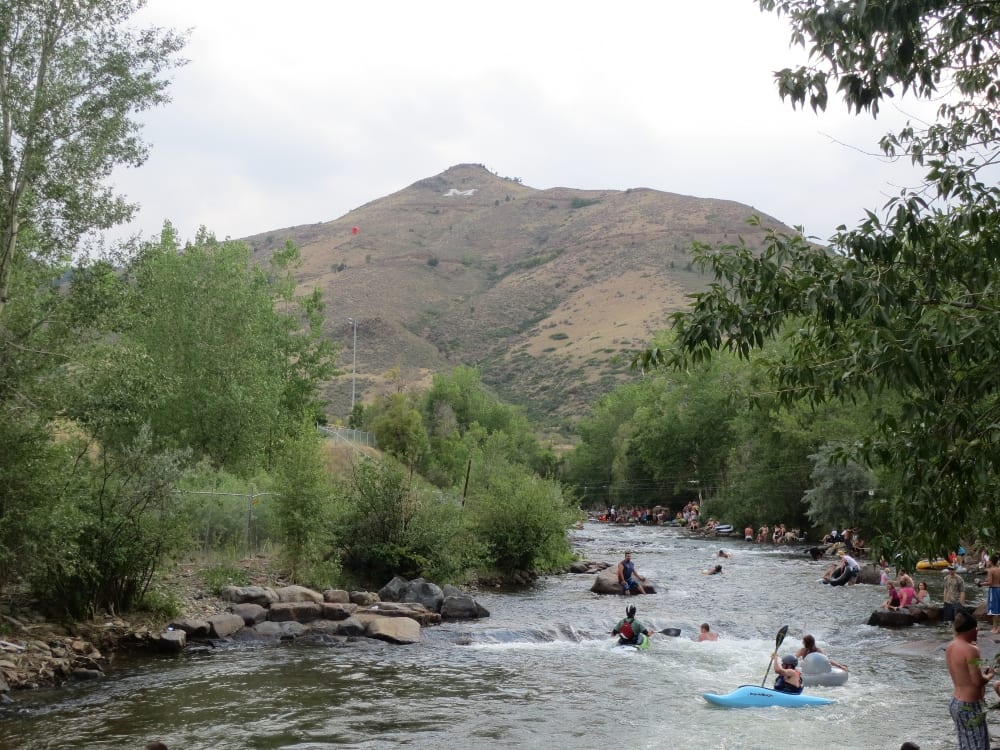 The park is located at the west end of 10th street in downtown Golden. Just follow the creek and the crowds and look for parking as close to the park as you can find. From there, you just hike up the sidewalk as far as you want to go.
There are several fun whitewater sections on the float. Most people will float back down to near the baseball diamond. If you keep going eventually you are forced to get out due to Clear Creek running into the Coors Brewery.
The type of tube you have makes a big difference. They come in all shapes and sizes and you get what you pay for. If you've got $30 to spend on a tube, get one with a net so you can't fall through and you keep your butt off the rocks and neck support so you can lounge all day. You can find tubes at places like Walmart and Walgreens.
Located next to Clear Creek are a baseball diamond, a sand volleyball court, a large grassy park, and an outdoor calisthenics gym. Shops and restaurants downtown are only a short walk away. Clear Creek RV Park sits adjacent to the creek and offers 22 full hook-ups and 3 tent sites.
Getting There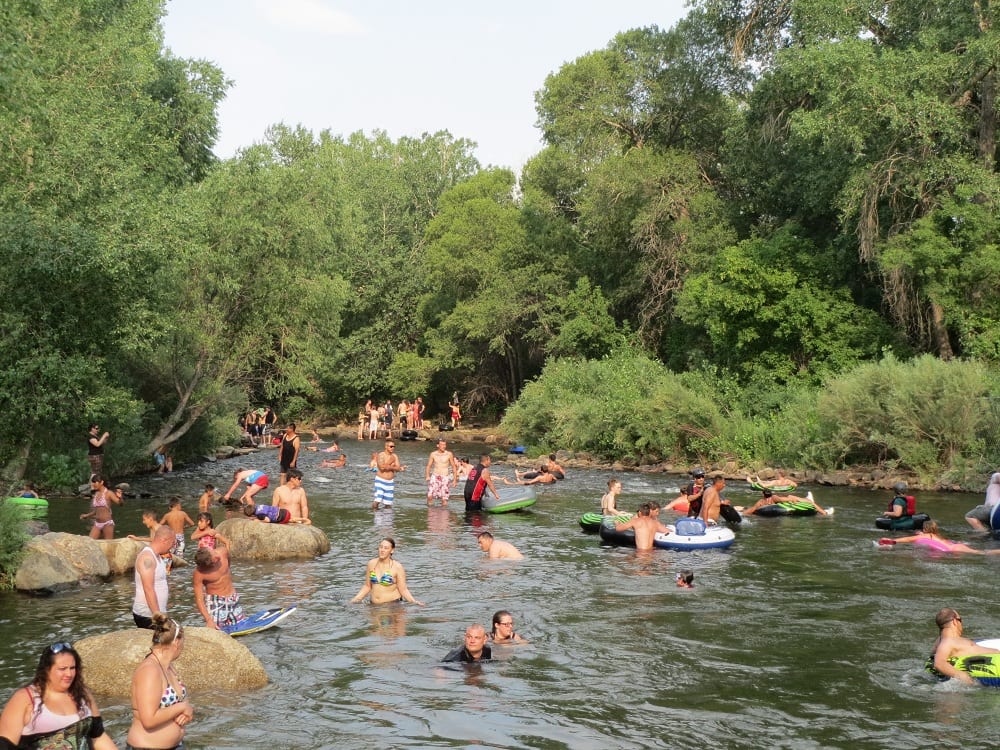 This one is also not too long, so you'll be fine with one car and hiking back at the end of the float to do it again. If you have two cars though, you can set up for a longer tube by parking one car at the opposite end of 10th Street and shuttling. When you get to the park, just start walking up the sidewalk as far as you'd like to go.
The path leads into the forest, so make sure to stay on the path by the creek, and eventually, it ends 5 minutes up or so. This is the furthest that most people go. Then drop in and float back down. Once it enters the forest, stay on the left path close to the river which comes to an end in about 5-10 minutes. Drop-in here.
Read more about tubing Clear Creek in Golden.
Details
Address: 1201 10th St, Golden, CO 80401
Season: May-September
Requirements: Kids under 13 must have a life jacket
Admission: Free
Website: cityofgolden.net/…