The largest single brewery in the world, Coors Brewing Company, is located in downtown Golden. Tours and tastings are offered year-round and are open to guests of all ages as long as they are accompanied by an adult.
Explore a live working factory where every phase of the beer-making process is observed. The tours cost a fee and are self-guided with headsets available. There are learning stations around with pre-recorded descriptions. Reservations are required for all guests.
Hailing from Prussia, Adolph Coors, and Jacob Schueler established the brewery in Golden in 1873. The mountain on the Coors can is based on a Rocky Mountain peak in southwest Colorado.
Touring the Coors Brewery in Golden
There are two types of tours: self-guided (year-long) and guided tours (seasonally). The traditional 30-minute self-guided tour has educational stations and individual headsets. You get to enjoy a complimentary sample and three 10 oz beers afterward. During slower months, a live tour is given and they run for about 30 minutes.
You can also go on the Sampling-only tour where you go straight to the tasting room and try three complimentary beers. This is often what the locals do and you are free to partake in this tour daily. Enjoy some of Coors's classic, seasonal, and even test-market beers. The whole operation lasts 1 – 1.5 hours including the shuttle, tour, and beer tastings. Drinking time may vary.
Getting There
Parking for the tour is located at 13th and Ford Streets, one block from the brewery. A free shuttle takes you downtown to the Coors factory and the driver usually tells you about the city of Golden on the way.
Tours and imbibing at the bar get busy during peak season, so plan weekdays and off-peak times when possible.
Details
Address: 13th and Ford St, Golden, CO 80401
Phone: 800-642-6116
Season: Year-round
Website: millercoors.com
Latest in Coors Brewery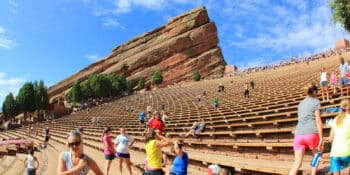 Colorado is one of the most popular states for tourists and for great reason. It showcases…