Tubing the Clear Creek Whitewater Park is one of Jeff Co's biggest summer attractions. There are several man-made features to ensure whitewater and big waves.
The water generally warms up and calms down as the season progresses. The river travels about 44 miles from the top of Loveland Pass to Golden. In route it drops 4,500 feet in elevation, creating quite a swift force. It's free to use and open daily.
Golden's Clear Creek Whitewater Park
This short video was shot with a point-and-shoot camera, so the quality is so-so. This weekend the current was fast and the waves were fierce. Aside from the cold water, it was a blast.
The best time to go is from June to September, with the earlier times having faster currents. There are no fees except for the price of a tube.
Once at the park, there's a sidewalk that turns into a trail beside the river. Just follow it west up the river, allowing many opportunities to drop in. Go as far as you wish, hop in, tube it, and remember to get out before the Coors Factory (or you'll end up in the beer, Willy Wonka style).
In addition to tubers, kayakers make use of the river. Whitewater rafting can be found further upstream in Idaho Springs. There's a lot of open space and grass to play on, a baseball diamond, and picnic areas. An RV park provides camping opportunities for travel trailers, RVs, and tents. It's located streamside and usually pretty busy.
Tips for river tubing:
Bring a loop for your sunglasses or you could lose them (like I did)
No flip flops – footwear has to strap to feet
Sunscreen – wear it
Tube – get a nice tube for a nice time, this one from Amazon (affiliate link).
Getting There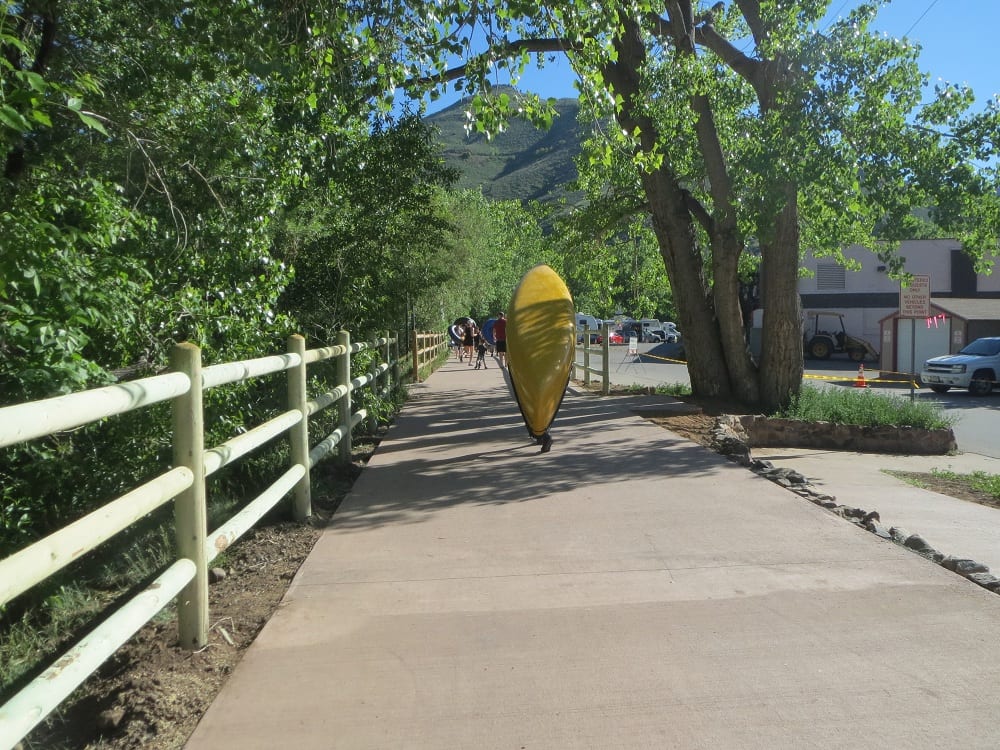 The address is 1201 10th Street, Golden, which is downtown. There are free lots and street parking located on the west end of 10th street by Clear Creek.
Learn more about Clear Creek Whitewater Park or look for another Colorado river to tube.