The Mile High City combines the best of urban landscapes and outdoor lifestyles. Best suited for urban adventurers, Downtown Denver consists of a few smaller districts and neighborhoods, most notably the Central Business District, Union Station, and the Lower Downtown (LoDo) District.
For Denver, the downtown area is home to some of the city's most historic sites and has been the main center for commercial, financial, and entertainment businesses. With Colorado becoming a popular place to live in the United States, Denver has seen rapid growth throughout the past few decades.
Much of this growth is driven towards Downtown, with new businesses and living spaces added each year. Between the shops, restaurants, bars, museums, entertainment spaces, and public parks, there are thousands of places to check out in Downtown Denver for a nearly endless itinerary. Additionally, there are many events held throughout the year by local businesses and the city.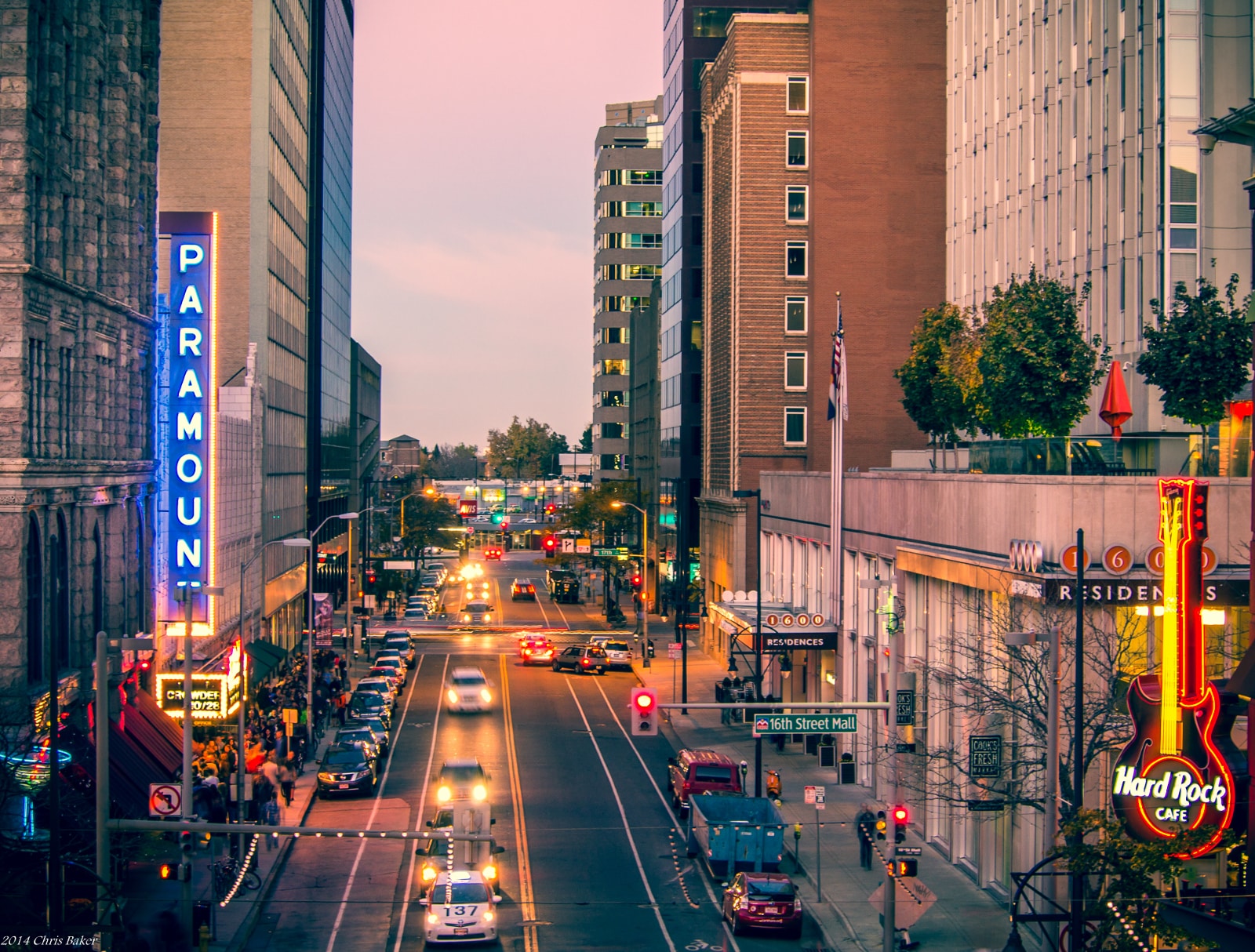 With something always happening, the downtown area is Denver's heart and soul, constantly evolving with new developments and construction. As the area continues to boom, most of the permanent residents in the neighborhood fall on the younger side with a median age of 34 years. About 76% of residents in Downtown are White, but there are several minority communities too.
With thousands of new residents moving to the area each year, the neighborhood's diversity is certain to expand. With an endless list of places to visit and a charming personality, Denver's downtown area is the perfect place for short or long-term visits.
Location
Downtown Denver is located on the banks of the South Platte River and under the shadow of the Rocky Mountain foothills. As the city of Denver began to grow, the Downtown area stretched out in all directions. Neighborhoods that sit its border include Five Points, the Highlands, Auraria, Lincoln Park, and Capitol Hill.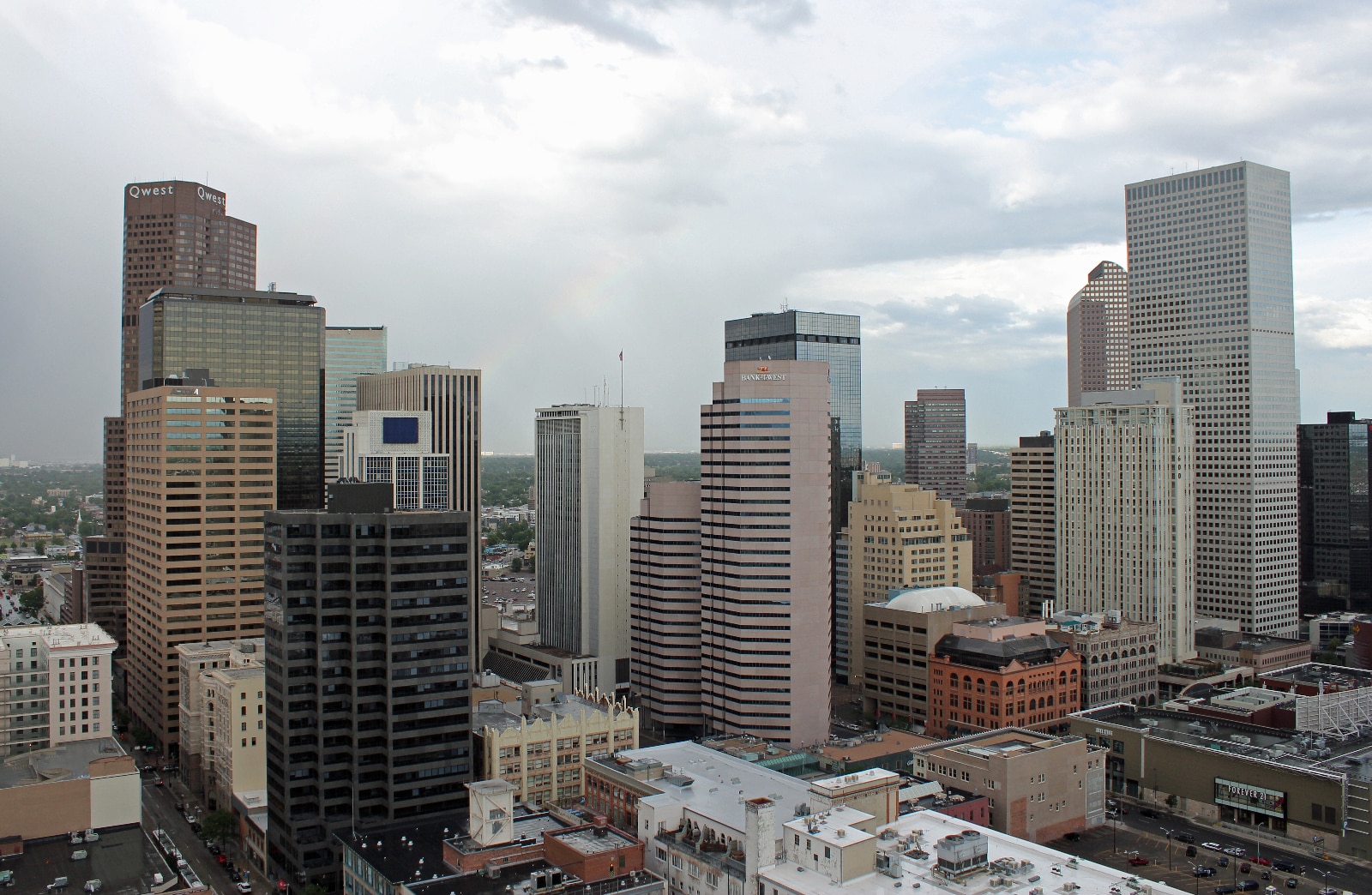 Most of what's considered to be proper Downtown Denver is Union Station, the Central Business District, and LoDo District. However, Auraria, Civic Center, Lincoln Park, and the Capitol Hill neighborhoods are frequently listed as being a part of the greater downtown area.
Consisting of two grid plans, situated diagonally to the four cardinal directions is the oldest part of the downtown area. The newer suburbs sit on a grid system in line with the cardinal directions. Within the area, major streets that cut through the neighborhoods include East Colfax Ave, Larimer St, South Bdwy, 16th Street Mall, Speer Blvd, Humboldt St, and Welton St.
Navigating using the compact grids or by major streets, Downtown Denver is extremely walkable because most attractions are near one another, however, there are many public and private transportation options too.
Denver's Regional Transportation District (RTD) provides public buses, trains, and the 16th Street Mall Free Ride to all residents and visitors in the area. Travelers who are coming from further away can get from Denver International Airport directly to Downtown Denver by taking the A-Line on the Light Rail to or from Union Station.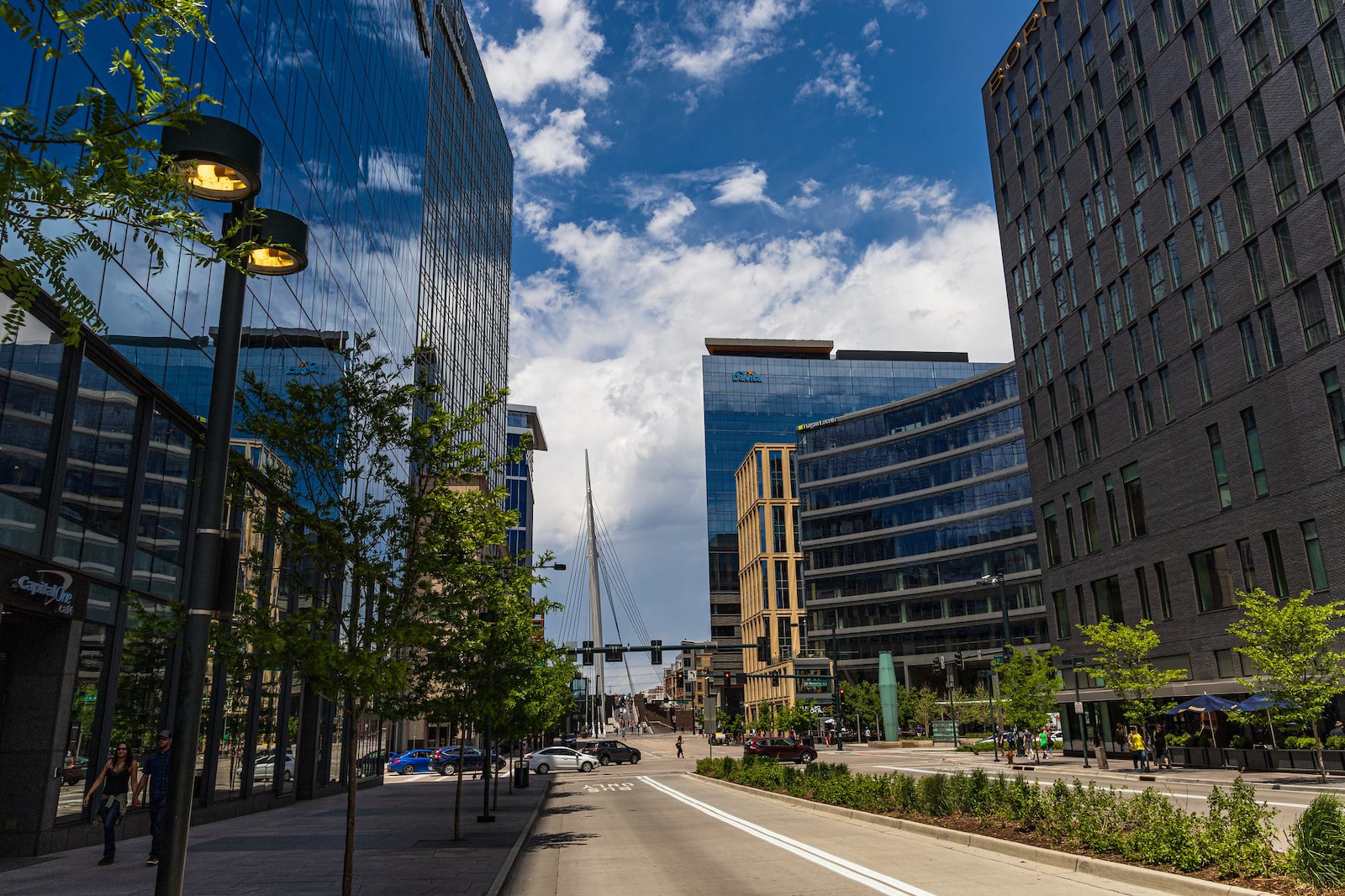 Union Station is the busiest transportation hub in Downtown Denver with public buses and trains bringing passengers in and out of the area. One popular attraction and transportation option is the 16th Street Free Mall Ride, which runs along the 16th Street Pedestrian Mall from Civic Center Station to Union Station.
Other ways to get around include using Ride Share programs and Pedicabs. The city has its own Ride Share program, which rents out e-bikes and scooters. Private ride-share companies that operate in Denver include Lyft and Uber.
The most unique way to get around is by taking a Pedicab, which is an electric tricycle driven by a chauffeur. Pedicabs not only provide quick transportation around Downtown Denver but also can be hired to take tourists on a tour of the area's most popular spots.
History
Before Downtown Denver became a popular residential, business, and tourist area, it began as a series of log cabins that were built along the banks of the South Platte River in the late 1850s. The discovery of gold in the area, even though it didn't amount to much, was enough to draw a rush of settlers, however, the city wasn't built solely on prosperity.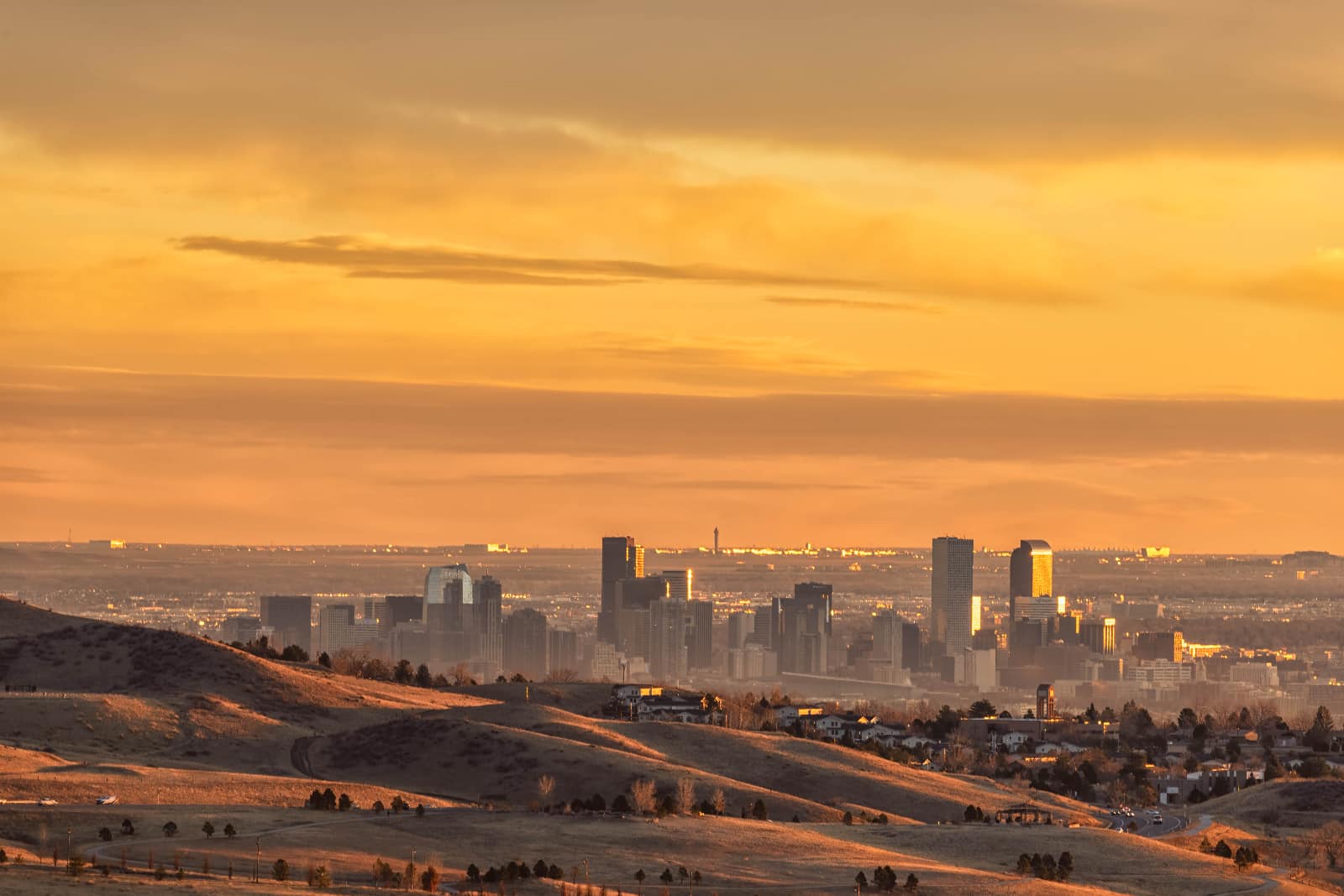 After the initial rush, Denver suffered a series of setbacks including fires, floods, and wars. Determined to not let Denver go bust, residents raised money to run railroad tracks to Cheyenne, Wyoming after the town was overlooked by the Union Pacific Railroads. Not long after being connected to Cheyenne, the city served as a stop by the Kansas Pacific Railroad.
As the years went on and Denver continued to boom, the old settlement eventually became what is now known as Lower Downtown (LoDo), which is the city's oldest neighborhood. Seeing many more ups and downs over the next 100 years, Downtown Denver didn't begin its modern revitalization until the 1960s and 1970s.
Beginning with new investments, businesses and residential spaces were built in the old, unused warehouses. By the 1990s, Downtown Denver became a haven for sports fans because of the opening of both Coors Field and the Pepsi Center (now Ball Arena). Looking towards the 21st Century and Downtown Denver today, the popularity of the area has steadily increased.
Although many Denver/Colorado natives moved to the suburbs, their spots in the city were quickly filled by those coming from out of state. With a full decade of growth and no signs of stopping, Downtown Denver is one of the most sought-after places to live and visit in Colorado.
Main Attractions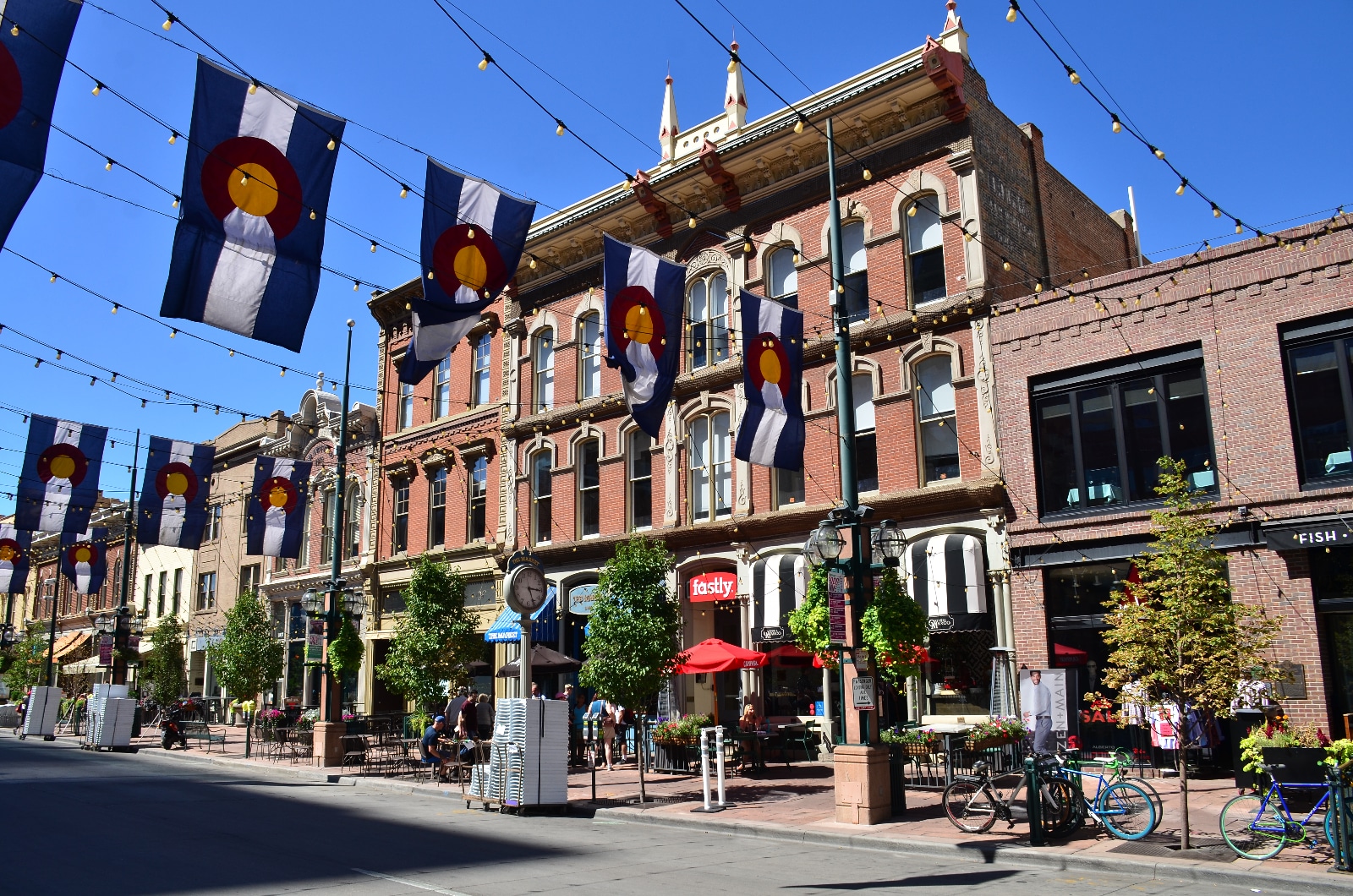 With dozens upon dozens of things to do in Downtown Denver, it can be difficult to narrow down your selection. For residents and tourists who are on tight schedules, the best option would be to see some of the highlights of Downtown Denver.
With a full range of activities, visitors can easily find an activity to suit all interests and ages. Located both indoors and outdoors, the top attractions in the downtown area include 16th Street Mall, Larimer Square, Union Station, the Colorado Convention Center, Theatre District, Sports venues, Elitch Gardens, and Confluence Park.
16th Street Mall
A great place to shop and dine is at the 16th Street Mall. Open only to pedestrians, the mall has an open-air design and is situated along a beautiful promenade. The only vehicle that may drive down the pedestrian mall is the Free MallRide provided by Denver's RTD.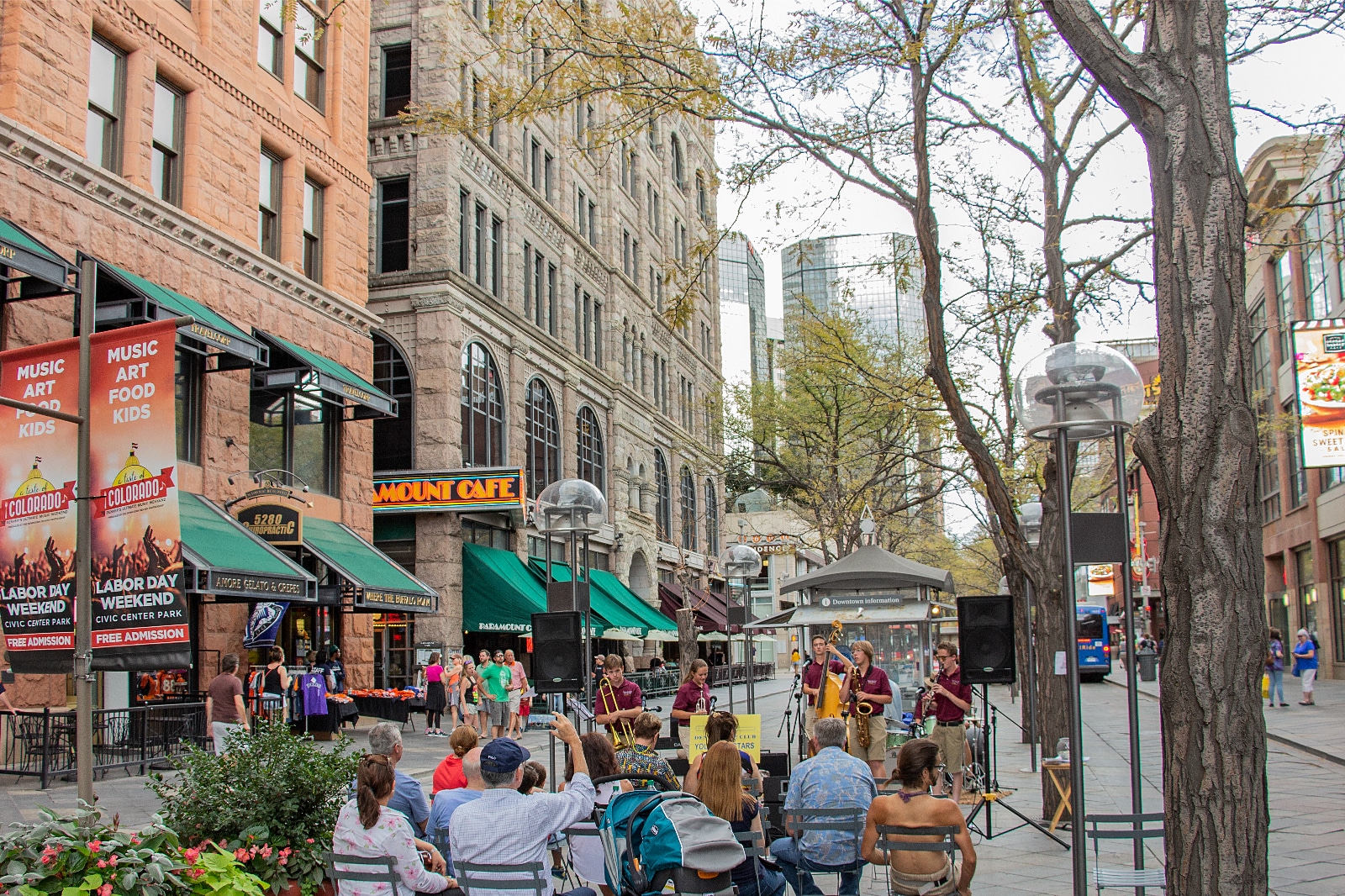 At the 16th Street Mall, there are hundreds of stores as well as numerous restaurants, bars, and cafes. Vibrant and upbeat, many street performers gather to offer shows and products to those passing by. An attractive destination to all ages, visitors can enjoy spending a half or full day meandering around the mall or grabbing a bite to eat.
Larimer Square
Downtown Denver's first settlement was Larimer Square in the LoDo area. Although not quite in the shape of a square, Larimer Square is a one-block-long attraction with plenty of shopping, dining, and entertainment. Beautiful in design, modern businesses have been built into the square's historic buildings.
Open year-round, during specific times of the year, Larimer Square hosts a series of special events. Popular events held during the summertime include Thirsty Thursday, Larmier Sessions, and the Denver Chalk Art Festival.
Union Station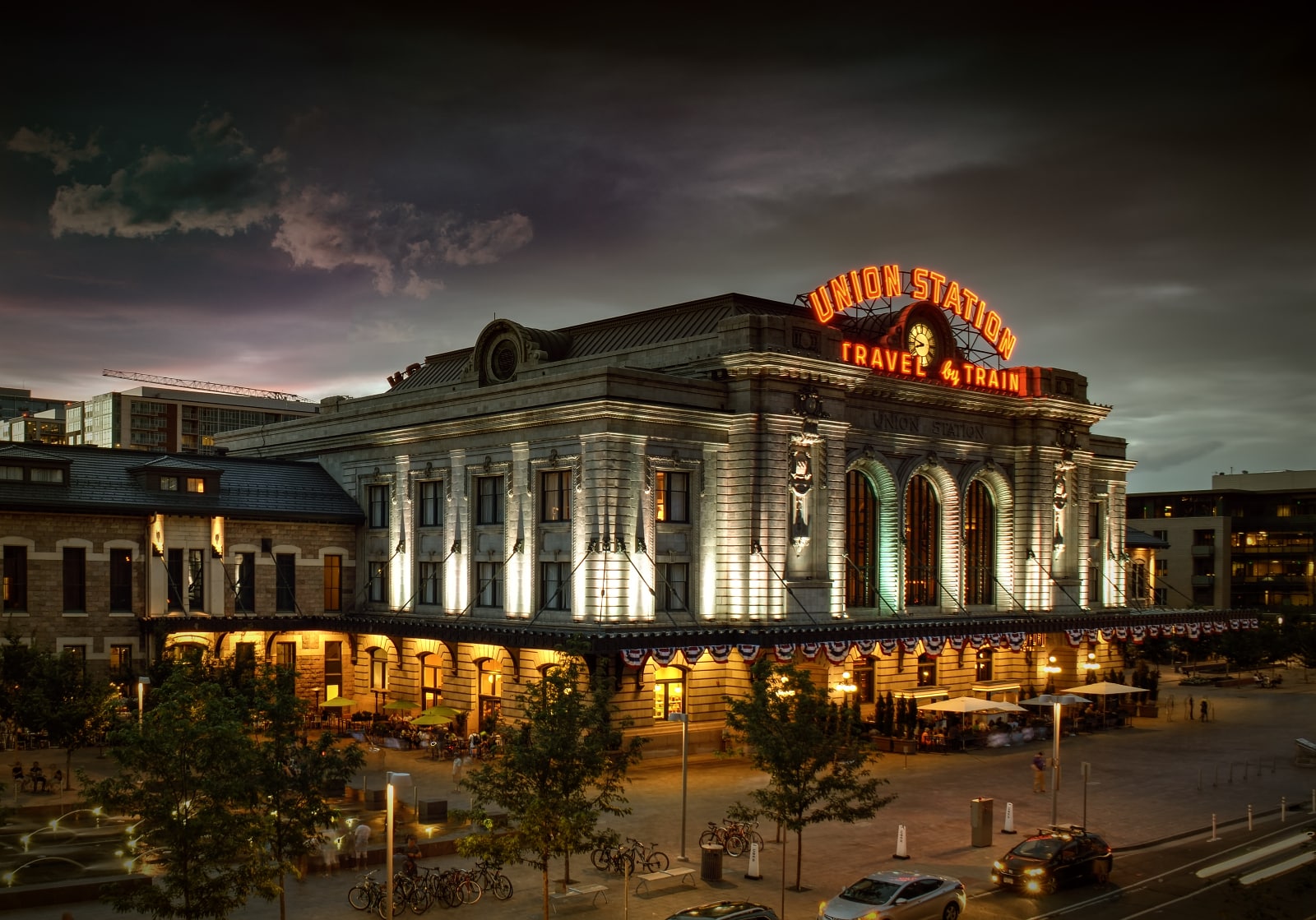 To many, Union Station is just a transportation hub for Downtown Denver, but a recent revival has turned the century-old landmark into a popular attraction. Renovated within the last decade, Union Station has much more than train tracks and bus stops as the inside is home to shops, restaurants, bars, and a hotel.
Catering to guests throughout the day, early morning commuters and visitors can grab a coffee or bite to eat at one of the station's cafes. For lunch and dinner, many of the restaurants serve full menus. Finally, small gift shops ensure that no souvenirs are forgotten.
Colorado Convention Center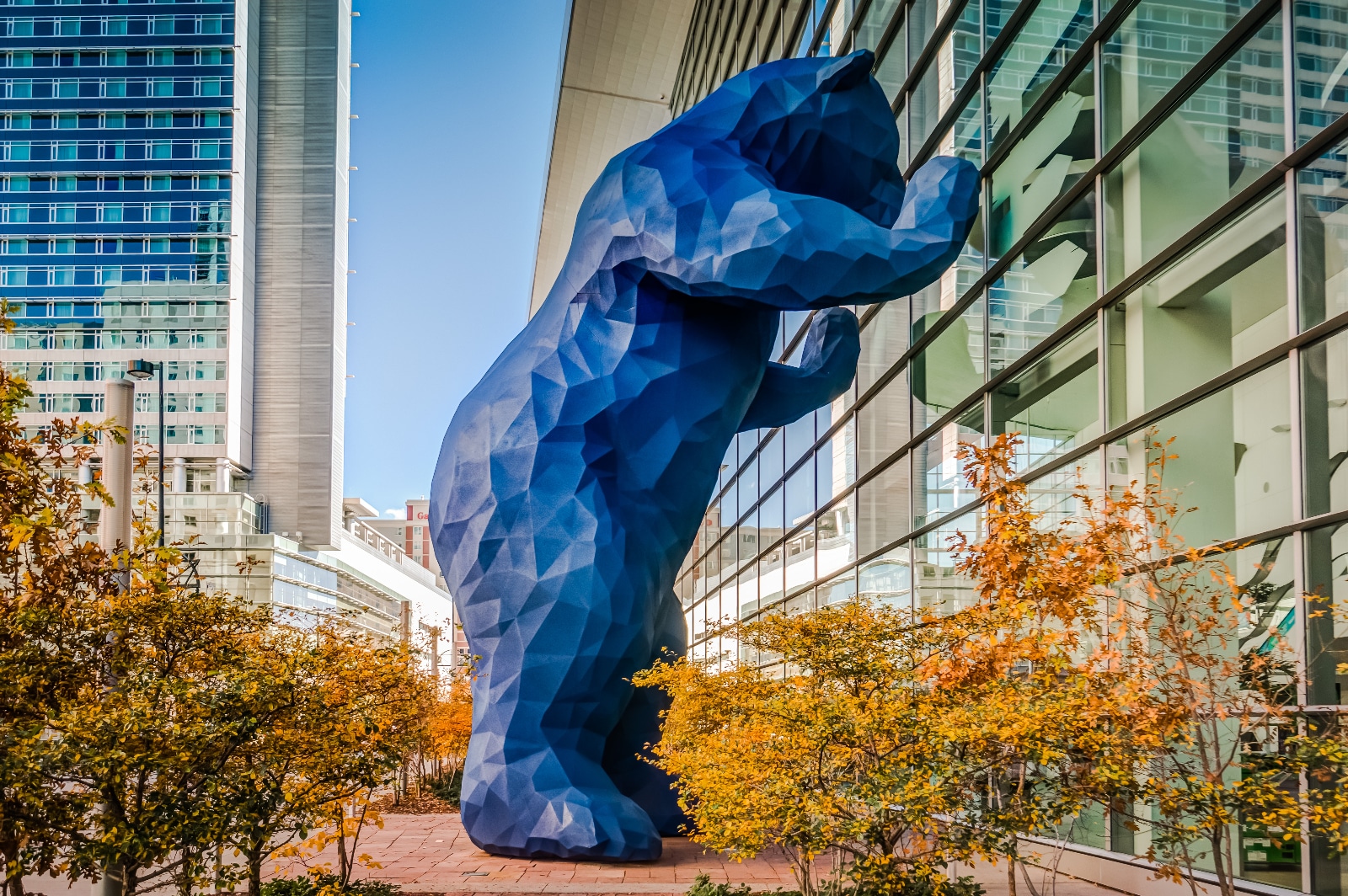 Designed to be an all-purpose venue, visitors don't have to be visiting for a specific event to enjoy the Colorado Convention Center. One major draw for all tourists and a popular photo site is the Big Blue Bear. Standing at 40 feet (12 meters) tall, the Big Blue Bear is on the outside of the Colorado Convention Center looking in and is one of the area's most famous art pieces.
For those that are interested in visiting the Convention Center for a specific event, visitors can find a full schedule and tickets for sale at denverconvention.com. A few of the most popular events that are hosted annually by the center include FAN EXPO Denver, Decadence, and numerous expos.
Denver Center of Performing Arts
At the heart of Denver's Theatre District is the Denver Center of Performing Arts. Located in the downtown area, the center is one of the largest venues for performing arts in the United States. There are 10 performance spaces where patrons can view Broadway shows or listen to stunning symphonies.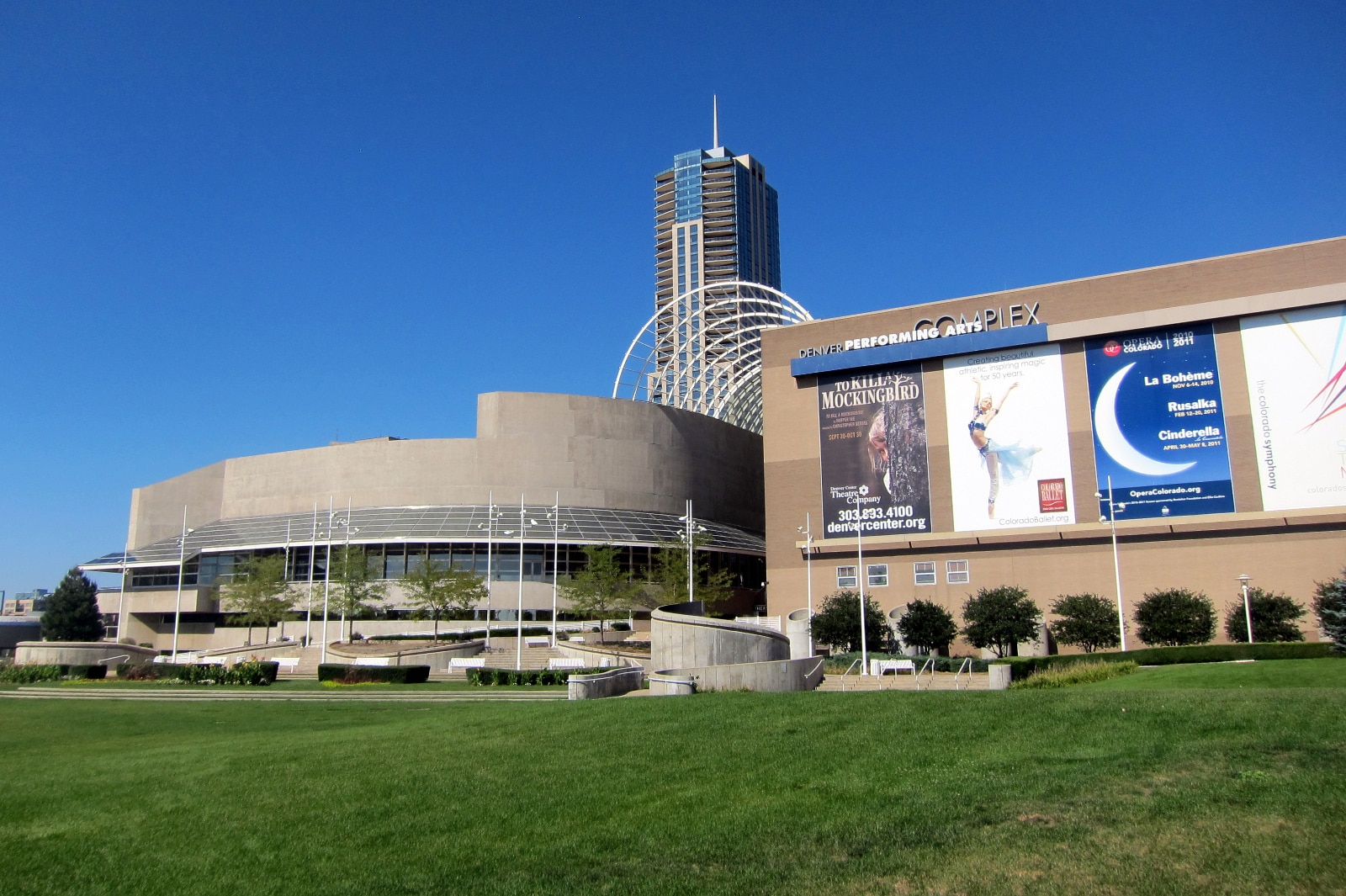 While there's a constant rotation of new shows and events at the center, the Denver Public Schools Shakespeare Festival is held annually in the spring. Events and tickets are sold through the center's main website. In addition to the performance spaces, there are a few restaurants and cafes located within the center too.
Sports Venues
Throughout Downtown Denver, there are various sports venues that have become beloved destinations for sports enthusiasts. Coors Field, Ball Arena, and Empower Field at Mile High are the three places where baseball, basketball, soccer, football, and hockey are played.
Ball Arena and Empower Field at Mile High are treated more like venues because they aren't very popular destinations when there isn't an event actively happening. Although the Ball Arena tends to be quite active because it also hosts concerts.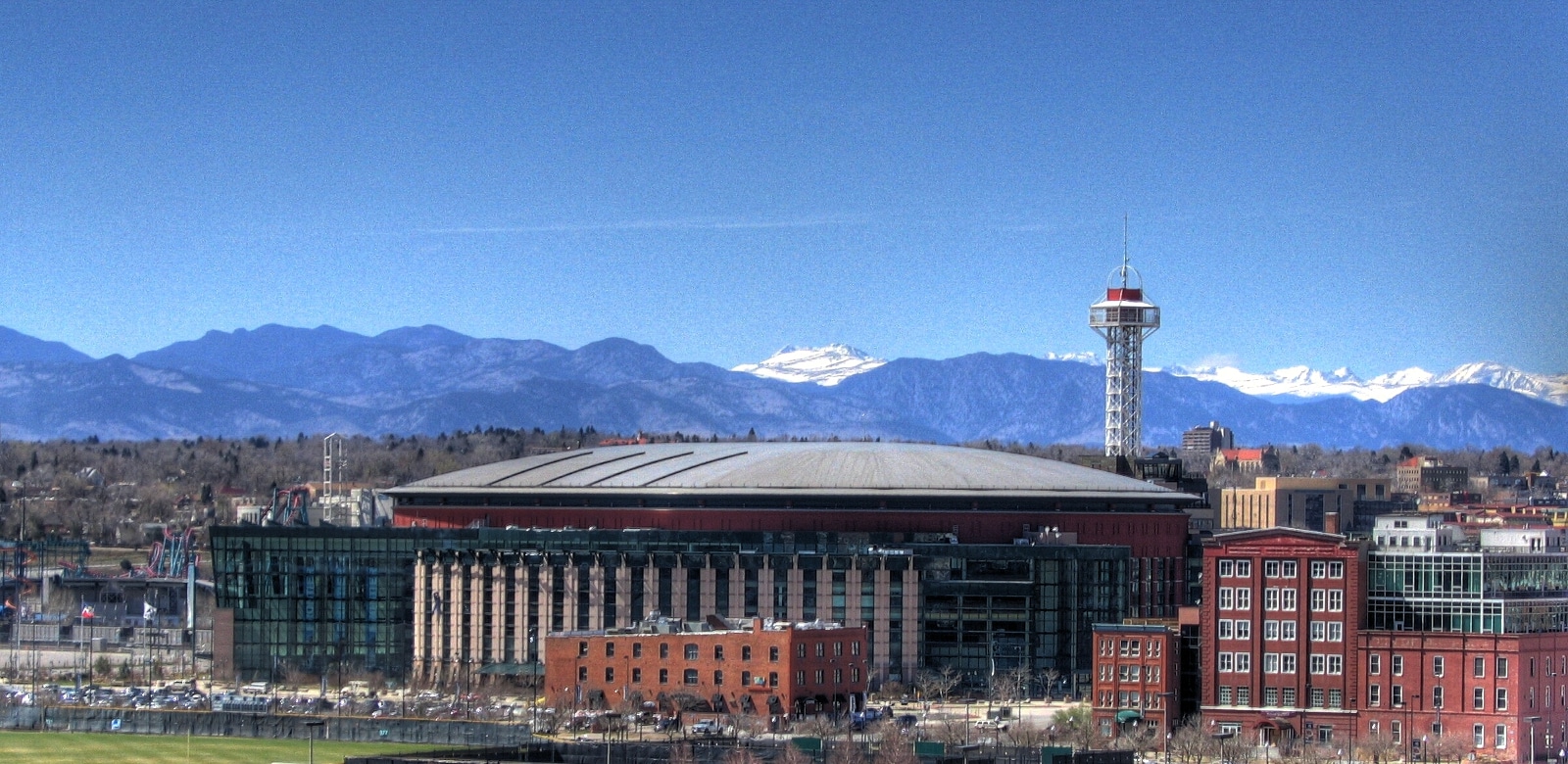 Coors Field is a more unique as a sports venue because it is so close to many of Downtown Denver's best restaurants and bars. Being within walking distance to so many hotspots, Coors Field draws in tourists whether it's a game day or not.
Elitch Gardens
A thrilling addition to Denver's downtown area is Elitch Gardens. A full and very active theme park, it also has a water park that's open to help visitors cool off during hot summer days. Open from day to night and spring to fall (April to October), Elitch Gardens lets people chase their adrenaline on 6 large thrill rides including the Tower of Doom, Mind Eraser, and Brain Drain.
Busy throughout the year, the theme park is particularly crowded during the month of October because of the Halloween special events. Tickets can be purchased online or on-site, depending what best suits your travel needs.
Confluence Park
On the edge of Downtown Denver where the South Platte River meets Cherry Creek, outdoor and nature lovers should check out Confluence Park. Located along the river and creek banks, the park is great for walking, running, and cycling. Wide paths take visitors around the area and to other parts of Downtown Denver and the city.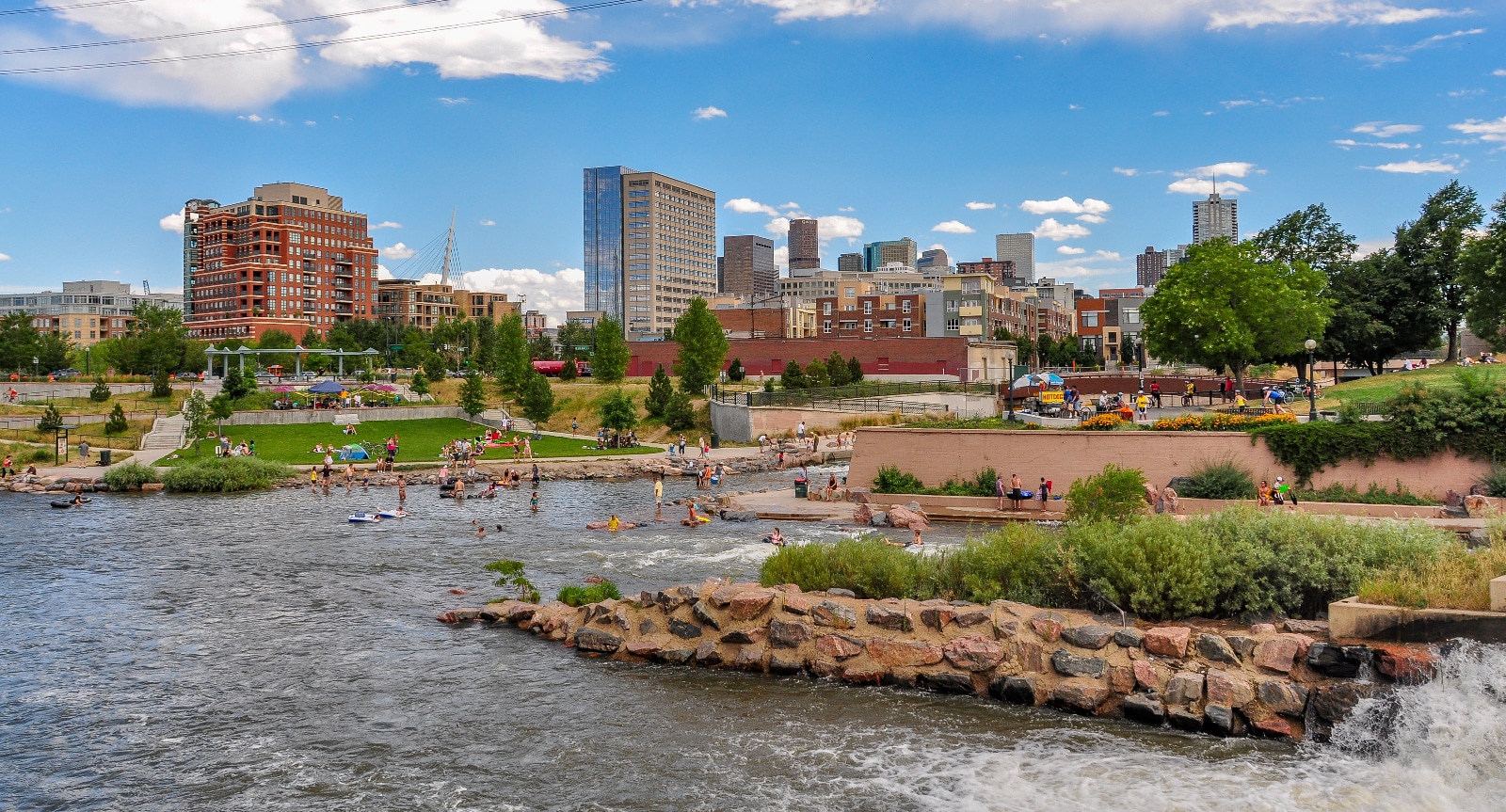 During the summertime, it's common to see kayakers and tubers enjoying the South Platte River's gentle currents. Even though the park sits on the edge, it's still within walking distance to popular areas of Downtown Denver. Just minutes away, visitors can walk from the park to find plenty of retail and dining options.
Whether you're new to the area, a long-time resident, or trying to make the most of your vacation time, Downtown Denver dazzles with its historic value and modern amenities. As an active city perfect for leisure travel, visitors have fallen head over heels for Downtown Denver.