Just over a full mile of pedestrian shopping and dining has made the 16th Street Mall a downtown Denver favorite of locals and tourists for more than 30 years. Over 250 shops and restaurants, plus year-round special events, make this area an exciting Denver destination since the early eighties.
The Sixteenth Street Mall runs from the southeast at the Civic Center Station (RTD) by the State Capitol Building, to the northwest ending at Wewatta Street near Union Station. It includes 14 city blocks over 1.25 miles.
There's even an additional shopping center housing 40+ more retail stores and eateries at one end of 16th street, called Denver Pavilions. It has the always-fun Lucky Strike Lanes, and bowling alley.
Downtown Pedestrian Promenade
The 16th Street Mall promenade surface was designed with white, grey, and red granite tiles, by architect I.M. Pei. When viewing the promenade from above, the design resembles the pattern of a western diamondback rattlesnake.
Many fountains along 16th street add to the beauty of this shopping community. Small plazas provide areas for themed events. At night, the over 200 trees along the promenade are lit with twinkle lights — a delight to see while taking a horse-drawn carriage ride.
Free 16th Street Mall Bus Ride – Though mainly a pedestrian mall, there are free shuttle buses that stop at every corner along the promenade every few minutes and all week long. But don't miss out on walking the north end path over three pedestrian bridges that connect 16th Street Mall to Commons Park.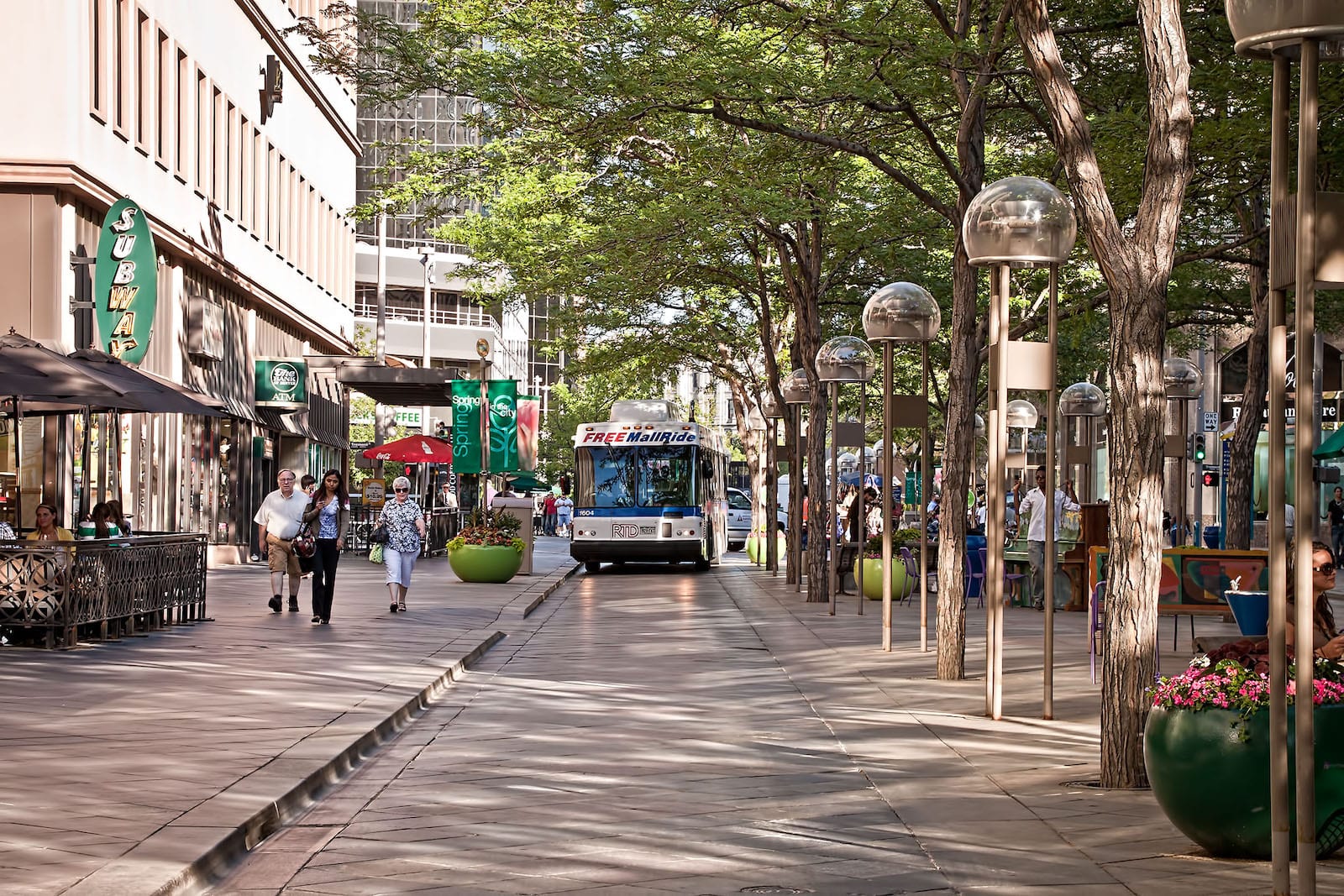 Shopping – Recognizable national brands mix with exclusive-to-Denver companies in this bustling shopping district. Clothing, jewelry, books, tea, wine, yarn, and hand-crafted leather goods are among the many products retail vendors sell in this area.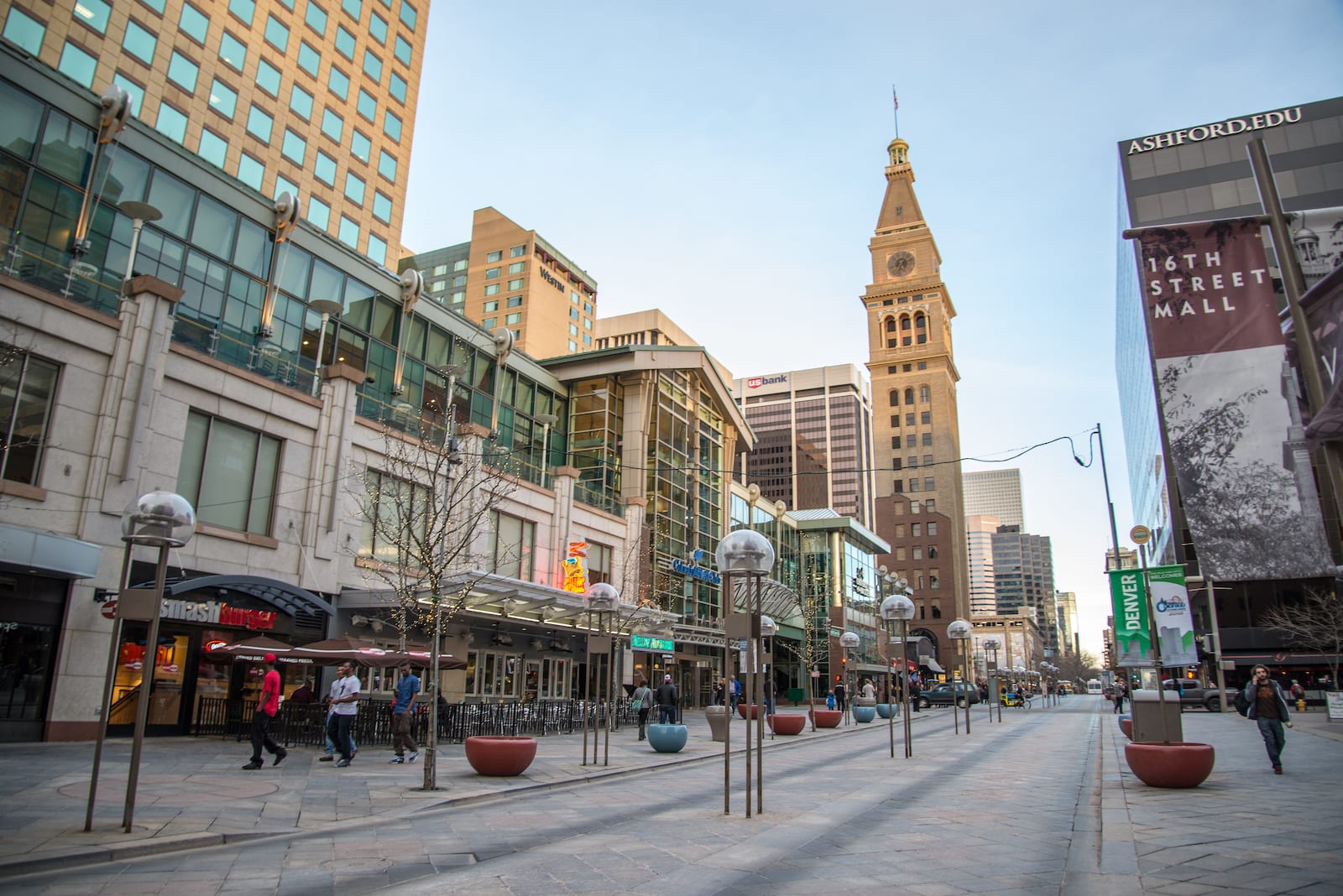 For designer fashions, shops like Banana Republic, Francesca's, and LOFT are some of the main clothing chains. Boutiques like Long Tall Sally's (fashion for tall women) and M.W. Reynold's (outdoor wear for men) sell specialty apparel.
There are many gift shops to choose from throughout 16th Street Mall. Book lovers from around the world relish hours spent browsing the shelves and grabbing a treat at Denver's own Tattered Cover Bookstore.
Dining – It would take far too long to list all the great restaurants, sidewalk cafes, taverns, breweries, and coffee houses 16th Street Mall contains. Dining here runs from very casual to luxurious, and everything in-between.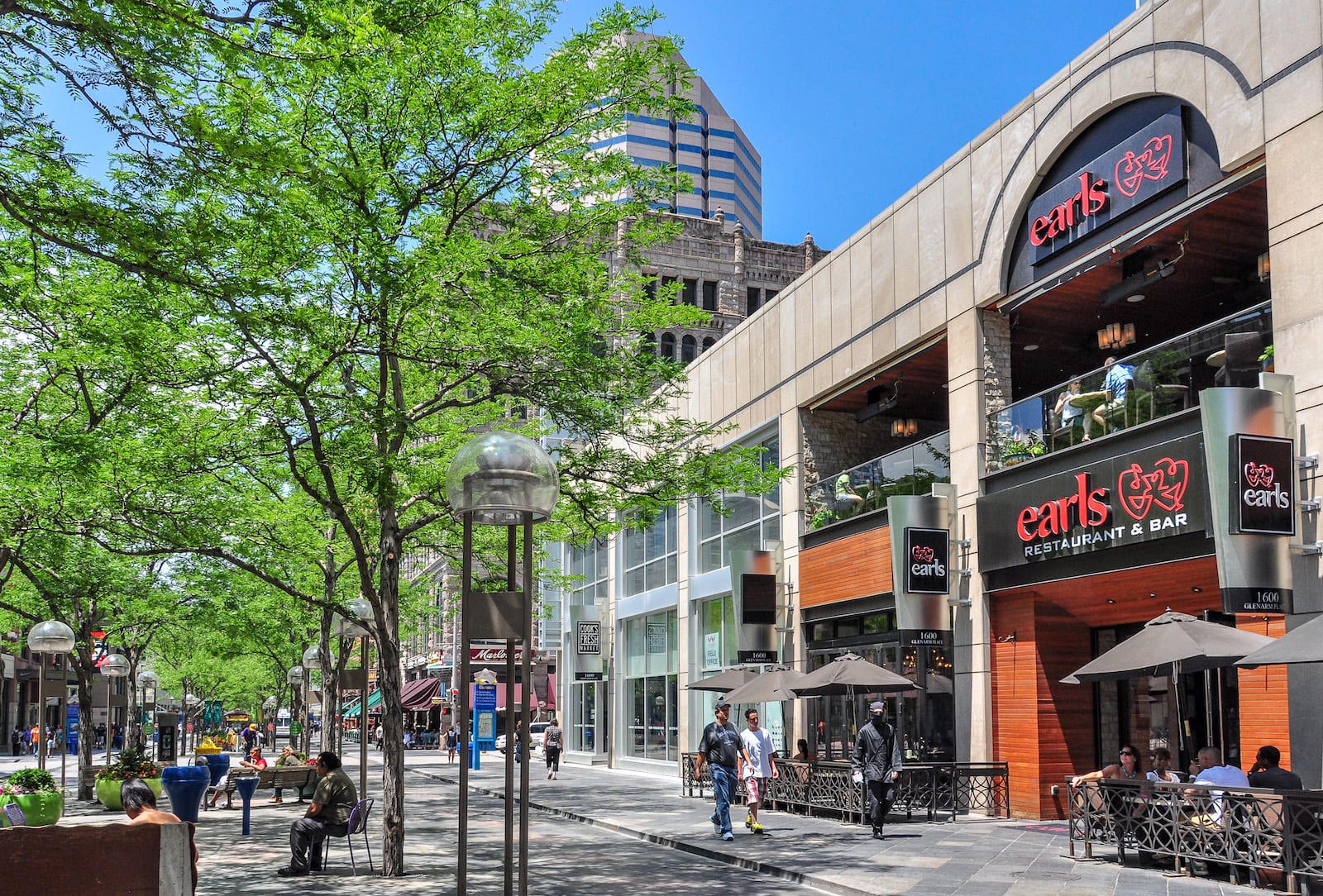 For breakfast, try The Delectable Egg or Snooze an A.M. Eatery. For a Colorado farm-to-table lunch, try Modern Market. For great Italian food, try Mici. For award-winning Asian street food, try Zoe Ma.
If you're craving a great beer or hard cider, check out Henry's Tavern or Rock Bottom Brewery.
16th Street Mall is surrounded by hotels, historic LoDo and trendy LoHi districts, and convenient public transportation. A visit to 16th Street Mall is a great jumping-off point to all that Downtown Denver has to offer for visitors of all ages.
Getting There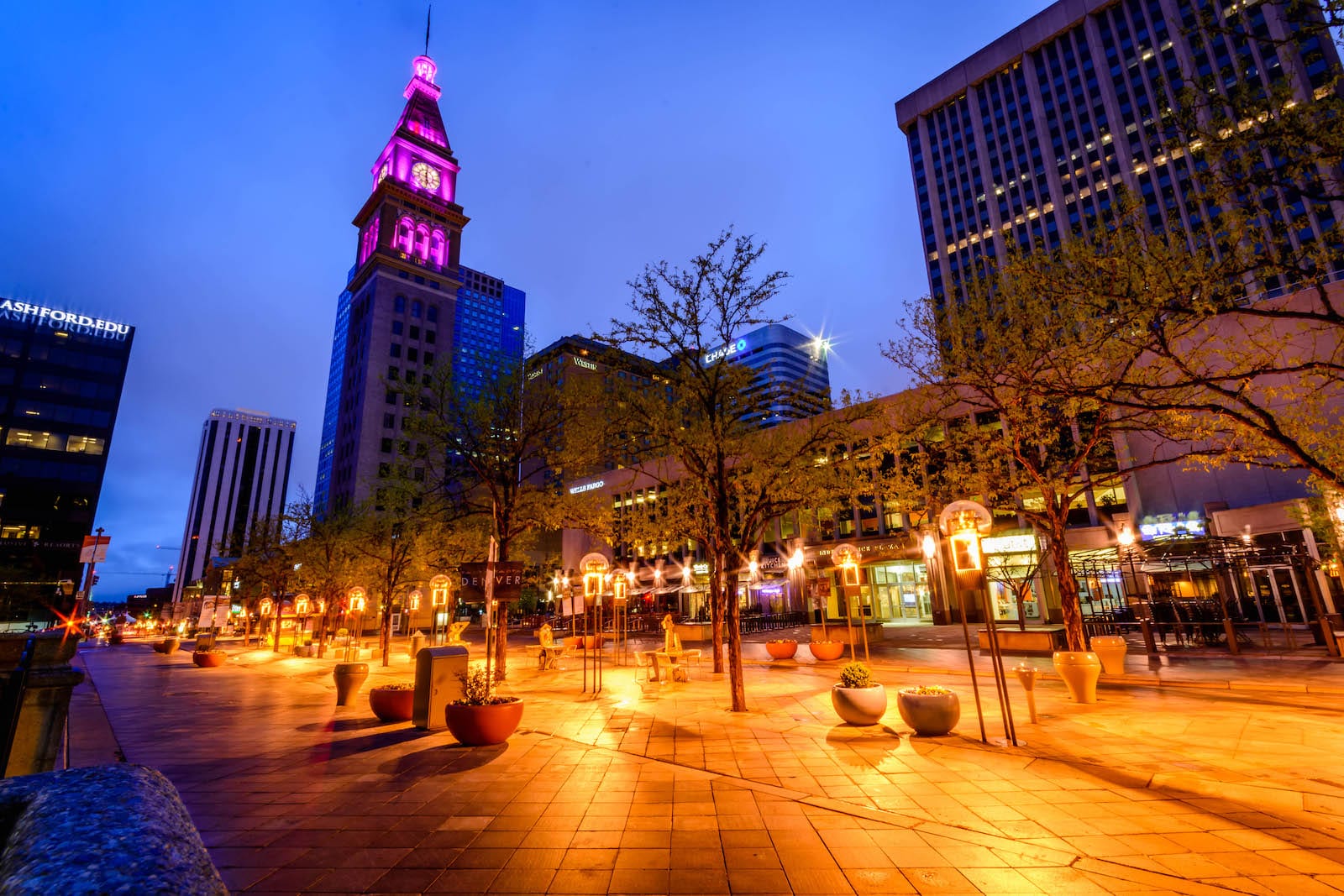 16th Street Mall is accessible from various streets downtown. From north Broadway, take a slight right onto Glenarm Plaza and follow it to 16th street. There are plenty of visible pay-to-park lots scattered around downtown's maze of one way streets.
Details
Address: 16th Street, Denver, CO 80202
Website: denver.org/things-to-do/denver-attractions/16th-street-mall