The historic Denver landmark received a facelift not too long ago, and now it's on everyone's radar as not just a transportation hub, but as a place to wine, dine, and stay. Found in the heart of downtown, the 1914 Beaux-Arts train station is home to multiple upscale restaurants, bars, shops, and the luxurious Crawford Hotel.
From its restaurants, shops, hotel, train, and bus, there's a lot to see and do in this one gigantic building parked on 25 acres of land. Discover below all you need to know about Denver's Union Station before your next visit.
History of Denver Union Station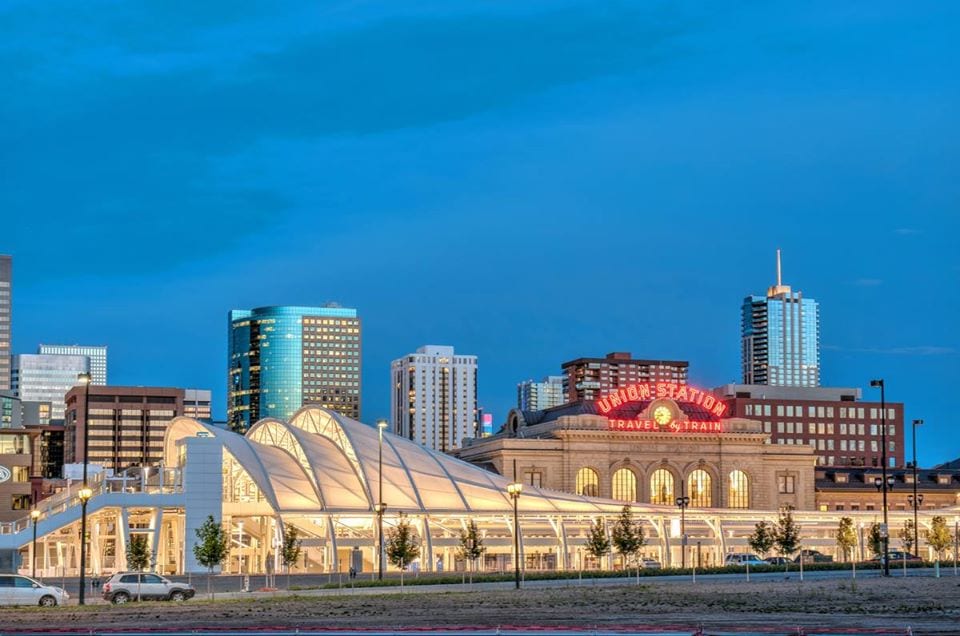 The completion of Union Station, more than 150 years ago, helped to make Denver a transportation hub. Like so many other major train stations, it was a risk of being torn down due to the rise of automobiles and air travel.
To save this iconic landmark, a group of dedicated advocates closed the deal on a multi-million-dollar renovation project, and the rest is well history. In 2014, Denver Union Station opened its doors with an entirely new look for future generations of travel.
Restaurants
Experience some of Denver's best dining all under one roof at Union Station. From fast food to high-end cuisine, there is something to please anyone's palate.
ACME Delicatessen
For a meal on the go before you catch the train or bus, stop in at ACME Delicatessen. Serving up artisan-style meats, custom to your liking ready-to-go sandwiches, and fresh salads, this casual yet chic delicatessen is open for both lunch and dinner.
And recently added ACME Pizza, located in the Great Hall of Denver Union Station, offers up fast-fired pizza, all made with fresh ingredients. Open late hours, until 1:00 a.m. Thursdays through Saturdays, ACME Pizza makes for a great late-night snack after a night out on the town.
Mercantile Dining and Provision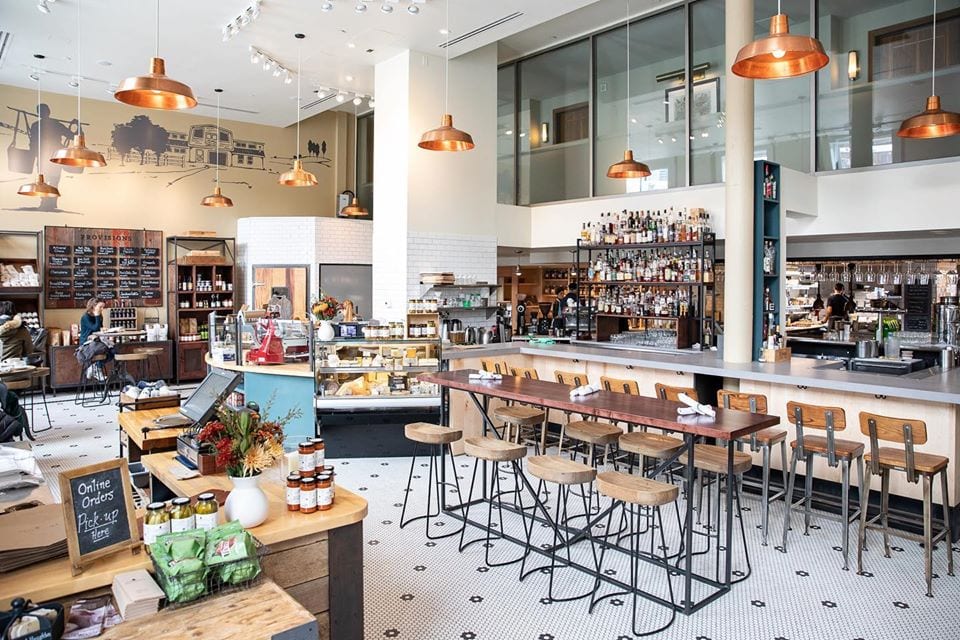 Take it up a notch and enjoy an evening at Mercantile Dining and Provision. James Beard Award-winning Chef Alex Seidel brings a certain level of sophistication to casual comfort food. Enjoy seasonally inspired dishes for breakfast, lunch, and dinner, all in a casual dining atmosphere.
Both a market and a restaurant, pick up some goods to go from their European-style market, including fresh jams, spices, and cheeses, all complete with a full-size coffee bar.
Milkbox Creamery
Located in the Great Hall, Milkbox Creamery scoops out 16 different ice cream flavors of the locally owned Little Man Ice Cream. Take yours in a cone, as a sundae, as a shake, or even a boozy shake.
Next Door Community Pub

With its pronounced menu that is 100% sourced from American farmers, know you are eating food you can trust at Next Door Community Pub. The casual eatery brings sustainably fresh foods at an affordable price with tasters starting at $4.99 and delicious bowls, like Honey Sriracha Crispy Gulf Shrimp bowl for just $16.99, and so much more.
Snooze an AM Eatery
A Denver, Colorado native, Snooze AM Eatery opened its doors inside Union Station several years ago. Serving up iconic pancakes, brunch cocktails, and breakfast classics like benedicts, and burritos, plus breakfast tacos and bowls, start your day off with breakfast at Snooze. Located along Wynkoop, the restaurant offers an inside and outside dining option with a large patio for those sunny Colorado days.
Stoic and Genuine
The seafood and oyster house, Stoic and Genuine, does not shy away from innovation, yet still maintains the classics, you can always count on the seafood to be fresh. "No ocean. No problem" is their way of saying, they have fresh seafood flown in daily to help create their multi-coastal seafood menu. Join them for brunch, lunch, and dinner.
The Cooper Lounge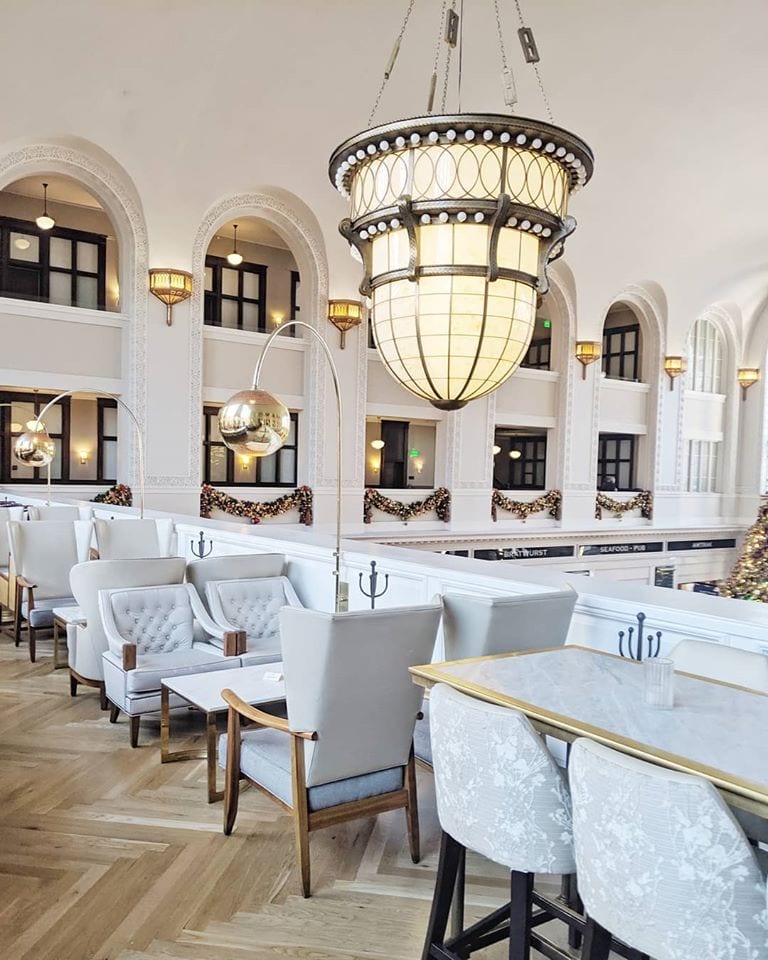 For staggering views of Denver's Union Station and undeniably good food, head up to the mezzanine overlooking The Great Hall to The Cooper Lounge. Style and good food meet with the lounge's modern chic atmosphere and delicious bites. Paying tribute to the generation of chic cocktail lounges, The Cooper Lounge also cooks up crafty cocktails from skilled bartenders who bring the elegant atmosphere inside your glass.
Ultreia
From those who also brought you Stoic and Genuine and other beloved Denver restaurants, Ultreia is the latest to hit the scene with its shared plate pintxos and tapas inspired by the foods of Spain and Portugal. Pair your small plates with a classic cocktail, where patrons can choose from a wide selection of gins and sherries. Come for lunch, brunch, dinner, and happy hour.
Shopping at Denver Union Station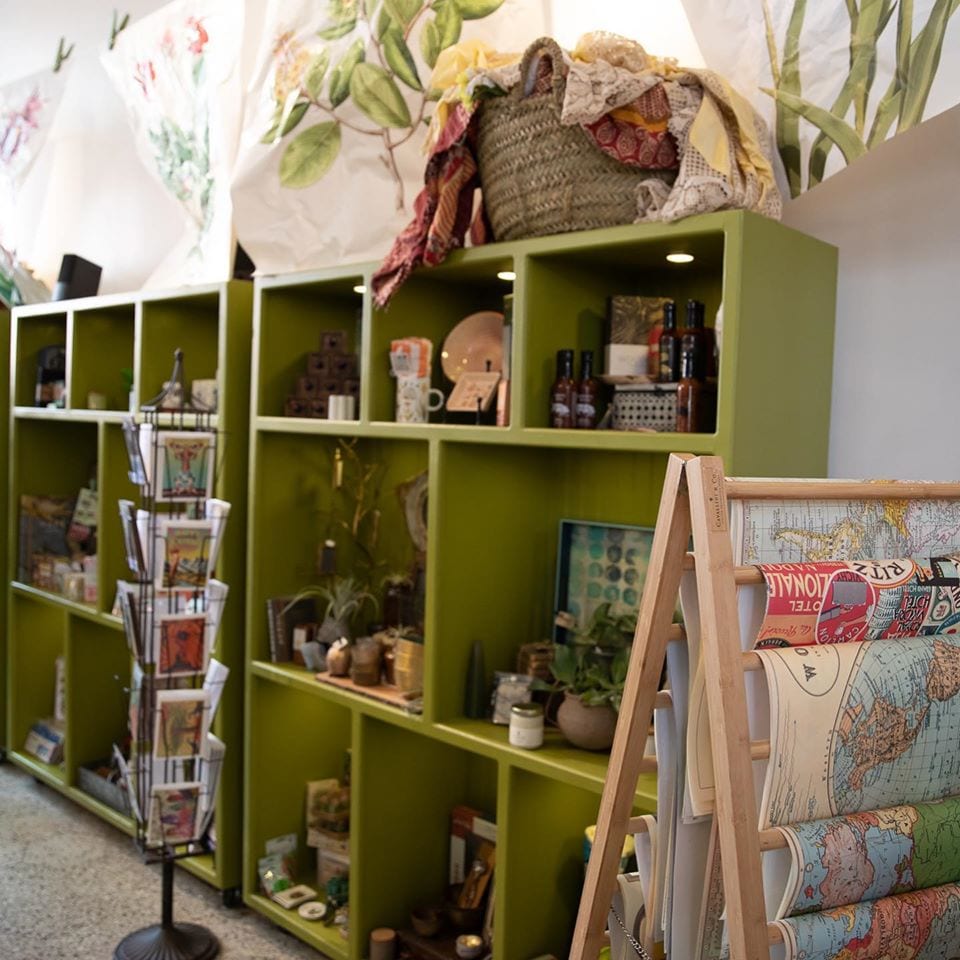 Pick up a souvenir for yourself or a gift for someone from the several shops that call Denver Union Station home. 5 Green Boxes offers an eclectic blend of jewelry, crafts, and other unique gifts. BLOOM is a lifestyle boutique selling items for your home, one-of-a-kind gifts, and flowers.
Or cozy up with a book at the Tattered Cover Book Store. A local favorite Tattered Cover offers a well-curated selection of books in a relaxed environment.
Bars
Terminal Bar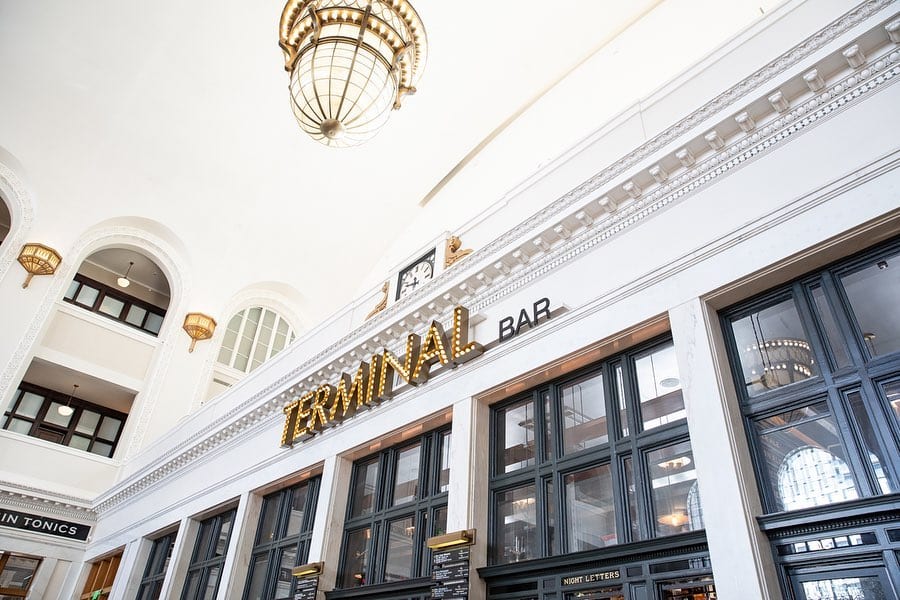 Perhaps the centerpiece of Denver's Union Station is The Terminal Bar. The bar itself is located in the historic ticketing office inside the Great Hall. Order your drink at the window, just as they once did to purchase train tickets.
Choose from 30 different Colorado-crafted beers, signature cocktails, and wines by the glass. Open seating is available within the old terminal in the form of tables and bench-style seating, couches, and plush chairs for a relaxing atmosphere.
The Copper Lounge
There's another second bar upstairs, out in the open overlooking the main floor, yet hidden and tucked away. It creates a bit of speakeasy bar vibe that you must look for at The Copper Lounge desk and wait to be escorted up (if there's room). Hotel guests have easy access to the second-floor lounge via their key card and elevator.
Denver Union Station Hotel
Crawford Hotel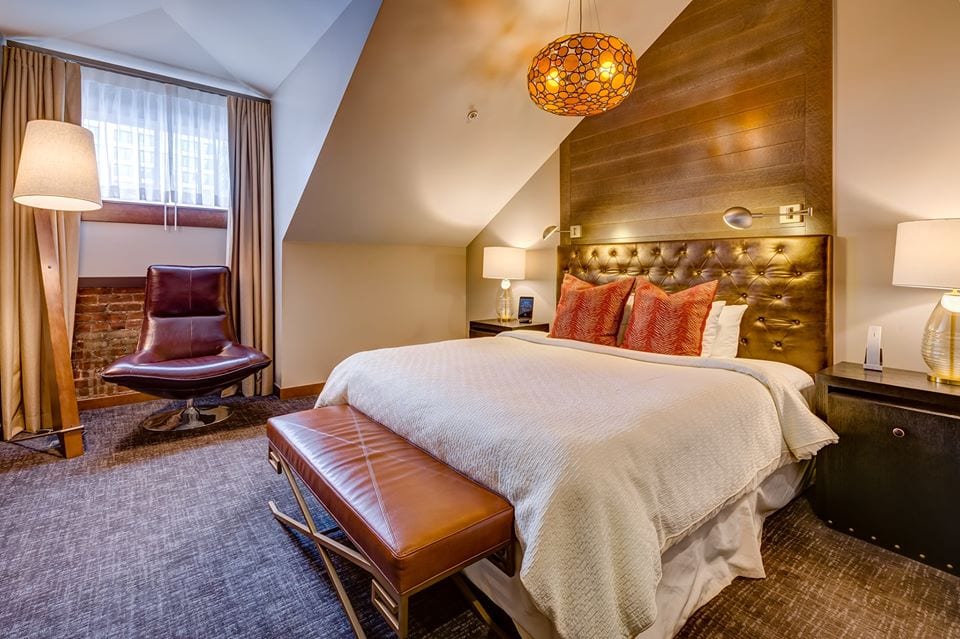 Need a room for the night while traveling or just don't want to leave Denver Union Station? Book a room at The Crawford Hotel. At home above the iconic Great Hall, The Crawford Hotel is an excellent representation of what it means to travel in style. Enjoy stylish modern décor all within a sophisticated atmosphere, complete with all the amenities you might need during your travels.
Check prices, availability or book The Crawford Hotel.
Transportation
With Denver's Union Station completing the upgrade in 2014, the Mile-High city brought multiple transit options, all under one roof. With the Amtrak Station, RTD Free MetroRide, RTD Free MallRide, and the RTD Light Rail, there isn't anywhere you can't get to from Union Station.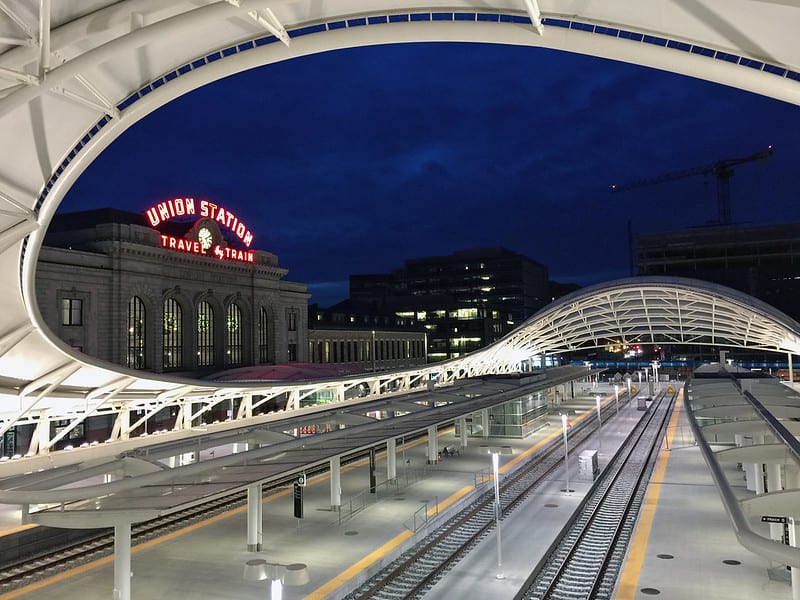 Amtrak Station | Train
Ride by train across America on the California Zephyr Line. The line makes a stop at Denver Union Station with other stops including Chicago and Salt Lake City. The stops in Colorado to the east include Fort Morgan, and to the west, the Amtrak train from Union Station stops in: Fraser, Granby, Glenwood Springs, and Grand Junction.
RTD Free MetroRide | Bus
For those sticking to Downtown Denver, the RTD Free MetroRide is the best option with effortless rides between Civic Center and Union Station.
RTD Free MallRide | Bus
The RTD Free MallRide is an easy hop-on/hop-off bus route that takes you along the 16th Street Mall. It runs a mile between Lower Downtown and the Central Business District nearby the Capitol Building.
RTD Light Rail | Train
Catch the RTD Light Rail on Chestnut Street for lines C, E, G, and W to get you most anywhere in the city and surrounding areas.
A Line Train to Airport | Train
The University of Colorado A Line is the train from Union Station to Airport. It runs multiple times daily year round. It doesn't run 24/7 though, so do check the schedule if you have an early or late flight.
While most travel to Union Station by way of train, bus, or light rail, if you are driving bring your car to Denver Union Station Valet stand for daily and overnight parking. Whether you are out for the evening, catching a train to your next destination or looking for a place to stay, Denver Union Station has it all!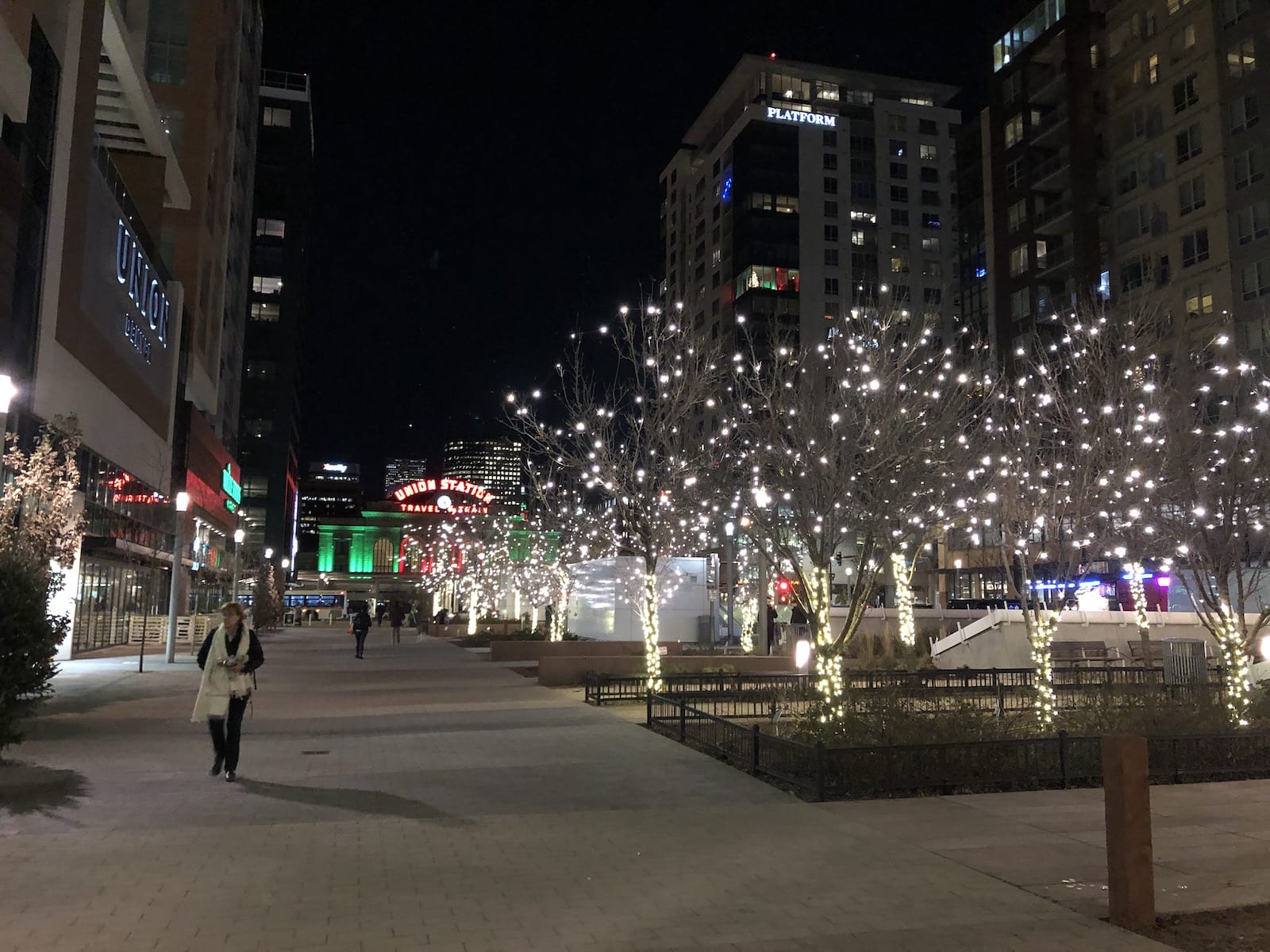 Details
Address: 1701 Wynkoop, Denver, CO 80202
Phone: 303-299-6000 (customer Care RTD Union Station)
Season: Year round
Opened: 1894
Area: 25 acres
Website: unionstationindenver.com