Serving 8 counties around the Denver Metropolitan Area, the RTD Bus System is your go to for fast and convenient public transportation. It provides more than 9,000 bus stops and over 125 bus routes to get you where you need to go.
When booking your RTD bus trip, there are several things you should know your first time. The basic steps for how to ride the RTD bus are:
Find RTD info.
Plan your trip itinerary.
Find your bus stop.
Check your bus route and board the bus.
Pay your fare.
Depart the bus at your stop.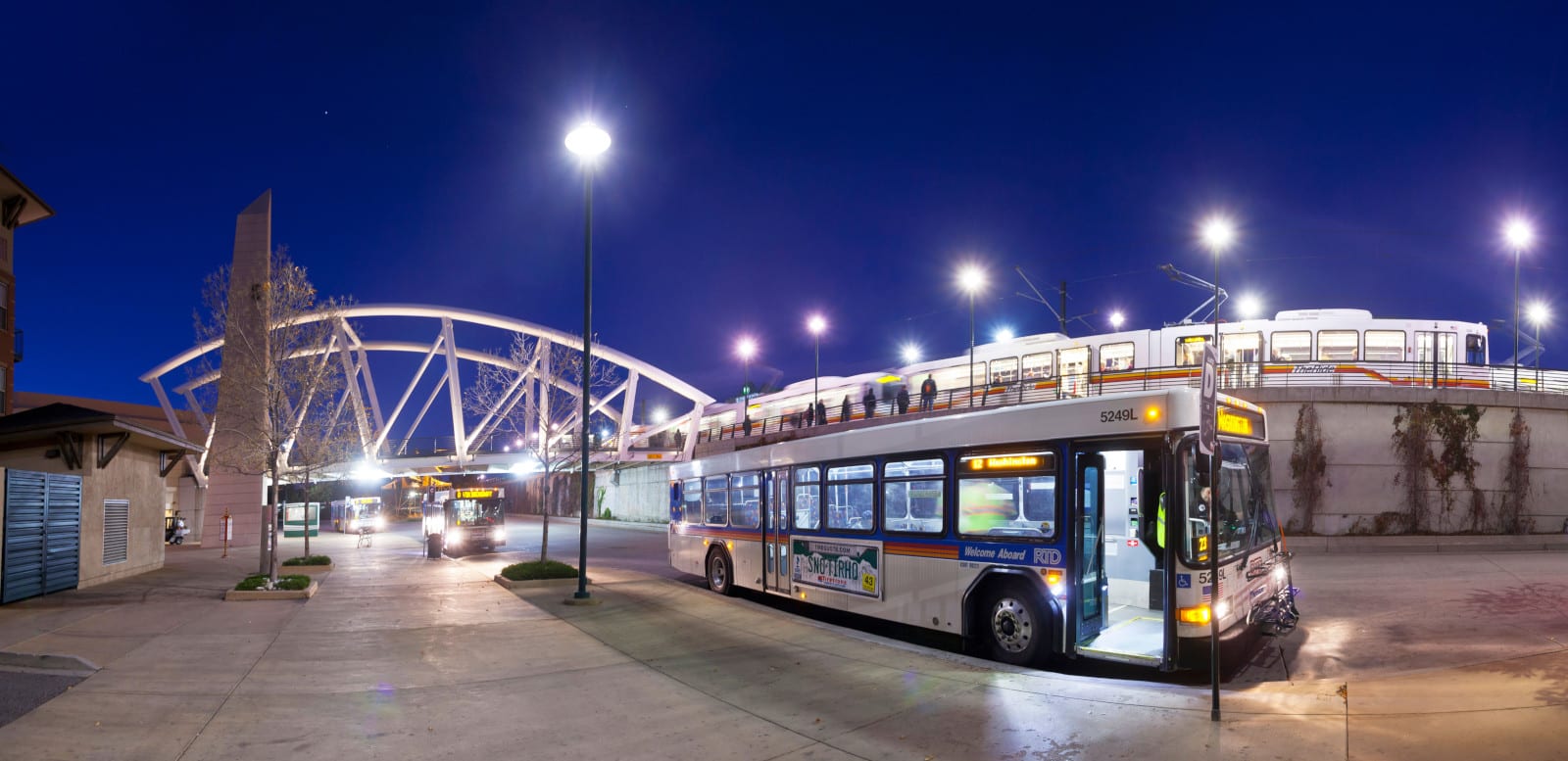 Paying the Fare
There are several ways to pay the bus fare. You can buy a Day Pass, MyRide, 3-Hour Cash Pass, Passes and Ticket Books.
Day Pass – Both Local and Regional/Airport passes can be purchased. It can be done with cash as your board, with the RTD Mobile Tickets app, and at RTD ticket vending machines.
MyRide – This is the most flexible option because it doesn't require exact change. You can buy and pre-load your card online, at select King Soopers and Safeway stores, as well as at RTD Sales Outlets.
3-Hour Cash Pass – Use exact change, no debit or credit cards are accepted. This pass is good for an unlimited number of trips within a 3 hour time frame, at the same service level on buses and trains. You can also buy it using the RTD Mobile Tickets app.
Passes & Ticket Books – Regular commuters on the RTD system can buy a Monthly Pass or 10-Ride Ticket Book. They're available from the online store, RTD Sales Outlets, select King Soopers and Safeway supermarkets. The Monthly Pass can be purchased using the Mobile Tickets app.
Frequent riders should download the RTD Mobile Tickets app, available on the Apple App Store or Google Play.
When boarding the bus, riders should pay the fare with one of the following methods:
Cash – Have exact change because the driver will not make change for you.
10-Ride Ticket Book – Pre-purchased ticket books may be used. Tear out 1 ticket and drop it in the box as you would cash.
Pass – Show the driver your pass when your get on the bus.
Smart Card – Tap your card next to the Smart Card reader. Make sure the fare is accurate to the default fare, or let your bus driver know if not.
Transferring – A 3-Hour Pass or All Day Pass Airport Pass can be used to transfer between RTD services, just show the driver.
You can view the all the local and regional bus routes and schedules online.
You can also view the whole RTD System Map online.
Union Station Bus Concourse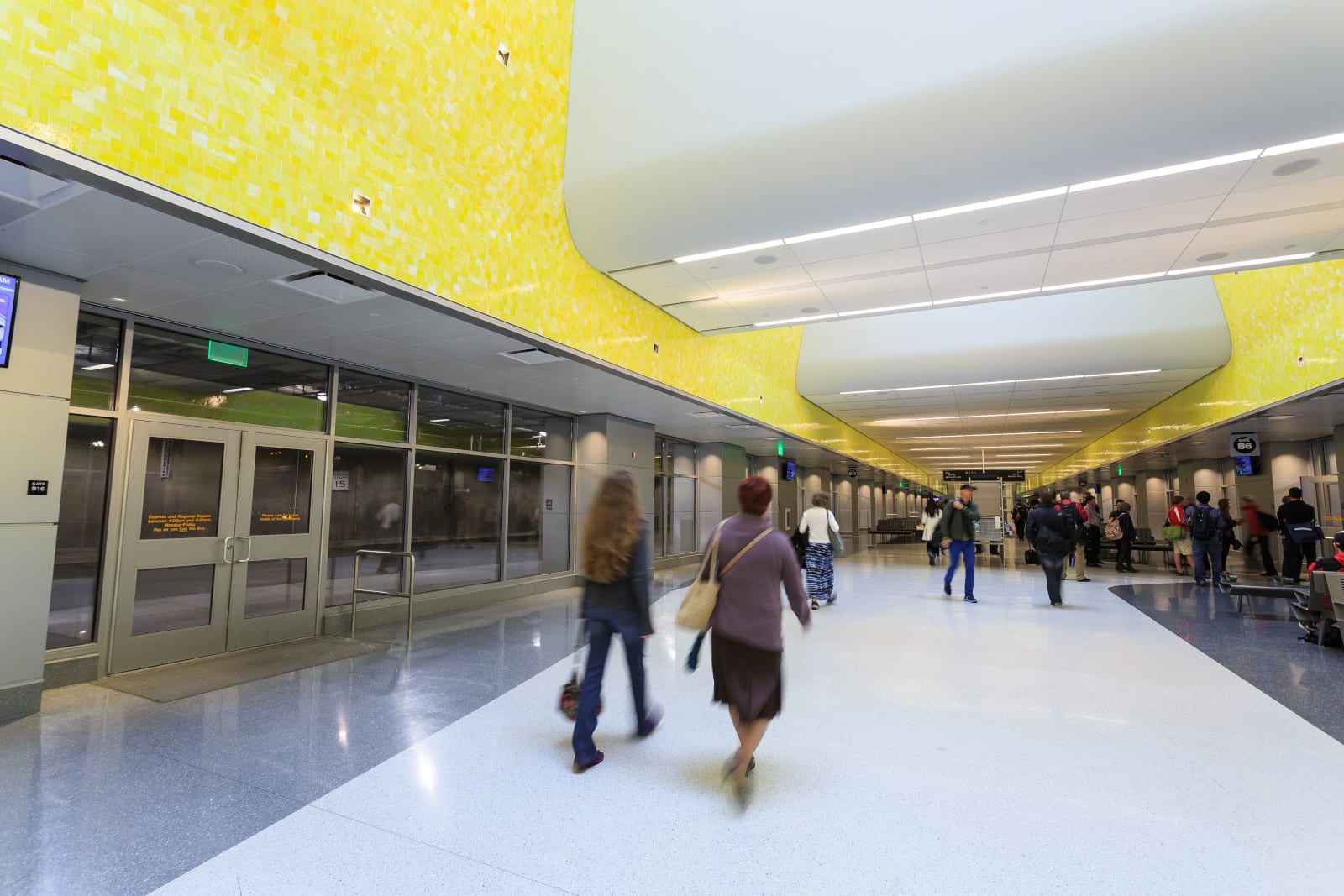 The hub of the RTD bus line is the underground Union Station Bus Concourse. The 22-gate can be accessed on the back side of Union Station beside the railroad tracks. You can ride the Denver Airport Train from here as well. The underground concourse leads to the another set of lines on the opposite end for the RTD Light Rail.
The Union Station Bus Concourse provides 16 separate bus routes, including a Free MetroRide. Both local and regional bus routes can be accessed here, including the Bustang. It goes south and north on the Front Range, as well as west into the Rockies, to destinations such as Glenwood Springs.
Free MallRide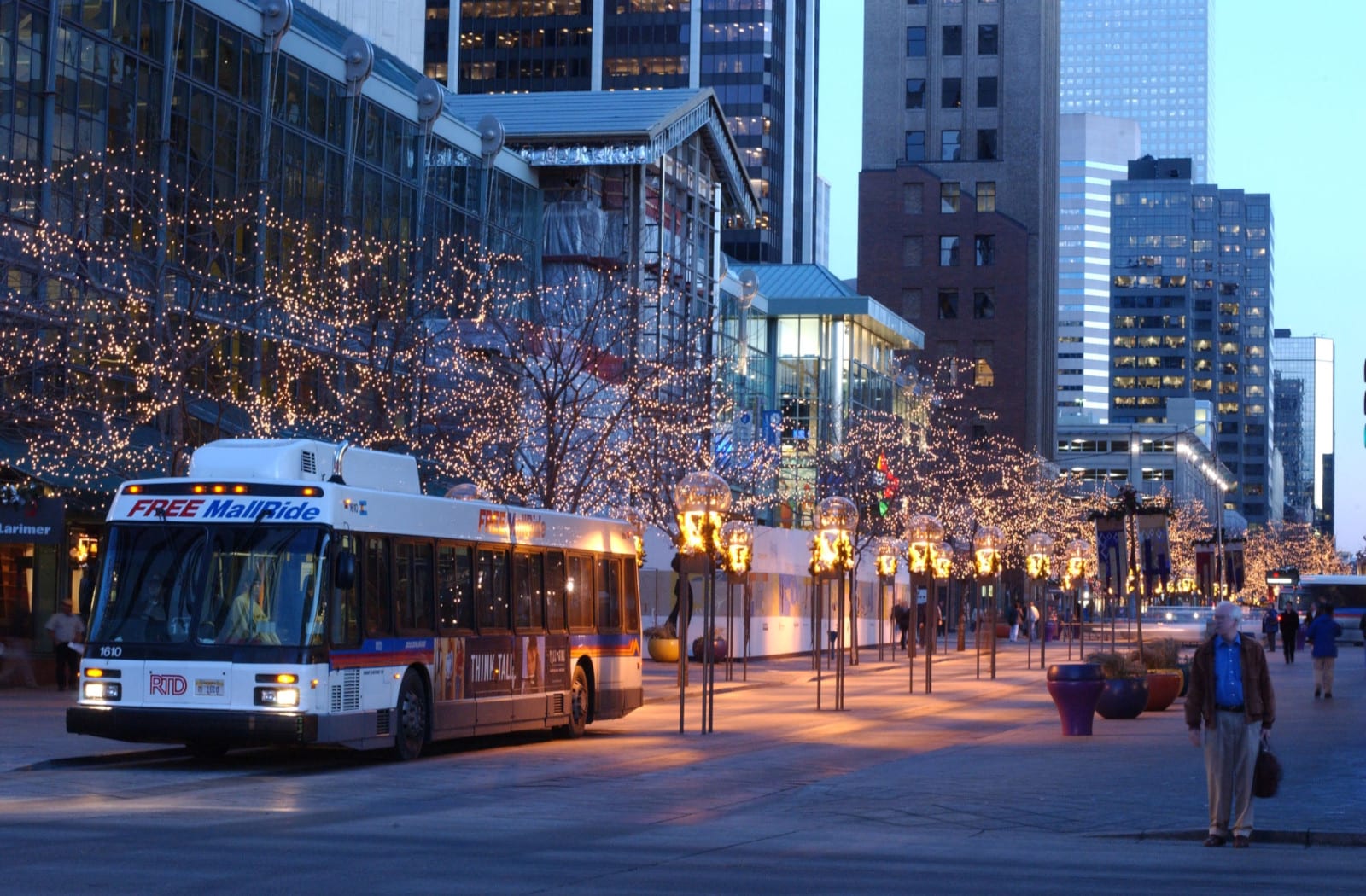 A free RTD bus runs on the mile-long promenade in the heart of the city, known as the 16th Street Mall. Daily routes run morning to night between Civic Center Station by Civic Center Park and Denver Union Station. It stops at every block on this pedestrian-friendly street.
Free MetroRide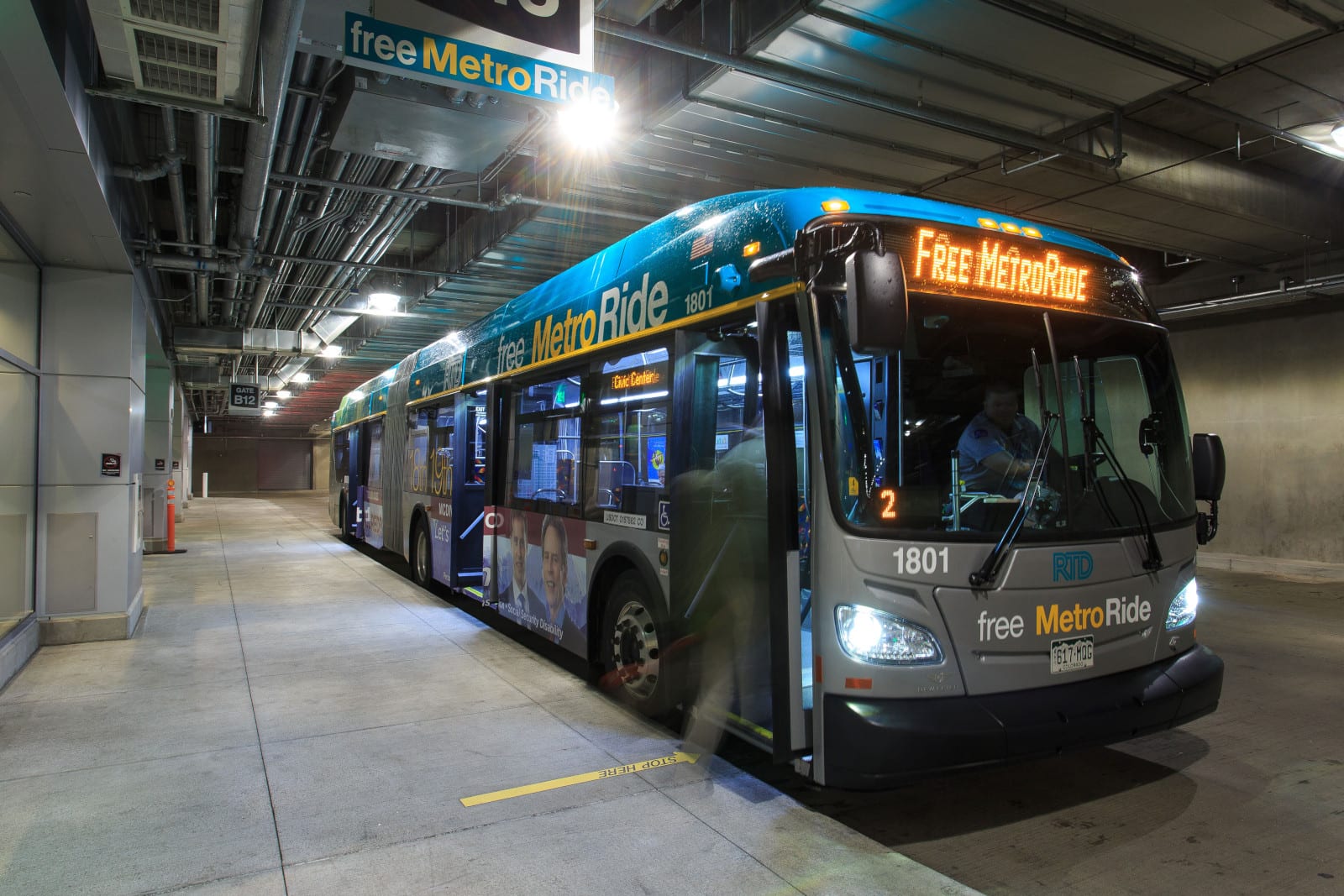 Downtown Denver commuters looking to get from Union Station to the rest of Denver and avoid the frequent stops of the Free MallRide can use the MetroRide. It departs throughout the day from the Union State Bus Concourse to Civic Center Station, except it makes limited bus stops on 18th and 19th streets.
Specialty Buses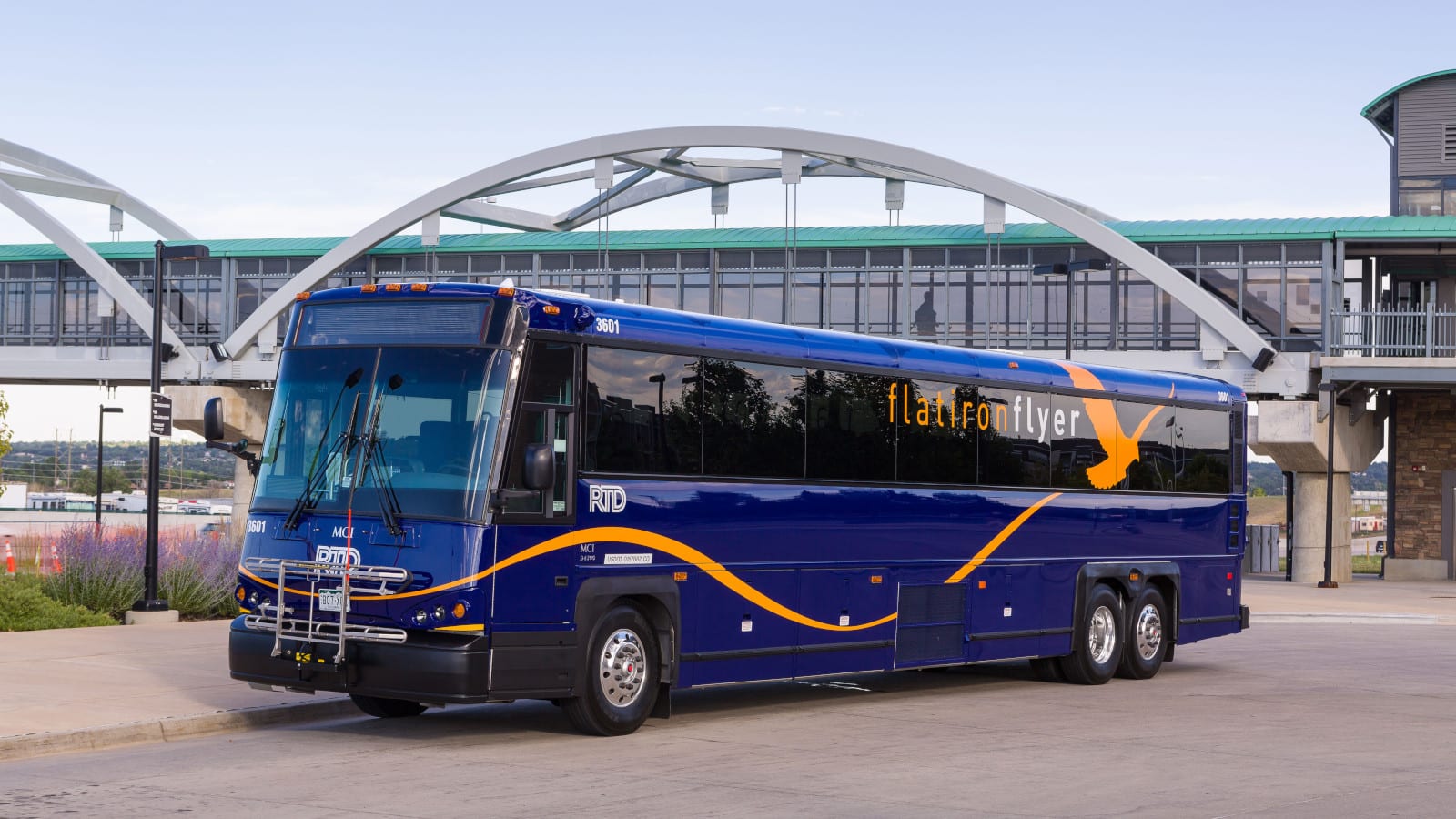 SkyRide – Denver Airport bus from select locations.
BroncosRide – Runs during all Denver Broncos home games.
BuffRide – Runs during all Colorado Buffaloes home games.
Ski-n-Ride – Daily trips during the ski season to Eldora Mountain.
CU vs CSU – Once a year during the CU vs CSU football game at Mile High Stadium.
BolderBOULDER – Once a year during the BoulderBOULDER race in late May.
Park-N-Rides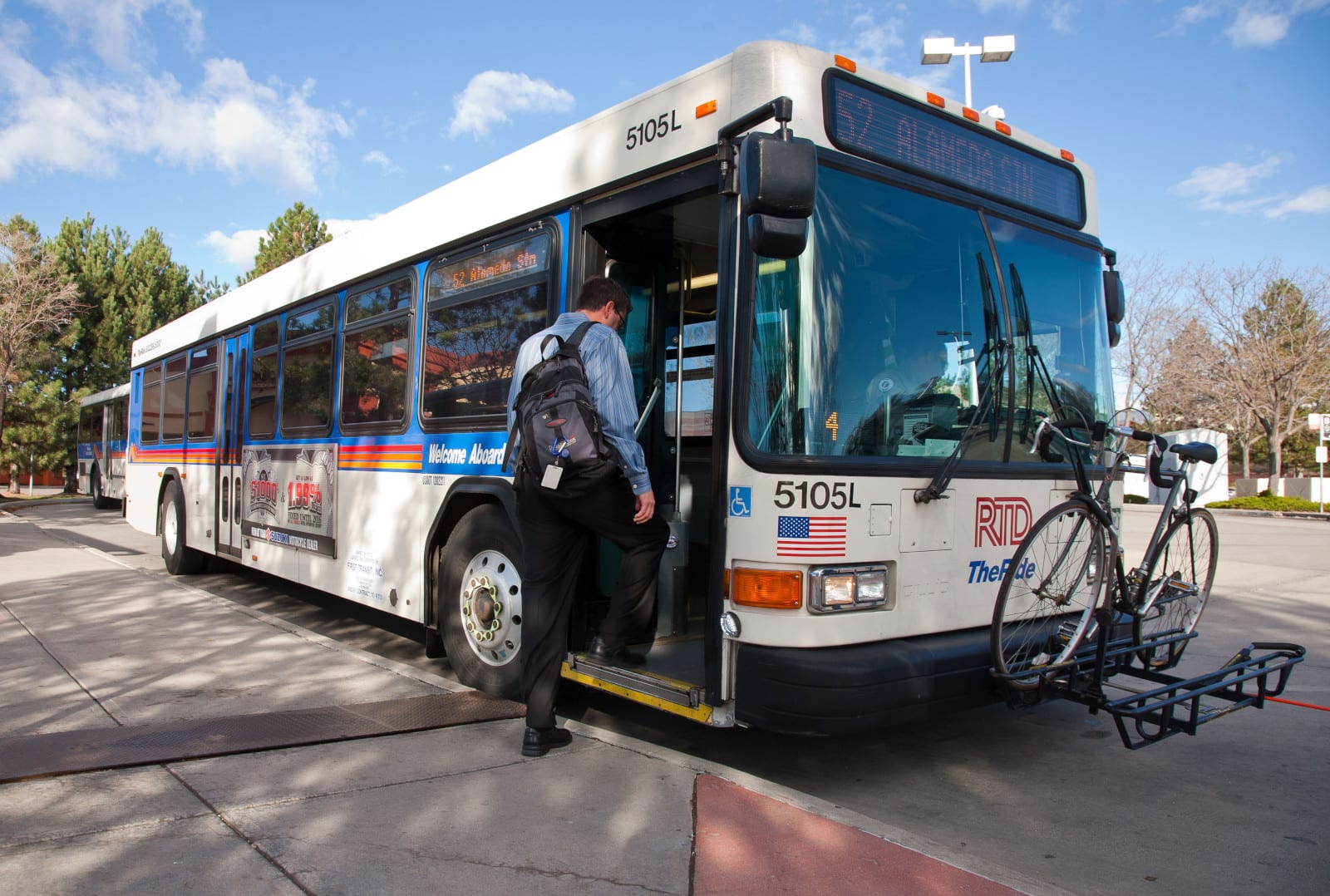 Have a car and still want to ride the RTD bus or train? There are over 70 Park-N-Rides situated around the Denver Metro. All locations are served by numerous bus routes, some even have rail trains or shuttles like SkyRide and BroncosRide.
Discount Passes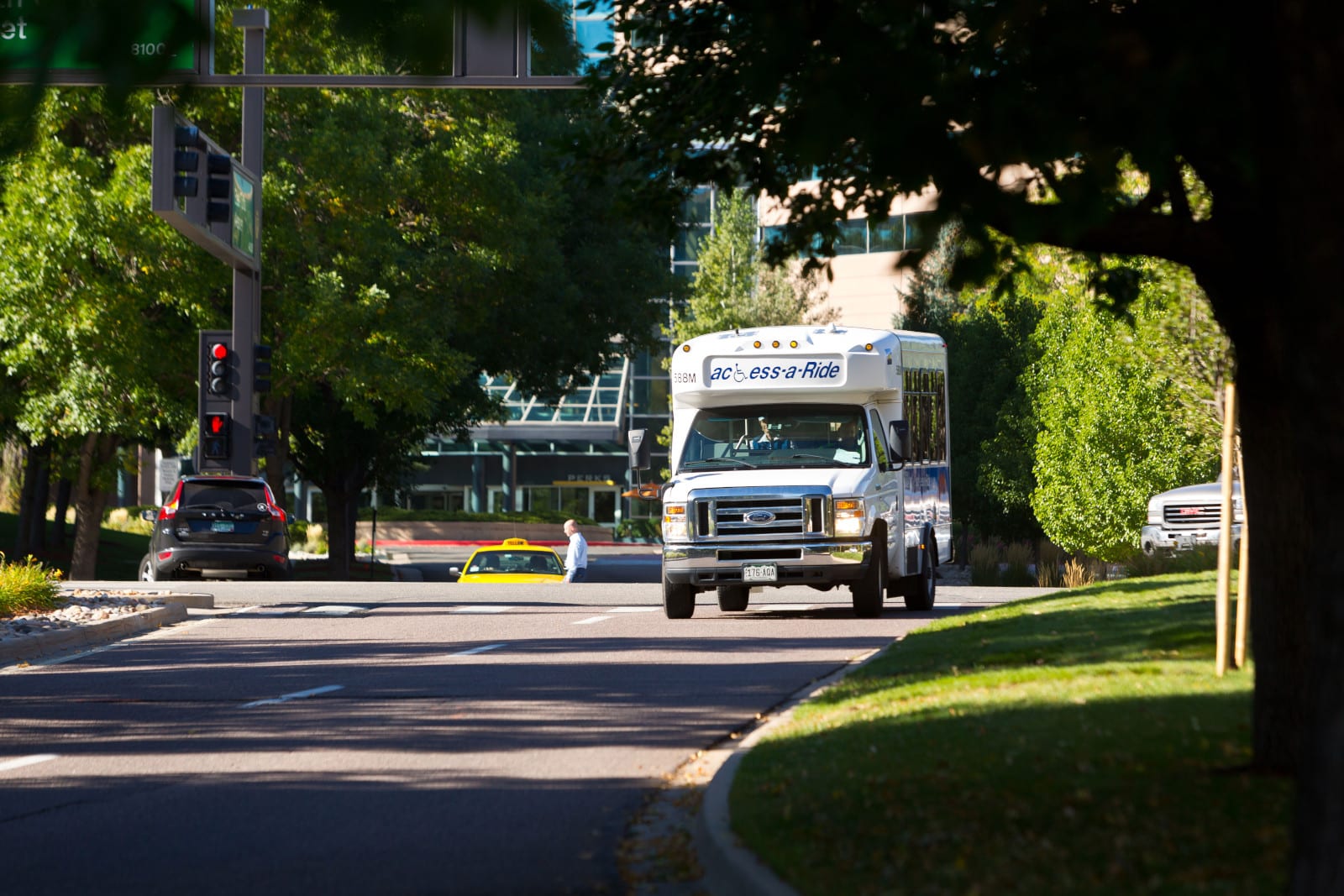 Seniors 65 years and older, those with disabilities and Medicare recipients are eligible for discounts. Children 5 and under ride free with a paying adult. Kids 6 to 19 have reduced fare. Active duty U.S. military members ride free on all RTD buses and trains. You are required to show proof of eligibility for any discounts.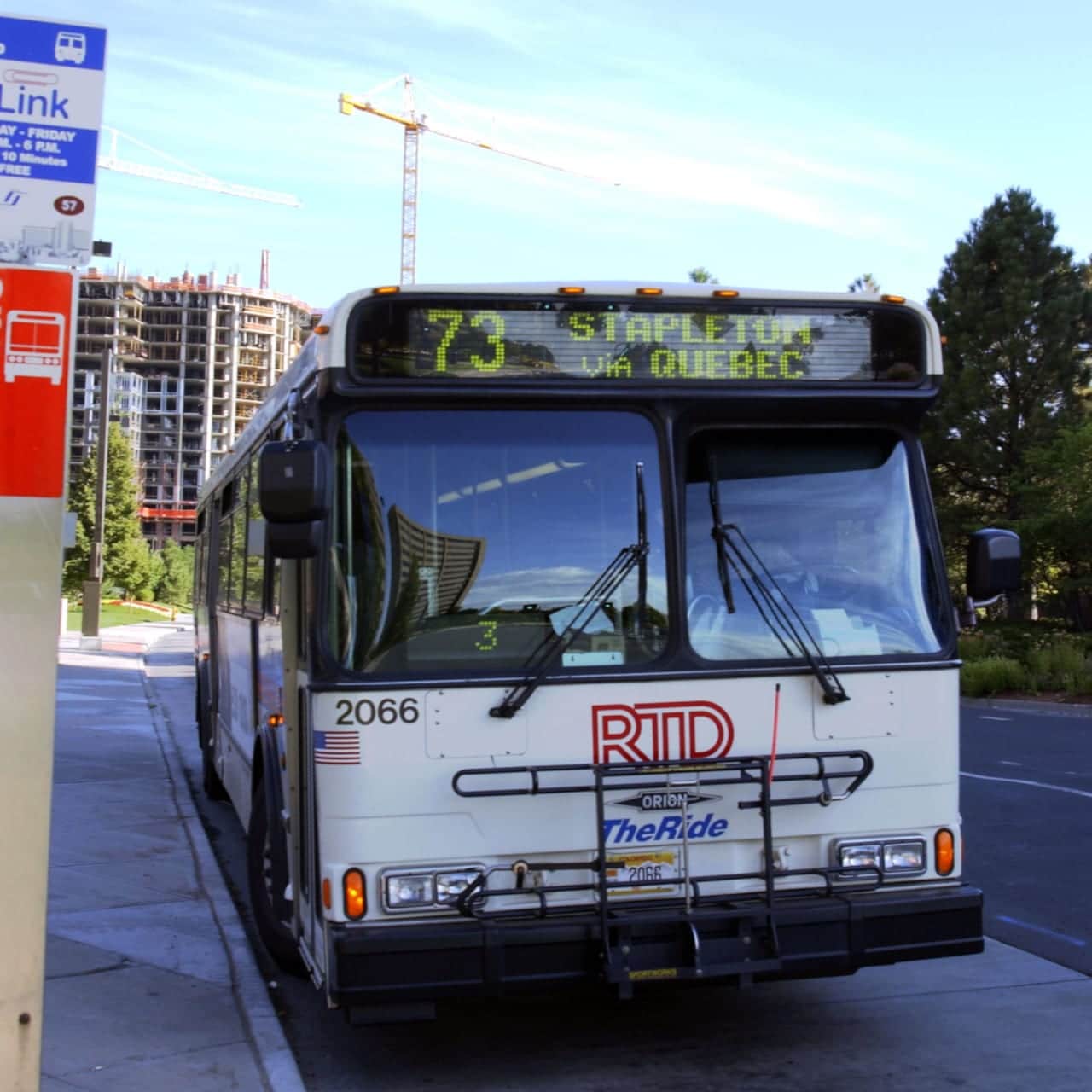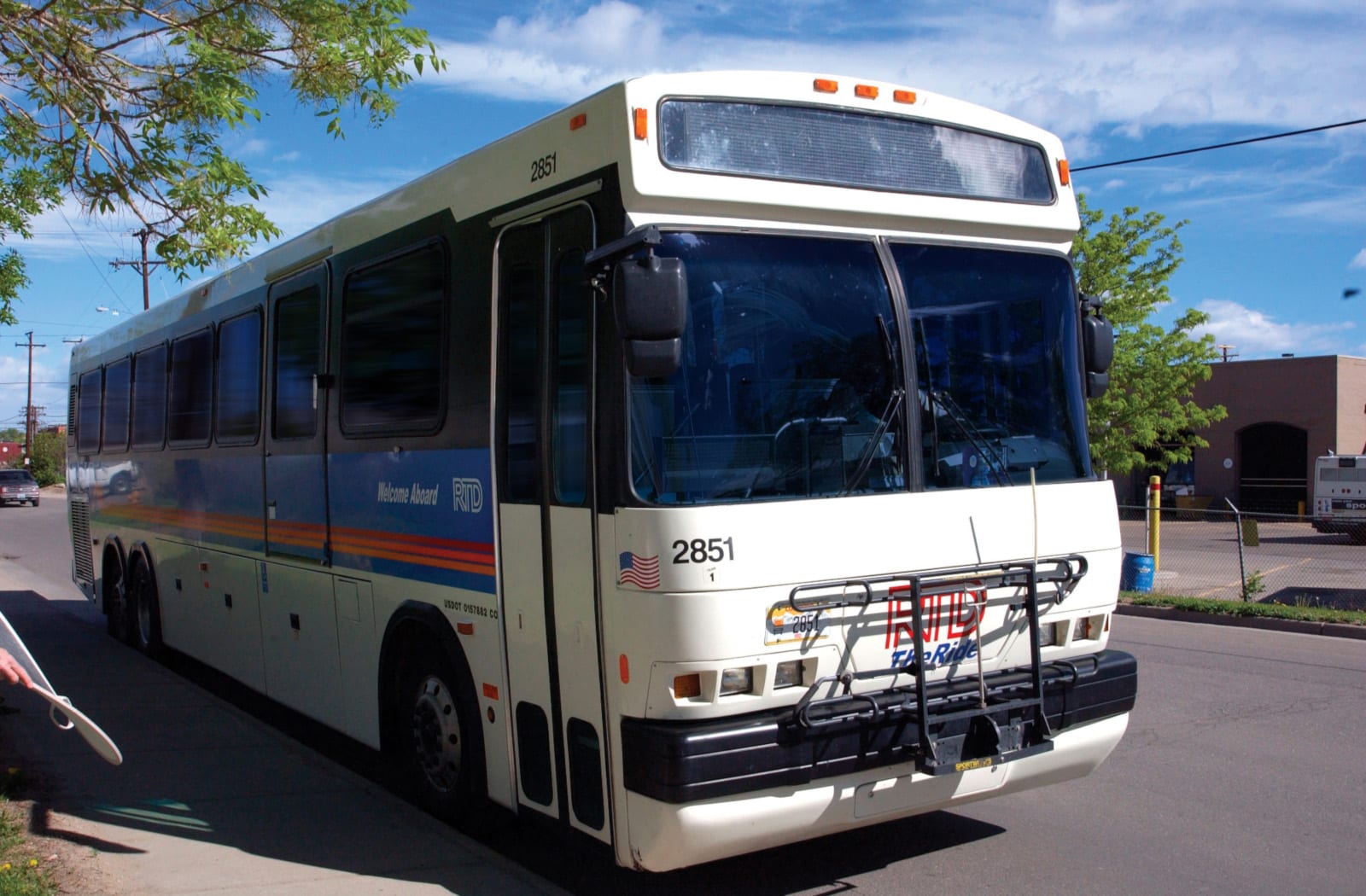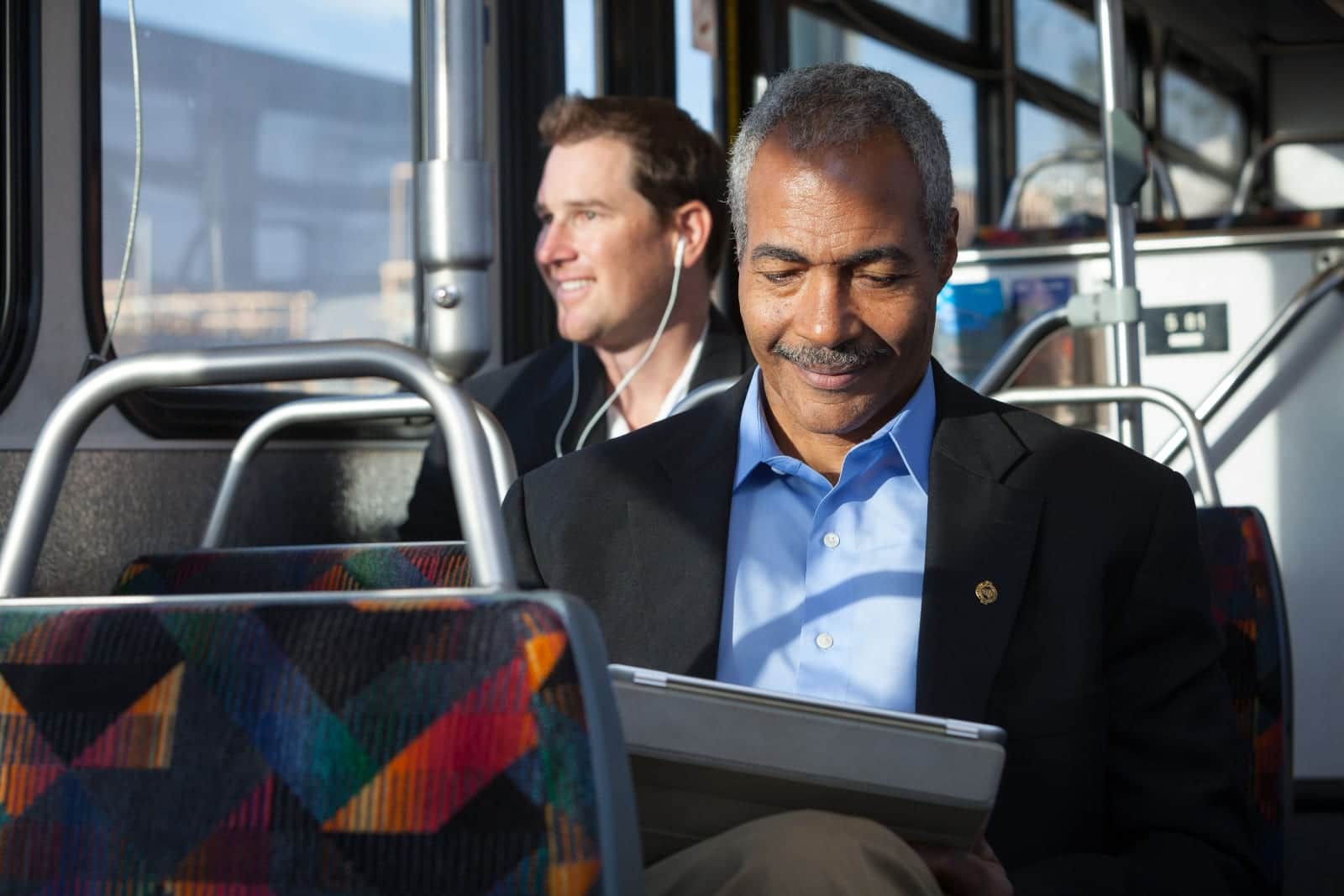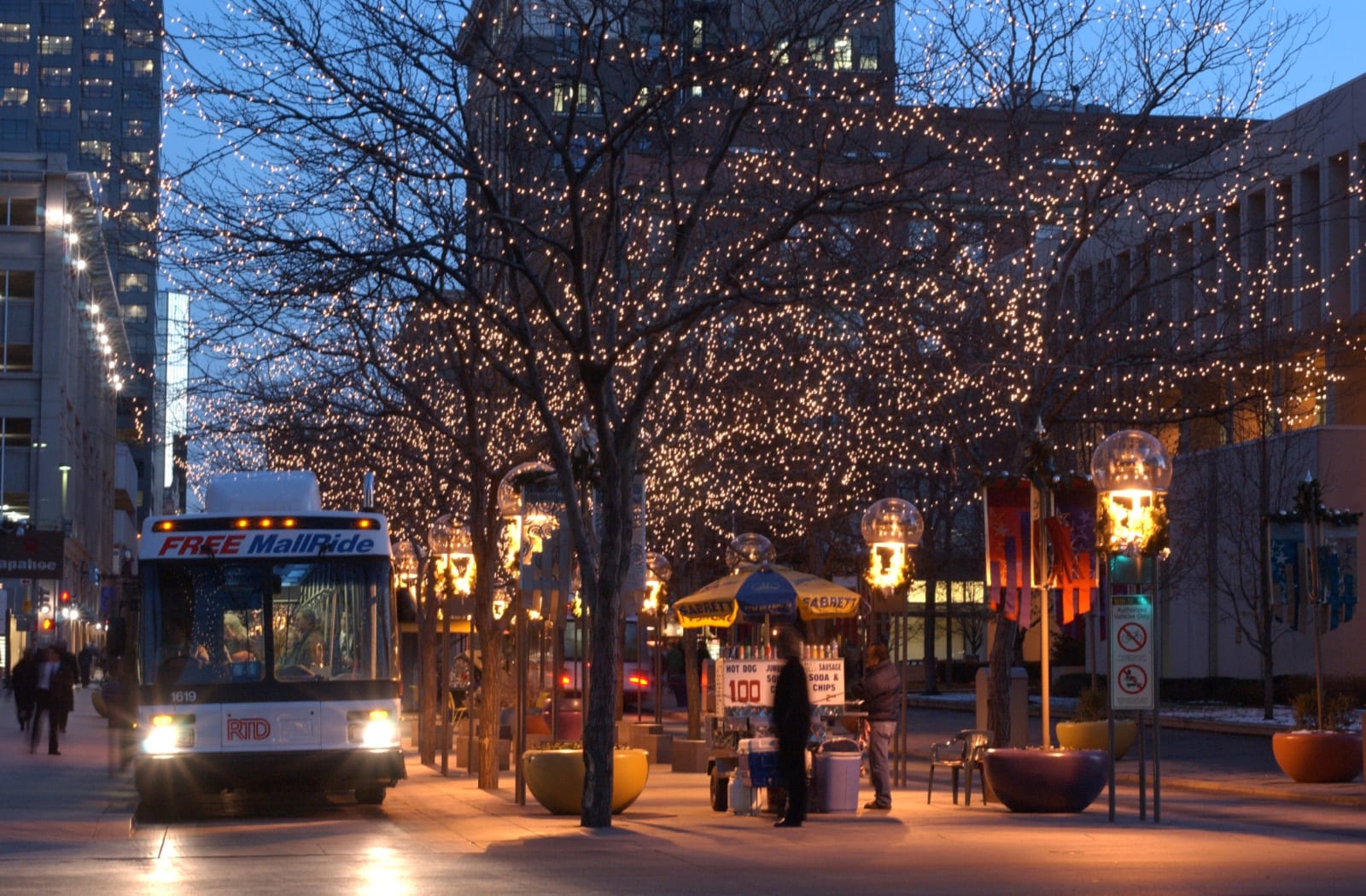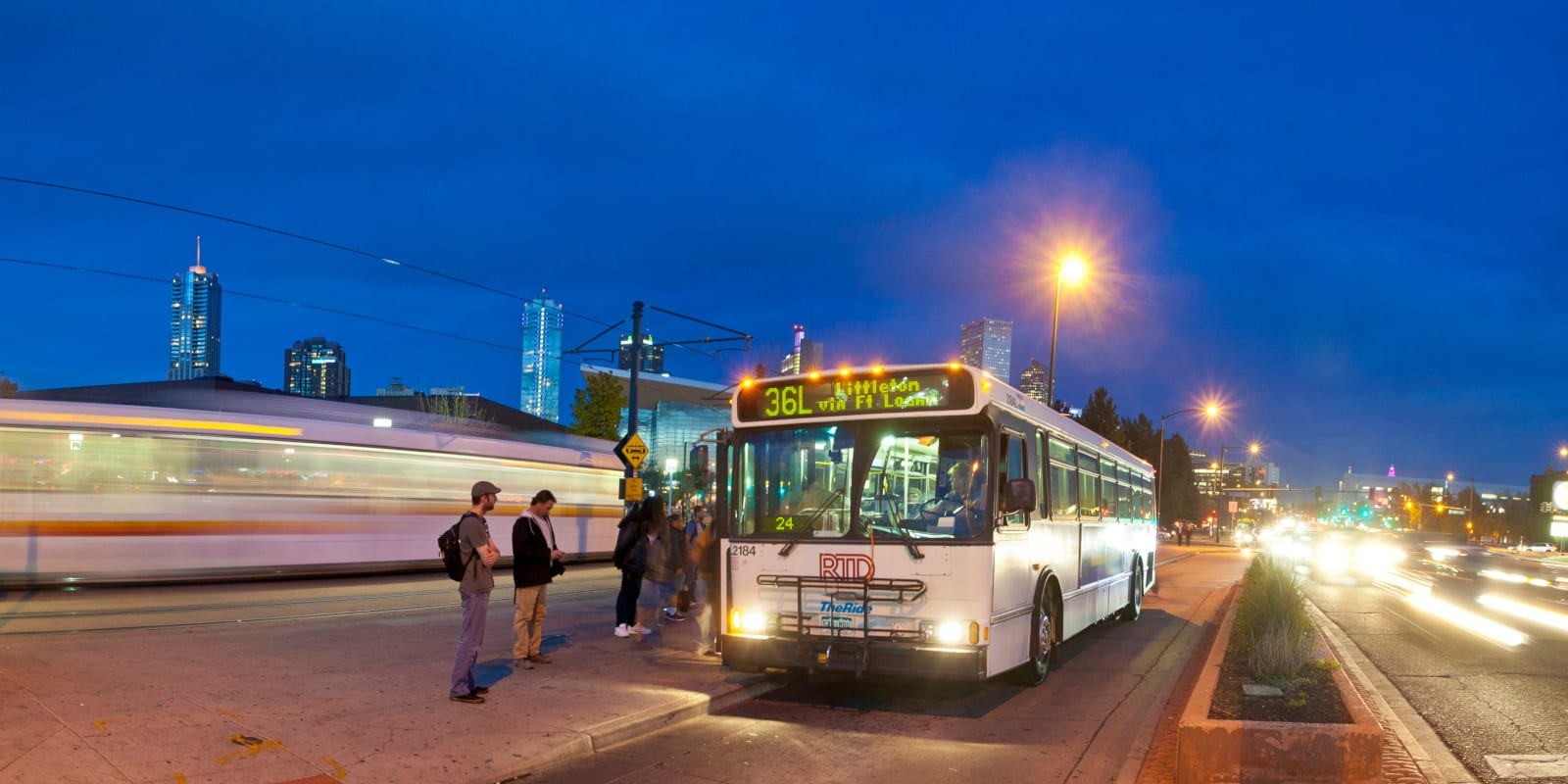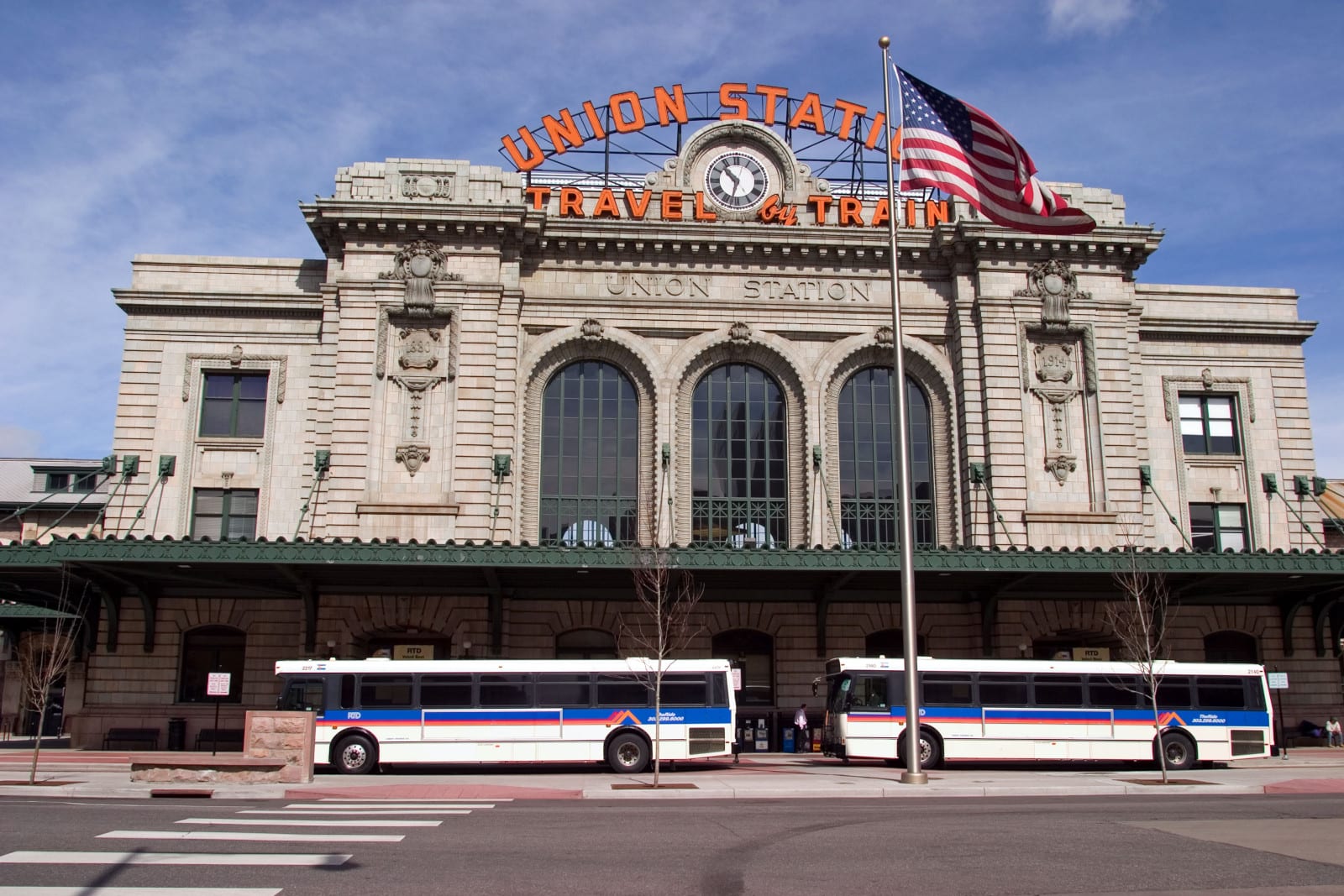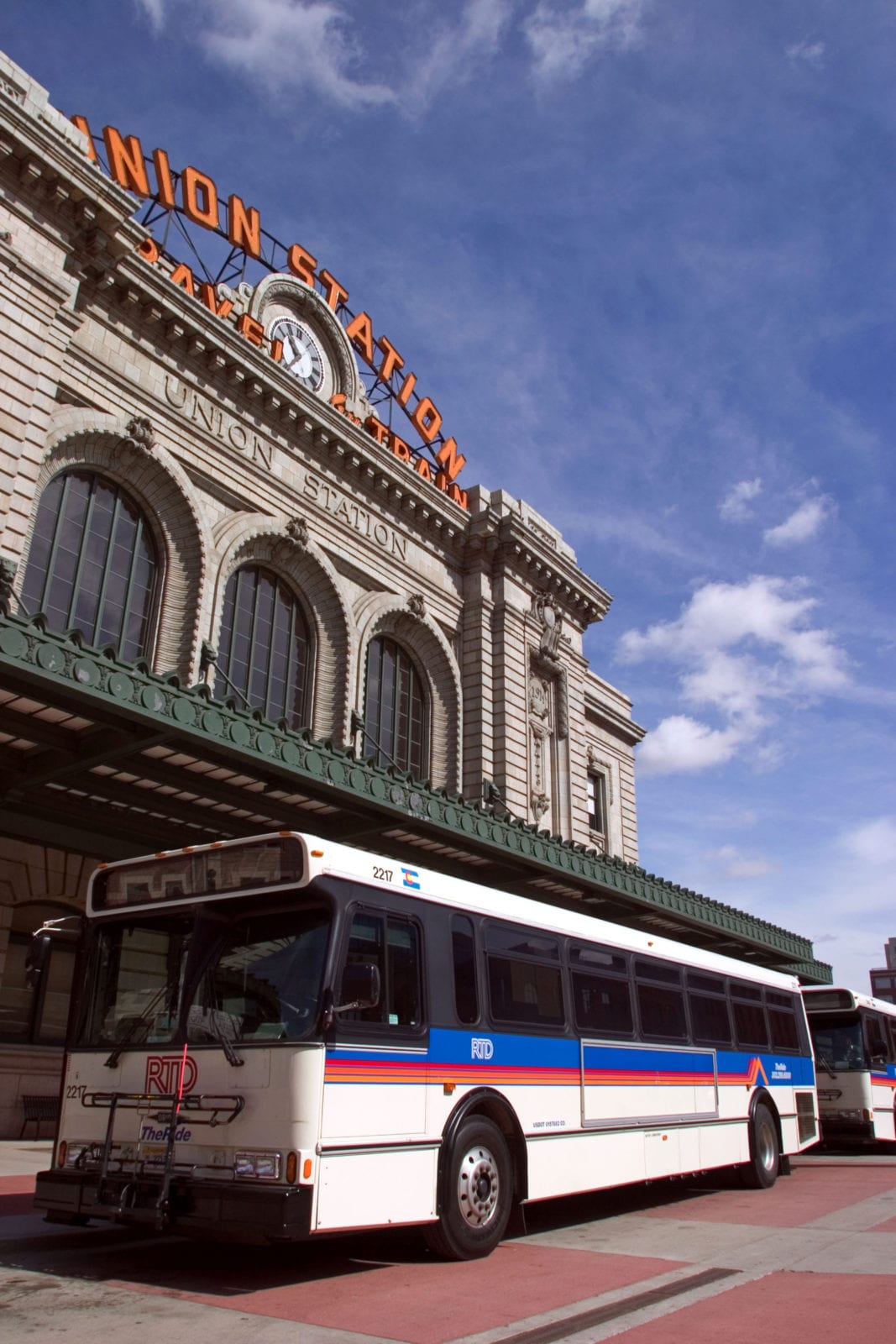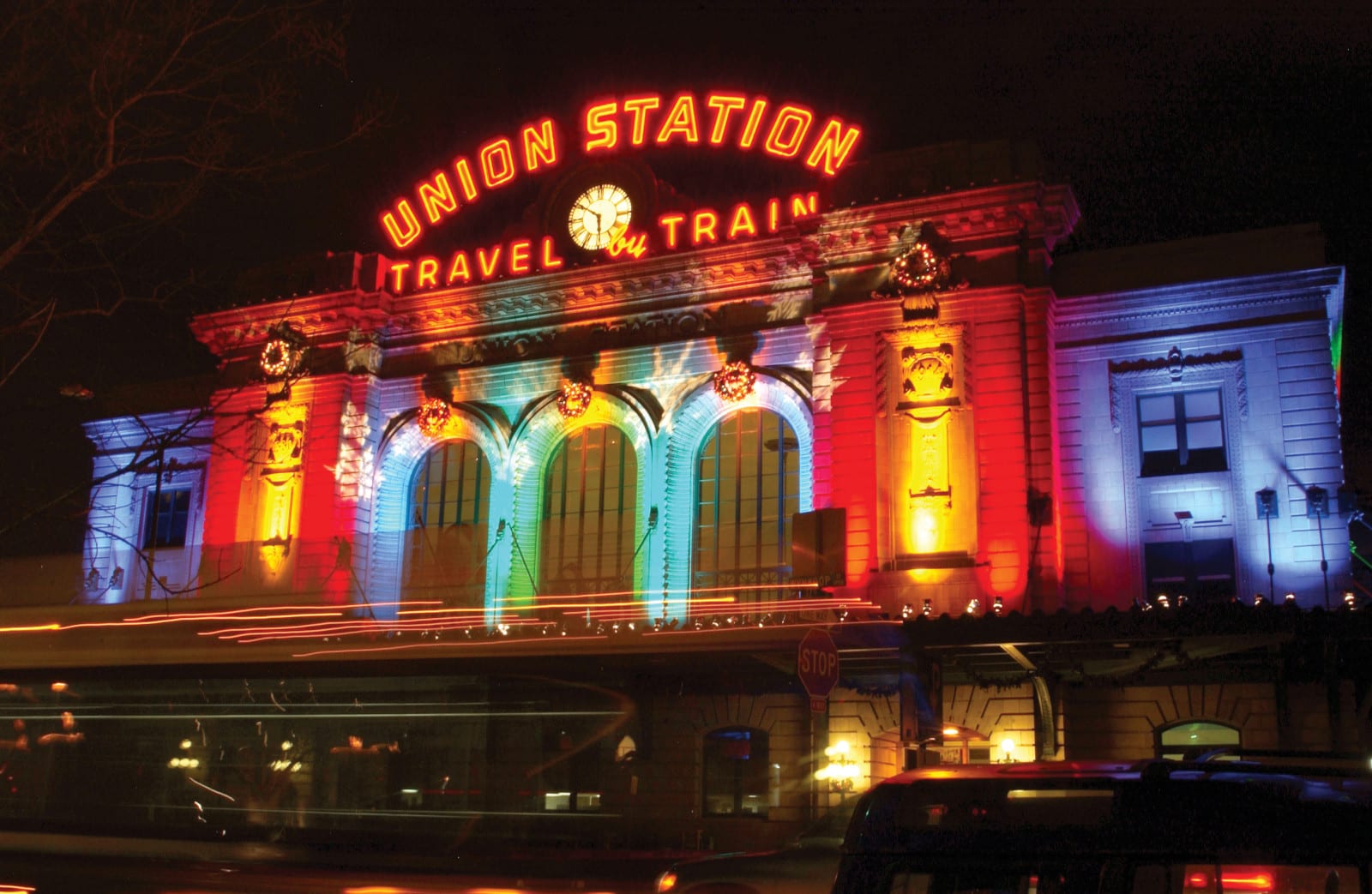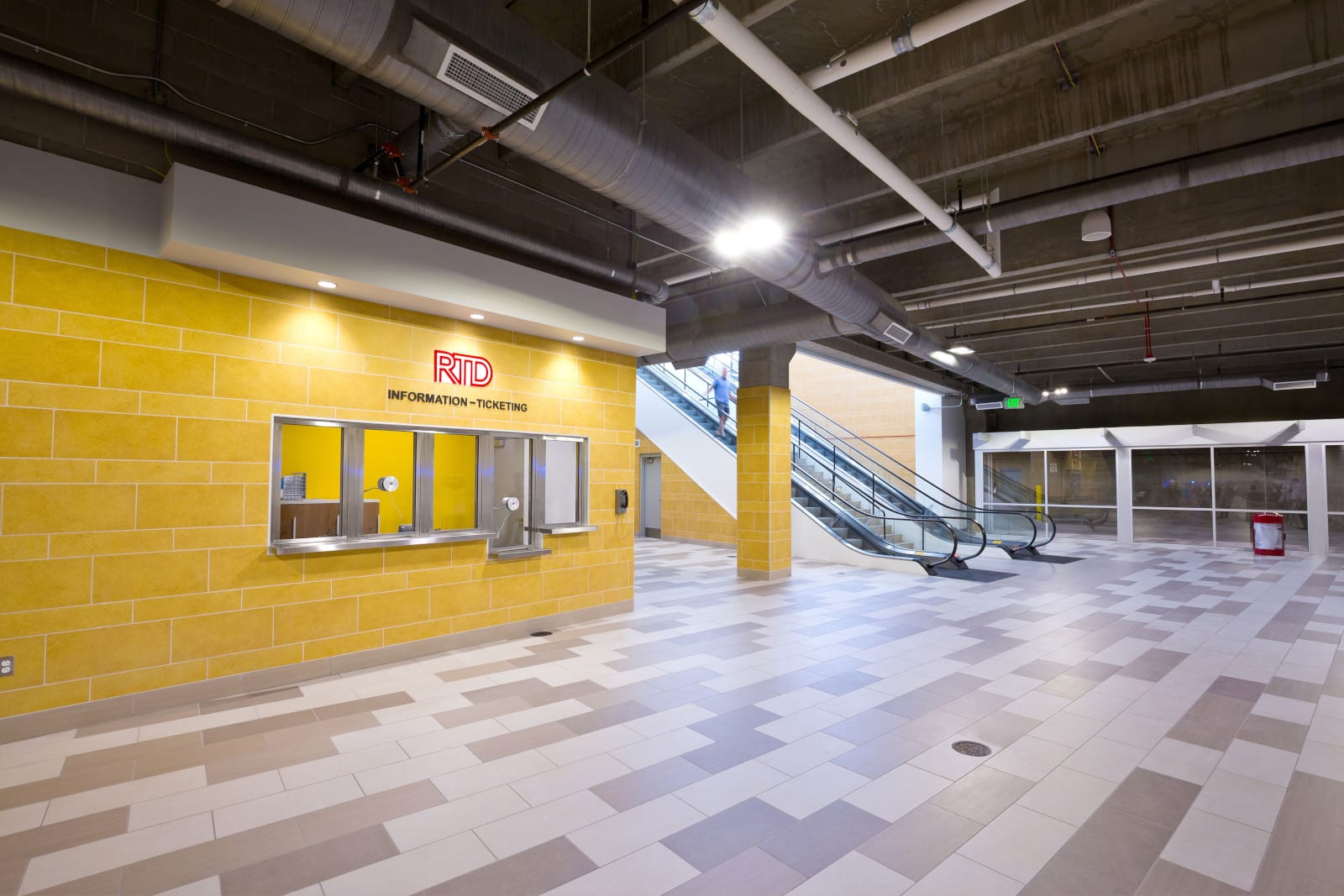 Details
Coverage Area: Denver Metro
Address: 1700 Wewatta St, Denver, CO 80202 (Union Station Bus Concourse)
Season: Year round, 365 days
Routes: 125+
Bus Stops: 9,000+
Phone: 303-299-6000
Website: rtd-denver.com/services/bus