Serving as Colorado's only international airport and the global gateway to Colorado, Denver International Airport (locally called D.I.A.) is used by tens of thousands of people each day. It's easy to reach downtown Denver, located only about 30 minutes by car depending on traffic.
You can catch flights out of Denver to and from the rest of Colorado's regional airports:
Airlines Flying out of Denver Airport (DEN)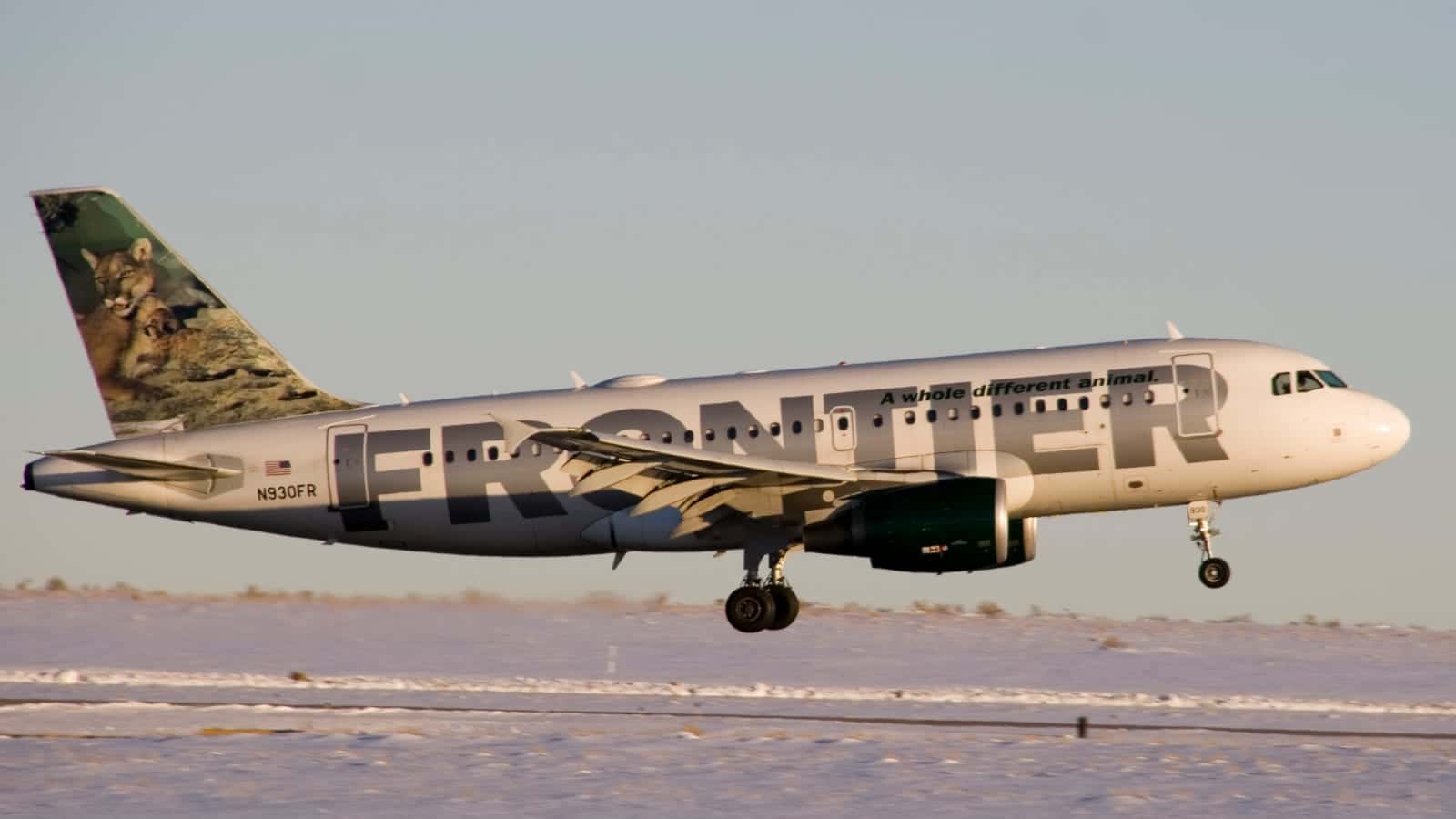 Completed in 1995, Denver International Airport offers direct flights around the country and even to international locations, such as Reykjavik, Iceland. It has nonstop connections throughout Europe, Asia, North America, and Latin America. It's a hub for Frontier, Southwest, and United Airlines as well.
Aeromexico – Terminal West, Gate A
Air Canada – Terminal West, Gate A
Alaska Airlines – Terminal East, Gate C
Allegiant – Terminal West, Gate A
American Airlines – Terminal West, Gate A
Boutique Air – Terminal East, Gate A
British Airways – Terminal West, Gate A
Cayman Airways – Terminal West, Gate A
Copa Airlines – Terminal West, Gate A
Delta Air Lines – Terminal East, Gate A
Denver Air Connection – Terminal West, Gate A
Edelweiss – Terminal West, Gate A
Frontier Airlines – Terminal East, Gate A
Icelandair – Terminal West, Gate A
JetBlue Airways – Terminal West, Gate A
Lufthansa – Terminal West, Gate A
Southwest Airlines – Terminal East, Gate C
Spirit Airlines – Terminal East, GateC
Sun Country Airlines – Terminal West, GateA
United Airlines – Terminal West, Gate B
Volaris – Terminal West, Gate A
WestJet – Terminal West, Gate A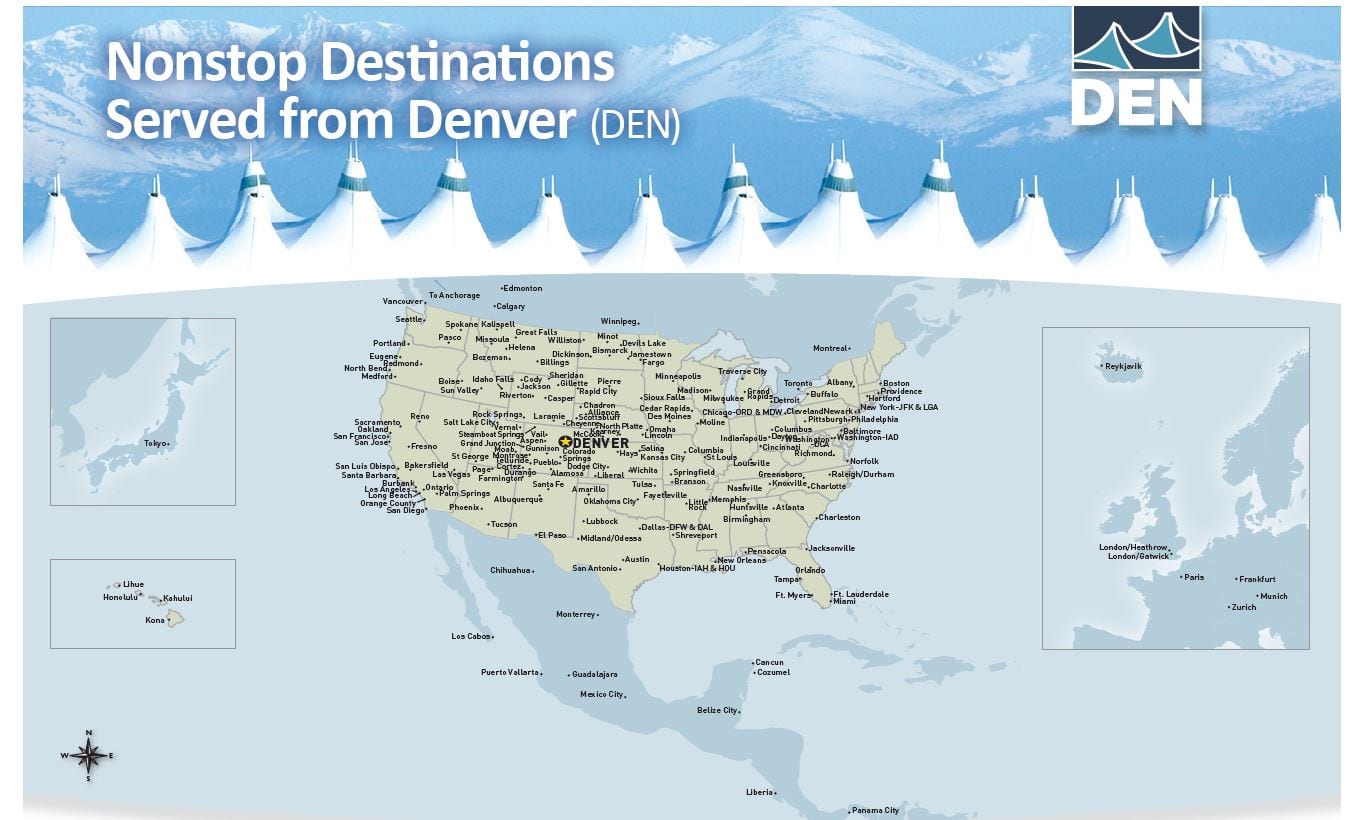 Currently, Denver provides direct nonstop flights to over 190 destinations. There are 28 international destinations in 14 counties. Denver International Airport is a major domestic hub and America's fourth largest domestic network, behind Atlanta, Chicago O'Hare, and Dallas-Fort Worth. By acres, it is the largest in the country and the second largest in the world.
Jeppesen Terminal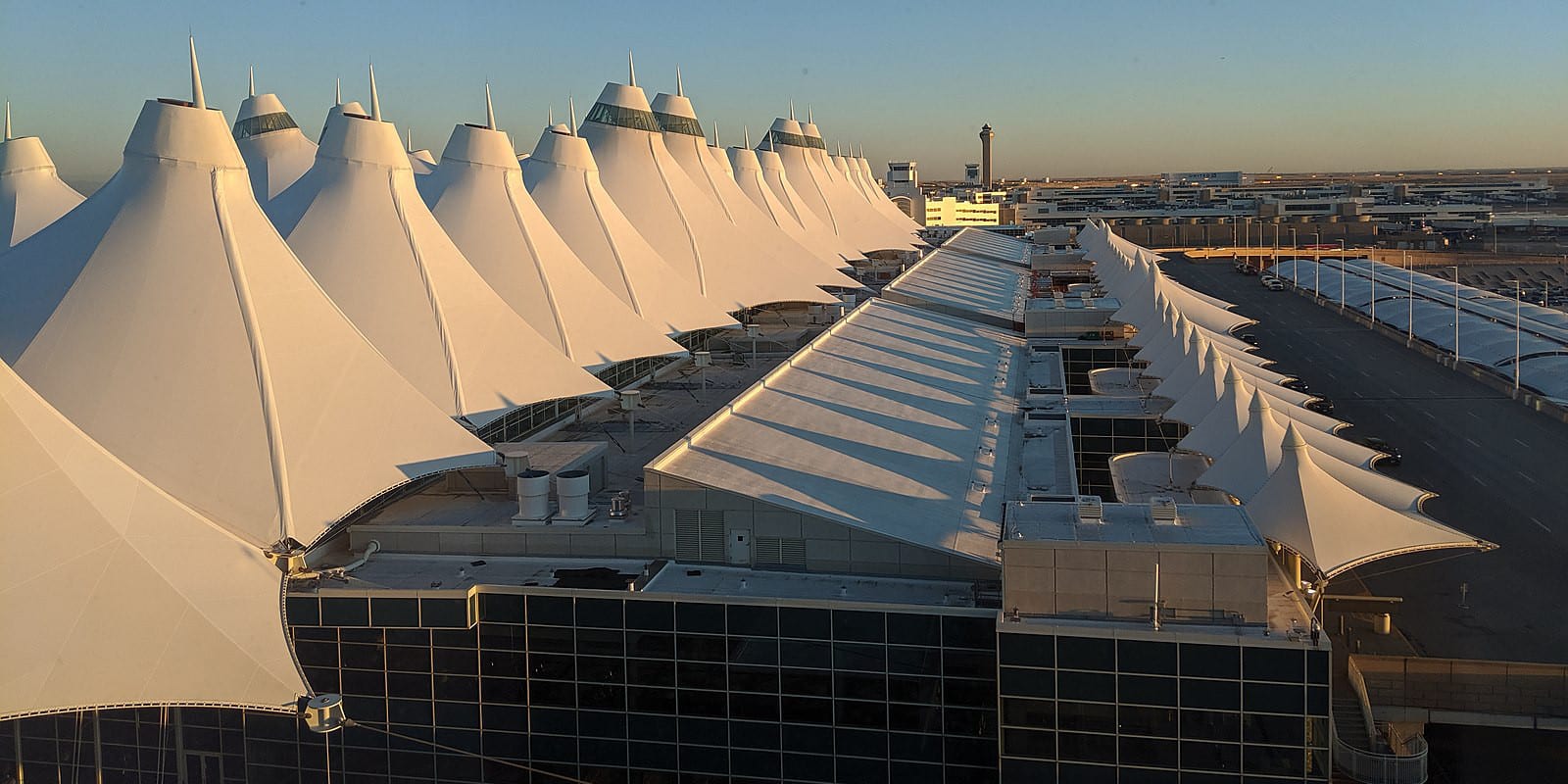 Covering 1.5 million square feet of space, the Jeppesen Terminal can be one hectic place. It's host to the airport's iconic peaked roof, which imitates the snowcapped Rocky Mountains and honors the Native American teepees that dotted the Colorado plains.
It includes access to passenger ticketing, baggage claim, international arrivals, shuttles, and walkways to ground transportation, as well as TSA security checkpoints, dining, and shopping.
Level 6 – Flight Ticketing
Level 6 – Passenger Drop-Off for Departures
Level 5 – Baggage Claim
Level 5 – Ground Transportation
Level 5 – International Arrivals (North End)
Level 4 – Passenger Pick-Up for Arrivals
Terminal Floor – Security Screening (North, South, A Bridge)
Underground – Automated "people mover" train serving the Terminal and Concourses A, B, C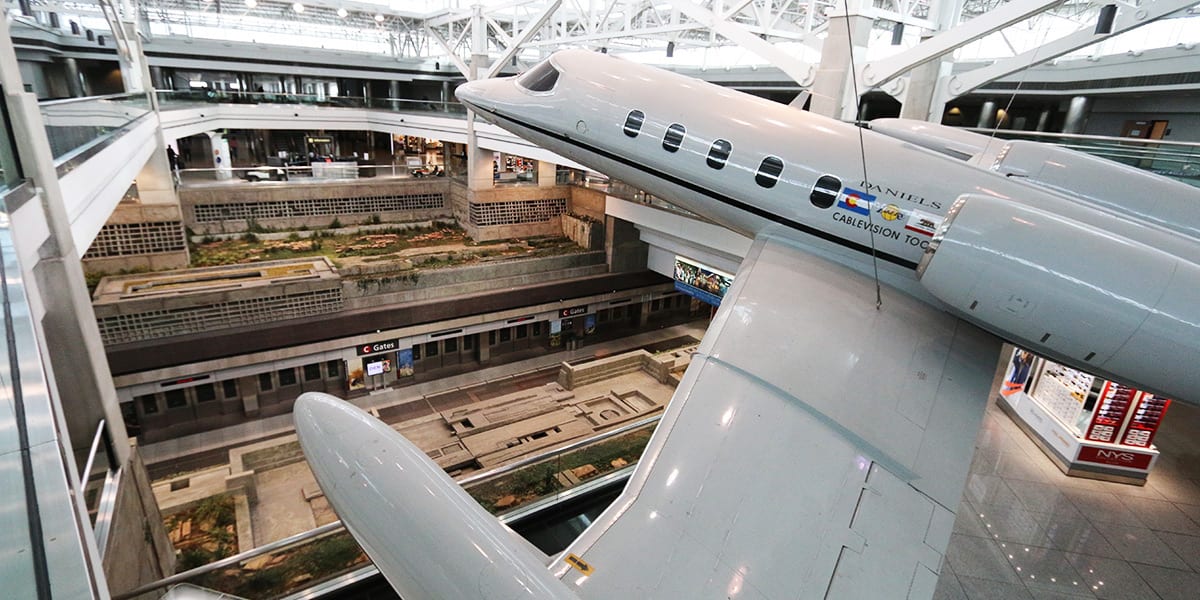 Concourse A
Concourse A is the only one that can be reached by walking via a pedestrian bridge. You can also take the underground train to any of its 51 gates. It has its own TSA checkpoint and international processing area, so if the North and South end TSA checkpoints are jam-packed consider walking.
Concourse B
Concourse B requires the underground train to reach, which can be found directly after the North and South security checkpoints. The best dining options are located within Concourse B, and it also has the most gates at 67. Even if you're flying out of a different concourse you should consider making a stopover in Concourse B to eat if you have extra time.
Concourse C
Gate C also requires the underground train to reach. It takes less than 10 minutes, so no fear if you're short on time. There are 61 gates here, with 16 of them recently completed during an expansion project. The project also included the construction of a commuter facility, providing a designated space for travelers on commuting flights to nearby Colorado airports.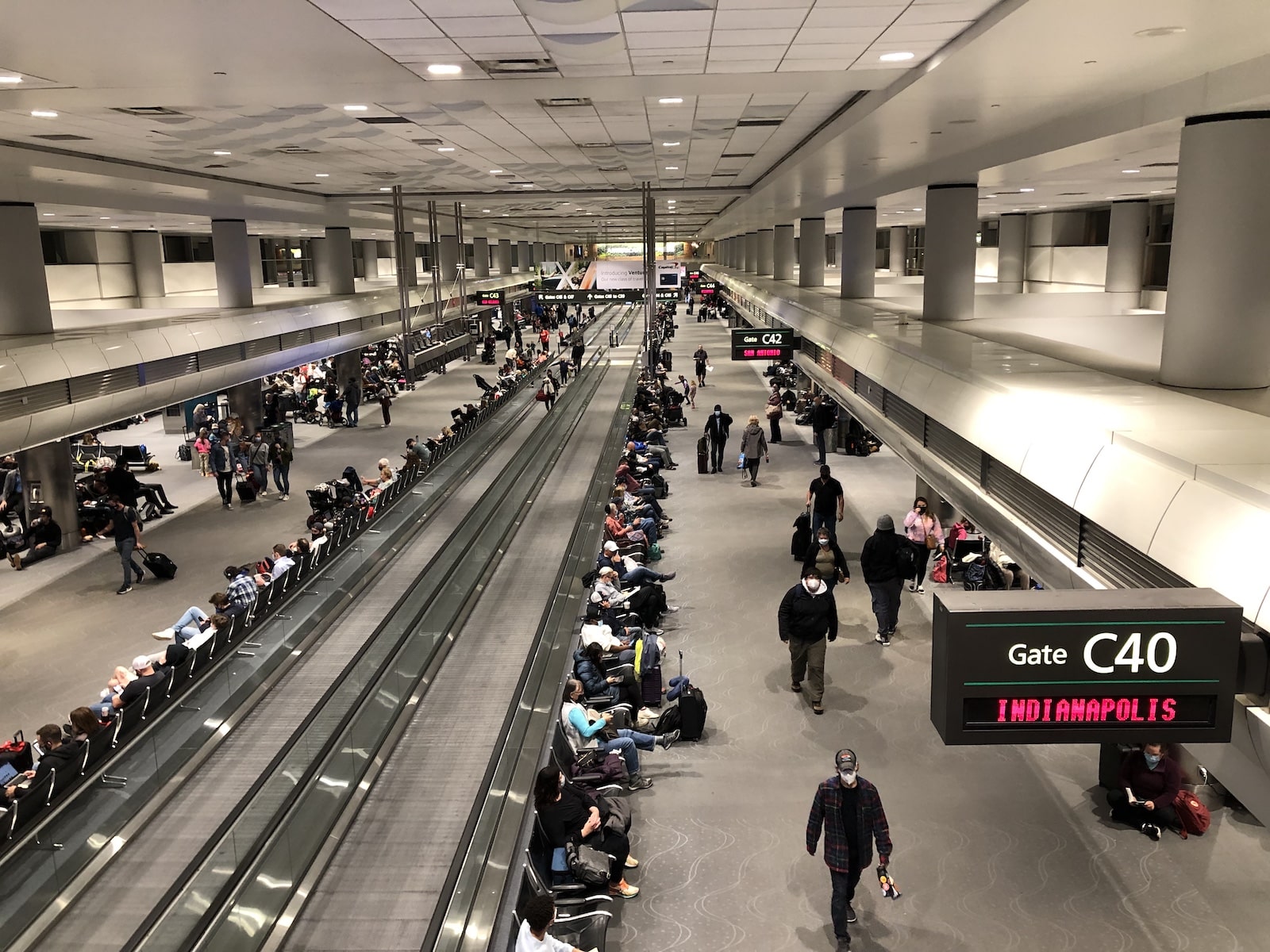 How big is the airport?
Denver International Airport takes up a total of 54.05 square miles. It is America's third busiest airport, recording 58.8 million passengers in 2021. It also boasts the world's seventh-longest runway, at 4,877 meters, 16,001 feet, or 3.03 miles.
D.I.A. is also one of the busiest and largest airports on the earth. It's ranked as having the third-highest number of passengers in the world. And with regards to the surface area, it's the 2nd biggest airport in the world at 13,726 hectares, and 1st in the United States.
How early do you need to arrive?
A few different factors go into deciding how early you need to arrive at the airport. The standard rule of thumb is 3 hours for international travel and 2 hours for domestic travel. If you're not checking bags, it's recommended you arrive at least 60 minutes before departure.
When planning, be sure to account for transportation times and delays, such as traffic, airport parking, shuttle time, etc. Once inside the airport, you might need time to check your bags or print a ticket at the counter, as well as stand in line for security. Then you still must find your gate, which most usually adds in an underground train ride to your terminal (unless you're in Terminal A, which you can walk to).
East & West Terminal—Airlines, Arrivals, Pickups, Tickets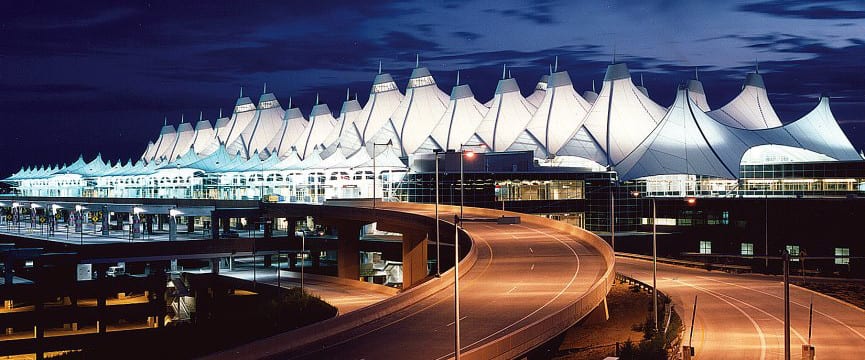 When you approach the airport by automobile, you'll notice two main options, East and West. Parking, arrival pick-ups, and departure drop-offs depend on which airline you'll be flying. If arriving by train you'll still need to head in the right direction to find your airline to check in and drop off your bag.
East Terminal:
Alaska Airlines
Boutique Air
Delta Airlines
Frontier Airlines
Great Lakes
Jet Blue
Southwest Airlines
Spirit
West Terminal:
AeroMexico
Air Canada
American Airlines
Branson Air Express
British Airways
Iceland Air
Lufthansa
United Airlines
United Express
Volaris
Dining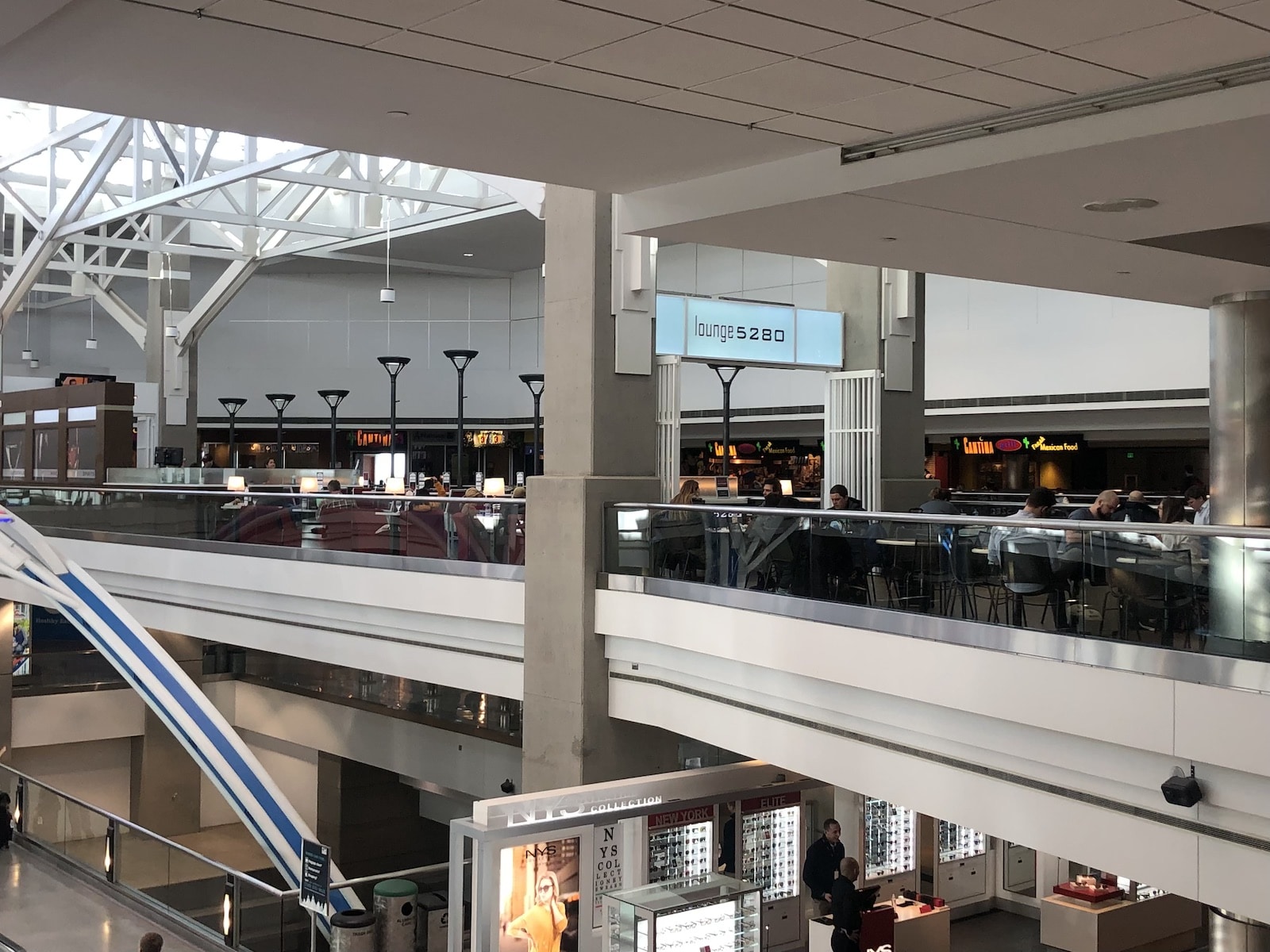 Like the Mile High City, Denver International Airport is always reaching new culinary heights. Seemingly, on every new visit to D.I.A. there is a new restaurant or bar to imbibe at. Each concourse offers a wide selection of food available during typical dining hours. There are also some places to eat in Jeppesen Terminal pre-security.
Parking and Transportation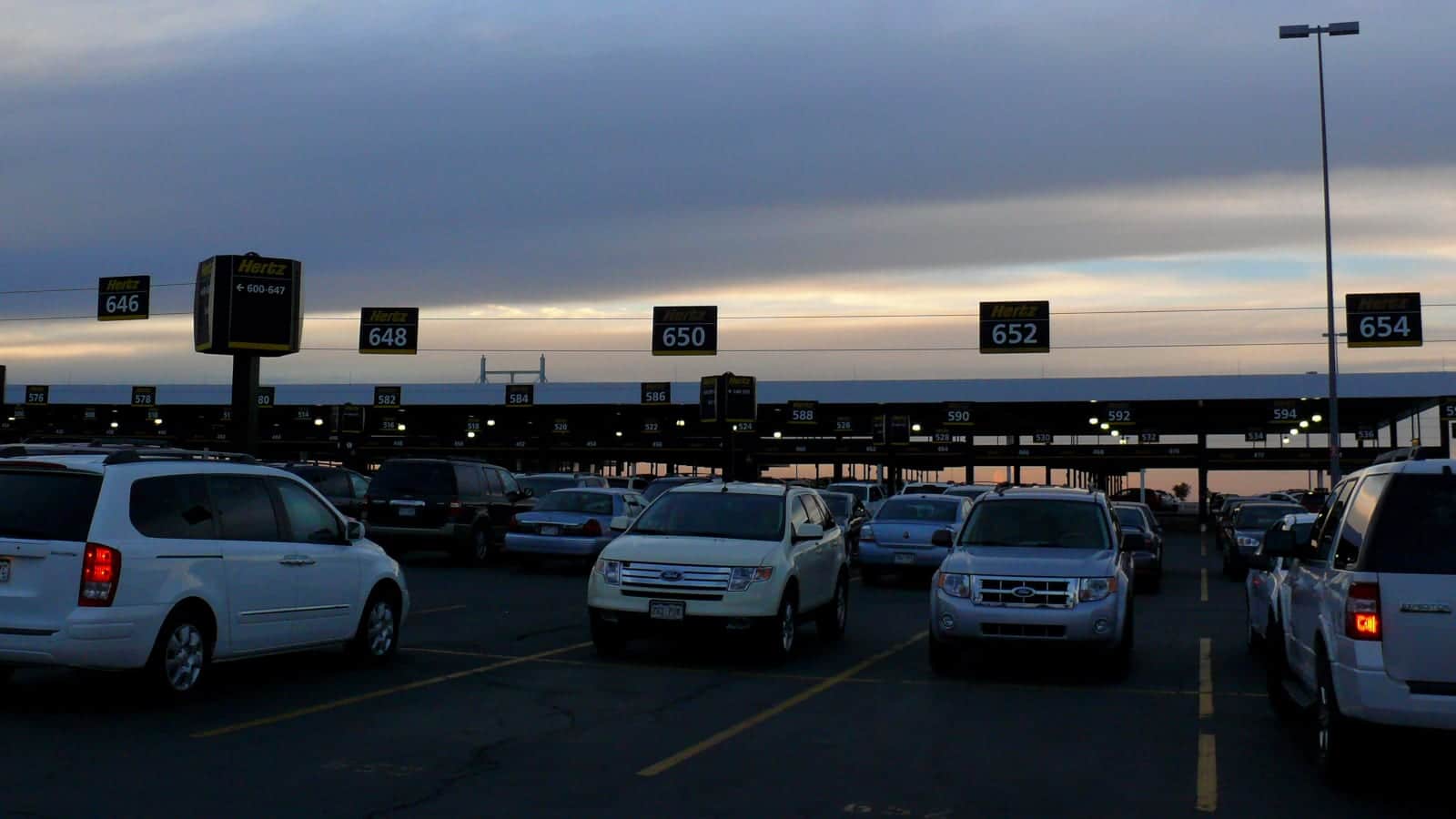 There are several choices for Denver Airport parking lots, owned either by the airport or third parties. You can save money parking at one of the third-party lots and taking a free, convenient shuttle to the terminal. Just plan ahead as it will take you a little extra time compared to parking directly in the airport lots.
Ground Transportation from East and West Terminals:
The following ground transportation is found on Level 5 on either side of the main terminal.
Island 1: Taxis, Mountain Carriers
Island 2: Limousines/Sedans
Island 3: Hotel Shuttles, Charter Buses, On-Airport Parking shuttles
Island 4: Rental Car shuttles
Island 5: Public Bus Service, Off-Airport parking shuttles, Rideshare apps
Ride-Sharing:
Both Lyft and Uber are available to pick you up directly from D.I.A. on Level 5 on either the East or West side of the terminal. Be sure you note if you are at the East or West location when booking your ride.
Airport Shuttles:
There are a number of shuttles that take you from D.I.A. to a variety of Colorado destinations. There is even one to the ever-popular Rocky Mountains that will transport you to your choice of alpine resorts.
Denver Airport Transit Center
The Transit Center allows you to access the University of Colorado A Line, aka the Denver Airport Train. From here you can get to Denver Union Station in around 45 minutes. The one-day fare grants you access to all of the RTD Light Rail and RTD Bus Line routes `for a 24-hour period. You can reach most of the Denver Metropolitan Area via these two public transportation services.
You can also catch the Amtrak train from Union Station and head west as far as California, with Colorado stops in Fraser, Granby, Glenwood Springs, and Grand Junction.
The Westin & Nearby Hotels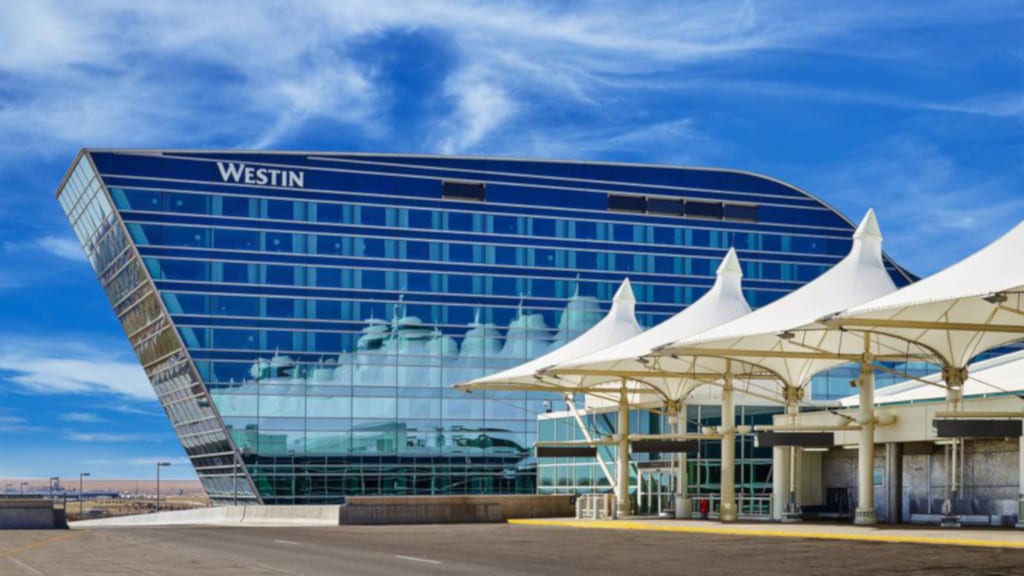 There are many hotels close to Denver Airport, including several popular chains with branches on Tower Road leading to D.I.A. Most offer shuttles to and from the airport, as well as parking if you have a car. There is only one located within walking distance of the airport though, and that's the Westin!
This 4-star hotel is located steps away from Jeppesen Terminal. The Westin Denver International Airport is hands-down the most time-efficient hotel to stay in for those traveling on a short business or leisure trip that needs to be near the airport. Whether it's an early flight that you don't want to miss or the convenience of not having to rent a car, the Westin Hotel is the spot.
It features a casual restaurant on-site, Grill & Vine, for all-day dining and the Sky Lounge for drinks. Relax at the indoor pool and even get a workout in at the 24/7 fitness center. Downtown Denver is only a train ride away! It's also rated as one of the best properties in the city, so you aren't passing up quality for convenience.
Check prices, availability or book Westin Hotel D.I.A.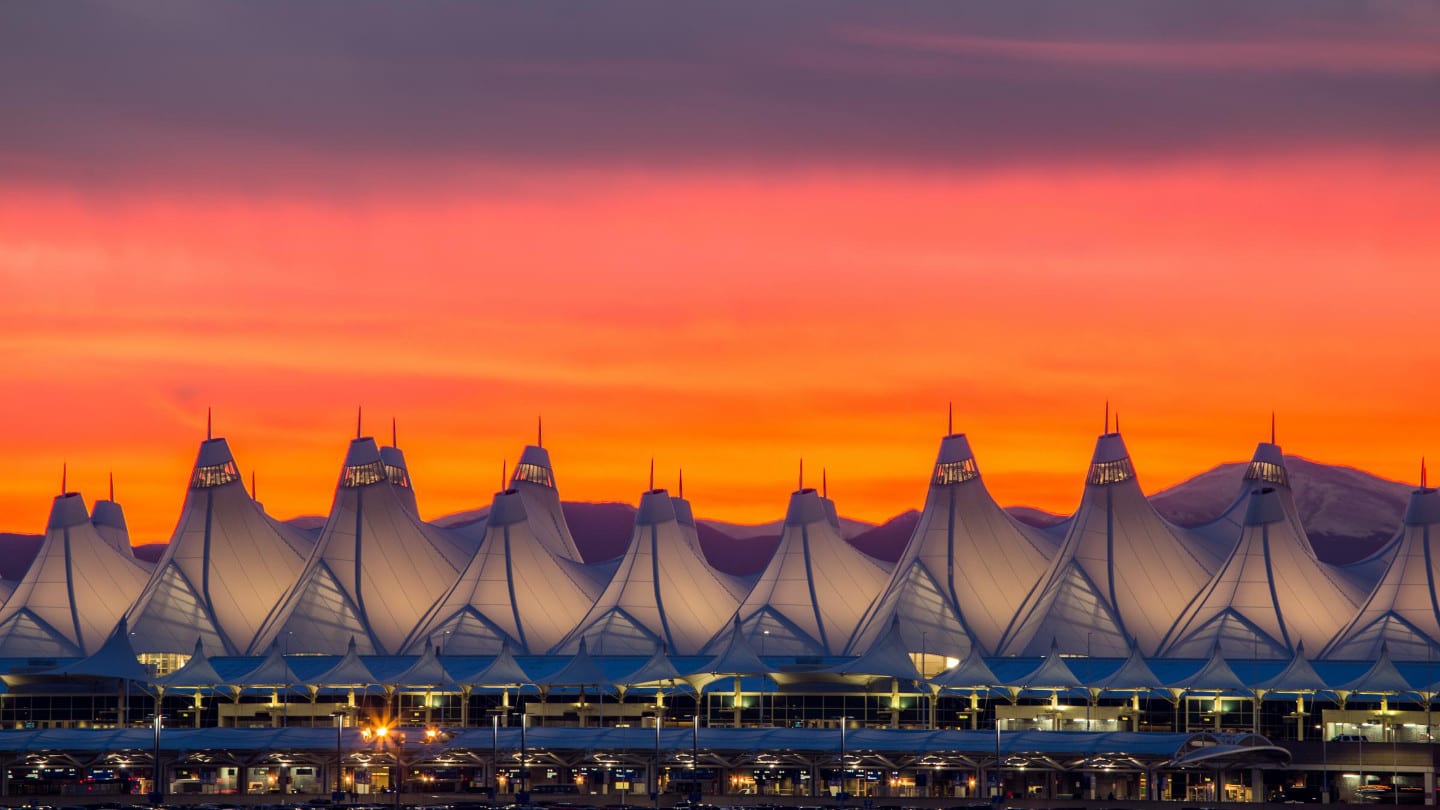 Details
Address: 8500 Peña Blvd, Denver, CO 80249
Phone: 303-342-2000
Code: DEN
Elevation: 1,655 meters / 5,430 feet
Website: flydenver.com
Latest in Denver International Airport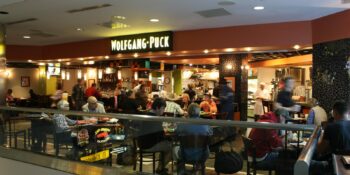 Are you traveling this holiday season? Most likely if you are, then a trip to Denver…