Colorado is known for its love of craft beer, so it's no surprise that there are several breweries located right inside Denver International Airport (often called DIA, airport code: DEN). Whether awaiting a flight to somewhere new or wanting a beer upon landing in the Mile High City, these spots have you covered.
For starters, you can visit New Belgium Brewing if your travels won't bring you to Northern Colorado to Fort Collins. It's one of the most iconic breweries in the state, so it's a fantastic fit for the airport. Great Divide Brewing is a beloved Denver brewery, and you can try some of their popular brews at DIA.
Tivoli Tap House and Denver Chophouse and Brewery are two more options for local beer. Besides the beverages, all of these locations offer plenty of food options to choose from and in some cases, even breakfast in the morning. Nearby the Denver Airport, Danico Brewing is a popular destination for travelers because of its close proximity.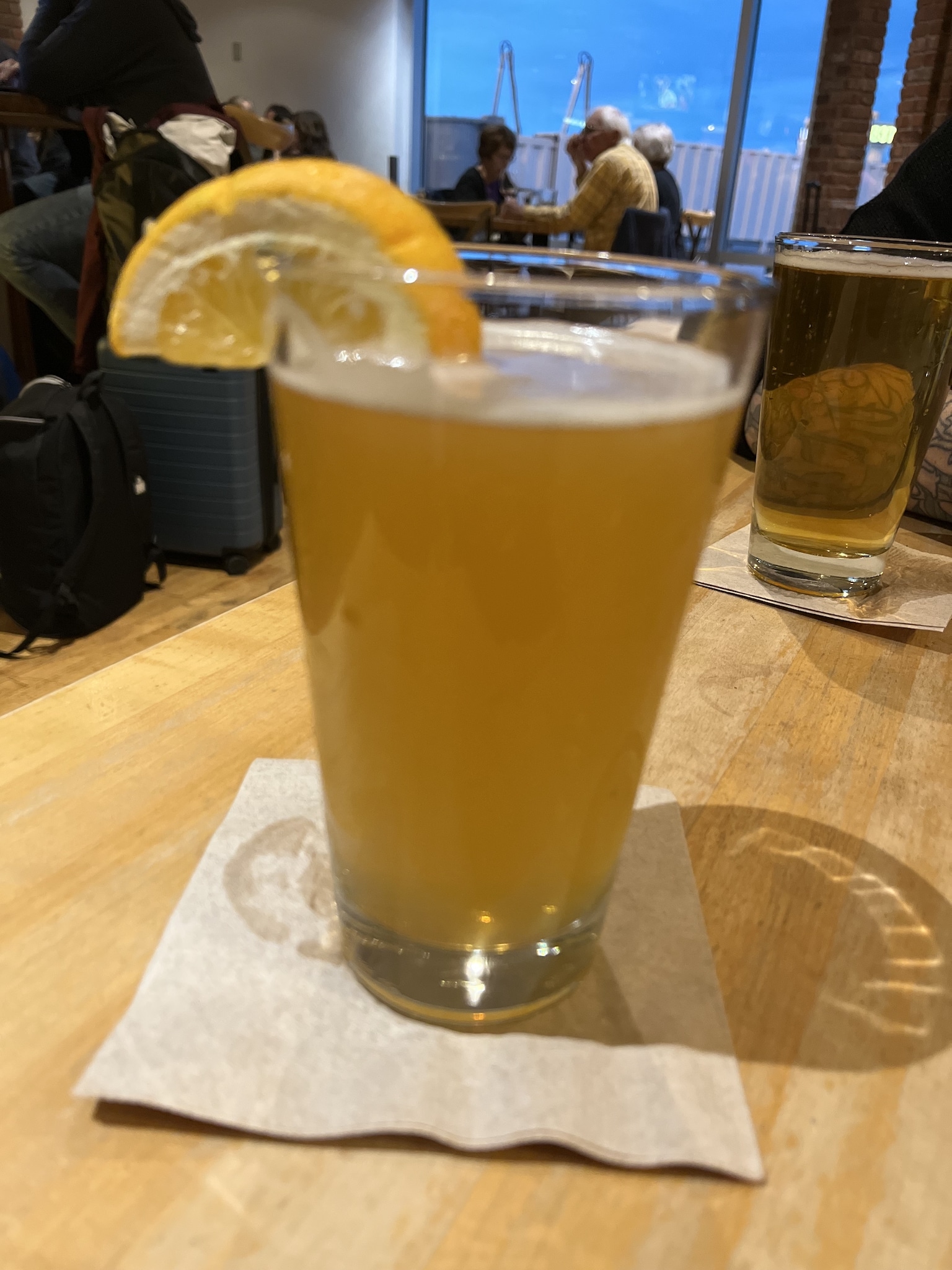 Keep in mind that hours, location, available beers, and food menu items can change, as well as these restaurants/bars may close permanently or just temporarily. Call the location directly to confirm. Denver International Airport's website lists each location in the directory and typically includes contact information, where you can find it, hours of operation, a description, and a food and drink menu.
In some cases, you can even get on the wait list directly from the DIA website so that you can reduce your wait time before you arrive. Prior to ordering a meal, it's always a good idea to confirm a timetable with the staff if you're waiting for a flight. Some places offer a to-go service if you're on the run.
Denver International Airport has more than 170 restaurants, shops, and services located on-site. Here is a list of the breweries located within DIA, one brewery nearby, and other places where you can grab a beer at this international airport:
New Belgium Brewing (Concourse B—after security)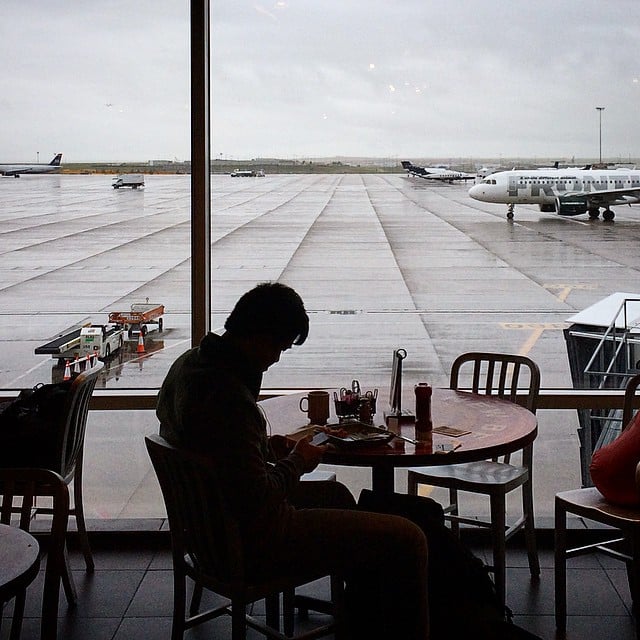 In addition to their Fort Collins brewery, New Belgium Brewing has a spot right in Concourse B at the Denver International Airport. You'll find a variety of Belgian-inspired beers on tap and in cans and bottles, including the well-known Fat Tire Amber Ale, 1554 Black Lager, and Voodoo Ranger IPA.
There are also rotating beers, beer-centric cocktails, and other non-beer beverages, such as wine, cocktails, soda, coffee, and tea. To accompany the brews, there are plenty of starters, salads, tacos, burgers, and sandwiches to choose from.
There's even beer infused in many of the dishes, such as a 1554 Black Lager BBQ sauce on the chicken salad, a Fat Tire beer-brined chicken sandwich, and a Voodoo Ranger IPA jalapeno cheese sauce in a grilled cheese. Early flight? No problem. This location is open for breakfast with breakfast burritos, scrambles, yogurt parfait, steel-cut oats, and breakfast sandwiches.
Concourse B, near Gate 32 | 303-342-6735 | newbelgium.com/visit/dia
Great Divide Brewery (Concourse C—after security)
Great Divide Brewery's original location is in Denver with three other tap rooms: another in Denver in RiNo, one in Castle Rock, and a Brewhouse and Kitchen in DIA. The airport location opened in 2019 serving a full line-up of craft beer along with an eclectic food menu. Breakfast is available for the morning with Stout French toast, a Denver Omelet, and fresh fruit.
There is a beer style for all tastes here both on draft and in cans  – Lager, Scotch Ale, Farmhouse Ale, Blonde Ale, and a fan favorite, the Yeti Imperial Stout. There's also seltzer, cocktails, and wine. Hearty food options include steak frites, lamb meatballs, bison chili, and burgers, where you could sub a plant-based option as well.
Concourse C, near Gate 32 | 877-672-7467 | greatdivide.com/tap-rooms
Denver Chop House (Concourse B—after security)
Denver Chop House & Brewery is a steak house with beer brewed on-site at the downtown Denver location near Coors Field. There's a second location at DIA, serving handcrafted beer, wine, cocktails, and a full food menu. For eats, there is everything you'd expect to find at a traditional steak house – crab cakes, spinach artichoke dip, French onion soup, burgers, plentiful sides, and classic steaks.
The beers include a Dortmunder Lager, Dark Munich Lager brewed with chocolate malts, a medium-bodied Pale Ale, and various rotating seasonal selections. Patrons could also opt for a sampler of a few ounces of each beer currently available on tap. There are also some bottled beers from other breweries, such as Sam Adams, Blue Moon, Budweiser, and Corona.
A Gates, Center Core | 303-645-3757 | flydenver.com/enjoy-relax/dine/denver-chophouse
Breckenridge Brewery (Concourse A—temp. closed)
With humble beginnings in 1990 in a ski town of the same name, Breckenridge Brewery has a sought-after spot in the Denver Airport. It's closed for the time being though, so stay tuned for more details about its reopening and offerings…
A Gates near Gate A71 | 720-912-1497 | flydenver.com/…
Tivoli Tap House (Westin Plaza—before security)
Colorado's Tivoli Brewing Company started in 1859. In addition to beer, the airport restaurant serves breakfast in the morning, starters, flatbreads, salads and soups, burgers, sandwiches, and mains. There are a handful of Tivoli beers available on draft, including the Jet IPA, which is brewed on-site. It's located on the west side of the plaza of the on-site Westin Hotel.
Other Tivoli beers available are Outlaw Lager, Hefe Hefeweizen, Helles Lager, and Roadrunner Red Ale. There are several Colorado beers on draft as well, such as Steamworks Brewing, Dry Dock Brewing, Avery Brewing, Left Hand Brewing, and Odell Brewing. There are many beer-friendly food options – buffalo cauliflower, salty pretzel bites, nachos, burgers, and a beer brat.
Westin Hotel (before security) | 303-342-6930 | flydenver.com/enjoy_relax/dine/Tivoli_tap_house
Danico Brewing (located nearby)
Danico Brewing is not located within the airport, but as the closest brewery at around 6 miles away, it makes it a popular destination for soon-t0-be airborne travelers. Some beers on tap have included Front Porch Porter, Polly Olly Rye Pale Ale, Pear Suit of Happiness Kettle Sour, and Blame Dave Double India Pale Ale.
While the brewery does not serve food, there are rotating food trucks present and customers are welcome to bring in their own food. Dogs are welcome outside on the patio but not indoors. Visit the website for a schedule of food trucks and a list of what is currently on tap.
18490 East 66th Avenue, Denver | 303-531-2739 | danicobrewing.com
Other Bars to Grab a Beer in Denver Airport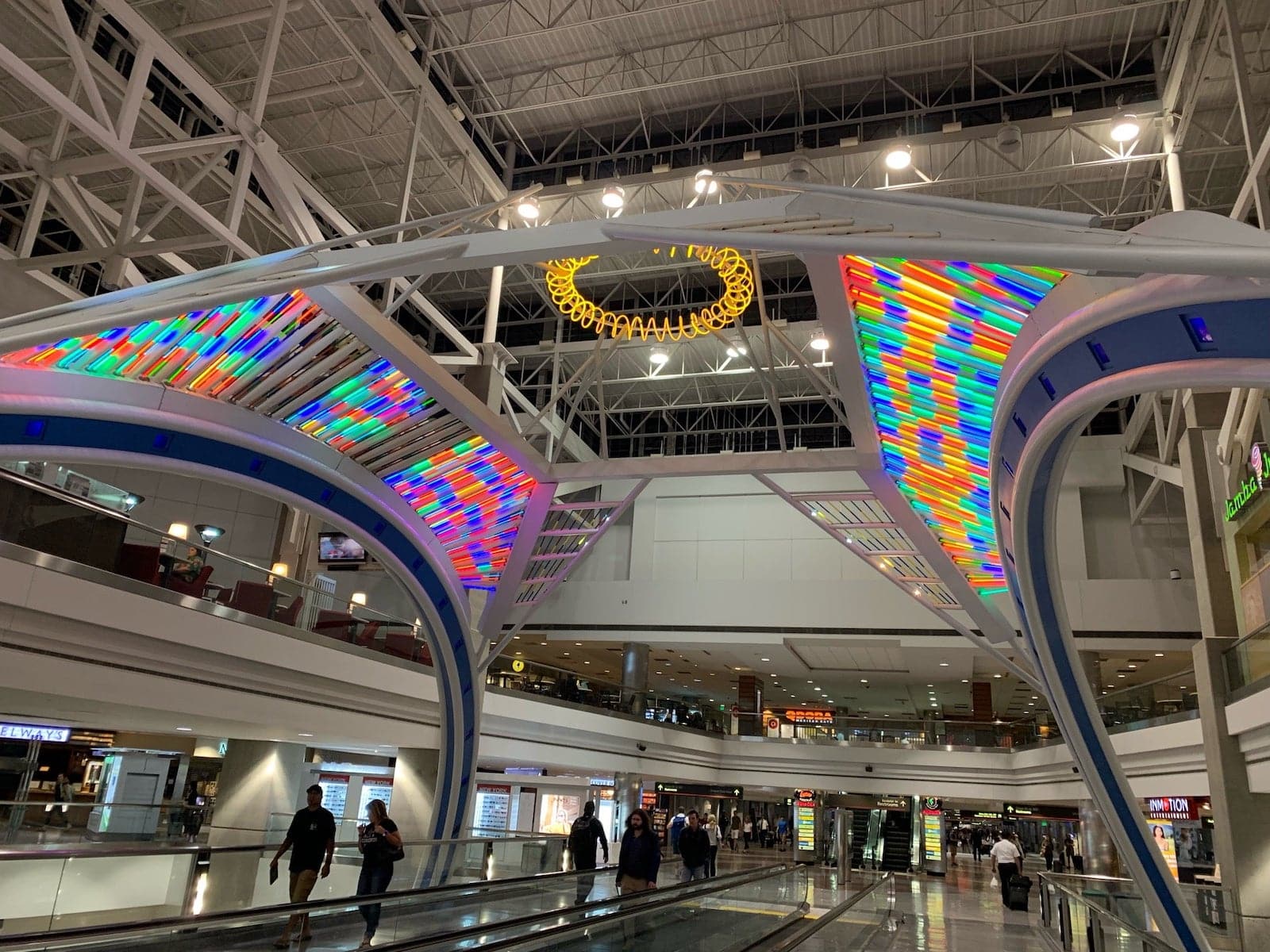 While the above list includes only breweries located in and near the Denver International Airport, there are many other spots to grab a beer while you're waiting for your flight. Here is a list of places that serve beer in DIA and where each is located:
Aviator's Sports Bar & Bar-B-Que | B Gates, Mezzanine
Blue Sky Bar | A Gates, near Gate A 34
Boulder Beer Tap House | Jeppesen Terminal, Level 5 West
La Casita | C Gates, Center Core
Lounge 5280 Wine Bar | B Gates, Mezzanine
Mercantile Dining & Provisions | A Gates, Center Core
Mesa Verde Bar and Grill | A Gates, Mezzanine
Que Bueno! Mexican Grille | B Gates, near Gate B52
Root Down | C Gates, Center Core
Sky Lounge | Hotel and Transit Center, Level 6, Center
Wolfgang Puck | B Gates, Mezzanine
Timberline Steaks and Grille | C Gates, Center Core
SweetWater Mountain Taphouse | B Gates, near Gate B80
These breweries, bars, and restaurants at Denver International Airport are a nice addition for beer lovers and those looking to try a local beverage.