Are you traveling this holiday season? Most likely if you are, then a trip to Denver International Airport (DEN) is probably in your future. While the airport continues its major renovations, new additions are slowly being added, including new restaurants.
Sure, D.I.A. offers your classic Starbucks, McDonald's, KFC, Wendy's, and a whole host of other fast food joints, but it also showcases a unique variety of local restaurants and breweries to help make those long delays not seem so long. Discover below our dining guide to Denver International Airport.
Where To Eat Inside Denver's Airport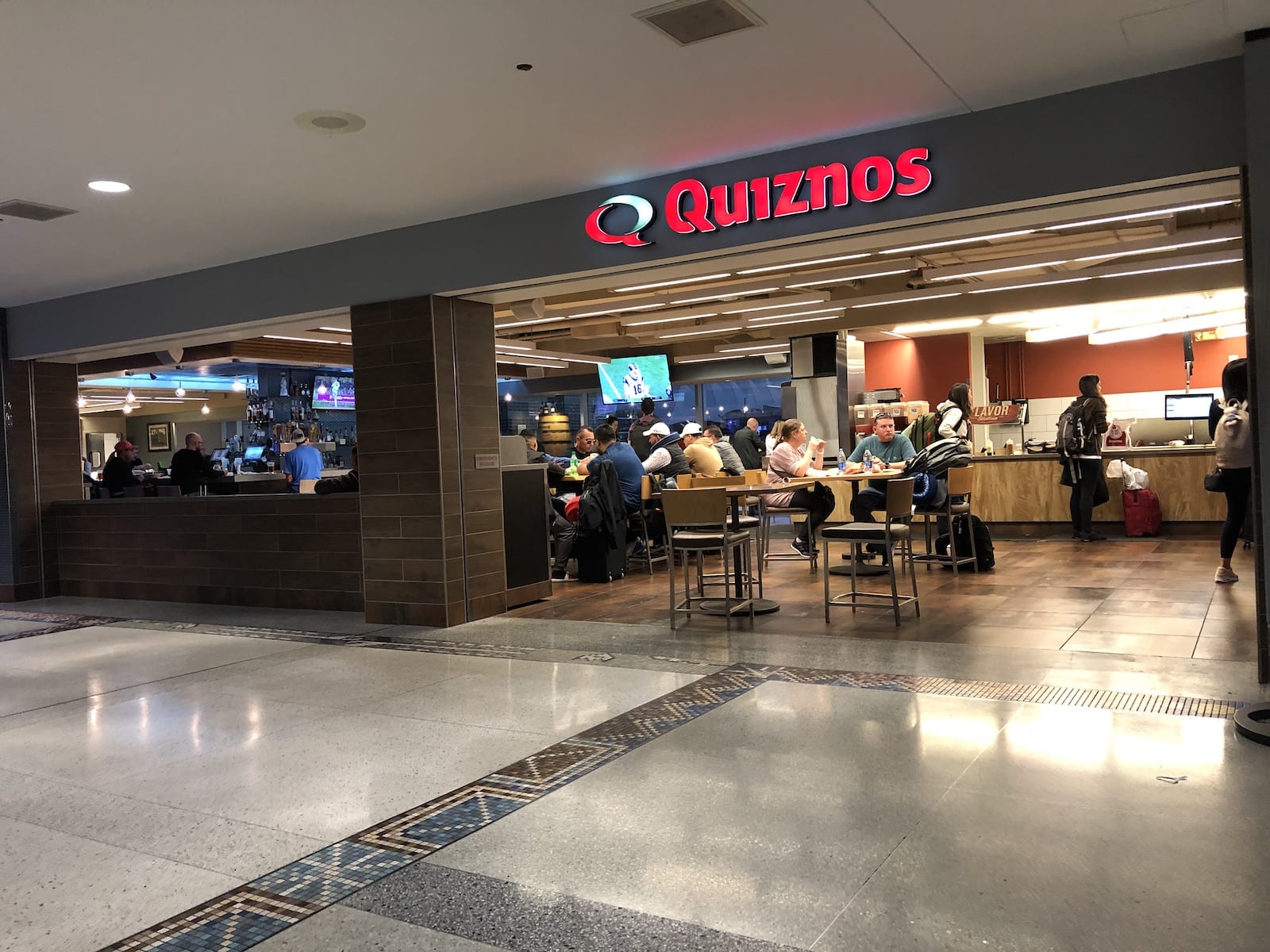 Denver Airport has options for dining both before and after security. The latter though provides way more restaurants to choose from. You'll need a boarding pass to get thru security. Remember to arrive early in order to add some leisure time to your trek and ensure a stress free start. There is some fascinating art inside Denver Airport to spot.
Once thru the main security, you'll head down to the underground tram that leads to the three concourses (or gates): A, B and C. It stops in that order A, B, C. If you go to C, you can ride it the other way back to B, then A, then Jeppesen Terminal. So if you have the time, you can stop and dine in any of the concourses.
Note: The restaurants listed below may close and new ones open in their place. Please let us know if you see anything that needs updating. Thanks you! You can view the complete list of restaurants here.
Concourse A Restaurants – After Security
Concourse A accesses all of the A Gates. It's the only one you can walk to from Jeppesen Terminal thru a separate security screen on the north (opposite) side of the Hotel/Transit Center. You can also go thru one of the two main TSA screenings and take the train to the first stop for Concourse A. These gates are mainly for Frontier Airline flights, which has a hub here.
Denver Central Market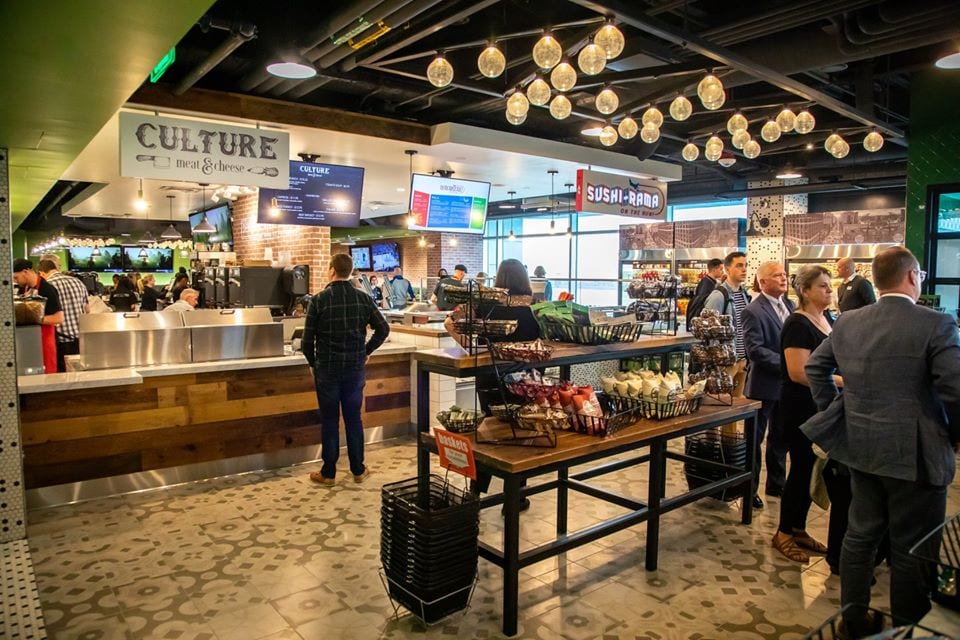 Just as Denver is home to several different food halls, the food hall revolution has also made its way to DIA with the Denver Central Market. Designed to offer a variety of food choices all in one place, it's the ideal choice for a family of many different tastes.
Visit the Denver Central Market in Concourse A for a myriad of foods in one dining experience. The market menu includes a grab n' go cheese board from Culture, classic burgers, rotisserie chicken, and breakfast burritos from SK Provisions, plus sushi and pizza options.
Breckenridge Brewery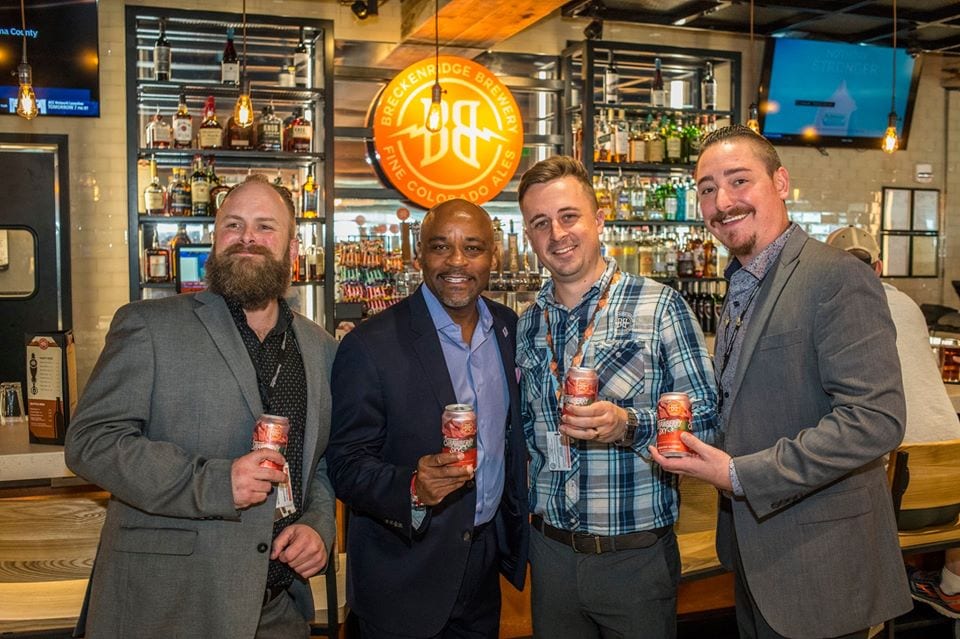 When that layover seems to last forever, sit back and relax with food and a good beer from the Breckenridge Brewery. Choose from their line up of award-winning beers plus bar food choices to calm those hungry stomachs.
Snarf's Sandwiches
A Colorado original fast casual chain, Snarf's Sandwiches puts the yum in yummy sandwiches. Snarf down one of their fully-loaded sandwiches that include classic choices like a BLT or specialty sandwiches such as their Prime Rib and Provolone. They also offer soups and salads.
Additional food options:
Ben & Jerry's Ice Cream
Brother's BBQ
Caribou Coffee
Chef Jimmy's Bistro & Spirits
Denver Chophouse
Dunkin' Donuts
Freshens Fresh Food Studio
KFC Express/Pizza Hut Express
Lavazza
McDonald's
Mesa Verde Bar & Grill
Panda Express
Quiznos
Vino Volo
Concourse B Restaurants – After Security
Most of the employees I've asked prefer or at least recognize Concourse B as having the most/best choices for dining. Located centrally between Gates A and C, it makes an easy stop (via tram) no matter what gate you depart, so long as you got the time.
Elway's
Get a taste of the Rockies with a visit to Elway's. With Colorado-themed appetizers and entrees, this is the place for those looking for a good steak on your way to that next business meeting. Featuring hand-cut USDA prime steaks, fresh fish, and much more – all complete with a full bar. They serve breakfast, lunch, and dinner.
Lounge 5280 Wine Bar
Savor the flavor of Colorado with a stop in at the Lounge 5280. Featuring wines from around the world, cocktails, spirits, and beer from Colorado's crafter brewers, the Lounge is a casual place to escape the hectic atmosphere of the airport, even for just a little while. To compliment your drinks they also offer a list of food items from sandwiches and salads to a charcuterie board and other cocktail-appropriate snacks.
New Belgium Hub
Sample your favorite craft beer from New Belgium at their sit-down restaurant. The menu offers sandwiches, salads, plus tasty sides and desserts.
Steve's Snapping Dogs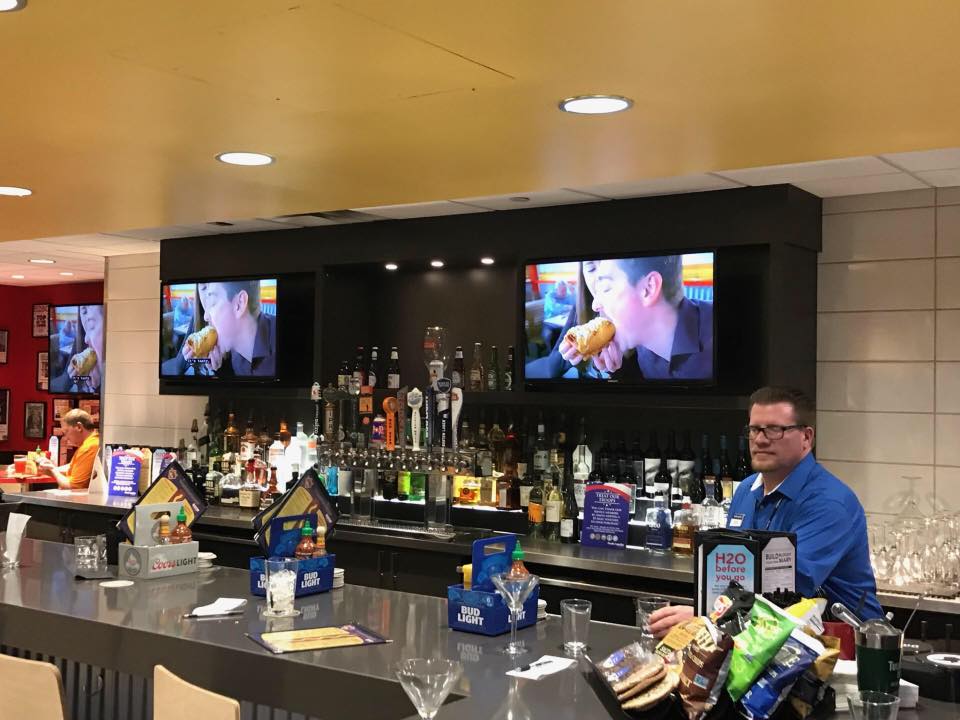 For those who are craving a good hot dog, stop in at Steve's Snapping Dogs. A Colorado original, the restaurant features award-winning gourmet hot dogs, made from a blend of pork and beef with a smoky flavor that "snaps" every time you bite in! Choose from hot dogs, burgers, and tasty sides including deep-fried green beans. Beer and wine are also offered.
Additional food options:
Aviator's Sports Bar & Bar-B-Que
Cantina Grill
Caribou Coffee
Chick fil-A
City Wok
Cru Food and Wine Bar
Etai's
Heidi's Brooklyn Deli
Jamba Juice
McDonald's
Modern Market
Pizza Hut Express
Pour La France!
Qdoba Mexican Eats
Que Bueno! Mexican Grill
Rocky Mountain Café
Rocky Mountain Chocolate Factory
Sara Lee Sandwich Shoppe
SMASHBURGER & Bar
Starbucks Coffee (2 locations)
Wetzel's Pretzels
Woflgang Puck
Woody Creek Bakery & Café
Concourse C Restaurants – After Security
Like B, Concourse C also provides a feast of food to pick from. You can find plenty of Colorado-born restaurants, including Root Down and Smashburger, and everything from farm-to-table to fast casual.
Great Divide Brewing
As one of the latest additions to DIA's food and beverage line up, the Great Divide Brewing now showcases their hand-crafted beers along with a decent selection of appetizers, sandwiches, salads, and entrees to weary travelers.
Little Man Ice Cream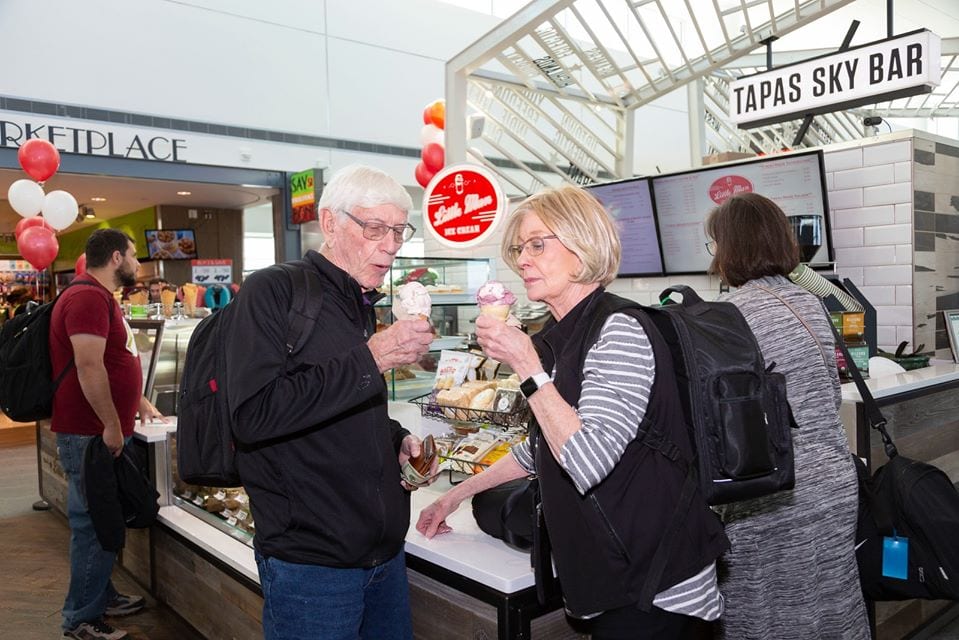 Ok well, this isn't exactly the spot for a well-balanced meal but who can resist the funky flavors of Denver-favorite, Little Man Ice Cream? Offering homemade ice cream, sorbet, their famous "sammies" plus a few boozy options, you really can't go wrong.
Root Down DIA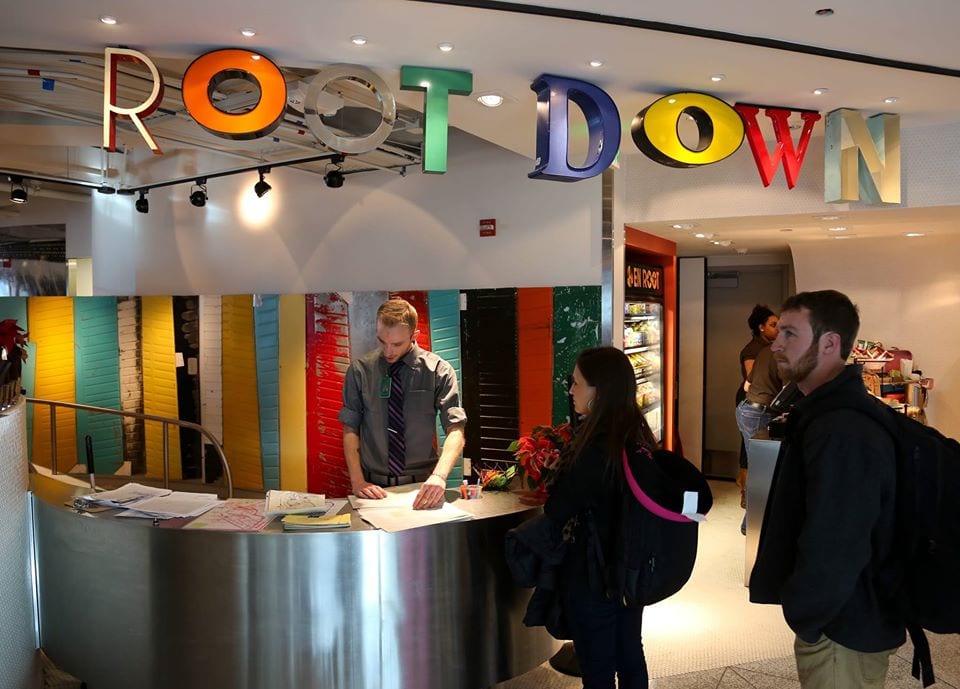 Another Denver favorite that got their start in LoDo, Root Down DIA brings their award-winning menu to the airport. Serving breakfast, lunch, and dinner their fare focuses on locally-sourced, farm-to-fork philosophy. Choose from appetizers, sandwiches, a selection of raw foods, and of course a plethora of options for cocktails, wine, beer, spirits, and sake.
The Magic Pan
Who doesn't love a good crepe? The Magic Pan offers just that, with both sweet and savory options all wrapped around a delicious filling. Choose from sharp cheddar cheese or turkey club to cinnamon or banana chocolate, plus so many more!
Additional options include:
Auntie Anne's
Big Bowl
Caribou Coffee
Coors Silver Bullet Bar
Dazbog Coffee
Einstein Bros. Bagels
Jamba Juice
La Casita
McDonald's
Modern Market
SMASHBURGER & Bar
Starbucks Coffee
Tapas Sky Bar
The Coffee Bean & Tea Leaf
Timberline Steaks & Grille
Villa Pizza
Vino Volo
Woody Creek Bakery & Café
Jeppesen Terminal Restaurants – Before Security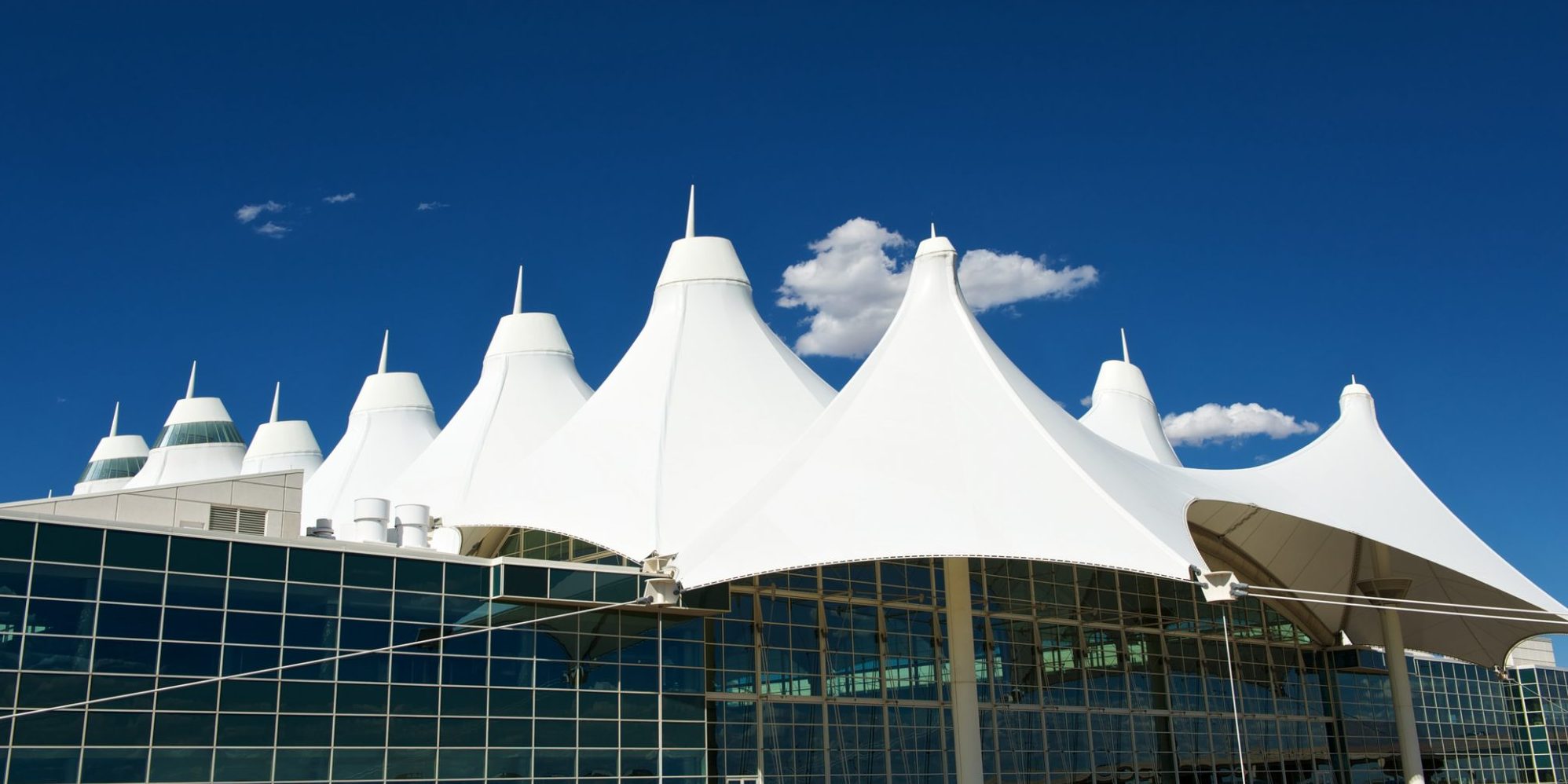 Housed under the iconic mountain-like rooftop, Jeppesen Terminal is currently under renovation inside. It's still operating of course, with two ends for airport security screenings, and surrounding food options before security. This main pre-security terminal offers a few restaurant options including the Boulder Beer Tap House, Cantina Grill, Red Rocks Bar & BBQ, Rocky Mountain Café, and a Subway.
Hotel and transit area
The hotel and transit areas also provide dining and drinking options. The Westin Hotel (affiliate link) itself offers the Grill & Vine for farm-to-table cuisine, Chef Scott Snodell for a unique dining experience, the Sky Lounge for beverages and small eats, and Ingredients – their deli that serves as the hotel's grab-n-go restaurant.
Read about the top hotels near Denver Airport, which includes the four star Westin Hotel located next to Jeppesen Terminal.
Outside of Denver Airport on Pena Blvd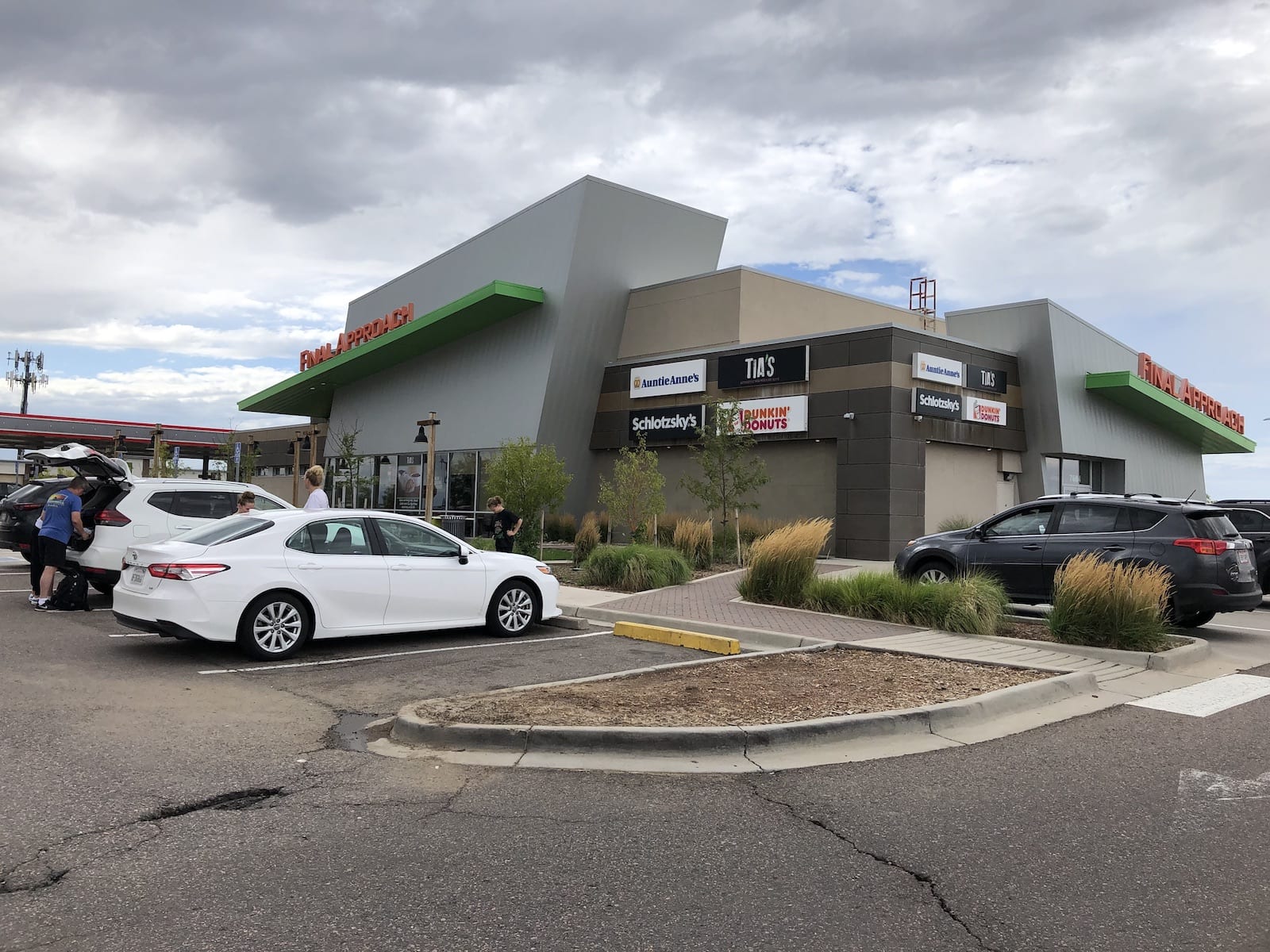 The final stretch of road before Denver Airport is Pena Blvd. Though it's a mostly barren road for the 10+ miles, passing by desert prairie land, it also zips past a stretch of hotels, car rental places and just when you're about to reach the airport, a food court called Final Approach. It doubles as a Cell Phone Waiting Lot.
Go inside for a choice of pizza, Mexican food, coffee, donuts and a few other fast casual staples. It's located at 7680 N Wenatchee Street in Denver. It's the perfect place to await arriving passengers, especially those hit with a delay because of Rocky Mountain weather.
New Restaurants at Denver Airport
D.I.A. has proposed to bring on board a whole new slew of restaurants as it continues its expansion. New dining choices to include Kabod Coffee, Denver Street Eats, The Post Brewing Co., Jax Fish House & Oyster Bar, Shake Shack, and Snooze.
Thanks for checking out some of the best restaurants for dining at Denver International Airport. Please let us know if we're missing a good place to eat, or if one of the aforementioned food options is closed. Here's a list of Denver Airport bars to imbibe at. Happy travels!